How to sell on Walmart with BigCommerce in 2021?
Running short of time? Get PDF of the blog in your mail.

For merchants, across the US, the market is full of opportunities just as much as it is rich with the competition. Walmart happens to be one of those leading eCommerce opportunities that merchants can tap in to boost their multi-channel sales strategy. As far as figures go, net sales for Walmart reached USD 519.93 Billion in 2020, from its former value of USD 510.33 Billion in 2019. Thus, if you are a merchant with a BigCommerce Store, considering expansion, then Walmart holds a good deal for you.
Explore further, to find out how you can sell seamlessly and efficiently on BigCommerce and Walmart simultaneously with a little help from CedCommerce.
Walmart connector for BigCommerce is an app from CedCommerce that can prove to be of great assistance for sellers who wish to increase their online visibility and sales figures.
Attracting buyers to your store is a pretty challenging task. Rising competition only adds to it. The smart way would be to join a platform where you get pre-existing traffic instead of applying all your energy towards bringing new traffic to your store. This is possible to achieve through investment in multichannel selling.
You might be wondering how to do that? The Walmart Connector for BigCommerce will aid you in multi-channel selling. The app facilitates a common platform for managing the two stores smoothly.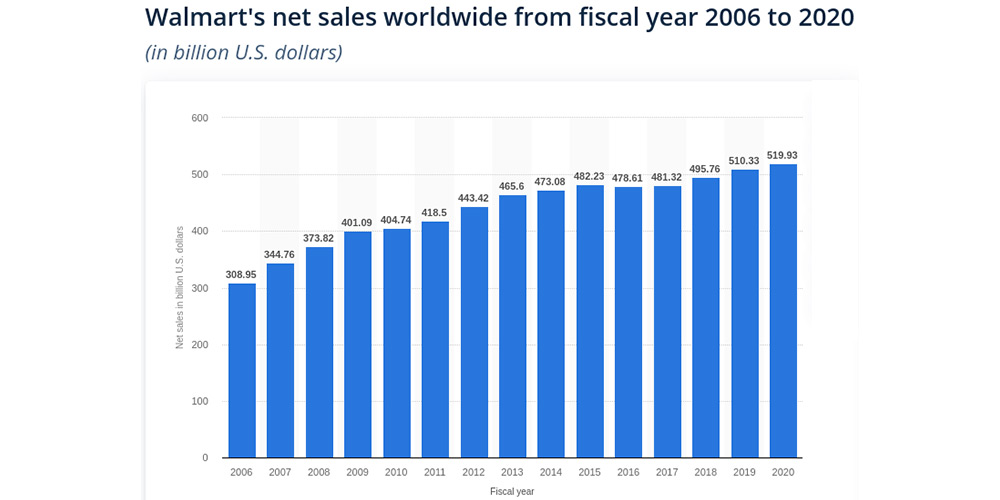 Source: Statista
Why the BigCommerce Walmart Connector by CedCommerce?
The BigCommerce Walmart Connector by CedCommerce comes loaded with multi-dimensional features that help merchants sell seamlessly on Walmart.
Some core features being Bulk upload of items, Inventory Synchronisation, Orders/Refund management, and Partial order management, and a few more. Also, the app comes with a user-friendly interface.
Above all, CedCommerce provides friendly customer support to users of the app. So you don't need to worry about its installation and use. With the BigCommerce connector, a Dedicated Account Manager will be aligned with you to help you out at any time. The Dedicated Account Manager is easily accessible and will simplify your Walmart sales and all the procedures involved therein.
Key features of Walmart Connector for BigCommerce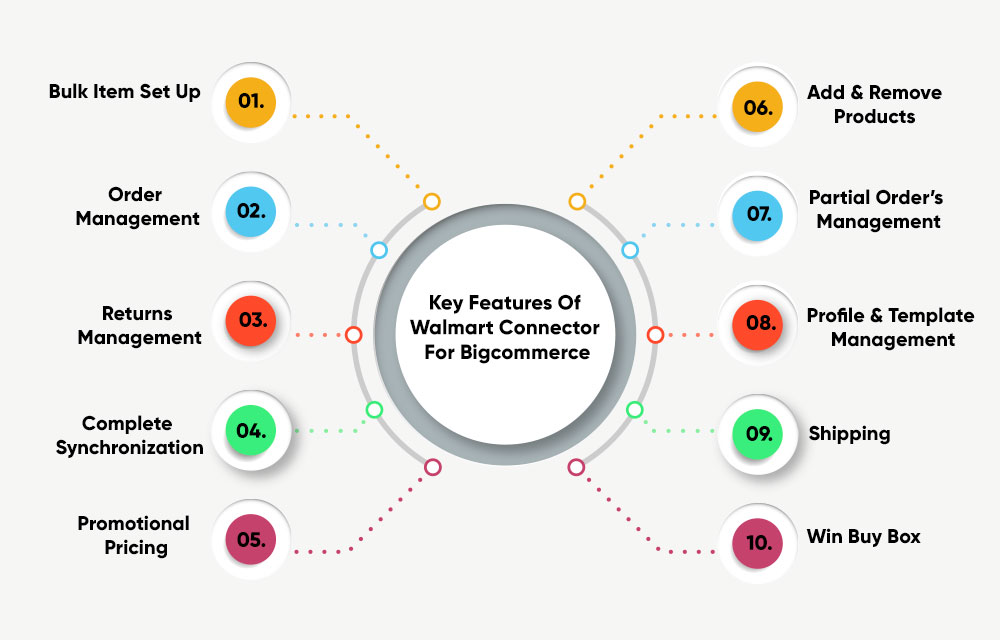 The BigCommerce Walmart Connector removes the complexities of selling online through multiple channels by bringing everything on a common platform, which comes powered with the following features:
Bulk Item Set up: With this app, simply select the products you want to list on Walmart.com and upload them in bulk.
Order Management: Walmart Connector for BigCommerce fetches orders from Walmart to your BigCommerce store automatically. When you fulfill the order from the BigCommerce store, tracking information will be automatically updated on Walmart.
Returns management: You can also efficiently process returns made by customers on Walmart. The BigCommerce Walmart Integration app fetches the returns made on Walmart and displays them on the app.
Complete Synchronization: The app syncs your BigCommerce store with Walmart in the near Real-time. Whenever there is any change in BigCommerce product's price and inventory, it gets updated on Walmart in a few minutes with the integration app.
Promotional Pricing: The BigCommerce connector also helps in setting promotional campaigns for the products you sell on Walmart. With this feature, you can offer excellent deals to your customers by displaying the current price, savings, and new product price. This app feature also helps you with in-stock clearance as you can set up different price deals on your products.
Add and Remove products: You can quickly add or remove/retire the products from the app based on whether you would like to sell them at Walmart or not. If you don't want any products on Walmart, then retire them from the app. Just select the status of the product and click on Export. You will get a CSV in which you can make changes. After importing the CSV file, you can remove all the products you want to retire from Walmart.
Partial Orders' management: With the app, you can manage partial orders on Walmart and ship the products that are in stock. This allows you to make profits with the items you have without missing out on any business!
Profile and Template management: With the app, you can create Category, Inventory, and Price templates for your products. You can also manage and create product profiles where you can set up Profile Name and Category templates and manage Inventory and Price.
Shipping: With the app, you can set the type of shipping you want to provide for different products. You can select the Next day Shipping/2-Day Shipping/3-day Free Shipping program for all or some products you want to sell on Walmart.
Win Buy Box: You can set the minimum and maximum prices for your products. The app's automated pricing feature helps you win Walmart Buy Box if the revised pricing lies between the minimum and maximum prices provided by you.
How to Install the Walmart Connector for BigCommerce?
Installation of the app is easy. Follow the steps given below to install the BigCommerce Walmart integration app: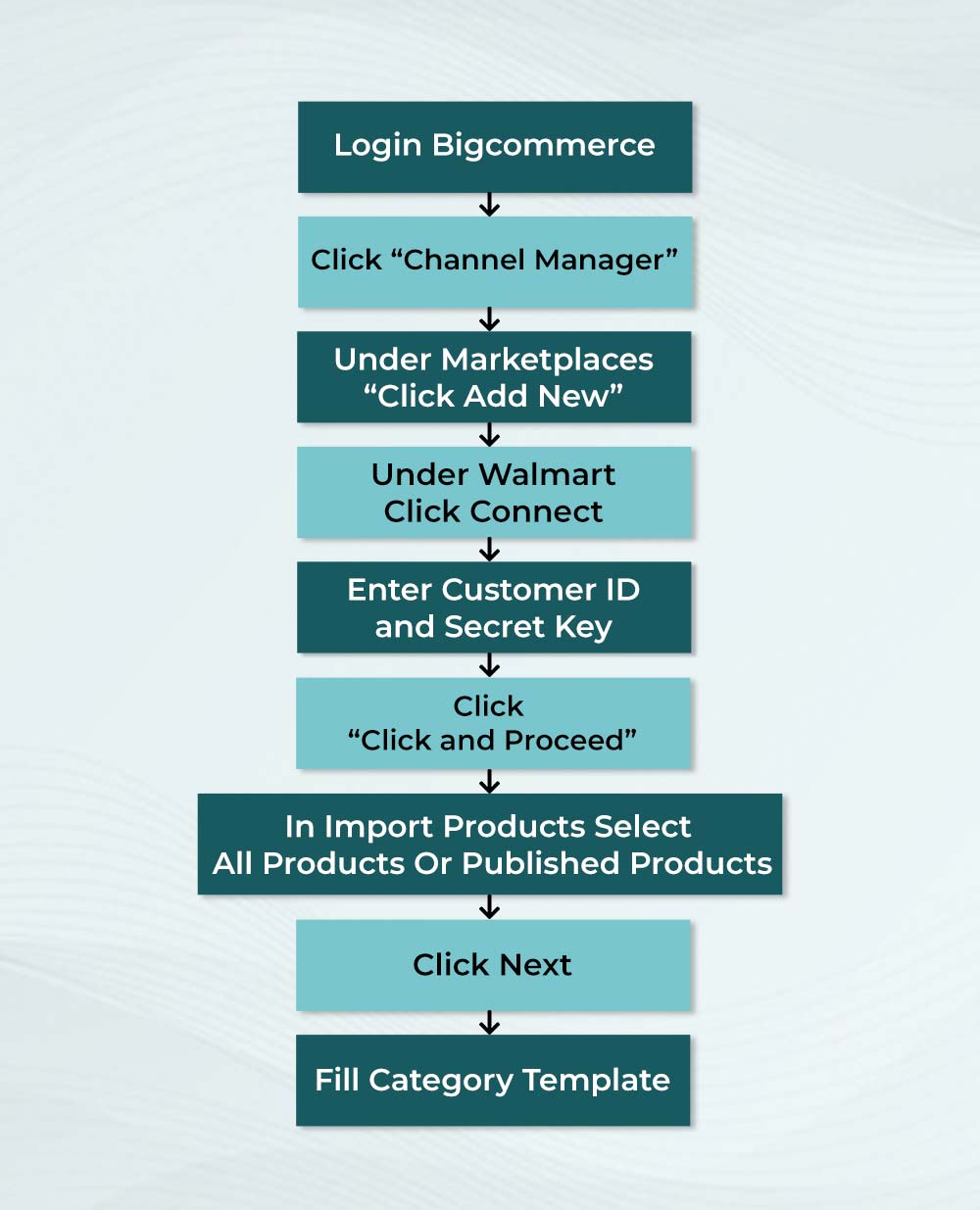 How to get API Keys from the Walmart marketplace?
Follow the steps given below to generate API keys from the Walmart marketplace:
Step 1: Log in to the Walmart developer portal using the following link.
https://developer.walmart.com/account/generateKey
The following page opens up. Select Cedcommerce and then click Next.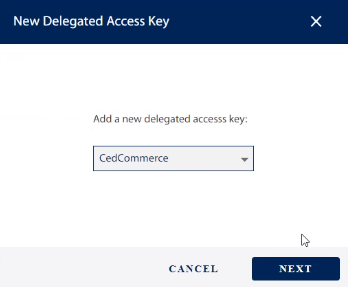 Step 2: Give Full Access to all attributes as shown below. Then click Submit.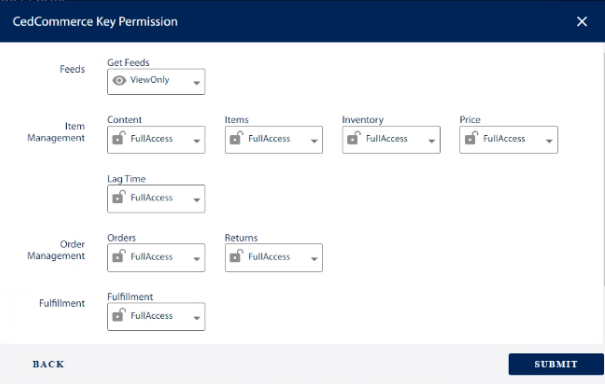 Step 3: The following page appears. From here, you can get the Client Id and Client Secret.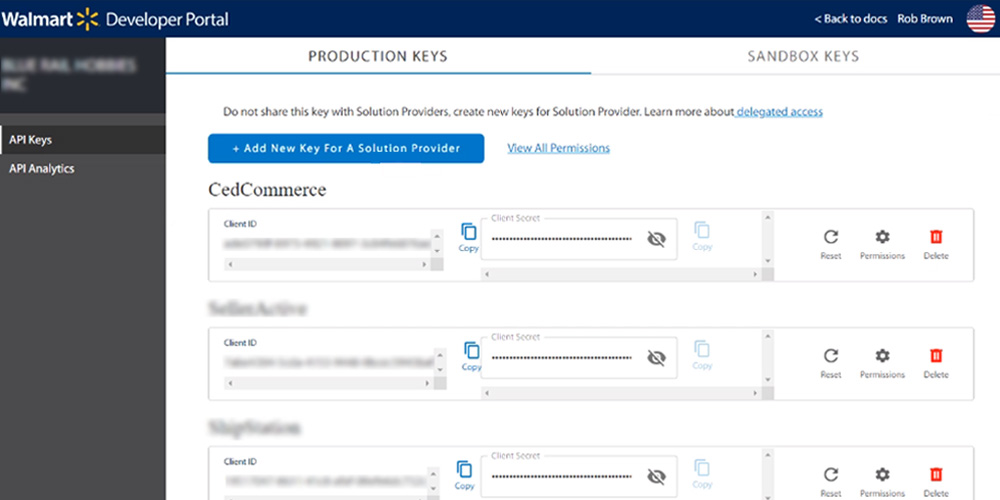 How CedCommerce helped Sellers excellently, and what they have to say?
Many customers are using CedCommerce's BigCommerce Connector for selling at Walmart and are astonished by its friendly use and outcomes. Here is what they have to say about it: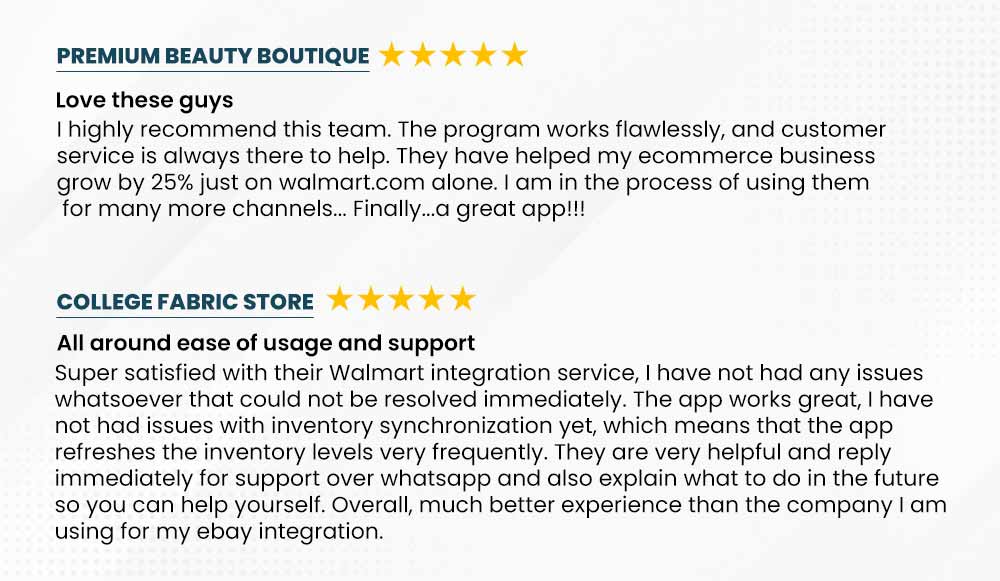 To Sum Up
CedCommerce's Walmart Connector for BigCommerce eases your day-to-day operations. It helps you manage the two stores (Walmart and BigCommerce) from a common platform. Letting you focus on other aspects of your business and its smooth functioning.
The app eases product and inventory management, orders and refunds management, and pricing. It also helps you in running promotional campaigns and winning the Walmart Buy Box.
If you want to sell at Walmart from BigCommerce with the help of an integration solution that simplifies multi-channel selling, CedCommerce is the right destination for you. Backed by a team of experts, CedCommerce is dedicated to empowering sellers with its tailored solutions that simplify selling across multiple channels.
In case you need expert guidance in onboarding Walmart from your BigCommerce store, contact CedCommerce, and we would be glad to help you.
Email: bigcommerce@cedcommerce.com
Live Chat: https://bit.ly/2ZEZqgR
Web Skype: https://join.skype.com/Ov9xSwfRk4NP