Your Guide To Sell Successfully on Cdiscount in 2023
Running short of time? Get PDF of the blog in your mail.

Play Now
Cdiscount is one of the top most visited sites by French shoppers. It boasts a huge average monthly visitors of 41 million. Moreover, there are 10 million active customers registered on Cdiscount.
Cdiscount allows sellers to sell in 40 major product categories with 2000 subcategories. An average french shopper has an average budget of €584 per annum for online shopping.
These alluring figures speak about the French e-commerce industry shaping into an ample opportunity for sellers. If you have an eye on expanding the business into the European market, don't let go of this untapped opportunity.
More Reasons To Not Overlook Cdiscount As An Ordinary Marketplace
Cdiscount fulfillment service relieves you from worries about storage, packaging, and shipping. Therefore you have ample time to focus on scaling the business. The Cdiscount pole position program helps sellers with a custom package tailored to their business objectives. It helps in boosting product visibility in the marketplace.
The multilingual support by Cdiscount assists international sellers to quickly onboard the platform and not face the language barrier.
The marketplace is keen on getting the seller's business in front of millions of followers on their social media. Cdiscount boasts 1.94 million followers on Facebook.
Sellers enjoy a high degree of payment security in the form of FIA-net and 3d Secure available on the Cdiscount website. Payments are safe and straightforward.
The credit for having the most extensive network of pickup points in France goes to Cdiscount, with a distribution network of 22000 pickup points.
They own a collective area of 540,000 sqm (square meters) in the form of warehouses across France.
The big question is, How Do You Kick Start Selling on Cdiscount?
Let's go through the step-by-step method to help you fully understand how to onboard as a seller on Cdiscount in 2023.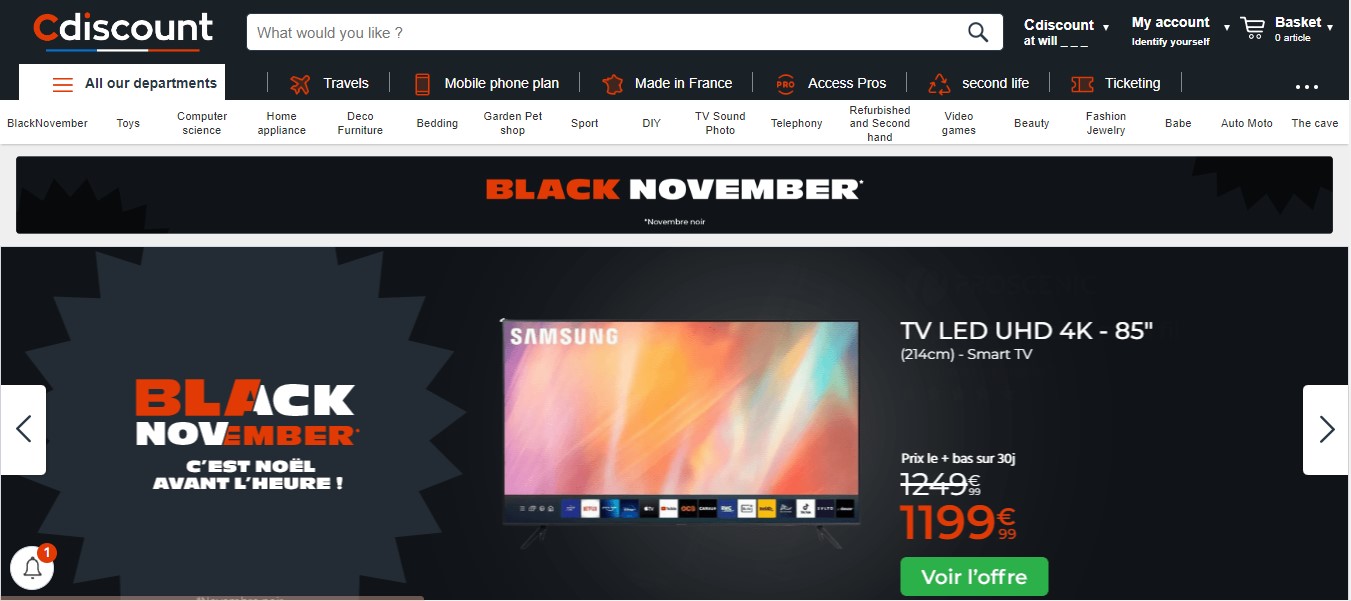 Image credit: Cdiscount
Step #1 – Get Started with Registration Step
A few important documents that will help you get started as a seller on Cdiscount without delay.
ID or Passport of CEO with front and back (passport with signature). It must be in color and not cropped.
In case registration is done under the name of anybody other than the CEO, then the ID or passport of that employee will be required.
The official company registration certificate from any country (preferably English) is issued not more than three months before.
Official bank details include bank logo, address, holder name, IBAN, and more.
Based on your business location following documents are required to be submitted
Contact information
Commercial information
Banking information
Country
France

Documents Required
Passport
KBIS in the name of your company
RIB in the company's name with International Bank Account Number (IBAN) or Bank Identification Number (BIN) code.
Format
Size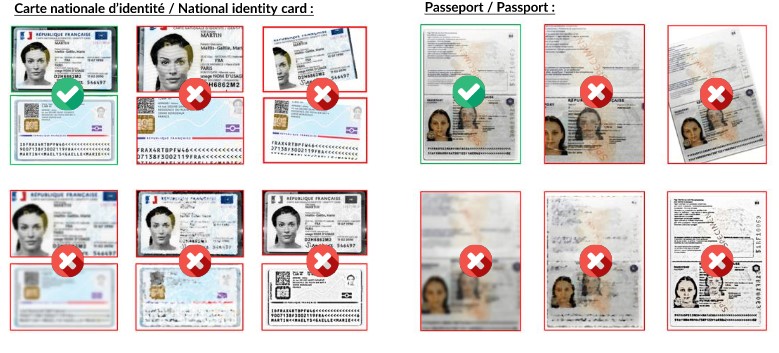 Image credit – Cdiscount
Country
China
Documents Required
National ID card
Business License
IBAN/BIC number with bank logo
Bank account registered in Europe
Format
JPEG
Size
8MB
Country
Belgium

Documents Required
Passport
Appendices of the Belgian monitor
Visible IBAN/BIC code in the name of your company with your bank logo
Format
JPEG
Size
8MB
Country
USA

Documents Required
Driving Licence (Font / Back)
Certificate of incorporation and Certificate of incorporator's action
Letter from Bank with ABA/RTN number and BIC/SWIFT code.
The account's name should be the same as the company's name.
Format
JPEG
Size
8MB
Country
Hong Kong

Documents Required
Passport or ID card
Incorporation certificate along with the NAR 1 form (Annual return) and NC 1 Form (Incorporation form)
Letter from Bank with ABA/RTN number and BIC/SWIFT code.
Format
JPEG
Size
8MB
icons credit: Icons8
Please visit the official document registration page of Cdiscount for in-depth information and queries. Also, mandatory documents to sell from countries (where your company is incorporated) like the UK, Poland, Italy, Spain, and Germany.
Upon successful registration, you will be notified about it within the next 24 to 72 hours. Know about the documents required to prove your company registration with local authorities.
Step #2 – Product Catalog Creation
There are four methods to create product catalogs
Do it individually, one product at a time.
Use bulk method (through Excel file).
Using the API method.
Use a Cdiscount integration solution (fast and accurate method).
Step #3 – Product Shipment
Broadly there are two ways for the product shipment. You can either opt for in-house shipping (make the shipment on your own) or outsource the task to a third-party logistics company.
When Will In-house Shipment Suits Your Business
You have sufficient resources to tackle shipment demand. Demand can go higher than expected during the festive season.
Having complete control over the shipment process is your priority.
If your budget allows you to incur the cost of product storage, supply chain guys' salary, and similar expenditures.
When Will Third Party Logistics Suit Your Business
Unavailability of resources to manage the shipment process efficiently.
You don't want to pay the tax on products arriving from outside the EU.
It enables you to save on shipping costs. Pay once to 3PL and worry not about any further fees.
If your in-house team needs more expertise to handle the shipment professionally.
3PL services can manage a surge in demand in comparatively less time without compromising on the output.
Step #4 – Get Your Earnings
Cdiscount sellers need not wait too long to get paid. Cdiscount provides the amount earned by sellers every ten days. Payment details can be found in the Seller Space section.
Sellers also have the option of instant payment.
What Makes Cdiscount Favorite in France (For Shoppers)
The pandemic of 2020 bought a paradigm shift in customer shopping patterns. Millions of shoppers in France and other European nations opted for online shopping and most discovered Cdiscount as the perfect shopping destination.
These shoppers were impressed by Cdiscount's ability to deliver orders on time. The credit goes to Cdiscount's state-of-the-art logistics technology to manage the shipping of 3.5 million packages annually. Hence, it always impresses its customers.
What Makes Cdiscount Favorite in France (For Sellers)
The Cdiscount Express Seller Program is a joy for sellers with high-level logistics expertise. Sellers capable of shipping the order within 48 hours are eligible to participate in this program.
The benefits exclusive to Cdiscount Express Seller Program are
Avail free next-day order delivery to customer address for an entire one year
Get the products catalog in front of the Cdiscount loyalty program
Access to 2 million high-potential subscribers of the program, who make up 33% of total sales.
Doubtless, opting for the Express Seller Program helps sellers eliminate the burden of storage, packaging, shipping, and delivery. Cdiscount and sellers best handle these processes and need not worry about meeting order delivery deadlines.
Another good reason is that Cdiscount logistics ensures customer service is provided in french. It will be an excellent help for sellers from outside France.
What Does Cdiscount Logistics Excellence Mean For Sellers
Fulfilled by Cdiscount helps sellers with its international market order fulfillment expertise. As a result, the product will reach the right person and at the right time will not be a seller's headache.
In addition, Cdiscount promotes products covered under Shipped by Cdiscount with a badge on their listings.
Fulfilled by Cdiscount program will enhance the customer experience as below
Direct delivery to Groupe Casino stores.
It makes single day delivery possible in all corners of France
Collection point pick-ups
Reduced delivery issues in comparison to other methods.
Track inventory with accuracy
Large and bulky items like furniture and appliances are covered under fulfillment by Cdiscount.
The cherry on the cake is the program allows sellers to ship items into Europe despite selling on marketplaces other than Cdiscount.
Few Best Practices to Sell on Cdiscount (Put Efforts in The Right Direction)
6 in every 10 shoppers on Cdiscount are millennials and Gen-Zers. Hence consider the below while crafting a business strategy.

Sustainable products (Gen-Zers are willing to pay up to 10% more for it).
Build a strong presence on Instagram. 60% of Gen-Zer discover brands n products on Instagram.
Gather maximum reviews from customers. Millennials will browse reviews 80% of the time before making a purchase.

Make your product description quickly understood with bullet points instead of big paragraphs, and avoid jargon.
Ensure to keep product descriptions updated. Old content can be misleading and eventually fails to convince the shoppers.
Boost product visibility among the target audience with Cdiscount sponsored products program. The program is tailored to get your product displayed in the top results of the Cdiscount search engine.
Optimize your product catalog to grab shoppers' attention and deliver a smooth shopping experience by adhering to the tried and tested tips by Cdiscount.
If opting for a third-party logistics company, ensure they are experienced guys and have excellent ratings.
Official Channel Integration Partner Of Cdiscount
CedCommerce channel integration partnership with Cdiscount allows sellers to offer products directly for shipment on Cdiscount. The Cdiscount marketplace integration solution is developed to simplify the selling process from the start to the last.
It automates error-prone tasks and is available for sellers with the store on the below e-commerce platforms.
Magento 1 & 2
Woocommerce
OpenCart
Sellers (not from France) need not worry about not knowing the French. CedCommerce has got your back, and you will not face difficulties selling on Cdiscount with our solution despite your store being in a different language.
Soon our solution will support the latest REST API. We were staying abreast with the latest tech stack for a competitive edge.
24/7 tech support to ensure no issue gets too big to be a roadblock in selling on Cdiscount.
Most Sold Items on Cdiscount
Furniture and home appliances are the most sought after product category by Cdiscount customers. Other categories with huge potential are,
Fashion items
Cultural products
Toys and Games
Shoes
Electronic gadgets
Household linen
Textile
Not To Be Sold Items on Cdiscount
If you plan to sell the items below, please drop the idea. The below items are strictly prohibited under national, European, and international law.
Items that can spread violence, hatred or discrimination.
Live animals
Stolen items
Drugs or medication that can have the same effect as using the drugs
Medicines
Cigarettes
Items whose advertising, sale, or marketing threaten intellectual property rights. Industrial property rights, or right to privacy.
The product that can be harmful to the morality or image of the hosting site.
Items with the potential of having adverse effects on the health and safety of the environment.
Any product that originates in a country facing international sanctions or embargoes.
Products that are prohibited under the national, European, or international law.
All those items that the seller is doubtful about whether or not he is permitted to sell on the Cdiscount marketplace.
Whom To Sell The Items on Cdiscount
The ideal audience for Cdiscount is the tech-loving millennials and Gen-Zer. Also, they have comparatively more disposable income to spend. Therefore, sellers have another reason to opt for Cdiscount.
Eye-catching visual content, content that delivers value, implementing FOMO, and respecting their privacy will help you stay ahead of the curve.
Few Questions Popping Up in Your Mind
How is the performance of sellers measured on Cdiscount?
There is no specific set of metrics, but a surprisingly high number of complaints against a seller acts as a criterion to get the account suspended.
Therefore, satisfied and loyal customers can save your Cdiscount account from getting suspended.
How can Cdiscount control the sale of counterfeit products?
Counterfeit products are strictly forbidden on Cdiscount. Sellers have to provide a full refund and have to face account termination.
Moreover, in case of a legal dispute, the seller won't support sellers selling counterfeit items.
How much do I have to pay to sell on Cdiscount?
A monthly subscription fee of €39.99 and a commission fee of 4.5% to 20% based on the product category.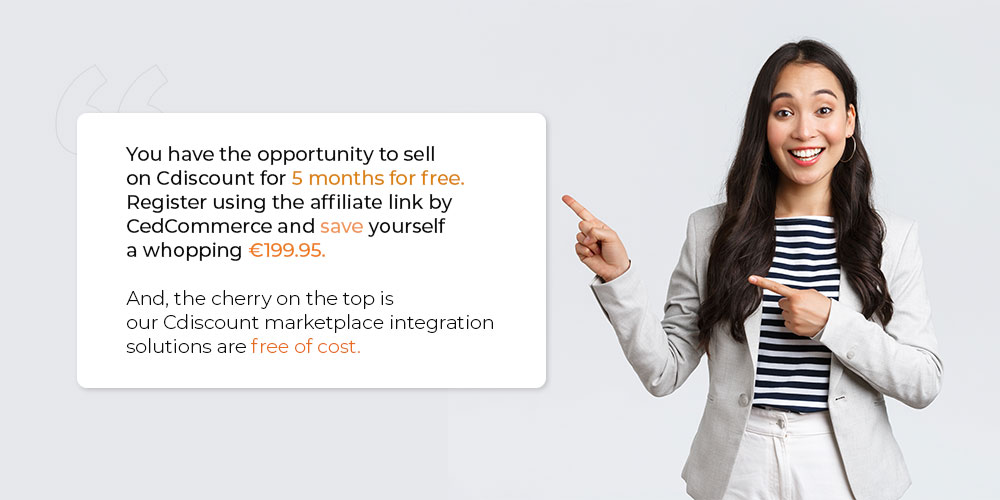 So,
Selling on Cdiscount Got Easier On Your Pocket
Live order notifications – Free of Cost
Near real-time inventory syncing – Free of Cost
Bulk product upload – Free of Cost
Centralized order management – Free of Cost
Profile-based product upload – Free of Cost
All you need is the desire to leverage the tremendous opportunity that needs a minimal budget to expand your business.
What's stopping you now? Kickstart selling on Cdiscount with the affiliate link.
In which countries does Cdiscount deliver the orders?
The geolocation covered by Cdiscount (if the order is placed on the Cdiscount marketplace) are
France/Corsica/Monaco (Metropolitan area)
Spain
Italy
Germany
Belgium
Luxembourg
When the order is not placed on Cdiscount
France and 20 more European countries
Have more queries related to the shipment, logistics, product complaint, payment details, and more? Visit here to know in-depth information.
Expand Business on France's Favorite Marketplace
There is a huge affinity for local marketplaces among Europeans. Local marketplaces like Cdiscount have loyal customers due to a better understanding of their shopping habits and payment preference.
Hence, Cdiscount is highly unlikely to lose its vast customer base to Amazon, the only competitor in the country. Therefore, selling on Cdiscount is an excellent opportunity to grow your brand in France.