Why Selling on Magento 2 and Shopify Stores Together can be a Good Idea
Running short of time? Get PDF of the blog in your mail.

Play Now
The online selling process can become quite overwhelming while selling on two completely different platforms. This blog is dedicated to sellers who are selling or considering selling on the two most used and preferred eCommerce frameworks, Magento 2 and Shopify. We understand it must be challenging to manage orders and products coming and going across these two platforms when you have to manage everything manually. It consumes time and increases the workload of the sellers who can otherwise use the same time on other important tasks.
So, what should you do?
Don't worry. Here, we have explained everything in detail so you can find solutions to all your problems in one place. Let's dive in, then!
How different are Magento 2 and Shopify Stores?
There are many differences between the Magento 2 and Shopify stores. And the most basic one is that Magento is an open-source platform, whereas Shopify is a Saas-based platform. But despite the differences in working, they still make the best pair. Ultimately, they work on the single purpose of helping sellers earn more profits and expand online business successfully.
Magento
Magento, now owned by Adobe, is an online platform based on open-source technologies that allow sellers to easily create, change or update their store as per their needs. The platform may seem complex to some but it offers so many opportunities for the sellers, especially the ones who want to expand their business to a large level. Another benefit of this framework is that it comes with the Adobe community (open source) and commerce editions, where the community version is free. So, beginners can start selling with the lowest investment and easily switch to the Adobe commerce version when they want to expand their online business.
Perks of Using Magento Store
Open-source platform
Basic version is free
Flexibility to customize as per need
Have in-built immediate and advanced functionality
Easy to integrate with multiple ERP systems, sales channels, SEO, and digital marketing tools
Also Read: Comparison Between Adobe Community and Commerce versions
Shopify
Unlike Magento, Shopify is a Saas-based online platform that allows sellers to create their websites using different eCommerce themes. Its drag-and-drop features further help sellers design their store with less effort as no coding knowledge is needed for the same. This framework is the best choice for new sellers who want to start their online business and have a very restricted budget. So, they can't afford an IT team. Like Magento, Shopify also comes with different pricing versions – Basic, Shopify, Advanced – for sellers to choose the best for them.
Perks of Using Shopify Store
Saas-based platform
Comes with hosting
Basic version starts at $29
No coding knowledge or IT professional help is required to handle the website
Can get apps for extended functionality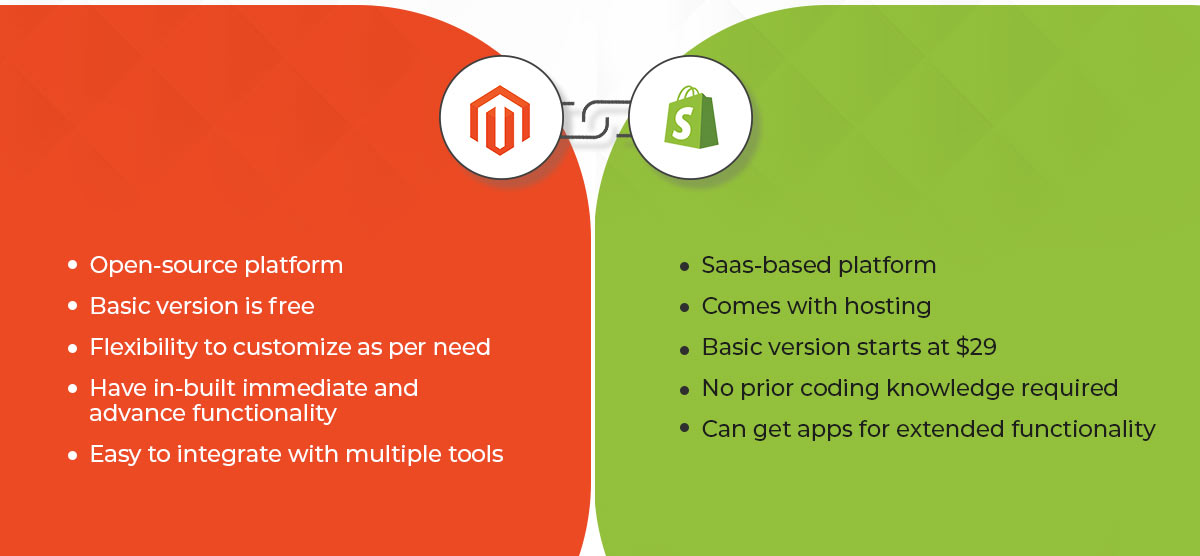 It is apparent from the above arguments that Magento is the best open-source and Shopify is the best Saas-based framework. So, don't you think that by combining the functionalities of these two platforms, we will get the best results?
In the next section, let's understand what benefits you will get from combining Magento 2 and Shopify stores.
Is it Really Beneficial to Sell on Shopify and Magento 2 Stores Together?
Shopify and Magento 2 are two completely different eCommerce frameworks that help sellers accomplish different needs. But have you ever considered using both of them? It may sound complicated, but in reality, it isn't. Instead, using these stores can help you combine the functionality of two entirely different worlds and get the best result in the form of better reach and higher profits. By using these two platforms together, you can: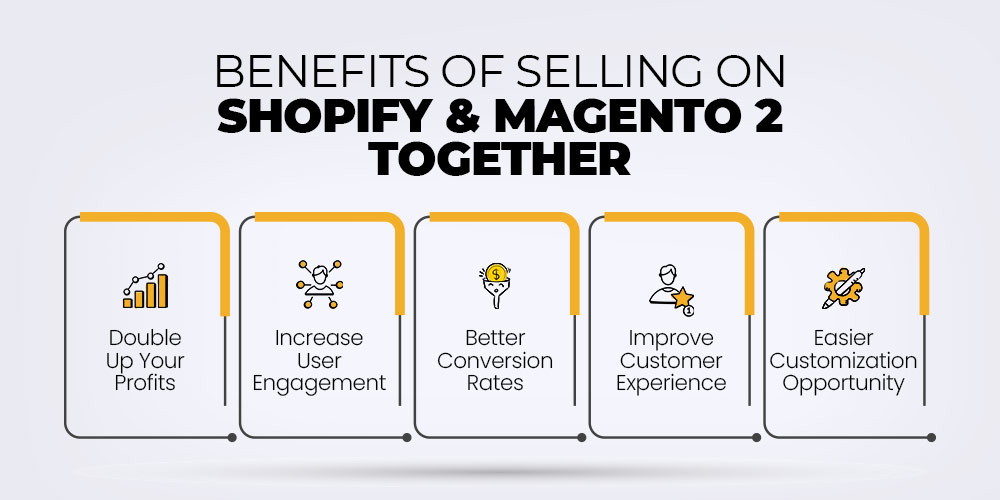 Double up your profits
Increase user engagement
Get better conversion rates
Improve customer experience
Easier customization opportunity
Combining these platforms further helps you overcome common eCommerce challenges. It is because both platforms have their own benefits and challenges. So, Magento will help overcome the challenges of the Shopify store and vice versa.
It sounds like a perfect deal to me, what about you?
Challenges Faced by Sellers while Selling on Magento 2 and Shopify Together
Using both Magento 2 and Shopify stores to sell your products can bring tons of opportunities to your eCommerce business. But it will become challenging to manage inventories, products, and orders as your business grows. If you are planning to manage everything manually, you will encounter difficulties like:
Managing Multiple Inventories: It can be challenging to manage and update different products on Shopify and Magento stores individually as it will consume a lot of time
Overselling of Products: This challenge can occur due to unsynchronized inventories data; when a seller completes the purchase but you don't have the product in stock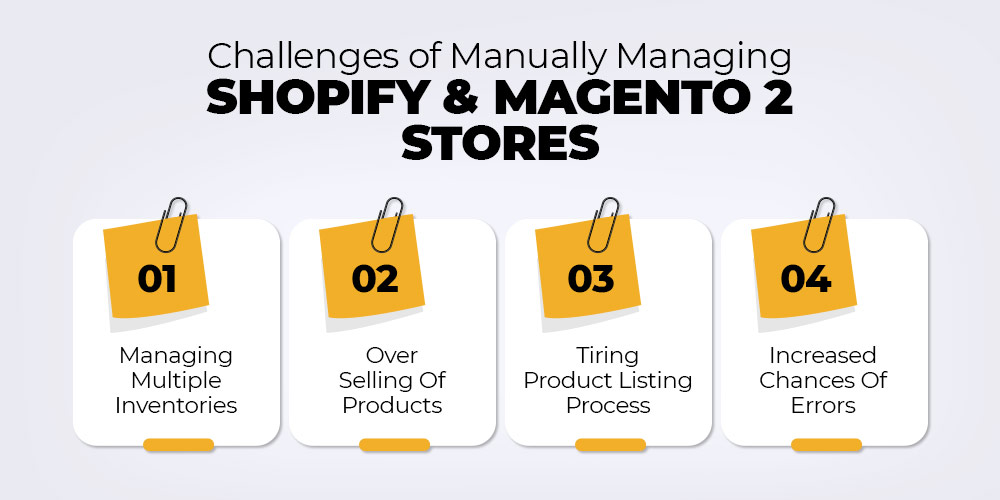 Tiring Product Listing Process: Listing different products one by one on Shopify and Magento 2 store is also tiring, especially when you have to upload products in bulk
Increased Chances of Errors: Humans are prone to making errors, and in eCommerce, one error can lead to many others which will ultimately affect your sales and reputation
Like in life every problem has a solution, and the same holds true for eCommerce. Read on to find a one-stop solution for all the above challenges.
Overcome eCommerce challenges with Shopify Magento 2 Integration
From the above section, it is now quite clear that manually monitoring different activities on Shopify and Magento 2 stores can lead to many challenges. So instead of managing the stores individually, it will help if you can just do everything from a centralized platform and also automate the repetitive tasks.
We have a solution in mind that can help you achieve these results by simply automating your store. The name – Shopify Magento 2 Integration extension!
This simple solution works on centralized management allowing you to monitor & manage two store backends from a single location. Basically giving you the boost to work at 200% efficiency. Moreover, this solution is automated hence eliminating the majority of manual work. In short, the processes which earlier took you hours to complete are now possible in seconds.
Here are the major features of Shopify Magento 2 Integration:
Features of Shopify Magento 2 Integration
Order Import: The Shopify M2 extension allows sellers to easily and quickly import Shopify orders and transfer them to their Magento 2 store.
Order Status Update: The extension allows sellers to edit and update Magento order status and the same gets updated on the Shopify store.
Shipment Tracking: This extension is also quite helpful in automatically sending shipment information from Magento 2 to the Shopify store.
Order Refund and Canceling: Using this Integration, it is also easy to update all order refund and cancellation statuses on the Shopify store.
Inventory Sync: Real-time synchronization of inventories from Magento 2 panel to Shopify store is also possible with this Magento 2 extension.
Take a look at the video to understand better –
Now, you know how using Magento 2 and Shopify stores together can benefit your online business & the role of Shopify Magento 2 Integration in simplifying all your online selling processes. But you still need to decide which multichannel service provider to choose.
We have the best one in mind – CedCommerce, and the reason is here.
Choosing CedCommerce as Multichannel Service Provider
CedCommerce is a well-known multichannel service provider in this industry. The company offers many eCommerce solutions and services for merchants to make their online selling experience as smooth as possible. This Magento 2 Shopify Integration is one of the best and most in-demand marketplace Integration solutions offered by CedCommerce. Some additional benefits that you get from choosing this brand include:
Fully Customizable Solution: All Magento 2-based solutions are highly customizable; you can ask the team to add or remove any feature you need or don't need in your extension.
Dedicated Account Managers: After you purchase any service, get a dedicated account manager who will assist you in everything from onboarding to solving your queries.
High Responsive Support Team Available 24×7: You can connect to the highly responsive support team of CedCommerce anytime and anywhere via chat, call, or email.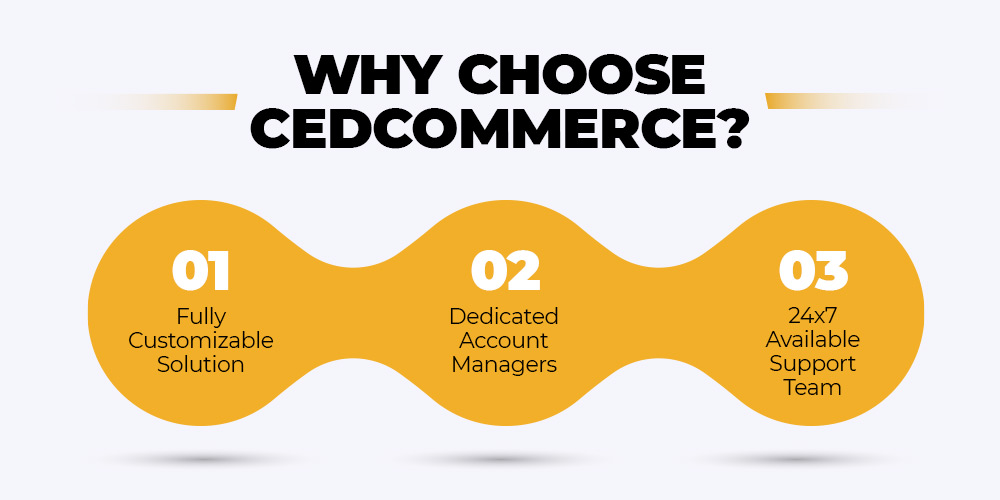 FAQs
Q. Does the Shopify M2 extension support the 'automatic order import' feature?
Automated synchronization is performed by the Crons Schedulers which come in-built into this extension. Therefore, the seller only needs to configure the Cron settings in the Magento 2 server to automatically receive Shopify orders on Magento 2 panel.
Q. Will I get notifications for the new order received on the Shopify store?
All the email updates that the sellers receive are based on the configuration settings in the Shopify connector (configuration > order settings). So, the seller will be notified of a new Shopify order when it is successfully imported to the Magento 2 store.
Q. Can I import Shopify orders for the products that I haven't imported to the Magento 2 store?
If you want to import Shopify orders using Crons but the products aren't available on the Magento 2 store, then first those products will get created in the Magento 2 panel automatically.
Closing Remarks
The sole intention of writing this detailed blog was to give sellers an alternate way to sell and expand their online business. Shopify and Magento 2 stores work on two completely different ideas but combining them can give sellers the best results. Still, many sellers hesitate to sell on the platforms together because of the challenges and workload it brings. Now you don't have to worry anymore as CedCommerce has come up with a one-stop solution, Shopify Magento 2 Integration. This simple solution comes with innovative features to make the whole process a cakewalk for you.
Do you believe simultaneously selling on Magento 2 and Shopify stores can be a good idea? What are your thoughts on this?