Scale up your business with the Instagram checkout!
Running short of time? Get PDF of the blog in your mail.

Play Now
So, you have ads for your products running on Instagram? How about enabling your customers to purchase the product without leaving the app?
Yes! You heard it right, Instagram has just announced its latest feature for all the eCommerce merchants providing checkout on Instagram. The checkout feature makes it quick and secure for people to buy the products they discover on Instagram right from within the app. The feature was initially in a closed beta phase for businesses, but now it is available for US merchants.
Instagram has reduced the friction of making a purchase. Thus, making it convenient for you to display your brand on Instagram Shops and sell the products right from the app itself. Let's explore further to understand more about Instagram Shopping and the benefits offered by checkout on Instagram.
A glimpse at the working of Instagram Checkout
Instagram has been a part of discoveries and experiments since its inception. Bringing along new experiences for both the retailers and shoppers. Instagram unleashed an all-new opportunity to strengthen its relations.
Now with the advent of checkout on Instagram, shopping has become much simpler and secure. Now, people no longer have to navigate to the browser to make a purchase. Besides, Instagram provides a protected payment system. Thus, letting people shop their favourite brands without needing to log in and enter their information multiple times.
Besides, Instagram supports payment through Visa, Mastercard, American Express, Discover, and PayPal.
Note: Facebook has waived off the selling fees for all the orders till 30th June 2022.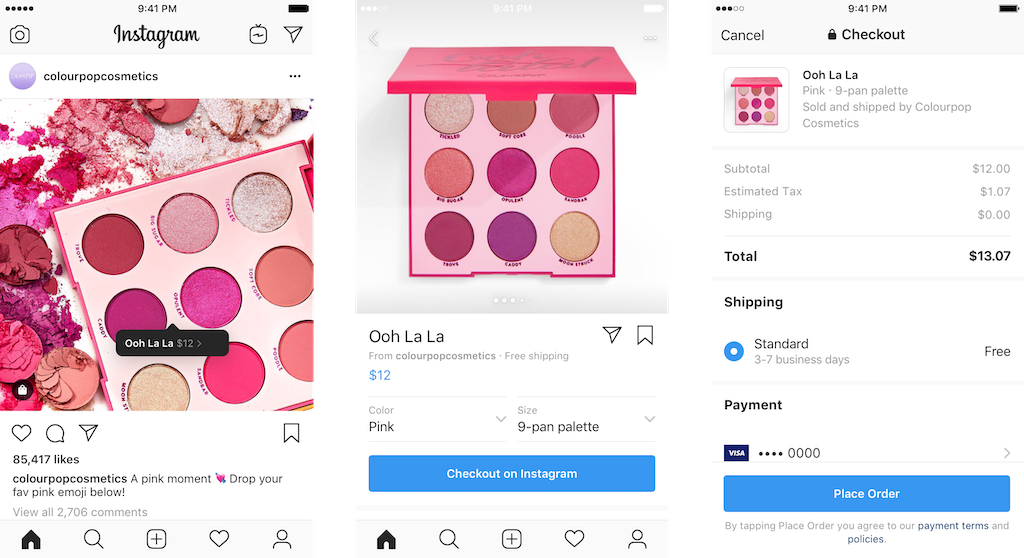 Image Source: Instagram
How to make a purchase on checkout on Instagram?
Making a purchase on in-app checkout is easy. As soon as your customer taps 'View' the product from your shopping post, they will be able to see the option of 'checkout on Instagram' on the product page itself.
Your customers can tap on your product page and select the products' attributes and make an instant purchase. If you are purchasing for the first time on checkout on Instagram, you need to:
Enter name
Email address
Billing information
Shipping address.
Once your first order is complete, your information will be securely saved for convenience the next time you shop. You'll also receive notifications about shipment and delivery right inside Instagram so that you can keep track of your purchase.
Is checkout on Instagram a game-changer for your online store?
With 200 million + visitors visiting at least one Instagram business profile per day, Instagram has already established itself in the eCommerce niche. It is now one of the valuable marketplaces for anything: fashion and digital products, apparel, mobile accessories, kitchenware, or anything you need.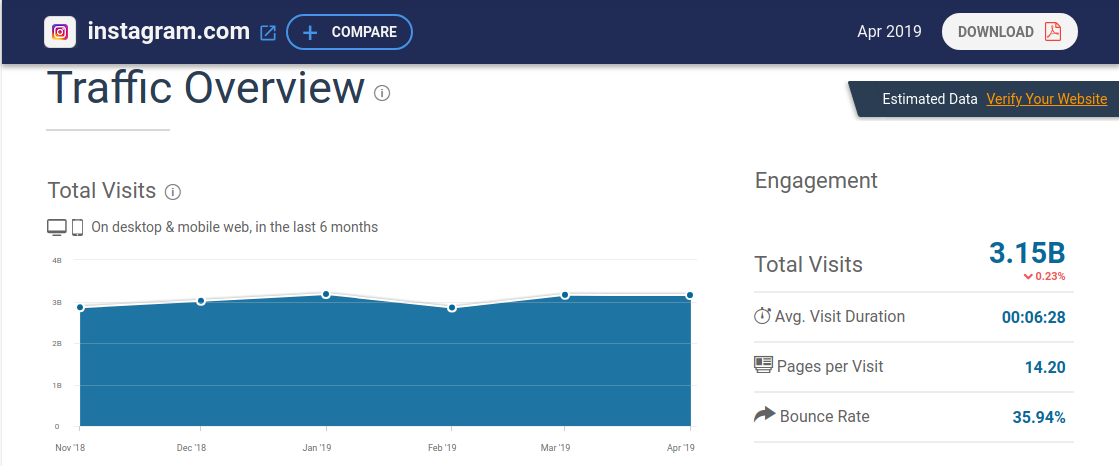 Here are some of the interesting facts about Instagram:
Instagram has around 1 billion active users in a month.
60% of the users admit they discover new products on Instagram.
⅓ of the most viewed stories on Instagram are of businesses.
70% of the shopping enthusiasts turn to Instagram to make a purchase.
Wondering how to get started and be a part of Instagram eCommerce?
To be a part of Instagram eCommerce, you either set up your Shop on Instagram through Commerce Manager or contact Facebook marketing partners.
Coordinating with marketing partners can be a preferable choice. It eases your selling process and provides the features like seamless account setup, order management, bulk product listing, enhancing your catalogue, and many more.
Note: Shopify and WooCommerce merchants can now surface their business on Instagram through Facebook & Instagram Shopping and Social Commerce.
Is checkout on Instagram worth your business?
The checkout on Instagram can do wonders for your online business. Not convinced yet? Here, look out at some significant benefits for yourself.
Reduce friction in the path to purchase
Studies suggest about 74% of shoppers reach over buying decisions with the help of social media. Besides, with the addition of 'checkout on Instagram', people can now easily make a purchase from your business on Instagram. The payment credentials can be securely saved for future purchases.
Unlock additional creative tools
Having your business on Instagram provides you access to additional features such as collaborating with influencers and creators, product launches through live shopping features, product tagging, etc. This will, in turn, help you to build connections and get more followers on Instagram.
Funnel based strategies
You can leverage the Instagram Shopping tools and build your business strategies. These Instagram tools help you right from creating your brand awareness to drive more customers to your Shops.
A flashback at Instagram's social commerce history
Instagram in 2017:
Instagram has introduced Shoppable posts where you can share photos and videos of the product and tag them. The users interested in buying can tap to view your products and click on the link to buy it from your store.
Instagram in 2018:
Instagram included the features of redesigning the dedicated shop tabs on business profiles and Shoppable Instagram posts. Besides, IGTV videos were the key focus in 2018, providing businesses a new way to engage with the audience through videos.
Instagram in 2019
The key update of 2019 on Instagram was the announcement of 'checkout on Instagram'. All the eligible businesses of the US and creators gained access to the in-app checkout feature. It was in the closed beta phase.
Instagram in 2020
From September, all the US-based businesses can access checkout on Instagram. Besides, the feature of the closed caption and live shopping features was launched. The closed captions and live shopping feature allow you to connect with your target audience much more effectively.
To Sum Up
Is Instagram Checkout going to be a game-changer for online shopping, or is it more likely to be an excellent tool for many companies but not something that radically changes the shopping landscape?
Well, the coming days will surely answer a lot of queries. Till then, get ready to make some spontaneous sales even when you are half-awake with one eye barely open while scrolling Instagram feed through checkout on Instagram. In case you are facing any hurdles, feel free to contact us.