Role of Ad Extensions in PPC Advertising!
Running short of time? Get PDF of the blog in your mail.

Play Now
Are PayPerClick Advertising and Ad Extensions interrelated? Let's get to know this!
Would you be up in arms, if you aren't recognized? Yes, certainly, if you are amongst a bunch of competitors and know your products or service could be truly deserving! Also to contradict, choosing the most authentic, is really a tough task! Imagine, if you aren't justifiable to be that authentic? What profits right!
As it seems that the world is a crowded online marketplace! Every second product or service delivered seems to have a stern resilience to fight, confirming a position.
The question now is, how would your product or service being advertised, get that cutting edge! How would it establish authority over the others? Advertising through PayPerClick and with subtle importance of ad extensions in Pay-Per-Click advertising though is highly revealing and commands instantaneous returns on investment, yet you need to have that cherry on the top!
So, get ready to get in touch with the experts for instantaneous results!
Advertising through the Pay Per Click, and forgetting about the ad extensions(specifically the Google Ad Extensions)? You shouldn't, as the cutting edge we were talking about is right there including the ad extensions. Even though these are the extra toppings to your ad copy, ad extension in Pay Per Click proves a silver lining to boost your ad rank on the SERPs. Additionally, they facilitate the optimization of your ad campaigns, and may also improve the quality score for greater ad relevancy, for that matter. So, the ad extensions and PPC Advertising do relate!
Let's dive in deep to get the details out!
What are Ad Extensions in PPC Advertising?
Wouldn't your ad seem just a puppet, if not provided with additional features that make it lively? Would it be able to blow the trumpet and test the waters giving your brand a competitive edge?
As being the main protagonist here(i.e. The Advertiser) you have to wear many hats and so should your ad. There have to be many aspects that have to be covered, simultaneously. Additionally, your campaign strategies should meet your goals! This is what PPC Advertising is all about.
Ad extensions prove to be a Golden Handshake for the optimization of the paid search and display campaigns. They are useful pieces of information that are tied to your ads, to make it rank high.
Ad Extensions can be manual as well as automatic, which means you can add those ad extensions yourself, or it could be set automatically when the required conditions seem to meet.
You know that your PPC Advertising Campaigns have to be a stand-out to corner the market and ambition the future prospects strongly. Therefore, they should have the instinct in them to overwhelm the audience and should imbibe in themselves the quality to trigger an emotional connection with the audience immediately(issuing the problem and addressing a solution). This certainly enhances your click-through rate. 
Ad Extensions can be of two types-
Manual Extensions
Automated Extensions
To know them better, and witness the wonders they do with your advertisements, let's dive much deeper covering all aspects.
Manual Extensions as a part of your Ad Extensions:
If it is entirely in your hands to adorn your ads and enthrall the audience to an extent where they are compelled to take action, then what else do you want?
Yes, the above statement becomes a fact with the Manual Ad Extensions beautifying your ads. Actually, no one but you yourself would intensify the performance of your ads, making it lively. Manual Ad Extensions are certainly an integral part of your PPC Advertising Campaigns. So, giving additional pieces of information attached with your ad copies gives people reasons to choose your business thus enhancing the click-through rates for your ad copies.
Now with the bifurcation of the Manual Ad Extensions, you would get a better idea of the scenario. The following happens to be the core ingredients of the Manual Ad Extensions:
1)Sitelinks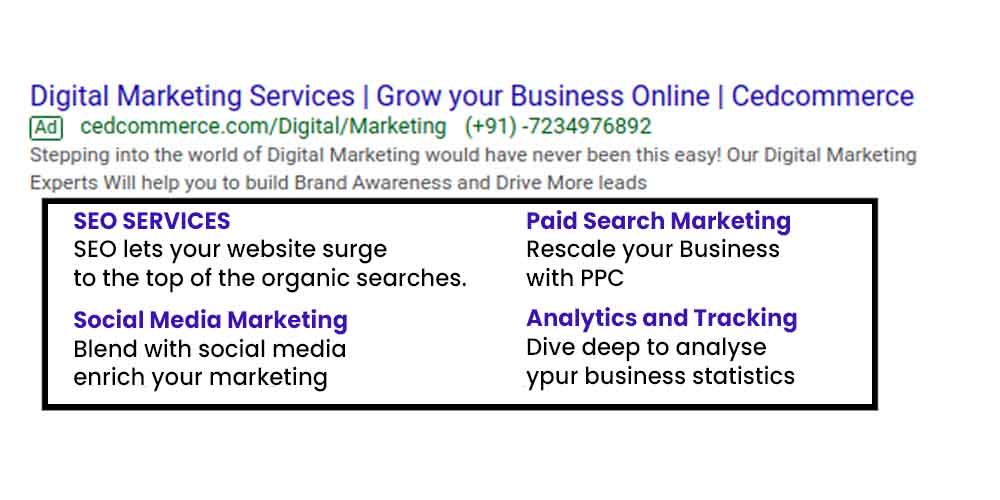 Supposedly, you own a restaurant, and you are advertising it to the world online, what would you do? Would you leave out on the dishes that are your pride? Or would you leave out the service or the ambiance, that is self-explanatory of its beauty?
You would never do that right! And rightly so, doing it would cause you nothing but troublesome losses. A panic hysteria and fright to float at the same time that would let you lose your temper eventually, asking yourself,
How would the people search get to know what's best?
Is there any way they would know what specialty I have on offer?
Are the services speedy enough and how would you describe the lavish ambiance?
Shouldn't I come up with some signs or symbols to direct people to my dishes catalog, my about us sections, my service page, so that they could read, before reaching conclusions! You absolutely would be looking to serve some navigators on the way, isn't it?
Yes, if there are different navigators on the way, guiding you to the location, how easy would the task be now! In a similar manner, in Google Ads, site-links are the hyperlinks or the additional links in a PPC ad, that are directing the visitors to the different pages on your website. Now, this is superb right!
You would love to know that the indulgence of the site links could be at the account, campaign, and ad group level. You can specify the link text (the text that displays in the ad) and URLs (the pages they click to).
"Addition is good, till it is unique", the addition of site links, should ensure that they make you land on a unique URL. They will click the site-links, your quality score and content relevancy in the ad copy would matter a lot here.
 2)Callout extensions: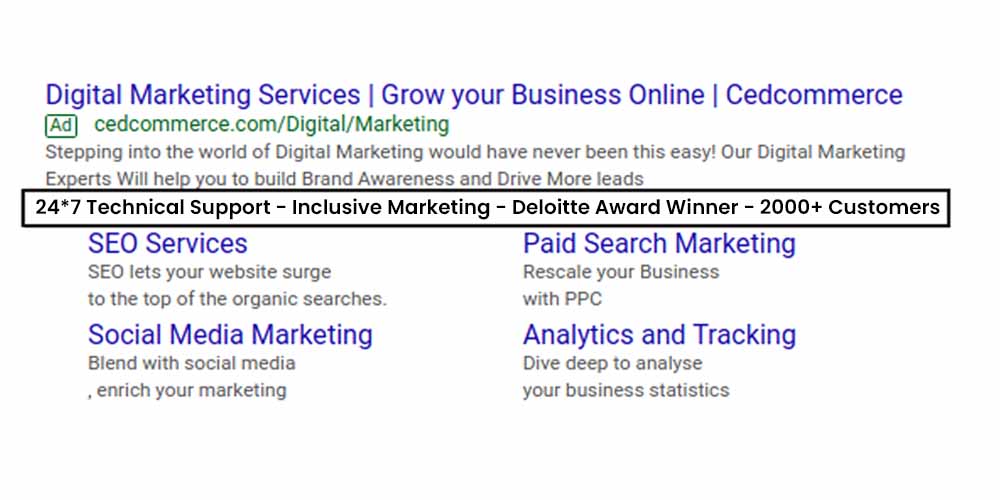 You supposedly happen to write an answer or a mail or a text or a note, but forget addressing the highlights in mails, forget to even underline the important facts in the answer, and do not even care to pen down features separately in that note, what will happen?
Obviously, the person receiving would think it to be very plain and uninteresting. The reason being no highlighting features or illustrations to be found!
According to the above-stated fact, to save your PPC Ads(specifically Google Ads)from being a part of ignorance, call-out extension is attached to them. These extensions are the additional text that is added to your ads highlighting enticing features such as free shipping or stating any discounts, or announcing any offers on display.
These callout extensions can be added at the account, campaign and ad group level. Or the location for adding the extension can be selected, call-out text can be created and scheduled to put in whenever wanted.
Call-out extensions act as highlighting differentiators, providing the necessary thrust to your ad copy, not letting your marketing efforts down the drain, and resonating your ad performance with success. It is now time to get in touch with the experts and make your ad performance a huge success!
So, get ready to get in touch with the experts for instantaneous results!
3)Structured snippets: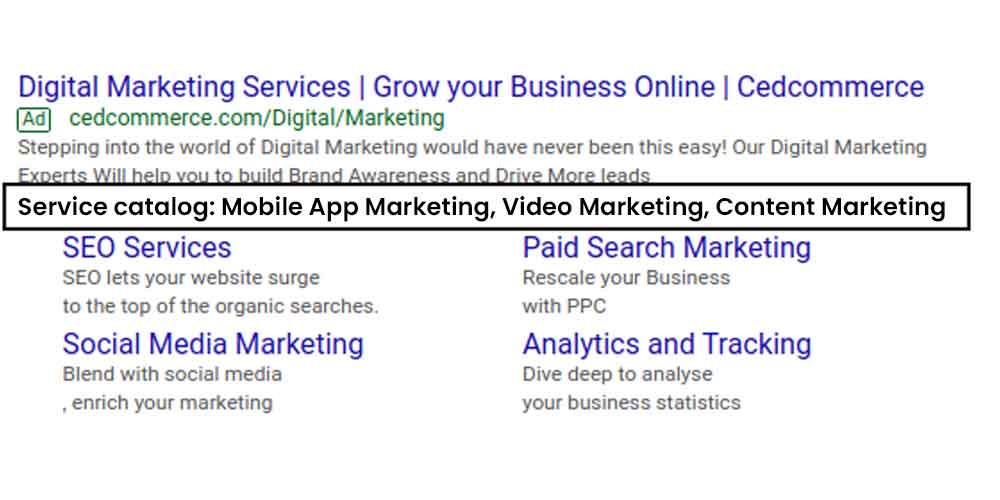 Highlighting and then displaying the assets separately in your work defines your capabilities and far-reaching abilities.
The same goes for the ad copies in your PPC Advertising techniques. You know that your ad copy contains a vulnerable section, that when displayed could be really intriguing.
Highlighting them in the right aspects in your Google Ad Campaigns could engulf wonders for you! You need at least three snippets for this extension to make an impression with your ad.
4)Call Extensions: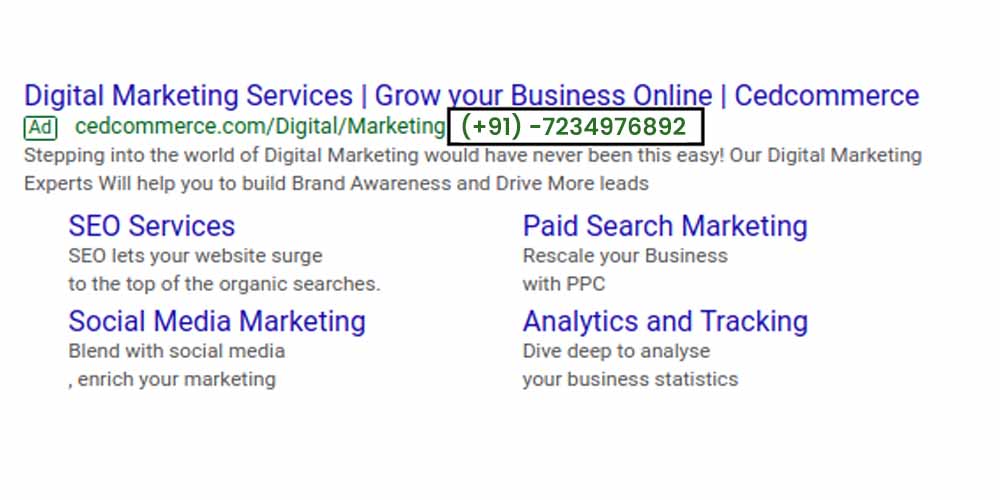 How easy it becomes to contact a person directly when you can call and chat, isn't it? And it is a great feeling too when you are getting to know the solution with just a tap.
It is tiring when locating and tracing, seeping through websites, and then too not getting the exact mode of contact you are wanting, right? It eventually is a tedious task to go through!
In the world of marketing through Pay Per Click, with call extensions, you directly contact the businesses you want, whenever you want and you do not need to keep fighting for the apt modes of contact.
No doubt that these call extensions let you skim through the unnecessary steps and bring in direct contact. But they have their limitations too.
You know that there should be a team constantly monitoring and receiving phone calls, and answers and there is no room for subdued activity here.
The team working to pick calls has to be agile enough to be constantly receiving and answering the phone calls. Also to note that these extensions prominently bring positive results with potential customers, continually in for a definite search, and are keen to solve their respective issues.
5)Message Extensions:
If you go on to rank in descending order then message extensions would find their place right behind the call extensions. Text message finds its way through as one of the prominent ways of contact.
Adding Message Extensions in your ad copies gives you a lucrative way to deliver messages to the customers. That message is then pre-populated in your messaging app when they click.
To certify that you do not conceive problems for yourself receiving messages in bulk, you should have an automated chat software, to let the person connect and get answered directly, without your productivity getting hampered.
6)Location Extensions:
Getting a proper location helps you track things really easily and find them in seconds. Location extensions show your business address, phone number, and a map marker with your ad text.
Location extensions eventually drive traffic to your store. Therefore, you should be in possession of a physical premise wherein you can derive the traffic altogether.
You can add multiple locations, by linking your account to Google My Business and targeting your ads around your business addresses.
7)Affiliate Location Extension: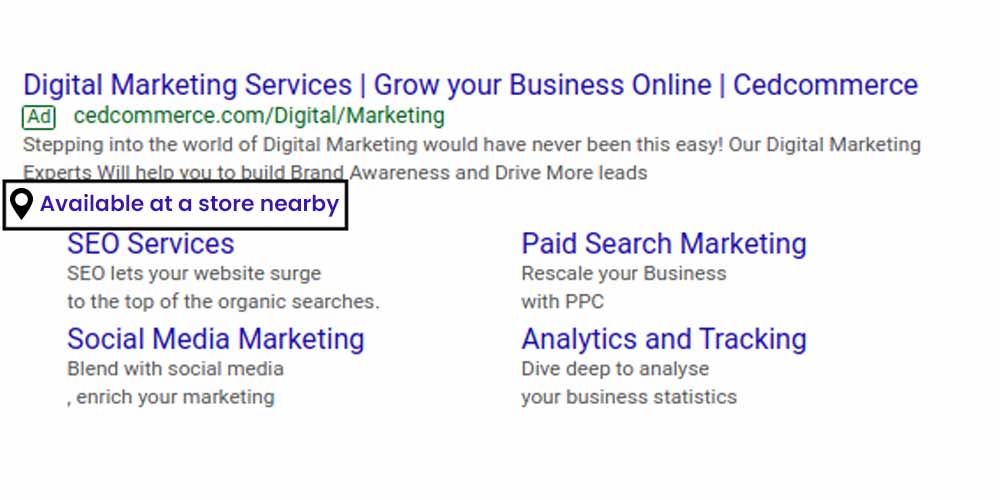 Affiliate location extensions in your ad copies help people locate the nearby retail stores that support and promote the products, thereby selling them.
These affiliate stores act as third-party stores that let your business flourish in the full swing particularly suited to retail chains.
8)Price extensions: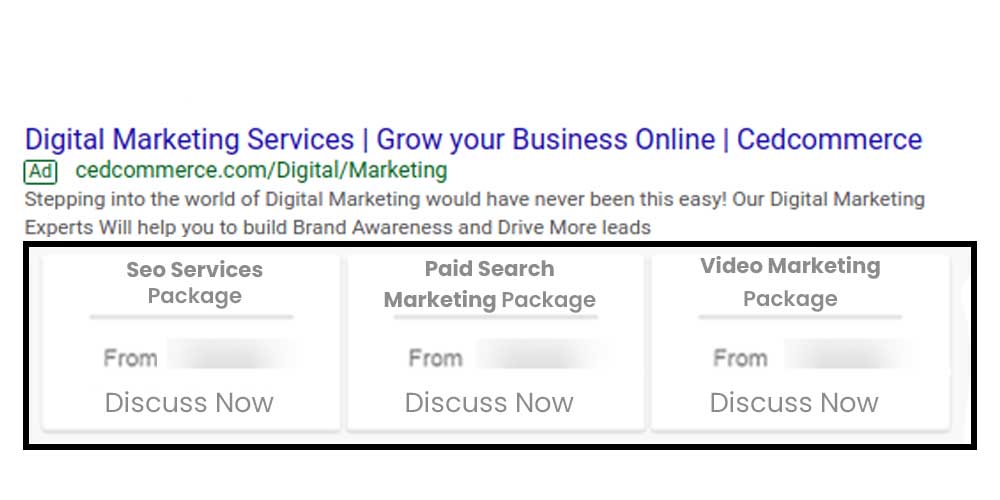 It becomes obvious that after seeing the price of a commodity, a person plans to buy the product or not. So why would you expect him to click without even displaying the proper pricing below the ad?
Thus to make sure that the user is satisfied and will click, price extensions are displayed below the ad, thus displaying the pricing information.
Each price extension has its own link. Clicking on the price extension will let the user land directly to your website.
As they are the price extensions, they somewhere indirectly highlight the features and specifications of the products. They prove to be a useful tool as lead qualifiers.
9)Promotion Extensions: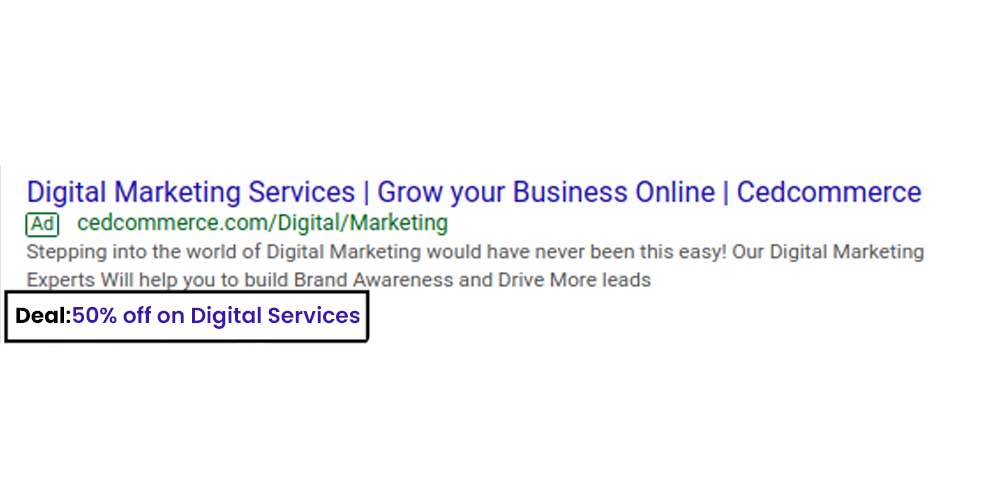 Promotion extensions help you in highlighting or labeling any promotional strategies that are on offer. These extensions include the phrases that can trigger immediate actions through a click.
They may include phrases such as " it is a deal" or get 10% off" or "this Christmas gets special deals" and so on, now looking at these phrases in your advertising, could be so soothing to the eyes of the audience that they could even click through.
10)App extensions: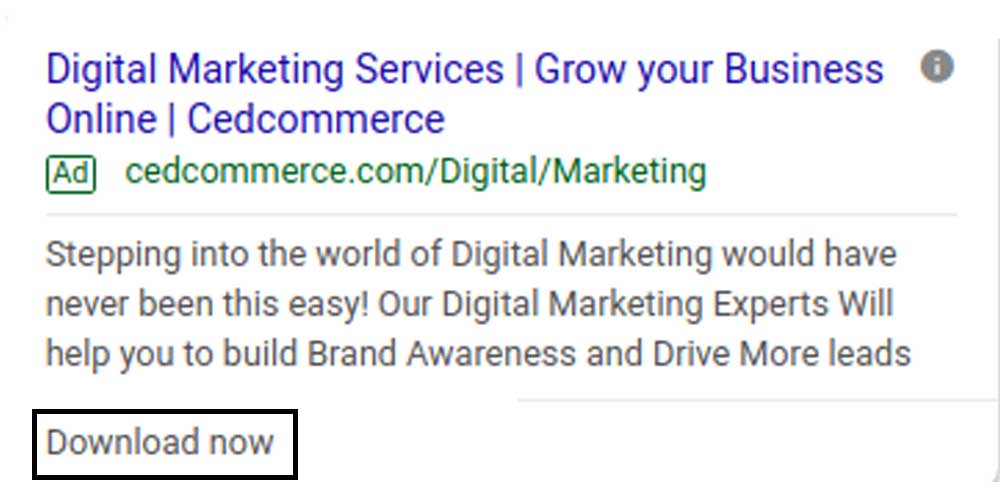 Your advertisements could also be containing links directing users to mobile apps or tablet apps. Use this extension If you have a mobile app that's live in Google Play or the Apple App Store.
11)Lead Form Extensions:
Google ads is now up and rolling with the new lead form extensions. When potential customers happen to make a Google search for a product or service, they get to fill a form directly to fill up their information directly in your ad. Now, do they end up redirecting to any other irrelevant page once they click there on the ad? Not really and this in turn helps capture the potential users' attention with less effort.
As we have already witnessed above about the ad extensions and their usage. These extensions dispense the additional information from your text ads and are used to make your ad appear prominently on the search results.
They add the needed relevancy to ads, providing the added information that could help the user seek for more. This makes an arousal of enhanced interest in the person, as the method is lucrative and far away from the traditional vanity metrics.
As the war is to get more clicks thereby generating more revenue, and for that, the ads have to make their presence felt. However manual extensions here do this job successfully and stimulate the user.
But as said the automated ad extensions are just the dynamic version of those manual ad extensions and are no different in working.
The bifurcations of these automated ad extensions are similar to that of the Manual Extensions and include:
The Dynamic callouts are first on the list.
Including the Dynamic structured snippets.
Then come to the Dynamic sitelink extensions.
The Automated call extensions are also a part.
Encompassing the Automated message extensions.
Counting the Automated location extensions.
You can opt-out of many of these automated extensions. From the Ad Extensions tab go to the "View:" drop-down, and choose "Automated extensions report."
Ad Extensions are the core of your PPC Advertising Campaigns
As a result, to benefit your PPC Advertising campaigns and make them much more goal-oriented, and highly intended, ad extensions play a vital role to skyrocket your presence online. As we all know, a user is on a search with a query and is looking for a "definite" result. The "definite" result could be your advertisement, providing him an answer through your ads that perfectly contain value-added information.
How can you provide that value-added information?
For that value-added information, ad extensions play a vital role, thereby making you outsmart your competitors, showcasing a real display of knowledge.
It's better to enhance the copies for the readers through the additional pieces of information for your prospects to click as much, this enhances your click-through rates.
Ad extensions have proven to be a unique way to facilitate your search engine marketing campaigns. There are various other metrics ranging from the quality score to the campaign optimizations, to the ad rank, and even the CPC's and CTR's that impact the ad performance. Enhancing personalization, the ad extensions as a part of your PPC Advertising Campaigns definitely work upon the audience engagements, resonating with the ad copies thereby equating to a higher sales and ROI.