Learn How to Create Facebook Ads And Become A Marketing Prodigy!
Running short of time? Get PDF of the blog in your mail.

Play Now
Marketers, merchants, and mages must possess one common skill! The art of attracting people! It's a game of attracting a larger audience! The higher the traffic, the higher is the chance of profit. And when it comes to social commerce, Facebook leads the world of advertising! 92% of marketers trust Facebook for exposure and running ad campaigns. Today, we aim to simplify advertising, by learning how to create Facebook Ads, Facebook Retargeting Ads, Facebook Prospective Ads, and more.
And not only that, but we'll also touch on the crucial aspects of advertising. These include finding your niche audience, and what kind of advertising brings more traffic. So, put on your marketing hats, and let's get started.

What are the benefits of employing Facebook Ads?
According to reports, Meta claims that a total of 2.11 billion people are reached through Facebook ads. Moreover, this amounts to a lum-sum of 72.5% of the total 2.91 billion monthly users. And these numbers expect a surge of 15.5% by the end of 2022.
The number game does show increased reach and exposure. Which is a plus. And oftentimes that is the only goal of every marketer.
But what about other vital variables of growth, such as better lead generation, customer retention, and brand building?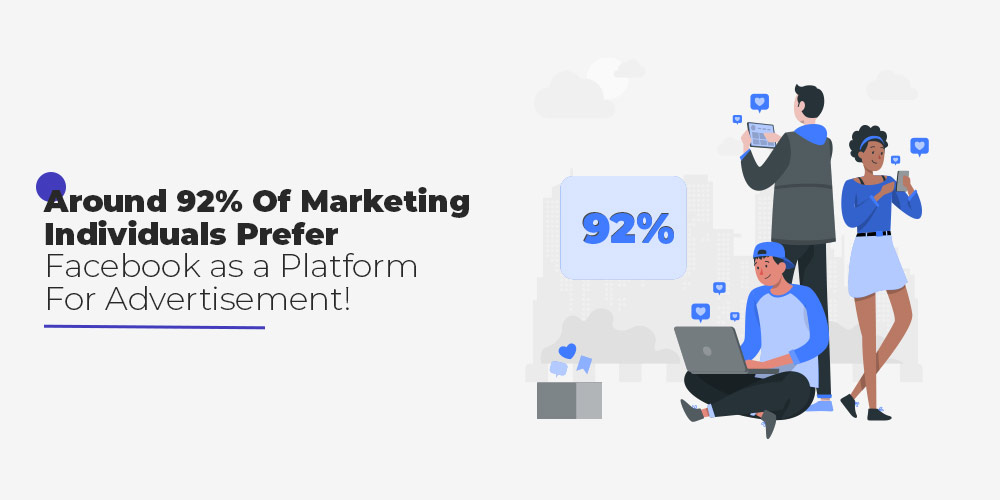 Variables of Advertising
Advertising is similar to the constant grooming of your gardens! With Facebook Ads, you water your existing customers and increase the chances of bearing profits. And consequently, planting seeds to grow new leads!
Facebook has the potential to expose your business to 34.1% of the global population that is above the age of 13. And since the downfall of Covid in the year 2019, Facebook Ads saw an increase of 122.2%. The immense reach of Facebook ads has always been a positive aspect. And that provides advertisers and merchants the ground to attract these audiences and convert them into leads.
So, once you onboard Facebook Ads, be ready to cater to a high inflow of clients.
But, when you are new to the world of advertising, you might not know how to bring this inflow in the first place! Or sometimes as a merchant, you want to focus more on selling, than promoting. So now what? Meta Business Partners is the answer!
Meta Business Partners can help such merchants carry out different business operations that directly affect sales. One such operation that business partners can help you with is the advertisement!
Advertising is a pillar for any business and often times merchants are so concentrated on sales that they are unable to give advertising the attention it requires.
Now the question that hangs is, which Meta Business Partner you should go with?
Let's find out!
CedCommerce's Facebook & Instagram Shopping App!
CedCommerce has been a Meta Business Partner for quite some time. And Ced's sole purpose is to help clients easily manage different business processes and streamline them. So that the businesses can concentrate on selling, and not on the hassles of management.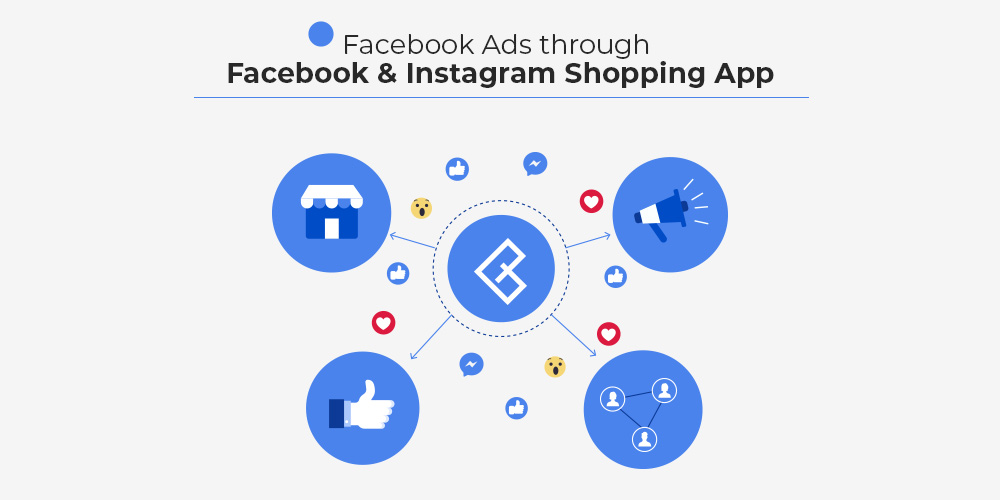 The Facebook & Instagram Shopping App by CedCommerce is a Shopify Integration app that allows merchants to easily manage their online business easily! Here are some of the features that make Ced's Facebook and Instagram Shopping App the best.
Unified and Expedited Onboarding from One Single Place
Enriched Product Listing with Additional Attributes and Supplementary Feeds
Real-Time Inventory synchronization across Metasurfaces
Order Management with Real-Time Error Notifications
Dynamic and Flexible Ads Targeting for Personalization
Conversion API and Pixel Support for Accurate Tracking and Analytics
No Cost Ads Optimization with Marketing Experts
An All-through Account Manager and 24*7 Human Support
But what's the catch? Why are we referring to Ced's Integration app to run Facebook Ads?
The all-new powerful Facebook Ads feature!
The All-New Facebook Ads feature is one powerful addition to the Facebook & Instagram Shopping App. It empowers merchants to bring their business on a global platform, and create a brand name for themselves.
You must be wondering isn't that what third-party advertisers are there for? True! They are, but everything comes at a cost! While with Ced's Facebook and Instagram Shopping App, you get the power of Facebook Ads, absolutely free!
And not only is it Free! There are several additional benefits that make Ced's Facebook & Instagram Shopping app's ads feature the best.

Here are some of the benefits:
Monitor and analyze the effectiveness of ads through Ads Analytics
Create Retargeting and Prospective ads based on the requirements
Reach the audience according to their demographic, interest, and behavior
Conversion API and Facebook Pixel for better ad tracking
Now that we are more familiar with the benefits of the Ads feature, let us dive deeper into the Ads feature, and learn how merchants can create their own ads and monitor them with the help of the app. 
Facebook Ads Feature in the Facebook and Instagram Shopping App!
The Facebook Ads feature in Ced's Facebook & Instagram Shopping App is divided into two sections. 
Ads Analytics
Facebook Campaign
Ads Analytics deals with monitoring and analyzing the performance of the ads, whereas Facebook Campaign is a space from where merchants can create different ad campaigns with varied objectives. Let us learn about the two sections in detail, and learn how to create ad campaigns and monitor them.
What are Ads Analytics?
If you are a merchant who wants to analyze the performance of the ads your business has employed then all you would want to see are numbers! And the Ads analytics is exactly that.
With ads analytics, you'll be able to study the ads performance data represented in the form of Worm charts and Bar graphs. This will allow you to monitor the efficiency of every individual ad. Consequently, you'll be able to form your future marketing campaigns based on the insights that the app will provide.
Additionally, you'll be able to view the following metrics for your ads:
Reach
Impression
Purchase ROS
Spend
Average Clicks
Average CPM
Average CPC
Average CPP
Facebook Campaigns
Ad Campaigns are a set of ads that are created with a single objective. Therefore, these objectives vary from increasing the frequency of installation of apps, increasing the visibility of products and services, and generating leads! These Ad Campaigns consist of ad sets, which are further divided into two or more ads.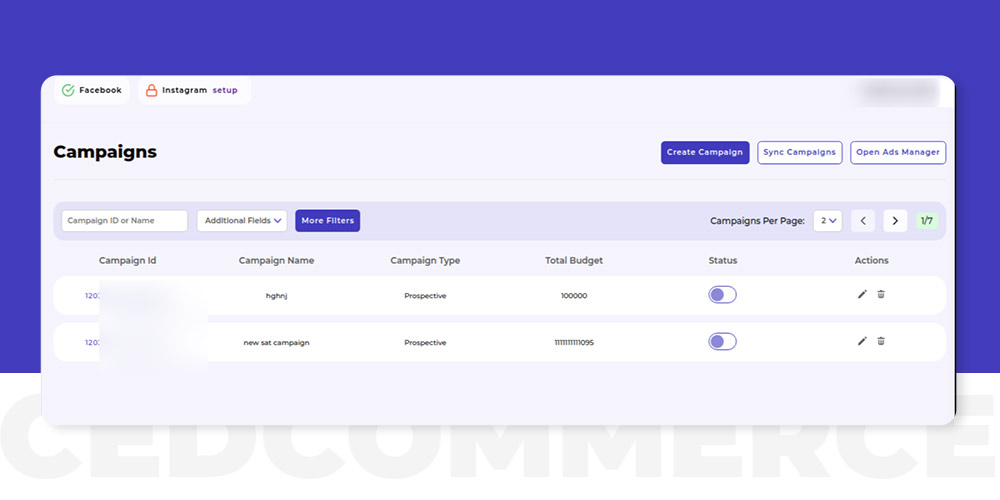 In the app, the campaign section allows you to see the details about Campaign ID, name, type, total budget, status, and the action merchants can perform.
Additionally, in the campaigns section you'll find three more options to perform the following operations:
Create Campaign
Sync Campaign
Open Ads Manager
How to create a Campaign
Creating an ad campaign is very simple and easy with the Facebook and Instagram Shopping App. Here are the steps to create a campaign:
The first step is to select which type of ad you want to create. Therefore, to select the type of ad, click on 'Create Campaign'.

A Select Campaign Type box will appear, in which two options will be visible. 

Prospective (Audience Building)
Retargeting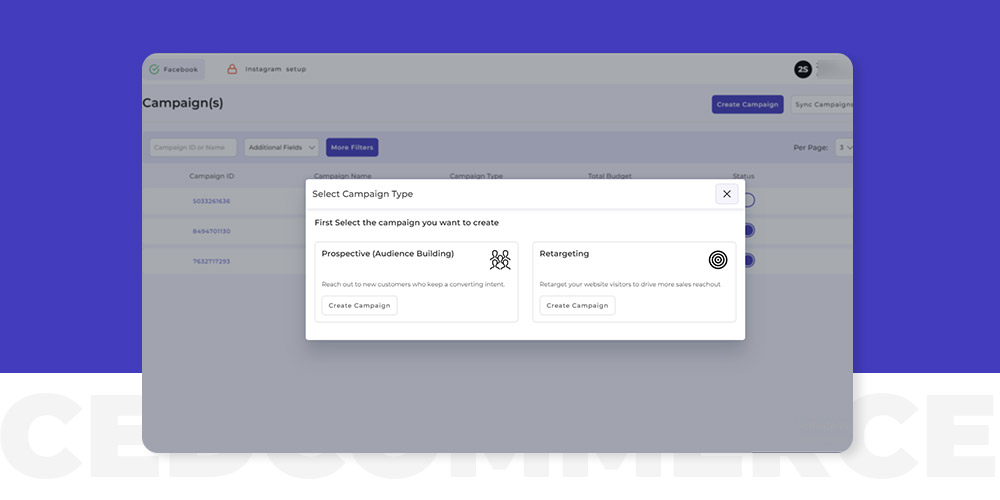 To make the most of these two campaigns, merchants must understand what is their objective and how can they make the most of it. 
Prospective Ads (Audience Building)
Facebook Prospective ads are also known as Audience Building Ads. Therefore, if you are a merchant who wants to target new potential customers and convert them into becoming prospective buyers, then Facebook prospective ads must be your choice. Facebook Prospective ads provide the following benefits:
Building your audience from the scratch
Increasing your brand awareness
Making your product familiar to your audience
How to create Facebook Prospective Ads?
Here are the steps to create Facebook Prospective Ads:
Step 1:
Click on Create Campaign, and then select Prospective Ads.
Create Campaign Prospective Box appears. Enter your Campaign Name.

Now Select Budget type. You can choose between a Daily Budget and a Lifetime Budget.

Enter the Budget amount and click Next to move ahead.

Now that you have decided on the budget. The next step is to Choose your Audience. Now you would have to fill in the Ad Set details.
Step 2:
Select your Ad set name. This is the name you provide to your ad set. Select the Target Location to target the audience on basis of the geographical sphere.
Next, select Interest, Behaviours, Live Events, and Campaign start and end date.
Step 3:
You can target multiple audiences based on your interest, behavior, and live events. Select Ad Level for your campaign. In this:
Select the Ad name.
Add Title, Headline, Description, and Website URL on which you want to redirect your customers.
Next, choose an Ad format.
Step 4:
The last step is to launch the ad campaign. Check all the details and then click on Submit for Approval.
Read this blog to learn the secrets of creating Audience Specific Ads.
Retargeting Campaign
Retargeting Campaign is a pay-per-click campaign, which is used to attract audiences that are already familiar with your business.
When we say familiar, it means that the audience has already viewed your Facebook and Instagram profile, and also is aware of the products and services the business provides. Additionally, the advertisement revolves around the idea of convincing the already exposed audience to return to your product. And consequently, improve the conversion rate of the audience.
Facebook Dynamic Ads Retargeting
Another, beneficial aspect of a retargeting campaign is the Facebook Dynamic Ads. Therefore, it is very often that there are several businesses that sell the same kind of products. So, when an individual is searching for a product, they may not come across your product but explore the same product sold by any other business. This is where Facebook Dynamic Ads kick in.
Therefore, Facebook Dynamic Ads helps merchants to target such audiences who have shown interest in the products that the businesses sell, anywhere else on the internet.
Often, Facebook Dynamic Ads are used in a way to keep reminding the buyers of the products they looked at but did not purchase it.
Additionally, with Facebook Dynamic Ads, merchants get the feasibility of personalizing the ads as per the target audience, whether they have been exposed to your business or not!
How to create Retargeting Ads?
Here are the steps to create Retargeting Ads Campaign:
Step 1:
Go to Create Campaign, and select Retargeting campaign as your preferred choice. Click on 'Create Campaign' on the Retargeting option.

Next, add campaign basic details like Campaign name, Campaign type, and Campaign Budget.
Step 2:
The next step is to select your Ad set name. This is the name you provide for your ad.
Next, select the catalog set then the catalog, and then proceed with an event type.


Note: The catalog set needs to be created in the connected catalog.

In the event type, you can select an option between the following:
Select the Ad set start and end date for your campaign. (Start date is compulsory for both daily & lifetime budget and End date is compulsory for lifetime budget)
Step 3:
Next, again add the catalog and catalog set to the app.
Now add the headline, description, the primary text for your ad, and a website URL.
Add a CTA button.
Now enable the Dynamic Ad toggle button if you wish to employ Dynamic Ads. And Click on Next.
Step 4:
Now, choose an Ad format.

Single Image ad
Carousel ad

Now, check all the details once again, and then click on Submit for Approval.
Once a campaign is created, merchants can easily view the ads from the App's dashboard and activate the Ads.
Let us see how to activate your ads, and create ad sets.
Steps to Activate the campaign:
Go to Campaigns. You will see all the campaigns that are active.
Click on the Toggle button and a confirmation box will appear.
Click Yes to activate your campaign.
Click on the three dots under Actions, next to the Toggle buttons, to edit your campaign information.
The screen will appear where you can edit your Campaign's basic information like the Campaign name, budget, and Status of the campaign.
Once done, click on Save to update the changes.
Want to know exactly, which type of ad would work more? Here's a blog that lays down a comparison between Videos Ads And Image Ads!
What are Ads Set, and how merchants can set up Ad sets?
Within, the Facebook & Instagram Shopping App, you additionally, get the feasibility to use Ad sets. An Ad set is a collection of similar ads that are created with similar parameters for how, when, and where they should appear. Consequently, it helps the merchants to filter out the audience on the basis of gender, age, and geography. Additionally, merchants can also make a budget, set a schedule, and choose where to place their ad sets.
With the Facebook & Instagram Shopping App, merchants also get the feasibility of creating multiple ad sets within an individual campaign.
Here are the steps to create an ad set:
Click on the Campaign Id in the Ad profile.
The Ad Set screen will appear, Click on 'Create Ad set' on the right side of the screen.
Once clicked, you will be redirected to Step 2 of the Campaign Creation, follow the steps explained above to create an ad campaign, and your Ad set will be created.
After you have successfully created your ad set, you can follow the steps below to activate them:

Go to the Ad Set screen and find the ad set you wish to activate.
Click on the toggle button, below Status, and a confirmation message will appear.
Click on Yes, if you wish to activate your Ad set. Your ad set will be activated!
Once the Ad set is created, now it's time to create individual ads within the Ad set. With the Facebook Ads feature, merchants can reach potential customers not only through location, gender, and age but by interests, behaviors, life events, and much more.
Here are the steps to create more than one ad within your ad set:
Open the Campaign tab of the app panel.
Go to the Ad set and select the Ad set ID.
A screen will appear where all your Facebook ads will be visible.
In order to create a new ad, click on the button 'Create Ad' present on the right side of the screen.
You will be redirected to Step 3 of the campaign setup where you can create your ad.
Once filled in the information, click on the Create button.
Once, the ads are created, go back to the Ad Set screen, and select your Ad.
Click on the toggle switch next to it, and confirm to activate the Ad level.
Now that you have learned how to create Ad campaigns through the Facebook And Instagram Shopping Apps, you must create your own ads from the app itself and embark on your advertising journey.
Wrapping It Up!
Advertising is the backbone of any online business organization. Therefore, the possibility of bringing your business in front of a new set of audiences is highly lucrative. Therefore, the demand for ad tools has increased drastically. Additionally, to nurture the demands of merchants, CedCommerce always steps up to meet their needs. This time, with the Facebook Ad feature in its Facebook and Instagram Shopping App! With this app, you get the feasibility of creating Facebook Prospective Ads, Facebook Retargeting Ads, and all this with Ads Analytics. So that you can measure the performance of such ads.
So what are you waiting for, download the app now, and conquer the world with the all-new powerful Facebook Ads Feature!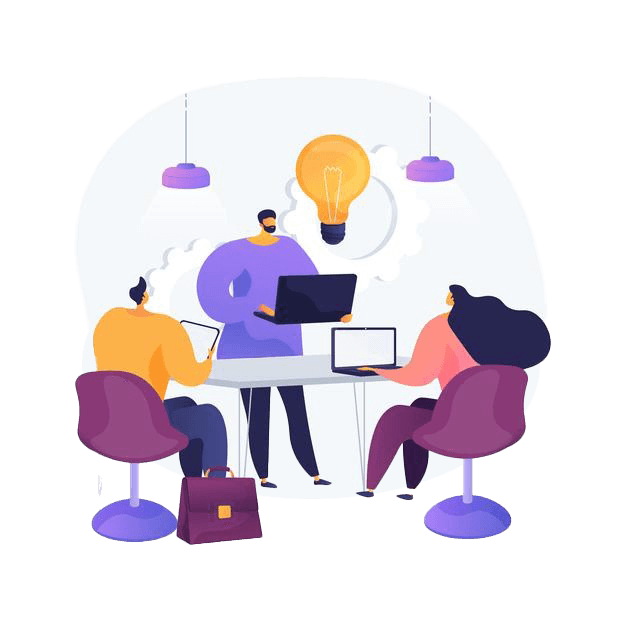 Conquer this Festive Season with CedCommerce!
Schedule a meeting to get your Holiday 2022 sorted.