An Easy Primer to Troubleshoot and Recover your Disabled Facebook Ad Account
Running short of time? Get PDF of the blog in your mail.

Play Now
Your advertising campaigns are performing pretty well. Suddenly you find that your Facebook ad account has been disabled. 
Relax! Calm down. Need not worry about it.
In this blog post, you will learn how to troubleshoot your disabled Facebook ad account and ways to recover it.
Table of Content

What happens when Facebook disables your ad account?
You may run across this issue at one point or another. However, do you know what happens when Facebook disables your ad account?
Well! When Facebook disables your Ad account, the following things happen:
Facebook suspends all of your advertising campaigns.
You won't be able to track the effectiveness of your adverts.
Facebook will not allow you to make any new advertisements.
You will not be able to add payment methods to your account.
You can gather all the information about any restrictions on your Facebook account or Business Manager by visiting Account quality. Account Quality gives you a central place to check on and improve your compliance with the Advertising, Commerce, and other Facebook policies and terms. You can also use it to review feedback.
Now you must be wondering about the reasons for the suspension of your Facebook Ad account. Read on to know why Facebook disabled your Ad account.
Why did Facebook disable your Ad Account?
Facebook disables your Ad account when you hit any of the following:
Reason 1: Violation of Facebook Advertising Policies
One of the most common reasons for disabling your Ad Account is the violation of Facebook Ad Policies. Facebook made these policies to help protect people from poor and potentially harmful ad experiences and better ensure that META platforms are a trustworthy place for people, organizations, and businesses.
1. Community Standards
Your ads must not violate META Community Standards.
2. Prohibited Practices
Your ads must not promote prohibited things such as Illegal products or services. Discriminatory or encouraging discrimination against people based on personal attributes such as race, ethnicity, color, national origin, etc., is also banned from promoting on META platforms. Apart from this, non-functional landing pages and websites that provide an unanticipated or disruptive experience are also prohibited.
3. Restricted Content
Ads must not promote restricted content like promotion of online pharmacies, online gaming, gambling, alcohol, etc. Ads supporting branded content must use the branded content tool to tag the featured third-party product, brand, or business partner. Moreover, Ads promoting subscription services or products that include negative alternatives, automatic renewal, free-to-play conversion billing products, or mobile marketing are subject to META's subscription services requirements.

Solution
To recover your disabled Facebook Ad Account, you have to
1. Submit your appeal through Facebook Ads Manager
To begin, go into your Ads Manager account. In most cases, a warning that the account has been disabled will appear in the form of a bar colored red. To submit your appeal and get your Ad account back up and running, use the "Contact Us" link on this page.
If you don't see a red bar, you may have received an email notifying you that your account has been disabled. To file an appeal, follow the procedures in the email.
2. Apply through Additional Support Options
There are other methods to approach Facebook support to improve the chances of recovering your ad account.
Go to the top-right corner of your ad account and click the question mark symbol. Then scroll down to the blue link saying "Still need help?" or "Help Center."
The benefit of clicking this link is that the page that appears sometimes offers a quick chat with the Facebook customer support team. You can talk directly with a Facebook representative when instant chat is available, speeding up the appeal process.
3. Submit a form to file a complaint
You can complete a form to report your account suspension if instant chat is unavailable. Tell Facebook about the incident and make your case using this form.
If you believe your account was disabled because you violated a policy or guideline, fill out a "Request review of restricted ad account" form to seek an ad account review.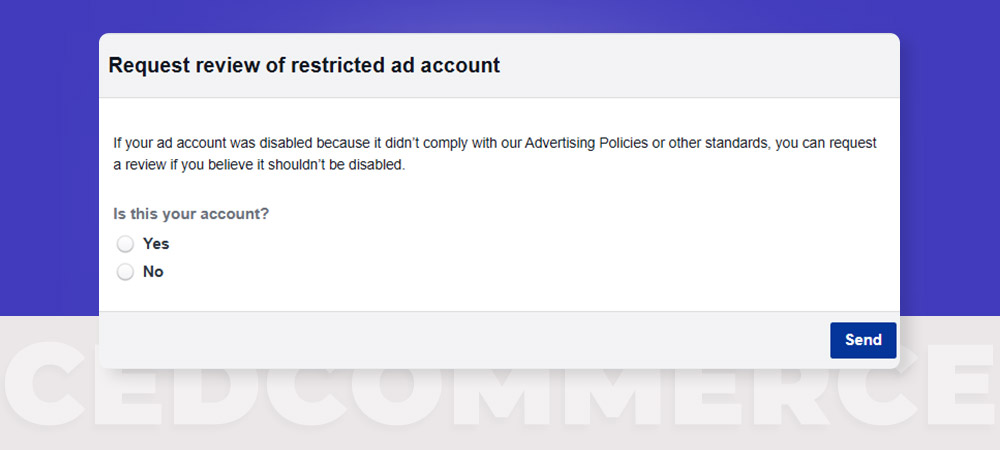 Reason 2: Due to Payment Failure
The ads you're running on Facebook halt when the payment method you're employing fails. The following are common triggers of unsuccessful payments:
Insufficient funds on Debit or Credit Card: 
Make sure your card has enough cash, particularly as your monthly payment date approaches.
You've reached your credit card limit:
The maximum amount that can be charged on a single transaction is set by certain credit cards. If your credit card has a limit, you can reduce your payment threshold to meet this amount.
A processing or verification issue with your card:
When your bank or payment provider has trouble processing your payment, it usually fails. Check the expiration dates on your credit and debit cards to ensure they aren't about to expire for future transactions.
Incorrect bank account information:
Please double-check your payment settings to ensure that the account information (e.g., bank number, bank code, bank name) you've entered is right.
Solution
Use one of the following if your preferred way of making payments for Facebook ads fails:
Contact your payment provider for assistance.
To charge your main payment method or any other payment methods on your account, click Pay Now.
By modifying your Payment preferences, you may add a new payment method to your account. 
Adhere to payment failure prevention best practices.
Furthermore, if Facebook disables your ad account by mistake, fill out the "Payment Support" form with as much information as possible.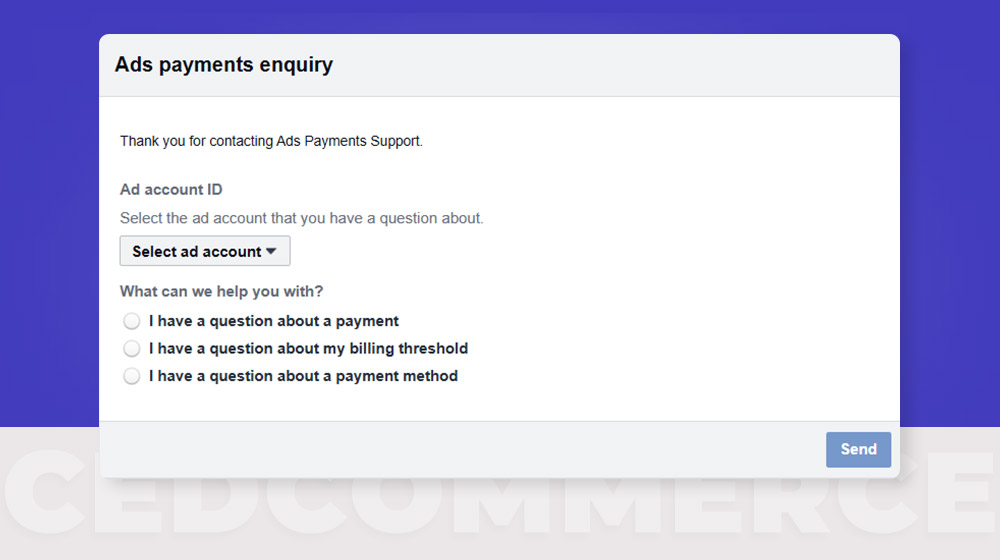 Once you reinstate your Facebook Ad Account, take care of certain things to avoid disabling it. Read further about the steps you must take to prevent it from shutting down again.
How can you prevent your Ad Account From Shutting Down Again?
Following these steps, if you want to prevent Facebook from disabling your Ad account again in the future:
1. Adhere to the Facebook Advertising Policies
According to Facebook's advertising standards, if you don't abide by their ad policies, particularly the Prohibited Content and Restricted Content, Facebook will disable your Ad Account.
2. Create Your Own Facebook Advertising Strategy
Your Facebook advertising strategy should have a three-pronged approach :
Connect: Expand your audience by reaching out to new individuals.
Commit:  Create significant leads for sales.
Close: Land your new shoppers.
There is less negative feedback when members and clients run diverse ads to achieve different outcomes.
3. If Your Account doesn't reinstate and You Create a New Ad Account, Use a New Credit Card Number
The credit card linked to your old Facebook ad account is now flagged as suspicious. Ensure that the credit card on the new account has not previously been used on Facebook's ad platform to prevent further account closure.
4. Make Your User Experience Seamless
Make sure your website's user experience is optimal. It is best to use large, easy-to-read text and images that are bright and clear. So that when consumers click through your ads on your website, they get to feel the same experience they anticipated while clicking.

Conclusion
Having your Facebook ad account shut down might be frustrating, but following the easy steps above can have you back in the advertising game in no time.
If you can still not get your Facebook Ad Account back, our social media experts are just a call away. Schedule a meeting at your convenience to recover your Facebook Ad Account.