Walmart Seller Support: Get help instantly with Live Chat
Running short of time? Get PDF of the blog in your mail.

Play Now
Walmart's Seller Support is an outstanding feature for merchants to fall back on whenever necessary. The Seller Support department helps merchants by saving a lot of time and effort- which otherwise would've been wasted over forums and self-help corners of the internet. However, if there was one department where the seller support team was lacking- it was promptness. To rectify this, Walmart Marketplace has finally launched their Live Chat Support option!
With Walmart's Live Chat feature, sellers can now get support within a few seconds. This new feature will come in handy in time-sensitive scenarios, such as recovering a listing or getting an open case dismissed.
As a Walmart Seller, you can contact the support staff in one of the following two ways:
Walmart Live Chat Support
Creating a Case with Walmart
However, to do that, you first need to understand when and how you should ask for support.
When to ask for Walmart Seller/Partner Support?
Walmart Seller Support is an exceptional service that Walmart sellers can avail to find help regarding most issues. However, sellers might wonder when exactly is the right time to seek Walmart Seller Support?
Most seller complaints are related to product recovery or specification, i.e., if a change has been made in the product and isn't reflected. This could include an unpublished product remaining unpublished even after updating its price or an in-stock product reflecting 'out of stock' even after refreshing the inventory.
In such a scenario, it is good to wait for a few minutes before panicking. Updates may take a few minutes to be reflected on your account. However, if a lot of time has elapsed and your product is still not updated, it would be prudent to seek help.
You may also think that you need to speak to seller support if you face server-related issues, inventory mismatch, or invalid product upload on Walmart. However, your third-party integration provider is the one responsible for this.
Even if you're unsure how to raise an issue, you can contact your Integration provider, and they'll happily help you out or create a case with Walmart on your behalf.
Although, you should contact Walmart immediately if you're facing issues related to:
Incorrect matching of items
Displaying of wrong/faulty image or description for an item
Refund and cancellation related issues
Payment failure
These are some of the most common issues that sellers face; however, you may encounter other unique challenges. Earlier, Walmart's Live Chat Support sellers were forced to create cases and follow-through, which was a big hassle. Now, sellers can seek quick help from the Walmart Support team via Live Chat and resolve even the smallest qualms.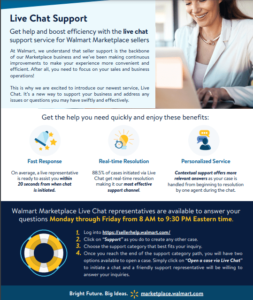 Source: Walmart
Walmart Live Chat Support
Walmart has introduced a new way to seek Seller Support for your Walmart Store- Live Chat Support. This add-on is aimed to revolutionize customer service and address any issues or questions sellers may have- swiftly and effectively.
Benefits of the New Live Chat Support Feature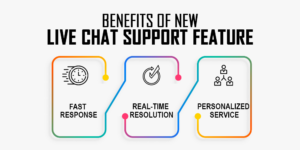 Fast Response: With the new Live Chat Support Feature, a live representative is ready to assist sellers in no more than 20 seconds from when chat is initiated! If that's not supersonic customer service, we don't know what is!
Real-time Resolution: Live Chat Support is set to become Walmart's most effective support channel, as 88.5% of cases initiated via Live Chat get real-time resolution!
Personalized Service: With Live Chat, Walmart has made sure that a single support agent deals with your case. This cuts redundancy and repetition of information while also providing contextual support for more relevant answers.
Timing: Walmart Live Chat Seller Support is available between 8:00 AM to 9:30 PM EST (as of 2020).
Creating a Case with Walmart
If you feel like your questions have not been answered, or the Live Chat Support has not resolved your issue, you can also opt for the traditional Case method.
You can submit a case and wait for a response to tackle your problem.
However, not all sellers are well versed in creating perfect cases, and sometimes because of a small error or oversight, your case can be made less urgent. So you might wonder…
How to Get Walmart Seller Support Faster and Quicker by Submitting a Case?
Getting Walmart's attention isn't that hard. However, you need to be thorough in your complaint if you desire quick action. As a seller, you need to remember to provide all the necessary details and follow the process.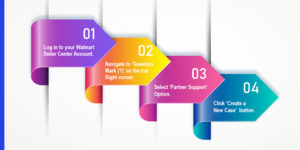 You need to start by logging in to your Walmart Seller Center Account.
Now, Navigate to the 'Question Mark (?)' symbol on the top right corner.
Select the 'Partner Support' option.
Next, you will find yourself at the Partner Support Portal. (Note: this will open in a new window.)
Once you see the 'Create a New Case' button; Click on it.
Need a faster response and 24×7 help? Contact CedCommerce.
The Case
For the case form, you need to work on these fields:
Subject:
Define a title for your issue in 2-5 words.
Issue Category:
Choose a category to which your problem best fits.
Sub Categories:
You must select the most suitable sub-category for your issue. This step is essential because it makes sure that your Case reaches the right set of people.
Meaning, right sub-category = right help: Wrong Category = a higher chance of your case being thrown from one department to the next.
Description:
Try to specify every detail of the issue you're facing. Use simple language that explains every aspect of the problem clearly.
It won't harm you to read and reread your description, as it will be the only piece of information that the Walmart Seller Support team will receive.
Understand that the problem should be laid down properly for the technical experts to analyze and comprehend. This includes mentioning proper numerics, i.e., order ids, tracking numbers, SKUs, and rest.
Priority:
Do not forget to prioritize your concern as this will determine the escalation and response time. Walmart prioritizes cases on the basis of their severity, urgency, and impact.
What to do after the case is made?
Once you report an issue to Walmart within a short time, you will receive a response. Now, the answer could be one of a type among the following:
Requesting more details:
You might have to provide further details about your case, on occasion where the details entered initially weren't enough. Thus, the technical team would ask you to render the respective information that they require.
Issue Resolution:
This happens when your case/issue is considered 'resolved' from Walmart's end. Post this; your case will be 'CLOSED,' so if by chance you are still not satisfied with the resolution, you can go ahead and 'REOPEN' the case.
Proper Noted comments:
In this kind of response, Walmart Support gives a clear indication explaining why the event occurred. The reasons could be an error on the seller's part or Walmart's internal issue.
How to reply to these responses?
To reply to a case, click on 'Add Comments' to add a response.
Necessary precautions and warnings
Do not reply by clicking on the comment section, as highlighted in the image.
Do not reply to the email you received from Walmart; instead, click on the link to respond.
How to check your response?
You can easily navigate to the case any time you wish to check your response.
Navigate to the 'Question Mark (?)' symbol on the top right corner
Select the 'Partner Support' option.
Next, select the 'Case Number' and scroll down to the 'Case comment' section.
If you want, you can reply by 'Adding comments.'
Walmart Partner Support
Apart from this, you can also contact your Integration solution provider. They have means and access to Walmart Partner Support and can easily make a case for you, seeking Walmart support for your benefit.
In case you are not a Walmart seller already, they can help you become one. Also, feel free to seek advice on increasing sales and performance on Walmart, check dos and don'ts guidelines for sellers, and much more.
To Sum Up
The Live Chat Support is an exceptional feature that Walmart offers, and you can avail it to connect with the support staff quickly. Although creating a case may sound more official, the live chat support will also provide you with an apt and quick response. And if nothing works, get in touch, and we'll help you sort it out.