Facing problem managing separate selling channels on Shopify and eBay? The solution is HERE!
Running short of time? Get PDF of the blog in your mail.

Play Now
According to a report by Statista, the sales generated by multichannel retail in the US are expected to reach 575 billion by 2023. A whopping increase of more than 200 billion dollars from 2020. Surprising. Isn't it? Considering the stats, going multichannel by owning Shopify store and eBay is undoubtedly a masterstroke for online retailers. However, managing multiple sales channels separately without any Shopify marketplace integration is a concern for multichannel retailers from the beginning of the multichannel selling era. Hence, this article is all about addressing the issues of Shopify and eBay inventory management, Bulk product upload, and sync between eBay and Shopify, and many more with eBay integration by CedCommerce.
How does multichannel selling on Shopify and eBay help online retailers?
Multichannel selling serves multiple business purposes. It is not a misnomer to say that multichannel selling is a holistic approach to reaching out to potential customers . This holistic sales approach has multiple benefits to offer, some of which are listed below: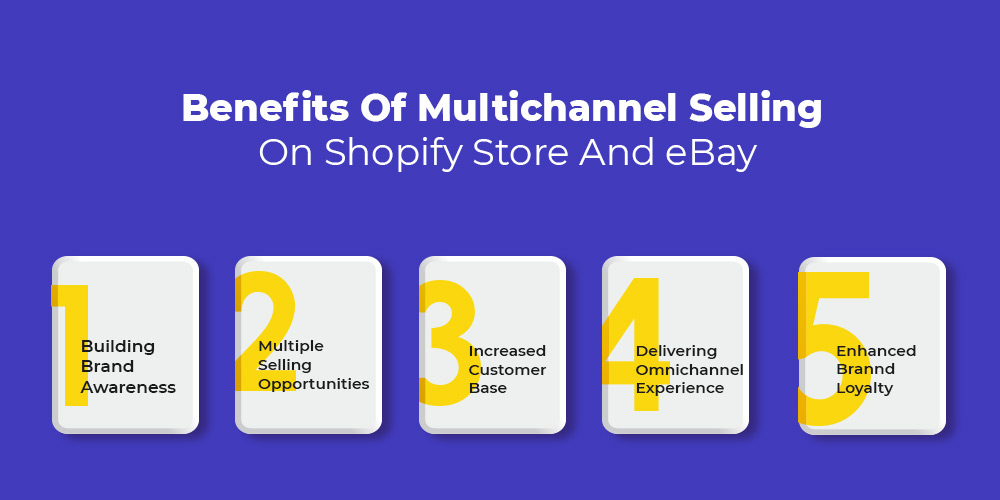 Building Brand Awareness
Owning a Shopify store helps potential sellers to bring forth their brand values and ideas besides adding a difference to the consumers' lives. Many sellers have seen a great hike in brand awareness by owning a web store that helps your target audiences to land on your store and understand everything you have to offer.
Multiple Selling Opportunities
Secondly, with a multichannel selling approach, you have several platforms to sell on. Even when one platform does not give you sufficient revenues, other gateways are active to do their expected job. Marketplace behemoths like eBay are always a successful weapon to bring targeted and potential consumers to you, depending upon your product categories and the country you are selling in.
Increased Customer Base
Additionally, with multichannel selling, sellers are enabled to increase their customer base through dedicated stores. By using advertising campaigns and digital marketing tools on Shopify or eBay, sellers have the freedom to bring targeted viewers to their store and influence them to purchase products. The best part is that sellers can be as creative as possible with content, visuals, product descriptions, and other things to hook the attention of the shoppers.
Delivering Omnichannel Experience
Omnichannel experience is highly desirable for people to visit you anytime anywhere. Building a Shopify store helps you to be reachable through smartphones anytime and anywhere. Not to mention, in the world of digitalization, following consumer and market trends should be a primary area of investment.
Enhanced Brand Loyalty
Consumers are Brand loyal only if they have had the best shopping experience. Pre and post-shopping experience both. With repeated marketing and advertising efforts, a brand easily creates brand awareness(as mentioned above) and generates a loyal customer base who prefers you before hopping onto several options.
Despite being a great financial means for sellers, multichannel selling poses a great problem in terms of managing two or more two separate selling accounts. Sellers face challenges in managing listings, inventories, and orders on multiple accounts.

Major problems faced by sellers managing separate accounts on Shopify and eBay 
While looking deeply in the eCommerce businesses, the potential sellers have been giving the best customer experience by efficiently managing all the sales channels be it Shopify store or eBay. However, challenges without an apt Shopify marketplace integration for eBay that strikes a balance between the functioning of both eBay and Shopify store are listed below:
Bulk Product Transfer
In the case of bulk product listing, manually assembling all the listings on eBay seems to be a nightmare. A lot of careful labor required for listing a huge catalog is one of the major problems often faced by sellers managing separate accounts without any multichannel solution partner.
Real-Time Syncing
To keep a record of the change in the inventory stock and prices between Shopify store and eBay marketplace is hectic and prone to mistakes. Sellers find keeping a check on the changes taking place on the eBay marketplace and updating the figures on the Shopify store a real hassle and brain taxing.
Order Management
In the same vein, fetching orders from eBay to Shopify needs an automated process that updates and syncs the price and inventory details in real-time without much manual attention. One of the prominent challenges faced pertains to accurate order management manually.
Converting currency and language
While practicing cross-border eCommerce, the issue of currency and language is always there. Without an integration solution, to calculate in different currency values is no less than a headache. On the other hand, language plays an important role in determining a good customer experience. With an eBay integration solution, all of these goals are achieved in no time.

How eBay Integration can automate, fasten, and ease your selling process?
As elaborately discussed above, eBay Integration by CedCommerce comes as a rescue for sellers who want to automate and fasten their selling process on Shopify store and eBay. The speed at which the eCommerce world is swirling, getting stuck with manually managing sales platforms is but a foolish approach to the online business world. Nonetheless, adhering to eBay integration has helped sellers find wise ways to automate selling efficiently and without their much personal involvement.
Multiple sellers across the globe, selling a variety of products and having business needs have found great relief and capabilities through eBay integration. The experts have made everything automated and easy for sellers to enjoy online selling like a breeze. You can look at some of the feedback below: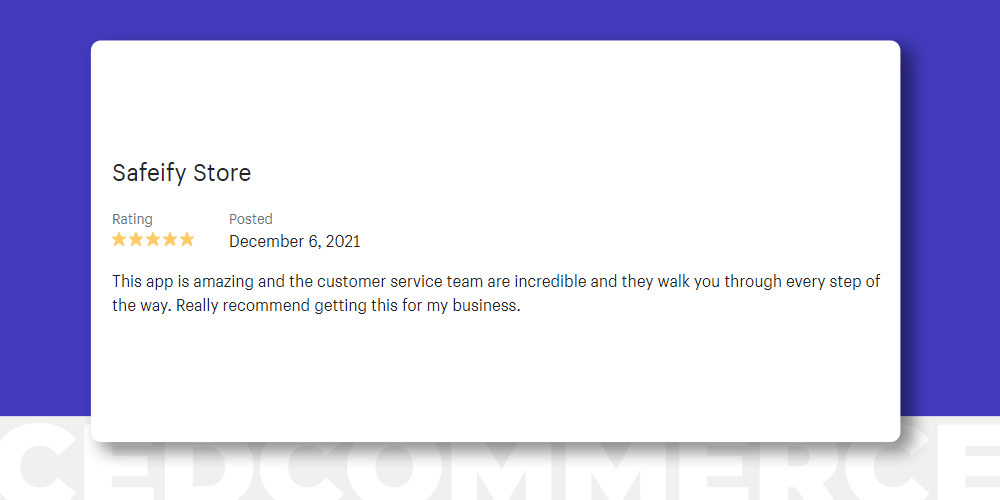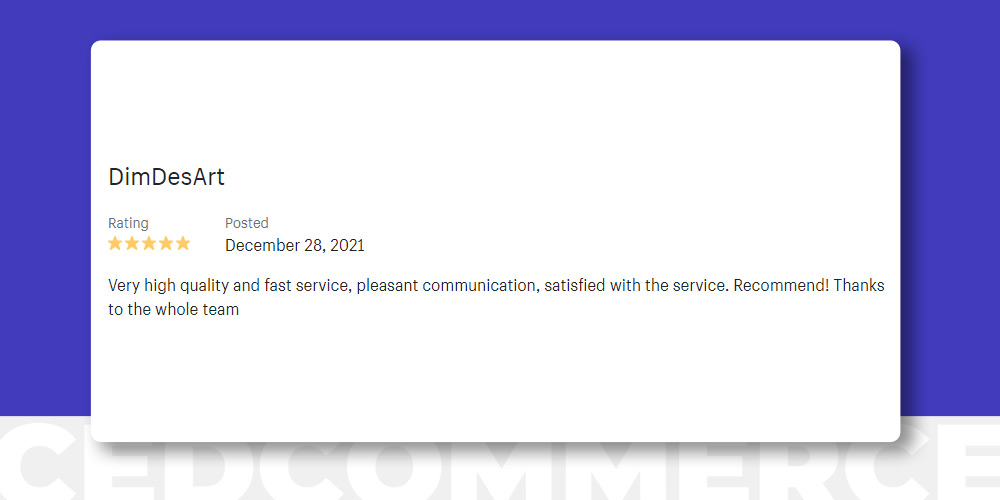 While going through customer case studies; some of the features stood out as highlights (also evident by the feedbacks above). eBay integration helps customers in the most efficient manner under the following sections:
Quick and Easy Listing
First and foremost, the app helps to easily list Shopify products on eBay. The product details are properly fetched from Shopify to the app and are flawlessly conveyed to eBay.
Customizable Templates
There is a segregated section in the app that allows the user to create Title, Inventory, Category (apart from the one set during Onboarding) & Price Templates to make the process of selling on eBay automated.
Product Management
Additionally, eBay Integration helps you to edit/update the details of your Shopify products and reflect the same on eBay. You can also sync Shopify and eBay inventory.
Flawless Order Management
This feature enables you to fetch the orders received on eBay to the app & fulfill them from your Shopify store. Hence, lets you easily sell on eBay with Shopify.
Fast Onboarding Process
Executing the initial steps of getting your hands on the app is just a matter of a few minutes. The Onboarding Steps consist of all the important procedures (Registration, Category Mapping, etc.)This reduces further efforts while using the app.
Great Customer Support
The feedbacks stand testimonial to the great customer experience delivered at CedCommerce. Right from scheduling a demo to responding to every single query, expert guidance has played a major role in satisfying the sellers and always delivering what they expect.
Step by step guide to onboard Shopify marketplace integration for eBay
As mentioned above, the quick and easy onboard process of the Shopify marketplace integration proves to be a real-time help for beginner to experienced sellers. To walk you through the essential steps are mentioned below:
Registration Process
The first step in connecting your Shopify store to eBay is the Registration process. To register, all you need to do is fill in some essential questions as in your contact no., Name, email id, monthly earning, skype id, and other details as well.
Linking eBay Account
Once through your registration, you need to link your eBay account with Shopify App. Details like selecting a location, the country you are selling in, account type, and further accepting the terms and conditions needs to be filled  after getting redirected to your eBay account.
Selecting a Plan
Furthermore, Based on validity time, product listing, and syncing capacity, you can choose a paid plan from several options given below. By selecting a plan, you will be eligible for certain benefits, less or more in each. You can also choose an unpaid plan to start with.
Mapping attributes b/w Shopify and eBay
In order to avoid duplicity in the product listings; you need to map the title and SKUs of your already listed products on eBay with Shopify store in the onboarding process. This part is very crucial. It will help you experience a seamless and flawless product synchronization between eBay and your Shopify store.
Setting up Business Policies
Setting up Shipping, Payment, and Return policies are an essential part of your business policy setups. The options selected will become your default settings but you can change it whenever required in the configuration section.
Choosing Additional Default Categories
You will further have to choose the default category for your products. These categories are additional to the required and optional attributes. Again, you easily change these default product categories in the configuration section of the App.
Control your selling with Dashboard
Now your central Dashboard is ready for you to use. The dashboard will help you know about the orders, price, activities, and other details right on the  screen. You can easily see the automated synchronization without your manual involvement. Also, you can change your default settings and categories under the configuration section anytime.

 Final Words
Amidst the growing eCommerce world; where virtual reality is shaking up the shopping experience, manual involvement seems less wise for what can be automated. With a team of experts and dedicated account managers, your journey with Shopify Integration for eBay is in safe hands. To know more about Shopify marketplace integration you can connect with the team through chat. We hope to hear soon from YOU!