Things you need to know before selling on Pricefalls
Running short of time? Get PDF of the blog in your mail.

Started in 2008, after its founder was frustrated upon encountering fraud on eBay, Pricefalls is now a burgeoning marketplace and is headquartered in Las Vegas, Nevada.
To earn part-time money its founder, Elliot Moskow, started selling jewelry, purchased from the auction of confiscated goods from the Police department, on eBay where the fraudulent buyer from Nigeria purchased the product and didn't pay the money.
This experience motivated him to start a marketplace with the excessive focus on customer-service. He then partnered with Peter Schaefer and Chad Casey to start Pricefalls marketplace.
Current Position of Pricefalls:
Since its inception, it has witnessed 72% Y-O-Y growth and currently, 1250+ sellers are selling across 25 verticals. Most importantly among those, 30 sellers are from the IR1000 list (IR1000 – Internet Retailer 1000 List).
In Q4 2017, Pricefalls witnessed 48% increase in traffic; 50% in sales and 45% growth in catalog listings. There are 14 million+ items listed on pricefalls for sale.
The benefits of selling on Pricefalls:
Since 50% of global online retail sales came from marketplaces also, repeated studies found out consumer behavior and loyalty inclined towards marketplaces, it is prudent to create listings of your items on marketplaces. In this regard the benefits of Pricefalls are:

No fees to list items on Pricefalls

Seller account to manage all the listings

Share the data of  each customer with respective sellers

Immediate payment to the seller
The seller approaching Pricefalls (sell@pricefalls.com) through CedCommerce prior to August 1st, 2018, stands to gain $150 in Account Credit which they can utilize in Store Setup fee and monthly fee.
Top Product Categories:
As already mentioned Pricefalls offers products in 25 products categories including Electronics, Home Goods, Apparel, and Health & Beauty to 1 million+ monthly customers visiting its e-commerce marketplace platform. The complete list of product categories is given below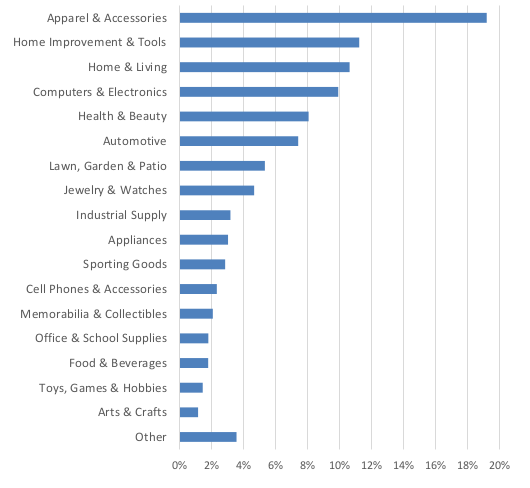 Buyer Demographics:
Pricefalls is equally popular among men and women. As per the data:

53% GMV-Purchased traffic came from Men

Whereas, 53% product-browse traffic was from women

44% of the traffic came from Desktop; 48% came from Phone and the rest from Tablets
Selling on Pricefalls: Marketplace Fee:
There are  types of the fee charged from sellers to list products at their platform:
One time setup fee of $499. It includes setting up the seller account, creates SEO friendly listings and gains higher visibility for the listings.

The monthly account fee of $49.99.

The Commission fee of 7-12% depending on product categories.
Also, $1 for each order processed through Pricefalls

Sell on Pricefalls with Shopify 
CedCommerce Advantages:
CedCommerce's multi-channel integration apps and plugins automate all the selling related operations – inventory & product management, pricing management, order management & shipping management.
Sellers can use this app to integrate and get rid of FTP-related hassles.
Also, CedCommerce is official channel integration partner of Pricefalls which translates to the seller approaching Pricefalls (sell@pricefalls.com) through CedCommerce prior to August 1st, 2018, stands to gain $150 in Account Credit which they can utilize in Store Setup fee and monthly fee.
Read Announcement: Cedcommerce & Pricefalls forge the partnership, enable 3P merchants to onboard Pricefalls marketplace
Painstaking Account Management:
Sellers are assigned a dedicated account manager to overlook the onboarding process and getting them familiar with Pricefalls Integration app functions.

Unlimited expert training to understand Pricefalls.com processes and acts as interlocutors between merchants and Pricefalls.com to get their queries addressed on priority.

Assists merchants in uploading the SKUs. First 10,000 SKU upload is free.