Shopee Seller Guide To Be a Genuine Seller & Sell More
Running short of time? Get PDF of the blog in your mail.

Play Now
Shopee sellers have chosen the platform to sell seamlessly and leverage millions of potential customers to build their online business. But, the path to success goes through multiple twists and turns.
Trust is the key ingredient (equivalent to oxygen) for your online store growth. Recently, counterfeit products have become a common phenomenon on leading marketplaces. As a result, shoppers have become increasingly cautious about their purchases.
Now, it's high time to consider it a red flag and try to avoid the depletion of customer trust.
Upto 49% of shoppers claim to have received counterfeit products in the form of gifts. These guys will be furious about paying for fake items and embarrassed upon gifting them to somebody.
A cheated customer is a more significant concern for business growth than not having a customer.
How Badly Does Counterfeit Items Impact Seller's Growth Journey?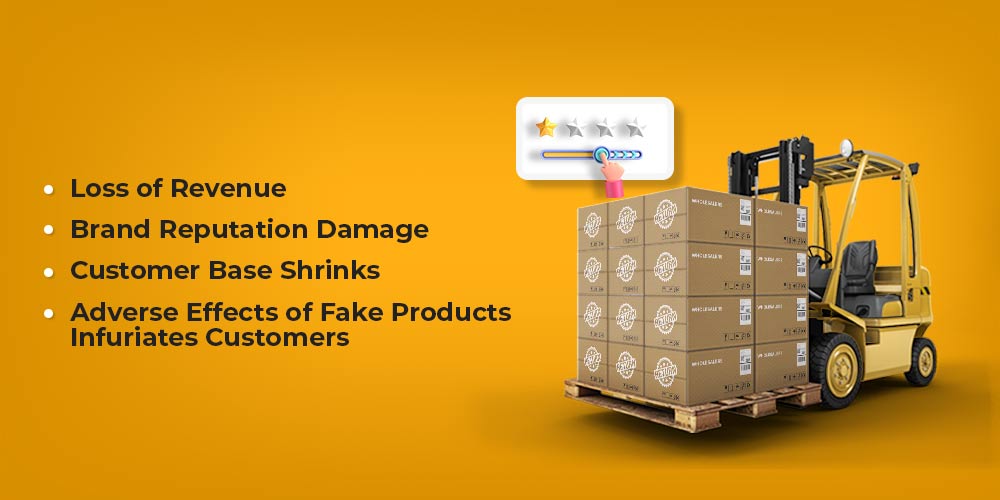 The solution is to eliminate the possibilities of the aforementioned dreaded outcomes.
As a Shopee Seller, How would I Identify A Counterfeit Product 
It can be quickly identified; if it is,
Fake replica of existing product/ branded item with or without altered logo
Shockingly underpriced
Product with no trademark on a product image in the listing, but the one delivered carries the trademark.
Contains specific design elements protected by trademark.
Has registered trademark without permission of trademark owner
The listing image contains a brand trademark.

image credit: shopee.com.my
What Repercussions Does Shopee Seller Face Upon Listing Fake Items
Suspension of listing that could also result in account deletion
Termination of seller account
What Shopee Does To Counter The Influx of Counterfeit Items
Millions of items will require thousands of dollars and man-hours to cross-check the product's authenticity. It is not an impressive idea. Moreover, inventory is not held by Shopee. Hence, it will be an ineffective approach.
Nevertheless, Shopee has an intelligent way to get rid of counterfeit items from its platform. Penalize the culprit so hard that nobody else dares to infiltrate the marketplace with unworthy items.
Two penalty points every week for counterfeit products listed by Shopee sellers. As seller penalty points reach 15, it leads to a 28-day long account freezing.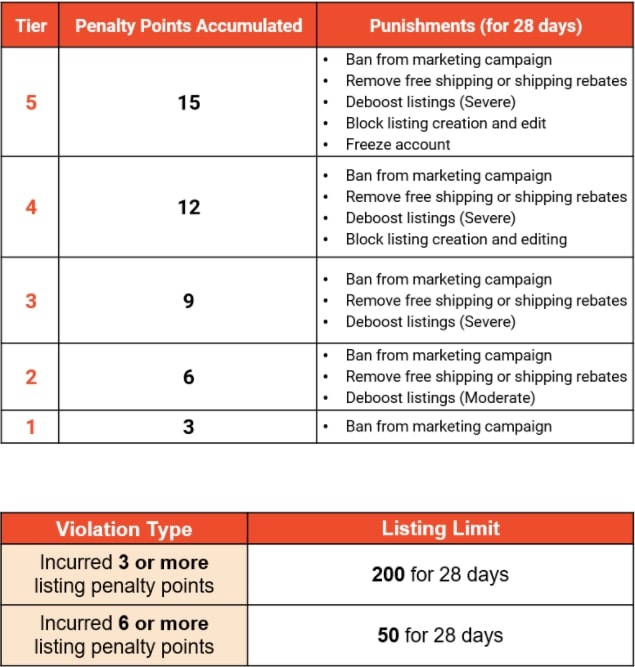 Image credit: shopee.com.my
Unable to sell for a month is a harsh punishment. The seller will lose customers to competitors. As a result, the culprit seller will never repeat the costly mistake.
Moreover, penalty points also reveal areas of improvement in following categories

Listing violation
Fraud
Fulfillment: Non-fulfilment Rate (NFR), Late Shipment Rate (LSR)
Customer service
Social selling 
Customer satisfaction

Sellers found accused of listing/selling counterfeit products will get their Shopee Mall/Preferred status taken back.
Shopee guarantee feature ensures the customer has upto 3 days after order delivery to test product authenticity. If unsatisfied with the quality or gets a damaged one, the customer is entitled to a Shopee guarantee refund. 
What Shopee Sellers Should Do To Stay Genuine ( To Retain Customers)
When a customer approaches you with a complaint of a fake item, respond politely and take your time to cross-check the product authenticity. Now, address his problem and convince him with sufficient proof.
As a Shopee seller, focus on gaining followers and improving the average rate of the store on Shopee. It is equivalent to unofficially joining the league of reputed sellers.  Hence, you get a competitive edge
In the case of a counterfeit item. Offer a full refund instantly and promise the shopper to look into the matter to avoid such an experience.

Authorization of distribution or brand registration certificates, with clear indication of seller's name/shop name 
Sales /tax invoice from the manufacturer or authorized distributor
Certified copy of trademark/ patent/ brand registration
Seller/ issuer/ distributor's company name appears in official website of brand
The Pro Tip: Having multiple high-definition product images will be helpful in case the matter to decide if it is a counterfeit product escalates and reaches Shopee.
Shopee Mall seller is equivalent to seal of trust. It assures 100% authentic products. If you sell on Shopee Mall, customers will not receive a fake item.  Thus, saving your brand reputation.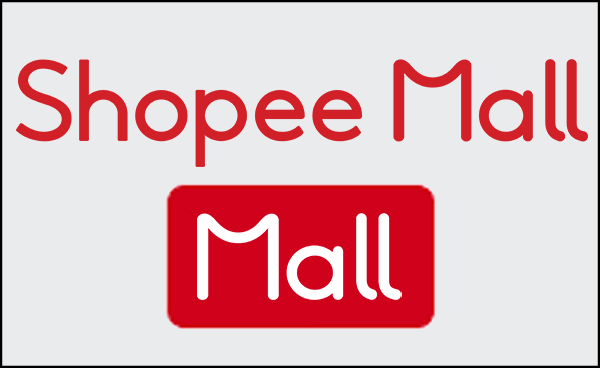 Image credit: shopee.com.my
Selling on Shopee Mall – Pointers To Comply For  Shopee Seller 
List 100% authentic items only
Add 15 days return/refund policy
Make all products eligible for free shipping
Subscribe to Shopee Supported Logistics
Pre-requisites to sell on Shopee Mall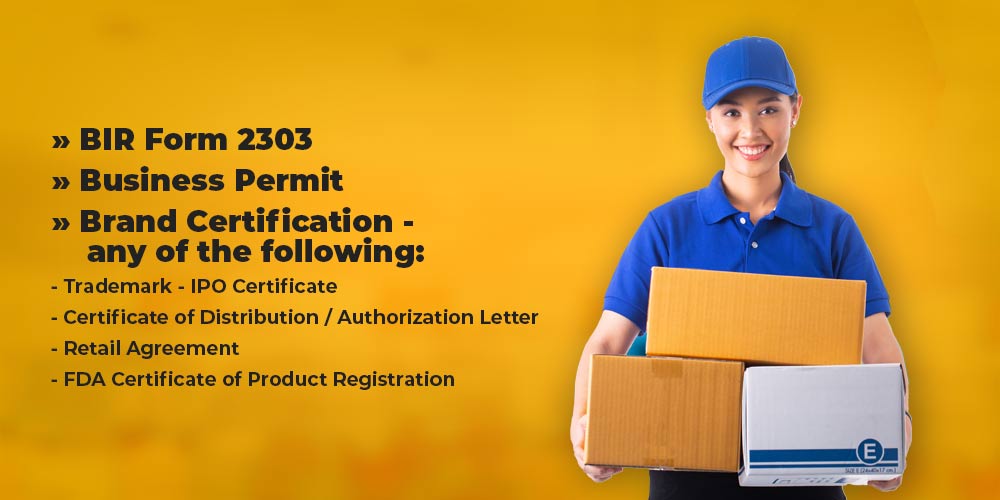 Shopee Mall promises 2X return on counterfeit items. As a result, customers are more likely to prefer it.
Products priced significantly lower than the usual rate raises customer eyebrows about their authenticity. As a result, they consider it a red flag and abandon the purchase.
Regularly filter your reviews and ensure they don't depict details that can be linked with a lack of authenticity. Otherwise, a lot of shoppers will become suspicious upon coming across them.
Make Your Customer Believe That Product is 100% Genuine
Highlight the fact your products are listed under Shopee Mall. Because each item listed there is 100% authentic. Customers will look for the Shopee Mall label. Once found, they will have no qualms about your items lacking the desired authenticity.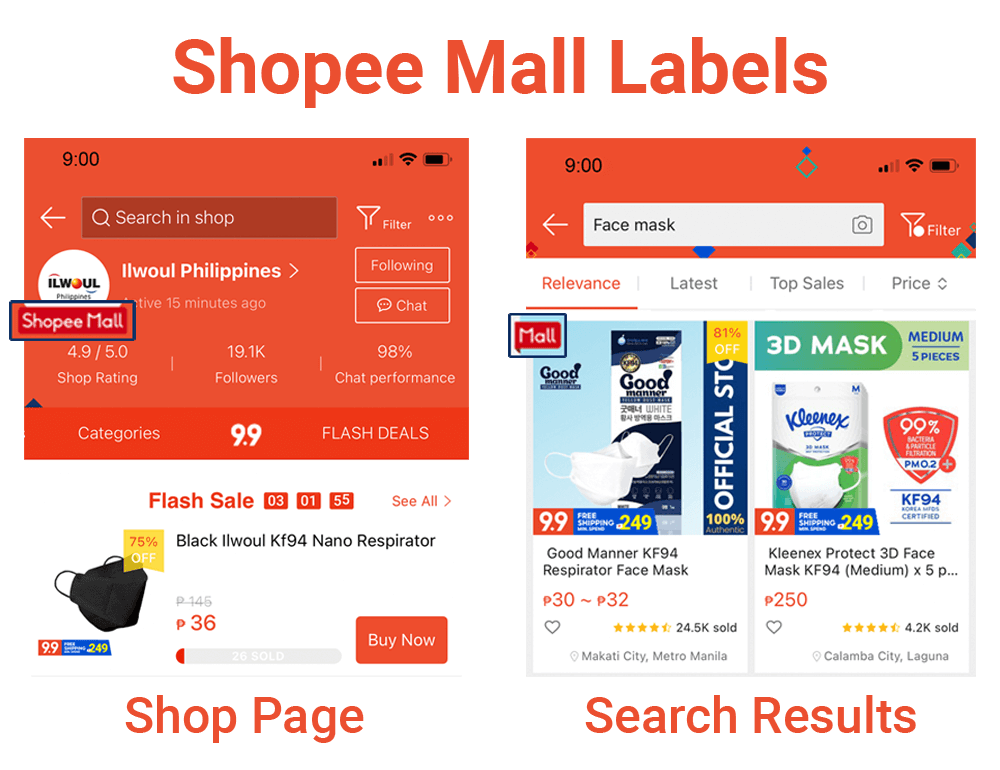 Image credit: shopee.com.my
What To Do If a Customer claims an Authentic Product As Fake?
It is necessary to take a stand for your genuine products. Therefore, submit evidence that justifies the authenticity of the product.
Authorization of distribution or brand registration certificates.
Sales invoices from the manufacturer or authorized distributor within 3 months before the investigation date.
Certified copy of trademark/patent registration.
Let's Have A Customer Perspective (Every Shopee Seller Need It To Outcompete Others )
Every customer desires a smooth shopping experience, But there are trust related red flags that will discourage him from making a purchase. Nevertheless, if you focus on vital touchpoints  of the customer shopping journey you will eliminate the big doubt, isn't the Shopee seller selling fake items.
Ensure allproduct pics in the listing are eye-catching with detailed product descriptions. Doing so saves customers from feeling they received something different from what they ordered.
Monitor and update the inventory regularly to avoid assumptions and confusion.
Be attentive and never fail to respond to refund requests.
Order packaging to be done like a pro to avoid damage during transit. Hence, customer will trust you for future purchase.
Never list items that are priced too low to be considered legit.
Keep customers informed in case of order cancellation due to inevitable reasons.
The above pointers will fetch loads of positive reviews to ensure your store is viewed as a reputed one. Otherwise, poor ratings will raise questions about your store's authenticity. As a result, customer trust and customer visits will see a dramatic fall. 
Conclusion – Don't Be Fake Shoppe Seller It Can Be Disastrous
Listing fake items might fetch you temporary monetary gains. But at the cost of negative reviews. Moreover, your store will hardly see any repeat customers. You will regret it as a big blunder.
Think about customers who will suffer as a result of purchasing counterfeit products. That person can be your dear one as well. Hence, strive to be a genuine Shopee seller by adhering to the above strategies.