Shopee vs Lazada vs Tokopedia: Choose The Best Amongst The Best
Running short of time? Get PDF of the blog in your mail.

Play Now
Which is better Lazada or Shopee or Tokopedia? It's a million dollar question for every seller aspiring to sell online in Southeast Asia. This post unfolds the statistics and stories behind it, so that online sellers can be confident about what best suits their business agenda.
The exponential growth of the internet economy in Southeast Asia is the result of rapid increase in internet penetration in the last few years. The online shoppers of the region would stand strong at 380 million by 2026.
Where Will These Millions of Shoppers Go?
Shoppers' first choice for online shopping in Southeast Asia is Shopee, Lazada , or Tokopedia. But, what are the underlying reasons and its implication that a seller must be well aware of to decide Which marketplace suits his business expansion plan.
Let's dig deeper into the dynamics that will help you make informed decisions.
The Shopee Story of Success
Shopee embraced the right strategies to become attractive for sellers and shoppers.
As a result, it has improved its position to occupy the spot of top most visited marketplace of the region during Q4 2020. Since then the position has remained unchanged followed by Tokopedia and Lazada.
Did you know, 42% of orders received on Shopee originate from the land of thousands of islands aka Indinesia. Now, that is an astounding amount . Moreover, it indicates towards a substantial amount of Shopee obsessed shoppers
Therefore, Indonesians first choice to buy online stuff is Shopee. In other regions also Shopee replaced Lazada and Tokopedia to emerge as favorite ecommerce marketplace.
Why Shopee Experienced A Massive Growth in Southeast Asia
Vertically Integrated Business Model – Their three strategies of aggressive marketing campaigns, e-wallet offering, and last-mile logistics healed customers biggest pain points. And, customers always love it. They express it with repeat purchases.
Shopee Mall – It is an invite only premium retail section of Shopee. It promises 100% authenticity for each item. Moreover, it is free from counterfeit products. Shopee Mall succeeded in winning customer trust, something Lazada and Tokopedia either didn't try wholeheartedly or eventually failed.
Aggressive Marketing – Shopee adopted influencer marketing and monthly promotions to uplift the shopping experience.Shopee did 4,500 live stream events with brands every month in 2020. They reached out to the biggest name in the sports to get customers connected with Shopee.
One Stop Shopping Experience – Offering shoppers with a plethora of interactive and entertaining content makes shopping a desirable experience. Another thing shoppers find awesome is 600 plus official stores.
Lazada's Innovative Approach To Woo The Customers
Statistics disclose Lazada as 2nd most visited ecommerce website in Southeast Asia. It is a close competitor to Shopee.
They have a widespread chain of fulfillment centers. Lazada owns 17 warehouses spanning across different cities in Southeast Asia equipped with intelligent sorting technology. A strong reason for Lazada sellers to trust the process.
Lazada firmly believes their heavy investment in technology and logistics will accelerate merchants growth in the marketplace. They introduced Shoppertainent backed it up with robust digital infrastructure to make shopping super fun and thrilling.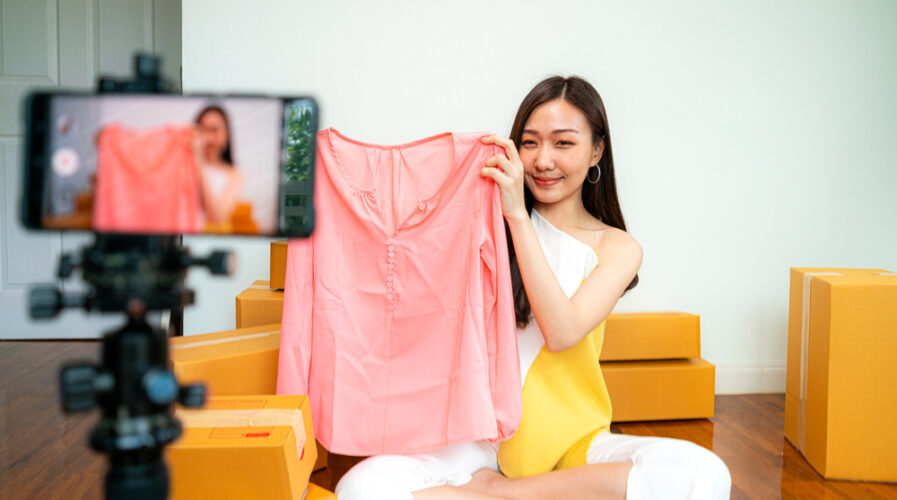 Image credit: techwireasia
Shoppertainment strategy proves to be the best strategy for customer engagement and retention. Lazada's LazLive (in-app live streaming feature) made real-time interaction between brands and customers possible.
The average time to load content on Lazada app is just 2 seconds. Quick page load time never fails to impress the customers. Moreover, it significantly lowers the cart abandonment rate.
Lazada went an extra mile to bring farm fresh vegetables to its platform during the pandemic. It was a successful initiative with 1.5 metric tons of vegetables sold in a single day. It is testimony to their unwavering commitment to help sellers and customers in the need of the hour.
Lazada Logistics Infrastructure Is Impressive
Lazada introduced its logistic platform Apollo as a solution to overcome delays induced due to poor logistics. It demonstrated Lazada's ability to automate some of the logistics operations to streamline order delivery including the last mile.
Lazada's Apollo worked wonders in places that lack robust infrastructure. Apollo suggests the most efficient routes to the drivers making faster delivery easy to achieve. Undoubtedly, Lazada has a competitive advantage even in countries scattered over hundreds of islands like the Philippines and Indonesia.
Therefore, Lazada sellers have an upper hand in terms of order delivery over other sellers in the region. Hence, Lazada is a reliable option for sellers and shoppers during the festive season.
Tokopedia is Determined To Fuel Seller Growth
The Indonesian e-commerce giant takes seller education on a serious note. Unlike its rivals, their focus is on personalized education for the seller community of Tokopedia.
Newly launched features are covered during webinars.
Another aspect to maximize seller sales is by leveraging top seller's success stories to inspire newbie merchants on the platform.
It seems Tokopedia sellers need to worry less about technicalities of selling on Tokopedia. It puts them in a comparatively advantageous position.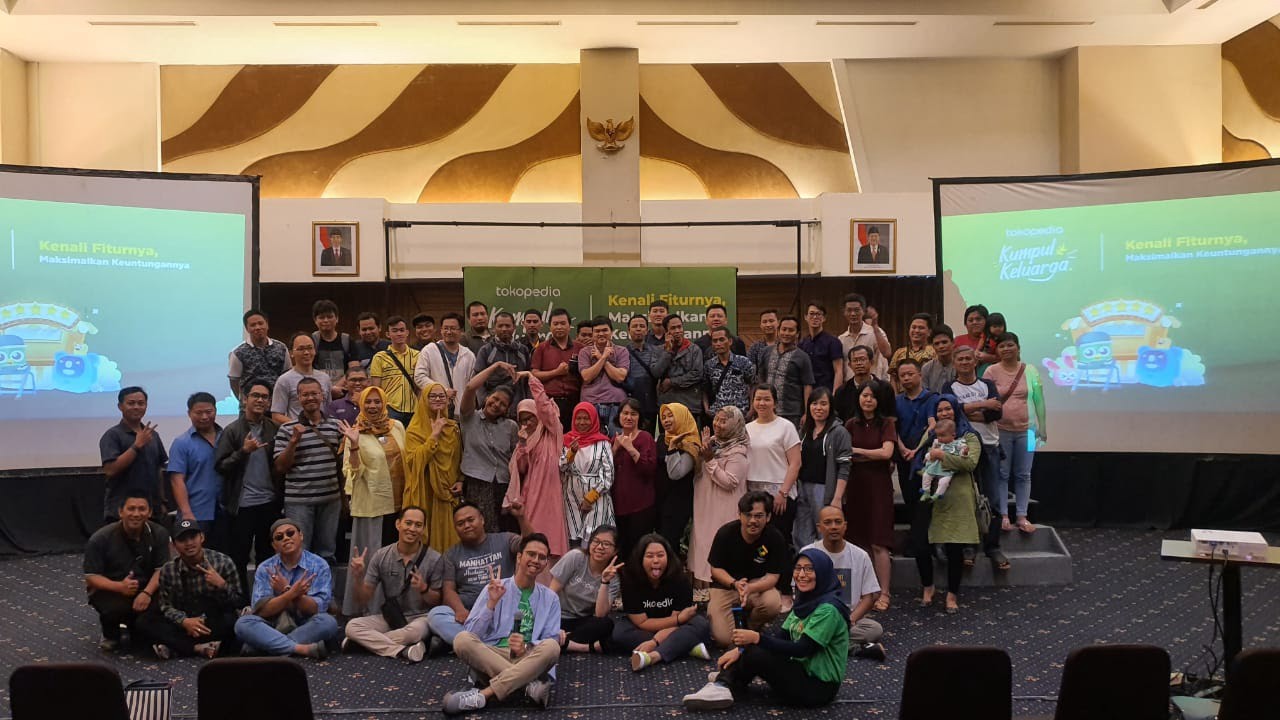 Image credit -tokopedia-id.medium.com
Tokopedia aims to deliver a safe digital ecosystem. It relies on both proactive detection mechanisms and manual checking to anticipate the risks ahead.
It is a big relief for sellers upon knowing they are safeguarded from frauds.
Tokopedia Capable of Delivering in 2 Hours
Tokopedia has hit the nail on the head as far as fast delivery is concerned. Although Tokopedia NOW promises 2 hours delivery for the selected items but is an important parameter for sellers to decide the best among Shopee, Lazada, and Tok.
Moreover, the rest of the products can be delivered in between 4 to 48 hours is an impressive achievement in a nation spread across 17000 islands.
Tokopedia sellers can store products in smart warehouses located in high-demand areas. This initiative is key to speed up the order fulfillment process.
Tokopedia Hyperlocal Approach To Help MSMEs
Majority of 10 million sellers on this Indonesian ecommerce platform are MSMEs. Tokopedia hyperlocal initiative primarily focuses on fuel MSMEs business growth.
They organize community gathering over social media to interact and inspire the sellers. The Kumpulan Toko Pilihan (KTP) program meant to make shopping convenient from the local sellers was a major hit. It boosted sales figures upto 5X.
Tokopedia's efforts in helping MSME sellers thrive hit the bull's eye.
Influencer Marketing Influence Shoppers A Lot in Southeast Asia
It is one solid approach to deepen customer engagement that is here to stay for long and keep customers excited about it. Shoppers in Southeast Asia consider getting information from experienced people with high level expertise as highly authentic.
They have no qualms about trusting an influencer. Yes, the key ingredient for customer retention is easily achievable via influencer marketing. Apart from trust building below are the remarkable benefits
Influencer generated posts receive 8X better engagement than normal posts.
Boost your brand awareness by manifolds owing to their millions of loyal followers.
Influence adds a new perspective to your brand with creative and out-of-the-box ideas. As a result, customers don't find your content repetitive or salesy anymore.
Did you know that shoppers have switched to Shopee from Lazada and the only reason was Christiano Ronaldo was hired by Shopee as an influencer. An iconic influencer can not only fetch you new customers but have potential to get competitor's audience.
Three Strategies That Makes Your Product Absolutely Irresistible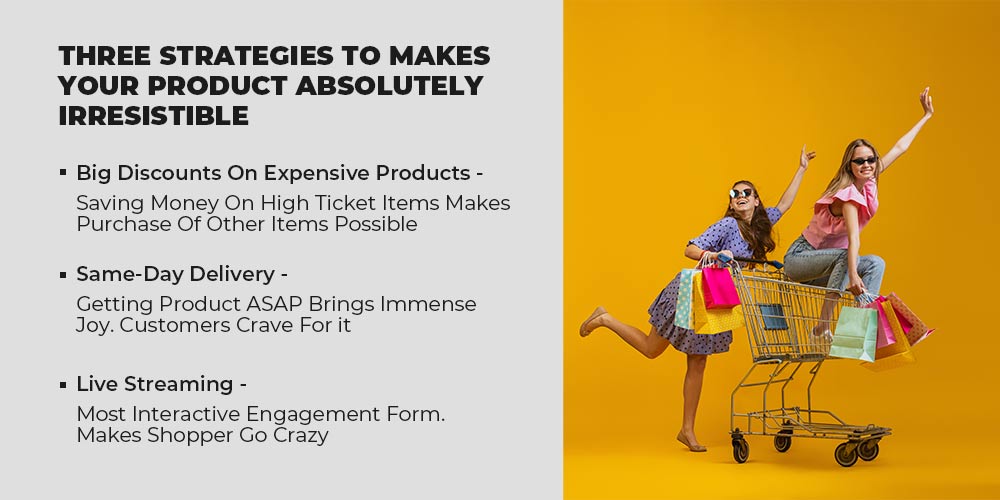 Perception of Customer (Is Also Important for Seller To Choose The Right Marketplace)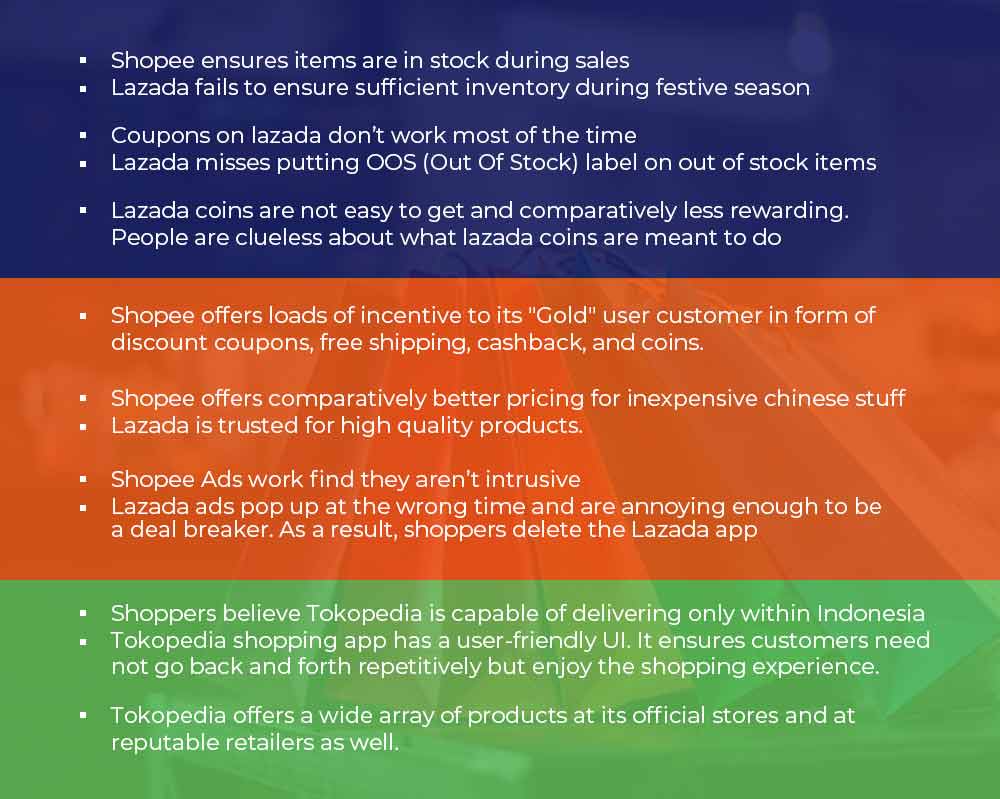 Market Position of The Big Three Of Southeast Asia (Who Gets Maximum Shoppers?)
Which Is Better Lazada or Shopee or Tokopedia
Southeast Asia is a region marked with different language and shopping behavior. Therefore, brand localization is the best fit strategy for engaging all types of customers.
Brand localisation refers to adopting a strategy that is influenced with primary shopping behavior of the customer in the region. As a result, shoppers find a marketplace more aligned to their culture, language, and other preferences over others.
Whichever among Lazada, Shopee, or Tokopedia ensures brand localisation in terms of localized payment strategy will have a definite competitive advantage in terms of becoming the favorite marketplace of Southeast Asia