POD Dropshipping Ideas: How to excel in POD dropshipping business in 2019
Running short of time? Get PDF of the blog in your mail.

Play Now
This blog is aimed at a very specific audience. Audiences that wonder about "How to sell T-Shirts that I designed myself?", or "How to start a T-Shirt business from scratch?", Print on Demand (POD) is a great business model for these audiences to pursue. Now the question that arises here is, "What does Print on demand mean?" Here we will be discussing POD, how it works and POD dropshipping ideas to pursue.
Table of Content:


1. What is POD?
2. Is Shopify Print on demand still profitable?
3. How to sell POD products on Etsy?
4. Ease of doing POD dropshipping business
5. Ideas to pursue in 2019
6. How to Choose a Niche for POD Dropshipping ideas?
7. How to Conduct a search for POD Dropshipping ideas for your chosen Niche?
8. Popular POD companies?
9. How CedCommerce facilitates POD dropshipping business?
10. Executive summary
1. What is POD (Print on Demand)?
Print on demand is a specific business model where individuals print their ideas on merchandise. Some most common and popular POD merchandise are T-Shirts, Hoodies, Sweat Shirts, Leggings, Sweat Pant and joggers, Pillows, Wall arts,  Mugs, Towel, Phone covers, notebooks, and other stationary, Stickers, Bags, Backpacks.
Instagram, Facebook, Facebook Groups, Pinterest, Reddit Communities, Youtube are the most common platform to generate traffic, leads and even sales. Instagram offer checkout in social media feed itself and then there are buyable pins who let you purchase from Pinterest directly.
1.1 How do POD dropshipping services normally work?
In this model, a seller provides custom designs to a POD services company. They get the designs printed on various kinds of merchandise as mentioned above and have them delivered at the customer's footstep. The sellers don't need to stock inventory or worry about fulfillment.
1.2. How much capital is required for POD dropshipping business?
Running a POD dropshipping business is really affordable and works as a side-hustle for hundreds of thousands of 9-5 working professionals. Some would say, "it's completely free" which is not true. You need money to run and maintain a well-functioning website and a budget to take care of marketing activities, but that's it.
1.3 Whom is it fit for?
In general, it is great for graphic designers and digital artists. However, Influencers, social,  media celebrities, NGOs, Sports Persons, Movie Franchise, Fan Communities, and Social Campaigns drive the trends in POD dropshipping and dominates the market.
Modern generation like to flaunt their opinions – religious, political, social. They like personalize belongings that truly reflect their own kind.
2. Is Shopify on-demand printing still profitable?
This is the burning question. Although, POD comes as an easy business model to pursue at face value – just design your prints and fulfill the orders, that's it! But underneath, it's way more complex. There are multiple types of fees involved with POD such as
Price of merchandise

Printing Fees

Fulfillment fees
These fees are involved at the dropshipping level only.  However, there are other fees involved such as,
costs associated with keeping your website running;

Running digital marketing.
Although it saves you from overhead costs related to logistics, warehousing, and fulfillment. Therefore, while pricing an item these fees have to be included as well. At the same time, the sellers have to keep an eye on the competitor's pricing. Therefore, the overall profit margin becomes thin so as to be profitable, the sellers need high volume to be moved.
3. How to sell POD products on Etsy?
Etsy doesn't differentiate between a normal listing and a POD listing. The same procedure adopted to list products any other products on Etsy applies to the POD product listing as well. To do so, follow the simple steps as listed below:
Here one thing needs to be considered, in case, you don't have a shop on Etsy as yet. In this case, you need to first create a shop on Etsy. Read the blog Sell on Etsy: A Beginner's guide to succeed in 2019 to get the step-by-step information on how to open and brand your Etsy shop. Once you have opened your Etsy shop, then you can proceed ahead with listing your product.
Once you've started your shop, you can navigate to your Listings Manager to add, renew and manage your listings.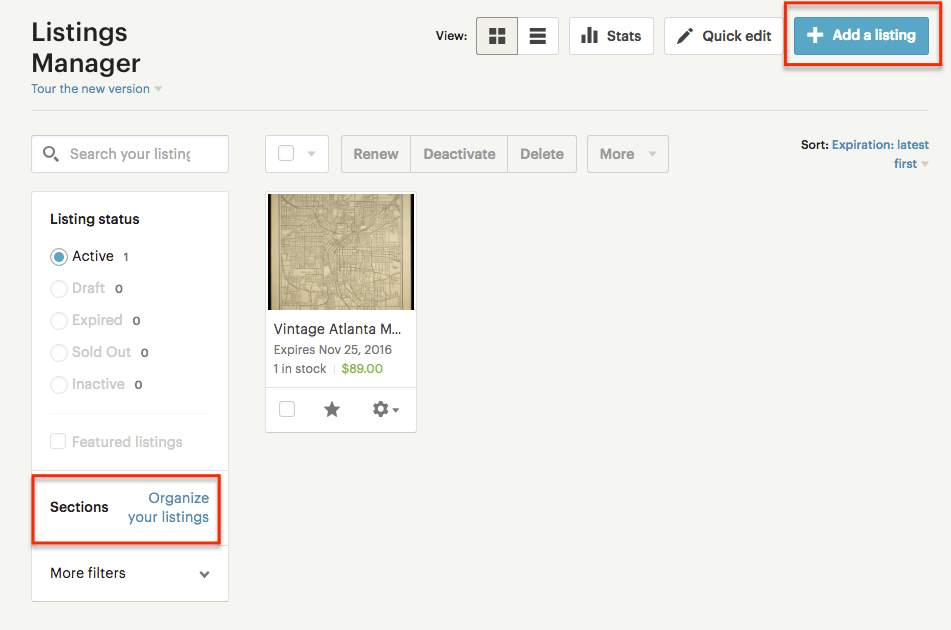 As soon as you click to add a listing, you're redirected to a new screen. Here you need to fill all the information headers. Stick to instructions recommended by Etsy so as your listing appears among the top search results for its dedicated search term. However, some fields are optional too which you can edit later.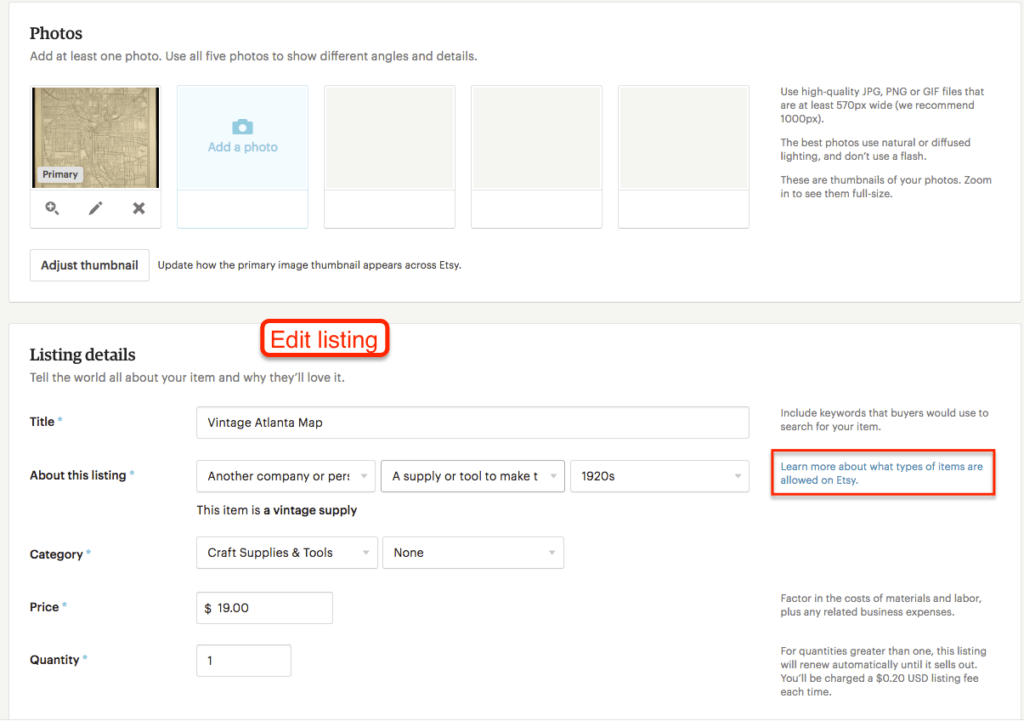 As you can see in the aforementioned page, information regarding Titles, Description, Category & Pricing are required. Refer to the blog 5 tips to rank your products up in Etsy search rankings [and be on top always] to get the gist of all the tricks which can help you provide the information in a manner which helps your products rank higher.

Now, this is another very crucial step adding tags and material. Especially tags, you can choose up to 13 tags. Tags are nothing but search terms which a user may enter to find or reach your product. Here wear your buyer hat and try to come up with as many familiar search terms (with a different context, usage, and intent) a visitor can enter to search for your product.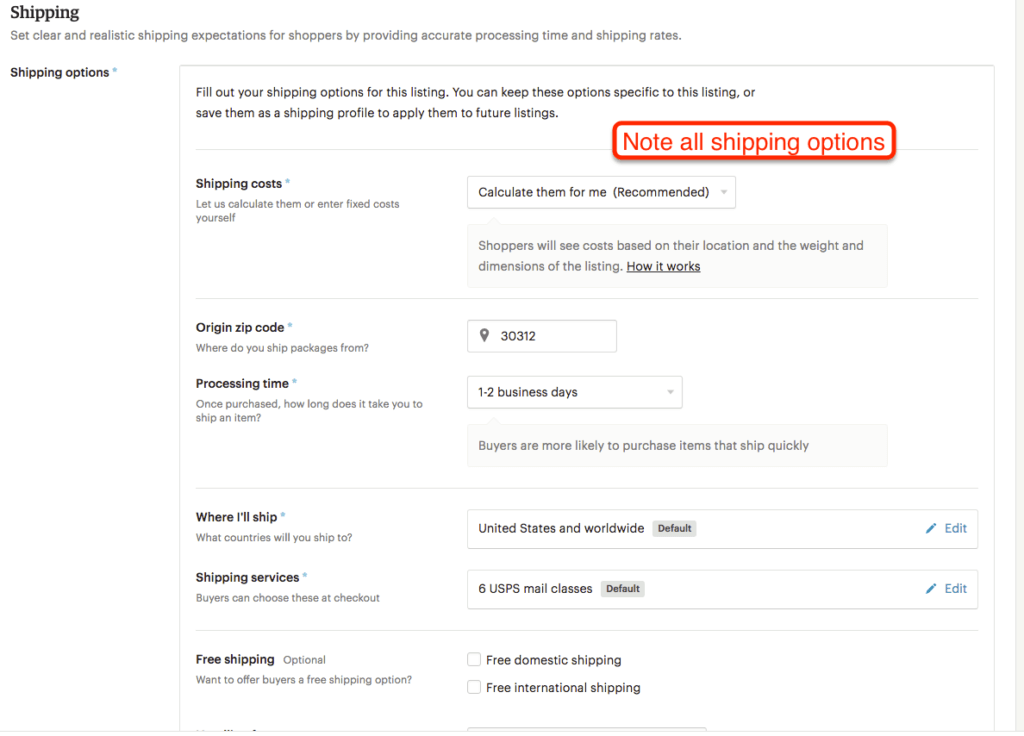 Thereafter, you need to enter the information related to Shipping. It involves filling up of information related to Shipping Costs, Processing Time, Warehouse Zip Code (in case of US) or area code (in case of other countries). Also, enter the customer's geographic areas who can buy this product, Shipping partner information and whether this product qualifies for free shipping nationally/internationally.
4. Ease of doing POD dropshipping business:
It is one of the easiest online business to pursue, provided either you're familiar with digital marketing techniques, or you have a great marketer in your team. Why?
The reason is simple and straight – you even don't require to open your website.
Then, the question arises how is this possible.

So here is the answer. List your products on marketplaces that allow listing your POD products. There are several marketplaces such as Etsy Wish and Bonanza that allows merchants to pursue this business model and list their ideas in the form of prints at products on their e-commerce marketplaces.
Read the blogs to get the information about the listing process on Wish and Bonanza, as information regarding Etsy has already been provided.
Wish: Step-by-Step Guide on How to Sell on Wish with CedCommerce!
Bonanza: 5 easy steps to sell on Bonanza
5. POD dropshipping ideas: Ideas to pursue in 2019
Although Festivals and major events are always on the top of the mind of sellers, they often overlook the market potential of social awareness, humanitarian, challenges-nomination, and electoral campaigns.
As the oldest democracy in the world is moving towards the elections, presidential aspirations are soaring high. More and more people are jumping into the juggernaut of presenting them as presidential nominee for the Democrats, as Republicans have already trump as a candidate seeking re-election.
As all of you are aware fundraising is the core component of American electorate, selling popular merchandise is one of the ways for candidates to collect funds and some of the sellers are smart and they are cashing on the election fever and selling political merchandise such as T-shirts, Cups, Mugs, Caps, Candles, and whatnot!
Some popular Etsy tags on current politics and society:
| | | | |
| --- | --- | --- | --- |
| women's political t-shirts | controversial political t-shirts | political t-shirts near me | socialist t-shirts |
| best selling political t-shirts | political t-shirts UK | liberty tee shirts | riot t-shirts |
| radical political t-shirts | feminist t-shirts | retro political t-shirts | political merchandise |
| trending political t-shirts | political t-shirts conservative | wholesale political t-shirts | political t-shirts right wing |
| political t-shirts left wing | political t-shirts Seattle | anarchist t-shirts | funny political t-shirts |
| political sweatshirts | sell political t-shirts online | democrat t-shirts | liberty maniacs |
Ideas to pursue in 2019:
A single person is a part of multiple tribes. These tribes shape their own ideas. One can be part of different tribes such as religion, political leaning, philosophical leaning, belonging to a specific geography, believer of a different social, cultural, educational, humanitarian cause.
And some keeps their beliefs to them and are private about their leanings. However, some are vocal about it. They like to express themselves, take part in discussions and are never shy of taking a stand. They wear their opinions.
POD ecosystem largely sustains due to these type of buyer personas. Some of the most popular campaigns and related merchandise are:
Social and Political Cause:
a) Presidential Election 2020
b) #MeToo
c) Gun Control:
d) Brexit:
e) Mental Health:
f) Feminism:
Then there are persons who are apolitical which are apolitical and voices humanitarian issues.
g) Refugees:
h) Recycle and Go-Green:
Then, there are persons who are jovial take manner with a light heart:
i) Memes:
j) Pets:
People love their pet, which is why the pet industry is $72.13 billion industry last year based on data from the American Pet Products Association.
k) Jokes:
Statement shirts are great conversation starters. Humor-related POD merchandise could have funny images, punchy one-liners, nerdy jokes, or even memes.
l) Proud of you:
You might hate your job right now, but there are millions of people who wake up every morning proud of what they do.
m) Sports, Lifestyle, and Hobbies:
6. How to Choose a Niche for POD Dropshipping ideas?
POD shirts, jewelry, shoes, and other custom-printed merchandise are generally related to impulse buying behavior and the best way to get more sales for your products which is aimed at impulse buyers is to capture their emotions and sentiments as well as connect with them at granular level which is intrinsic and connects them with their soul. 
To do this and absorb POD Dropshipping ideas/designs, you need to observe what affects them and it is not rocket science to crack. Generally, people choose these items to show their individuality. These things are broadly related to their job, hobby, sport, political, social, moral, environmental inclinations or simply just a country they just visited last.
However, the paramount factor when choosing any niche is its market size which is easy to know. If Google searches, their web mentions, and the number of competitors are significantly higher then that particular could give you inspiration for your POD dropshipping ideas. You can check audience size with Facebook's Audience Insight tool or check the keyword search volume for your audience on Google.

7. How to Conduct a search of POD Dropshipping ideas for Your Chosen Niche?
Now that you've chosen a niche, it's time to research what to put on your designs for them. You can use your preferred method for collecting information, be it bookmarks, Pinterest pins, or an excel file, the important thing is you find a way to save and organize the information you'll collect during this research. Before we delve deep into How, let's first see where: 
Amazon.com: Check for highest selling items over a period of time or scroll through categories and subcategories.
Clickbank.com: It is Amazon of digital products, you can easily find buyer persona and their interest
StumbleUpon: Visit Most popular section of this social commenting website to know what people are interested most for a given time-period.
Yahoo Trending
FIndAForum.net
Twitter Trending
Facebook Trending
Reddit 
Google Trends
Flippa: It is a place where websites are sold, so you can see which website sold for maximum money, its targeted audiences and take inspiration from there
eBay Popular
Google Suggest
Google Wild Card Search
Google Keyword Planner
Ubersuggest
43things.com: Here people list things they want to change
Change.org: Here people mention causes and generate traction through signature, so you can really find some great inspiration here
GoFundMe: It is a crowdsourcing website where people list their causes and ask people to donate. This is also a great place to get inspiration from.
Now that we have discussed the where part lets find out about how part:
a) Finding Cool T-Shirt Design Inspiration through Amazon Merch
Merch by Amazon is Amazon's very own platform for POD t-shirts. A free tool from Merch Titans allows you to search the cool t-shirt designs uploaded to Merch by Amazon based on keywords, the marketplace it was uploaded to (i.e. Amazon.com or Amazon.co.uk), and the type of merchandise (i.e. shirts or hoodies).
The search results will show:
Design Image

Items sold

Price

Brand
The results aren't 100% accurate as they're based on the tags and descriptions store owners use on listings. If a design is listed with multiple or related keywords, they can show up on your results.
b) Searching with Pinterest and Facebook:
Facebook is a social platform, but it's a good way to find print on demand t-shirts because this is where competitors are promoting their designs using Facebook ads.
Just type your niche's keyword and the word "t-shirt" or whatever print on demand merchandise you're selling into the search bar. You can also use promotional words like "on sale" or "limited time offer." Some people search based on POD platforms, so they use search words like "Teespring" or "Redbubble" so they see all posts with these platform's URL or name.
You can also filter the search results based on the date of the post, so you only see the latest designs promoted on Facebook.
c) Search Unique Mug and Shirt Design Ideas via Etsy
Etsy itself is a great marketplace to find designs and inspirations for your products, just type your niche's keyword in the search bar.
To do so, just input relevant keywords with different combinations like "niche name+ joke" or "niche name + another niche" to get unique shirt design ideas.
BONUS TIP: Take note of the designs with lots of reviews, but make sure the reviews are for the item you're viewing and not for another design. The reviews below are for the item "Reasons to be a mermaid mug," but you'll see that last review is for a different product.
d) Search for Cool T-Shirt Designs via POD Platforms
You don't need to create a website to sell your POD designs because there are dozens of marketplaces that'll allow you to upload your designs on their site, so you can earn when someone purchases it from them.
Not only can these sites help you sell your designs, but they can also help in your POD and t-shirt market research. Just type the keywords for your chosen niche, then filter the search results based on hot t-shirt designs or the newest listings added.
e) Searching for Unique Shirt Designs  via Google Images
Among the most tried and tested methods for searching POD Dropshipping ideas, Visit images.google.com,  thereafter insert the niche name. Here too, try with combinations of different keywords. Follow these below syntaxes to zero-in on the result 
Niche + funny

Niche + joke

Niche + quotes

Niche + slang
Google Autosuggest will also show you other phrases to use in your research. For example type Feminism + Joke or Feminism + Quotes etc.
The search results may not be limited to shirts, but some of these quotes are short and snappy enough that you can easily fit them into a mug or hoodie.
A Google image search results for "Running Quotes" shows several ideas you can put on a wall decal for runners.
Caution: Many of the images you'll find on Google images are copyrighted. Be careful not to use an artist's images or copyrighted items to avoid a lawsuit. Use the results of this search for inspiration only.
f) Searching T-Shirt Design Ideas via Reddit and Other Social Platforms
Your niche doesn't have to be news or politics for this tip to be useful for you. Whatever is trending in your niche, there's a good chance that you'll find a clever quip about it in one of these platforms.
Platforms where you can search trending, viral, or meme items:
9Gag. A website and the social site where you can publish and curates jokes and memes for a variety of niches.
4Chan. It's similar to Pinterest in a sense that it's a bulletin board for images, but the difference is you don't need an account and you'll see lots of comments on some images, which might be helpful in your research
Reddit. The site is divided into different communities, and some communities will have sub-groups (a.k.a. "sub-reddit") to further organize the conversations. The best posts get the most replies and votes (a.k.a. "upvotes") from community members.
Not everything you find in these websites is applicable to POD, the majority of the information you'll find here aren't yet commercialized. These are just content people talked about, so you'll need some creativity to imagine how the information can be translated into a hoodie or POD blanket design.
The relationship category on 9Gag is full of jokes and complaints about relationships. But there are posts like the one below where the image's concept or a text version of it might well on apparel design. It's also a good sign that the post has over 2600 points and 100 comments.
Caution: Be careful not to use an artist's images or copyrighted items to avoid a lawsuit.
You can find many unique quotes on sub-reddit threads, and almost none of these quotes are trademarked because these are from ordinary Reddit users being their sarcastic or funny self. Unfortunately, digging into Reddit to find puns and jokes is a chore because there are so many active conversations to track.
Simplify your research easier by searching for "pun trains," the term used when users play off on each other's puns. Another way is to look up Reddits dedicated to jokes. You can also find a detailed tutorial of using Reddit to search T-shirt designs on MerchPursuits.
g)  Combining Niches to Create Cool T-Shirt Designs
Combining niches allows you to hone in on a more specific target customer while giving your designs are more unique and authentic feel.
One typical example of this is the "Niche + Born in (month)" combo, where you combine a positive trait or niche with a target buyer's birth month. Designs like this make the buyer feel special because they think they'll be the one of the few with an item like it
print-on-demand-merchandise-mugs

Mermaid mug from Etsy.
Here's a combined niche idea: Mermaids + birth month via Etsy. Use a different image or icon then combine it with a unique typeface and you'll get a unique design ready to sell.
You can also combine relationship and job niches, like this design for a "Mom who raised a firefighter" shirt from Etsy.
##A Word on Avoiding Copyright Issues and Using Mashups or Parody
Some designers and POD entrepreneurs use mashups and parody to avoid copyright problems. Since ideas are too vague to copyright, a different execution of one idea from a popular franchise or trademarked characters like what happens in parodies and mashups presents a gray area for designers.
For instance, the idea for a hilarious dad can't be copyrighted, but the plot and character details that make up the character's personality can be protected by copyright. That's why Peter Griffin of Family Guy can't be considered a copyright infringement of Homer Simpson. Whatever similarities they have, they also have differences in storylines and character traits, which makes both of them independently, and could separately be copyrighted. That's why 'fair use' is a typical defense against copyright claims.
8. Popular POD dropshipping service companies
Printful
Printy6
ShineOn
Printify
TeeLaunch
Gooten
Tshirtgang
Customcat
9. How CedCommerce facilitates POD dropshipping business?
CedCommere, being a multichannel sales facilitator offers a multichannel listing and inventory & order management software that helps online sellers to automate their sales operations and brings down the difficulty level of various operations.
The CedCommerce can help POD businesses which operate their individual website by helping them to
Bulk Upload Product: Merchants can upload all their products and the related ideas at one-go on any of the marketplaces that allow POD dropshipping such as Etsy, Bonanza, and Wish.
Real-time Sync: It is one of the very crucial steps of the online sales business. This function makes information at various platform consistent with each other. Therefore, if the information on one of the platform changes – such as product information changes or inventory level changes – it updates it on other platforms as well.
Auto Order Acceptance: This one is a gem of a function, as each marketplace has a lead time i.e. the minimum time a seller can take to acknowledge an order, this function accepts the order automatically if there is inventory or cancels them if there is no inventory.
Executive Summary:
The POD business though seems easy on the surface but it's way too complex underneath, however, if one gets the grasp of the concept of how to get the ideas that resonate with buyer personas, it can be a great side hustle business which can be evolved into a full-fledged business.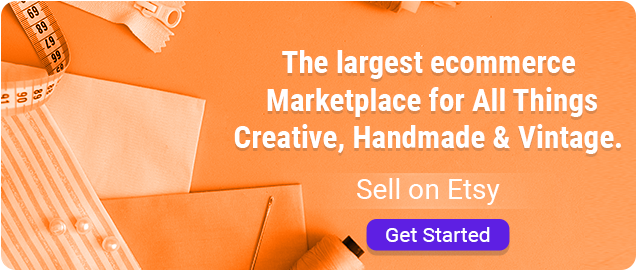 Read More: 
How to optimize Shopify store: Simple Hacks Decoded!