Mastering Amazon's BFCM Rush: Strategies and Tips for Sellers
Running short of time? Get PDF of the blog in your mail.

Play Now
Black Friday and Cyber Monday (BFCM) hold enormous significance for Amazon sellers. In 2010, Amazon introduced the concept of BFCM to the UK, offering a wide array of discounts and deals to consumers, all while delivering an unparalleled Amazon BFCM user experience. Additionally, eCommerce retailers have experienced up to 240% and 380% revenue increases, during Black Friday and Cyber Monday sales. In 2020, Cyber Monday sales marked a 15% YOY growth, crossing a remarkable milestone by exceeding $10 billion in online sales for a single day.
These holidays present a golden opportunity to maximize sales and revenue on the world's largest online marketplace. However, success during BFCM doesn't happen by chance; it requires a well-thought-out strategy. In this blog, we'll explore various strategies and tips to help Amazon sellers master the BFCM rush.
Leveraging Amazon Fulfillment Methods
One of the fundamental pillars of success on Amazon during the Black Friday and Cyber Monday (BFCM) rush is choosing the right fulfillment method. Amazon offers a range of options, but two, in particular, stand out: Fulfillment by Amazon (FBA) and Multi-Channel Fulfillment (MCF).
In this section, we'll delve into the benefits of FBA and MCF and share valuable tips for optimizing your Amazon fulfillment strategy.
Fulfillment by Amazon
Fulfillment by Amazon (FBA) is a game-changer during BFCM. It allows sellers to take advantage of Amazon's extensive logistics network. It helps sellers to entrust Amazon with the storage, packing, and shipping of their products.
Tips to Optimize Your FBA Strategy
Plan Early: Begin preparing your inventory well in advance. Amazon often sets specific deadlines for sending in your products to ensure they are available for BFCM. Plan and ship your inventory early to avoid any logistical issues.
Stock Optimization: Ensure your FBA inventory is well-stocked to meet the increased demand. Use Amazon's inventory planning tools to forecast the required stock levels accurately.
Optimize Your Listings: To maximize visibility and conversions, enhance your product listings. Include high-quality images and detailed product descriptions. Also, consider using Amazon's A+ Content and Enhanced Brand Content features to make your listings more appealing.
Utilize Amazon's Promotions: Take advantage of Amazon's promotional tools, such as Lightning Deals and Coupons, to attract more buyers. These can help you stand out among the plethora of BFCM offers.
Monitor Performance: Continuously monitor your FBA performance metrics. Ensure that you maintain a high level of service to avoid any potential penalties during the critical BFCM period.
Multi-Channel Fulfillment
With Black Friday and Cyber Monday Sales in full swing, it's essential to reach a broader audience. MCF allows you to expand your reach beyond the Amazon platform, synchronizing your inventory management across various sales channels. By optimizing your Amazon Black Friday deals and utilizing Amazon Listing Optimization techniques, you can attract more customers.
Why opt for MCF?
Expand Beyond Amazon: MCF allows you to fulfill orders from other sales channels. During BFCM, you can expand your reach by fulfilling orders from your own website or other eCommerce platforms using Amazon's robust logistics network.
Integrate Smoothly: To integrate MCF successfully into your BFCM strategy, ensure that your inventory levels are synchronized across all platforms. This avoids the risk of overselling or understocking.
Leverage Fast Shipping: Amazon's efficient shipping and delivery processes can be a selling point for your products. Use MCF to offer fast shipping options to your customers, such as two-day shipping, which can be particularly attractive during BFCM.
Cost Considerations: While MCF offers flexibility, be mindful of the costs involved. Make sure to evaluate and compare the expenses of MCF with the potential benefits for your specific products and sales channels.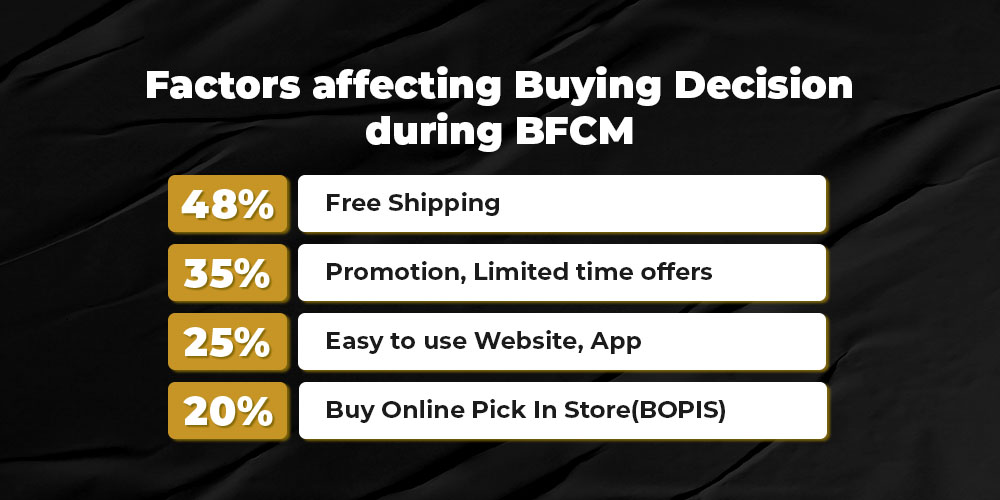 Local Selling on Amazon
Local Selling on Amazon is an increasingly valuable strategy, especially during the Amazon BFCM season. With the demand for faster deliveries and personalized experiences, customers are often seeking products from nearby sellers. Amazon's Black Friday and Cyber Monday Sale events are no exception. Utilizing Amazon's Local Selling feature, sellers can tap into this demand, offering same-day or next-day delivery options.
"According to the NRF's Annual Thanksgiving Weekend Consumer Survey, free shipping was the biggest reason for Black Friday shoppers to make a purchase online instead of in-store (for purchases they were otherwise hesitant about)."
To streamline the selling process and maximize your local reach, many merchants are now turning to innovative solutions like the CedCommerce Amazon channel. This integration not only simplifies local selling but also ensures that sellers are well-prepared for the BFCM rush, where speed and convenience can make all the difference in attracting and retaining customers.
How to Set up Local Selling on Amazon?
Create an account for selling on Amazon
Upload your product details and set the price
Choose the areas/region that you want to get orders from; where you can deliver the orders either same day, next day, or maximum in 2 days
Deliver orders to customers when you get orders from them
Sit back and see your business grow as Amazon helps you get more customers and handles all customer queries
Inventory Management
As Amazon sellers gear up for the Black Friday and Cyber Monday Sale, ensuring that your inventory is well-planned and optimized is critical to meet the surge in demand. This involves forecasting, planning, and maintaining the right stock levels to avoid stockouts or overstocking.
To simplify and streamline inventory management, many savvy Amazon sellers turn to platforms like CedCommerce. CedCommerce not only provides powerful inventory management tools but also offers real-time sync and automation features. With CedCommerce's solutions, Amazon sellers can confidently navigate the BFCM rush, knowing that their inventory is optimized for maximum sales and customer satisfaction.
Importance of Inventory Planning
Meeting Customer Demand: Effective inventory planning ensures that you have enough stock to meet the increased demand during Amazon's Black Friday and Cyber Monday Sales. It prevents stockouts that can lead to lost sales and dissatisfied customers.
Reducing Storage Costs: Overstocking can lead to additional storage costs. Proper inventory planning helps keep storage costs in check, ensuring that you only pay for the storage you actually need.
Minimizing Fulfillment Delays: Amazon's fulfillment requirements necessitate timely delivery of products to their warehouses. Inventory planning ensures you have sufficient lead time to meet these requirements without rushing.
Enhancing Customer Experience: Consistently having products in stock allows for quick order processing and timely deliveries, which in turn enhances the customer experience and encourages repeat business.
Efficient Seasonal Adjustments: Inventory planning enables you to make strategic adjustments for seasonal trends and special events, like Amazon's BFCM, so that you're prepared for fluctuations in demand.
Inventory Optimization
Inventory optimization goes beyond inventory planning and involves actively managing your stock to ensure it's always at an optimal level. CedCommerce plays a crucial role in this process by providing robust inventory optimization solutions that enable Amazon sellers to streamline their operations.
With CedCommerce, sellers can automate inventory management tasks, ensuring that stock levels are continually aligned with demand. Real-time sync help sellers make quick decisions, reducing the risk of stockouts or overstocking. Additionally, CedCommerce's tools integrate seamlessly with Shopify and Amazon, facilitating a smoother and more efficient inventory management process. With CedCommerce's support, sellers can focus on growing their business while staying in control of their inventory.
Product Optimization
Optimizing your product is a crucial step in preparing for the Amazon BFCM rush. It's not just about having great products; it's about presenting them effectively to your potential customers. A vital aspect of this optimization is ensuring that your product listings are mobile-friendly. With over 80% of shoppers aged 40 and under, and 66% of shoppers over 40 planning to use their phones to search for gifts, mobile accessibility is paramount.
Optimizing Product Listings
From crafting compelling titles and descriptions to using high-quality images and relevant keywords, every detail matters. What's even more important is that, with solutions like the CedCommerce Amazon Channel, Amazon sellers can efficiently edit and enhance their listings. This simplifies the process of making real-time updates, ensuring your products are presented at their best.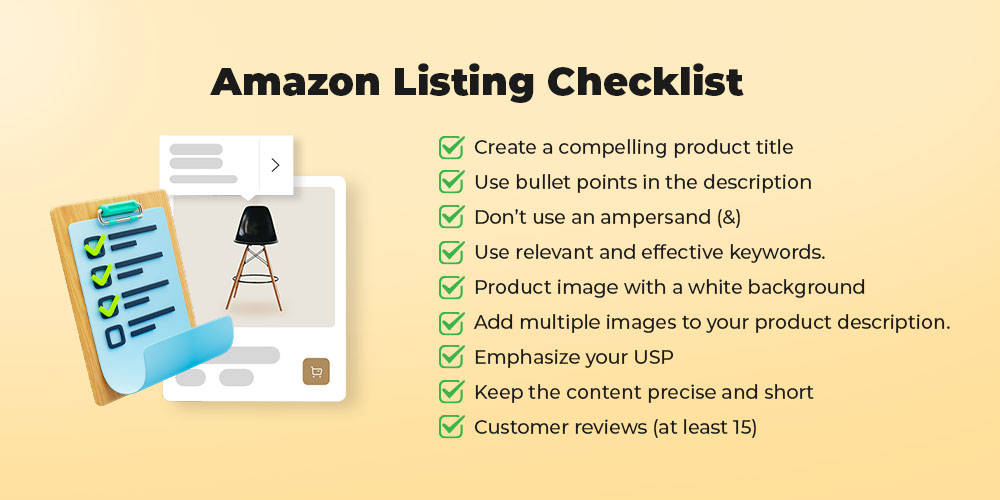 Additionally, CedCommerce offers 'Smart Lister,' an innovative listing optimization tool that uses AI to generate and enhance listing text, including titles and descriptions. By leveraging keywords strategically, the smart lister not only helps boost your product's ranking in search results but also ensures that your listings are well-optimized for conversion. It's a powerful tool that can give you a competitive edge during the BFCM rush, helping you stand out and capture the attention of eager shoppers looking for the best deals.
Product Reviews and Ratings
Reviews and ratings are pivotal to your success during Amazon's Black Friday and Cyber Monday sales. They play a substantial role in shaping your product's reputation and influencing buying decisions. Positive reviews and high ratings are trust signals that attract potential buyers, assuring them of your product's quality and reliability.
Engage with your customers, provide excellent customer service, and follow up with post-purchase communication to encourage reviews. Additionally, leverage the reviews and ratings you've earned by incorporating them into your BFCM promotion. Highlight these testimonials in your product listings and advertising campaigns to build buyer trust and stand out in the competitive BFCM marketplace.
Pricing Strategy
Black Friday presents a unique chance to fine-tune your pricing strategy and address areas where your eCommerce performance may be struggling. If you have products that have been sitting in your warehouse, this is the perfect time to make a move. Consider offering discounts on these items to clear out excess inventory.
Get creative with product bundling to encourage larger purchases. Offer 'Buy One, Get One' deals or bundle complementary products at a discount. Implement tiered discounts based on purchase quantity to drive higher sales. This strategy not only boosts revenue but also enhances cash flow and frees up space for new inventory.
Dynamic Pricing
Dynamic Pricing is a strategic approach that can significantly impact your success during Amazon's Black Friday and Cyber Monday sales. It involves the real-time adjustment of product prices based on demand, competition, and time. Dynamic Pricing is particularly useful during BFCM as it enables sellers to stay competitive. By constantly monitoring and adjusting prices, you can take advantage of fluctuations in demand, offering discounts when needed to attract more shoppers and increasing prices when demand is high.
Promotions and Discounts
Promotions and discounts are crucial for a successful Amazon BFCM strategy. Create urgency with 'Lightning Deals' or 'Deal of the Day' offers. Run discounts on select products and offer bundled deals to encourage larger purchases. You can also run discounts on select products or offer bundled deals, encouraging customers to buy more.
Communication is key; make sure your promotions are visible in listings with eye-catching graphics and badges. Promote deals on social media, via email marketing, and your website to reach more potential buyers. Successful promotions and discounts drive BFCM success, attracting eager shoppers and boosting sales.
Marketing and Advertising
Recent data indicates that about half of Amazon sellers see Black Friday and Cyber Monday as crucial for their profits, with 64% emphasizing the significance of December as a whole. This highlights the immense opportunity during these events and the holiday season. To seize this potential, a strong marketing and advertising strategy is vital.
"As per 2020 data, it's evident that Clicks and Conversions began to increase two weeks before Black Friday. Therefore, it's advised to prepare for the biggest shopping season at least 2 weeks before Black Friday."
Amazon sellers must strategically use Amazon Advertising, external marketing channels, and promotions to excel in the competitive landscape, attract customers, and boost sales and revenue. Effective marketing and advertising are imperative for a thriving holiday season.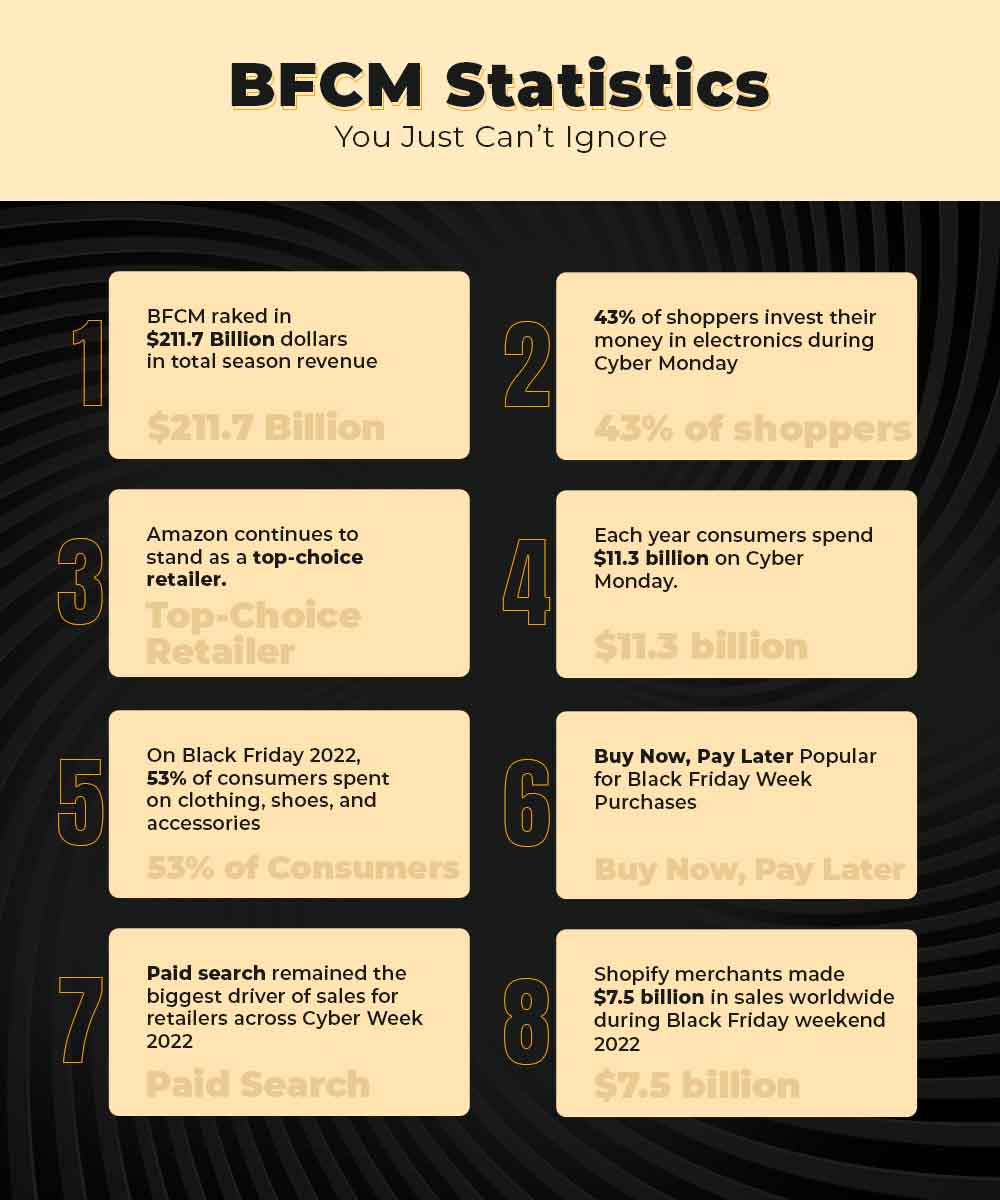 Amazon Advertising
Amazon PPC campaigns are a cornerstone of your Amazon BFCM strategy. In this section, we'll delve into their pivotal role in boosting your Black Friday and Cyber Monday Sale performance. Learn how to strategically employ Amazon Advertising to promote your Amazon Black Friday deals, leverage Amazon Listing Optimization techniques, and implement Amazon selling tips to enhance your campaign's effectiveness. These advertising strategies are essential for maximizing your visibility during the highly competitive BFCM season.
Pro Tip: It's recommended to raise your bids by 10-30% on Black Friday and Cyber Monday. Regularly review your reports and make bid adjustments as necessary.
External Marketing Channels
External marketing channels, like social media and email marketing, play a crucial role. Learn how to cross-promote your Amazon BFCM deals effectively. Harness the power of external marketing channels as part of your comprehensive Amazon BFCM Strategy. Discover effective cross-promotion techniques and Black Friday Selling Tips to extend your reach and attract a broader audience. By effectively leveraging these external marketing channels, you can ensure that your BFCM deals receive the visibility they deserve.
Are you Ready for BFCM 2023?
In conclusion, a well-rounded Amazon BFCM strategy is the key to success during this high-stakes shopping season. We've covered various aspects of maximizing sales on Amazon during BFCM, from fulfillment methods to marketing strategies. By implementing these strategies, you can position yourself for a successful BFCM in 2023.