CedCommerce solved Gahnemall's concern about Inventory Management
Running short of time? Get PDF of the blog in your mail.

Play Now
The jewelry store GahneMall manufactures handmade and handicraft jewelry. It is a US-based e-commerce store that is selling exquisite handmade jewelry since 2014. GahneMall believe is fulfilling the product on its own. They have around 50 members in their team. This post explore how their inefficient inventory management emerged to be bottleneck and  how CedCommerce resolved it the right way. 
Traffic on Store was below Expectation

Despite designing world-class jewelry and having by a team passionate about providing the best product at a reasonable price, the organic traffic on the store was not fruitful.
Hence, Gahnemall concern grew bigger when the traffic was not improved by any significant amount over a period of time. They were concerned about limitations on Shopify store in terms of product description.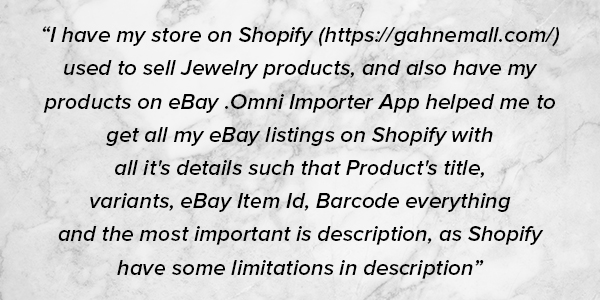 GahneMall Approached CedCommerce –

Leading E-commerce Solution Provider


GahneMall was very keen on channelizing a good amount of online visitors with business diversification. Online research helped them conclude that in order to improve the number of visitors the key is smart management of the inventory between the marketplace and its Shopify store.

Hence, GahneMall agreed to get their inventory managed for making the store operations more efficient.


CedCommerce Provided the Right Solution and Enhanced Inventory Management

Yes, CedCommerce sticking to its legacy of providing the best as well as ensuring it doesn't cost a fortune. The best solution for easy and effortless inventory management is the Multichannel Importer App.
How Multichannel Importer App Streamlined Inventory Management of GahneMall
The online jewelry store was now able to import all its jewelry products from eBay to Shopify store with below benefits,
Bulk product imports at a single click including details like SKUs, images, price, barcode, variation, title and more in one simple click.

Inventory auto syncing from eBay to the Shopify Store.

Syncing of newly added product from eBay to the Shopify Store. 

The most important thing where our solution proved beneficial was the customization of the product description. As a result, This has allowed GahneMall to have the same description as on the eBay store.
Our Client was Eventually Happy

Client was not only happy upon discovering the solution to improve the traffic but also he was delighted to find that implementing the solution for inventory management hardly took only a few minutes.
The client also appreciated the user-friendliness of the app. As a result, he highly recommends the same to others.

On a Positive Note – Owner liked Smart Inventory Management
The owner of Gahnemall is happy with the response after implementing the Multichannel importer app on his Shopify store for quick and hassle-free. Moreover, he considered the way CedCommerce treats its customers as impressive  which is highly responsive.
You may like to explore the below
How to optimize the Shopify store: Simple Hacks Decoded!