Convert Your Shopify Store Into An App! Easiest Guide Available Online
Running short of time? Get PDF of the blog in your mail.

Play Now
Do you want to convert your Shopify store into an app? As an online seller do you often type in search engines "How to turn my Shopify store into a mobile app?" Today we bring you the answers to all your queries sharing best e-commerce app builder with you. 


You have your online store ready and the next step is to convert your Shopify store into an android app or iOS app depending on your need of business. Launching a Shopify app opens your business up to a world of possibilities. So you have your Shopify store. All the details have been taken care of. MageNative proves to be the best e-commerce app builder in terms of pricing, customizations, native functionalities and much more. Whether you sell clothing, grocery or jewelry you have many competitors out there. The ideology you should live by is how to outrank your competitors.
The trend of transitioning from web to mobile applications is so dominant that user penetration worldwide is expected to grow 17.0% by 2023.
If you are still not aware, Shopify is one of the largest platforms that caters to many online sellers. Its app store is a goldmine for sellers like you. Shopify is an online platform that allows its users to set up an online store to sell goods. It lets you organize, sell goods and accept payments for the same in a simplified manner. Now you want to convert your Shopify store into an app! Magenative App lets you do that with ease. Afterward, comes marketing and one tip would be to always think like a marketer once your Shopify store is set up and running. You should also consider converting your online Shopify store into an app. Conversions, data metrics, and CTRs should be your everyday vocabulary.
"We are recognized as a top Shopify Company on DesignRush"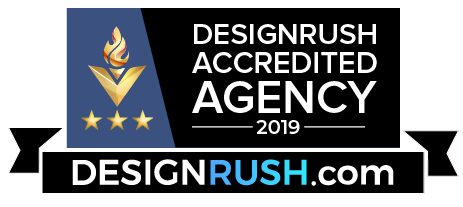 You want to convert your website or online store into an app or how much will it cost to develop an e-commerce mobile app? Rest Assured there are super affordable plans for you to consider.
To convert the Shopify store to a mobile app it is now easier than ever! You can easily turn the Shopify store into an Android or iOS mobile app. To transform your online store into a customizable mobile app You simply have to choose a mobile app building tool (app). The rest is taken care of by the app team. This article will explain how to make an app for your Shopify online store.
Read here the advantages of mobile apps that can transform your online store.
How To Get Started With Converting Your Shopify Store into An App

MageNative helps you get started from scratch. It eases your technical concerns of converting Shopify store into an app. This app shall allow you to customize the home page, list your products, checkouts and integrate payment options and many more customizations.
Choose an app that has a very good number of positive reviews. Read how customers react to their product services and support! (For example MageNative). This will help you understand how to go about making the major decision of choosing that app as a long term commitment.
There are options available for you, like MageNative, best e-commerce app builder on the Shopify app store. It offers free trials for you. This comes with attractive and affordable payment plans. Easy, huh? Mobile App building apps ease your roadway and transform your Shopify store to a functional mobile app. An app builder, that converts your Shopify store into an app, is your gateway to an infinite number of potential customers.
Get the power of Shopify Mobile app to grow your business today!

Easy steps to guide you through the MageNative's Onboarding process.

Install App
We suggest you Install MageNative App from the Shopify app store. It has more than 100+ reviews from happy clients. This is the first step towards converting your Shopify store into an Android app (or iOS depending on your business idea). You want an app that gives you full control over customization, has flexible and affordable pricing plans. Look for an app that enables analytics for you to look at your data metrics. You want an app that has a large number of positive reviews.
Configure Your App
This is the step where you want to configure your Shopify store with the app downloaded. Go through the customization theme to personalize as per your brand's requirement. The MageNative app allows real-time syncing for its users.
Provide branding Images, app name, theme and other major settings that will help you get started. Configuring your app with required elements gives you greater control over your app.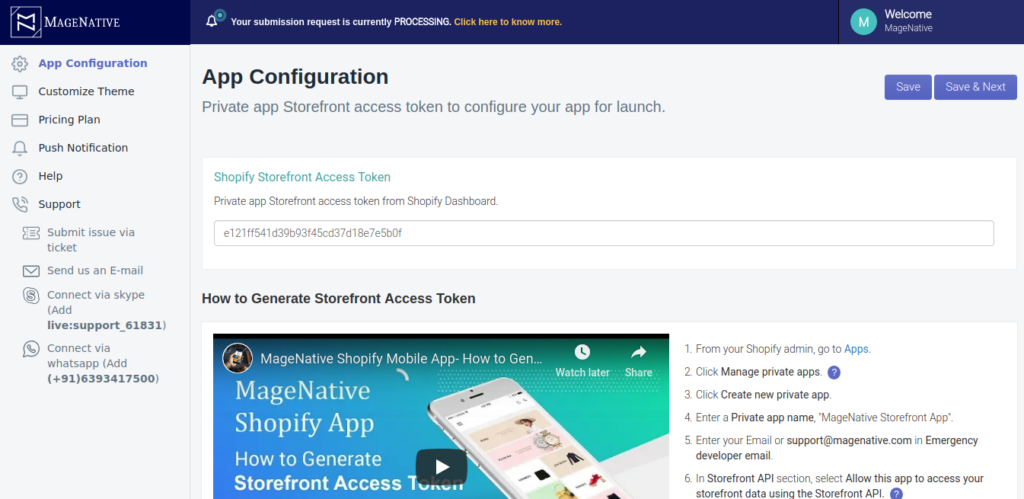 Submission
Submit all the required elements to set up your app. The more details you provide, the better.
App Is Delivered to You For Approval
Your submission is received by our developers' team. Once your app is ready. Post your submission of the required elements, our highly efficient team sends you ready app for approval.
App Goes Live!
Upon your approval of the app your iOS & Android app, depending on your choice of platform, will be up and running on respective app stores.
Why Your Shopify Store Should be Converted to an App

You may ask why Mobile Applications are important for any business. Turning your Shopify store into a mobile app is only the first step towards advancement. If you have an online store. A functional mobile app can bring drastic changes to your business. Native (iOS/Android) Mobile apps have a very rich future in terms of business growth! The benefits of mobile application development are yet to be discovered by too many businessmen. But, if you take your business seriously and want to expand your online business with a mobile application. You have landed in the right place.
Your store's mobile app lets you reach your customers in the shortest span of time. A well-optimized app can change the way your business is driven. When you turn your Shopify store into an Android or iOS app. Customer retention and business credibility increase drastically. Customer's accessibility can directly affect your conversions and brand visibility. Read on how you can too create a mobile app within a short span of time with ease.
Read the complete process of turning your Shopify store into mobile app here. 
MageNative Eases Your Way Ahead
MageNative lets you customize your app as much as possible and that way you are not restricted to limited functionalities. Integrating Payment gateways and multiple payment methods are available upon request.
If you need help with what features your mobile app should have. Read here
Once you have finalized your iOS or Android app. You want to customize your latest offers and banners. You want to add various collections from your catalog and present them in a stunning layout for your customers. Make your app a brand icon for your business. You want to select the streamlined flow of user experience. Include major app features that you want your customers. Your sole purpose here is to strategize the way your customer browses your store. This app should fulfill the major demands of customers. This way Magenative opens doorways to the future of your business. It transforms your Shopify store into an Android app or iOS app. It should also directly relate to your existing Shopify store. This will help the customer to feel the connection. Your Brand's app will then finally give you the desired results.
To Conclude
Apps like Magenative not only affordable but the best e-commerce app builder that is easy to configure.  MageNative helps you build, transform or convert your Shopify store into an app. These also allow a non-technical user to create the best app experience for their customers. If you wish to expand your business to a bigger audience on the go, then getting an iOS or Android app for your online business is a crucial move.
More Useful Links to Make the Most of your app!
Major Mobile Commerce Trends 2019
Key Features of  a Successful Mobile App
How to Boost Sales on your Mobile App
About MageNative:
We at MageNative continue to work towards advancing our services, to support our clients! MageNative Mobile App Builder is the one-stop solution for all your mobile native app-building needs. We serve various platforms like Magento, Magento 2, Woocommerce, OpenCart, Magento Delivery App Magento2 Delivery App. We look forward to serving you!