Here's Why You Need Google Shopping Order Management
Running short of time? Get PDF of the blog in your mail.

Play Now
Have you been experiencing order related issues such as managing the orders, fulfilling them and making sure you don't take too much time in handling unless Google will cancel those orders? Why take all these headaches, when you could easily do all that with Google Shopping integrations available in the market? So, let's explore further in detail why you need order management? How does Buy On Google(previously known as Shopping Actions) order management play a role in your merchant rating? What is Google Shopping order management? Which Google Shopping integration can help you boost your sales?
Did you know about the new opportunity that lets you keep all your profits to yourself? With the exclusion of commission fees from the Google Shopping Actions programs, you can enjoy all the profits made through your sales. Grab the opportunity with us today!
Table of contents:
Google Shopping order management
What is order management?
In a nutshell, order management is the process of receiving, tracking and fulfilling orders. It begins when a customer places an order and ends when the customer receives their package.
Why you need Google Shopping order management system?
When scaling your business, it is crucial to automate and streamline this process. Otherwise, you'll eventually be overwhelmed by the number of orders coming in.
In addition to this, accurate Google Shopping order management comes with these perks:
Avoid overstocking and understocking
Order management helps you keep track of overstocking and understocking.
It is important because overstocking is like throwing cash down the drain products that might not sell but you still keep them hoping they will sell one day.
Understock increases your risk of losing easy sales from customers who were ready to buy now but will probably end up giving that money to your competitor instead!
Dodge Fulfilling mistakes
For a customer, it is the most crucial thing to get their products exactly as shown on the website and with no delivery delays. With expectations this high, it is your job to make absolutely no mistakes in fulfilment.
Google strives to provide the best shopping experience to its customers hence making any fulfilling mistakes might end up in a bad shopping experience for customers. Also, Google will penalize you by suppressing your buy box and giving less priority to your listings.
With an order management system, you can easily avoid any fulfilling mistakes.
Order process within seconds, Real-time updates, Reports, and analytics
Planning to scale up your business? Well, sooner or later you would want to scale up your business, at that time it will be even more difficult to keep track of everything. Scaling up requires extra effort and an extra level of accuracy.
Using a fully automated order management system for eCommerce, allows the orders to be processed within seconds and keeps you up-to-date. It will also help you tap into the real-time updates of your order status.
Manage everything centrally
Having many applications and methods to manage everything may actually do more harm than good. So, managing everything centrally seems like a good idea and it will help you work in a shorter, sweeter and more tactical way.
Playing such a vital role, order management becomes an essential feature to look for in any Google Shopping integration. And lucky for you, you wouldn't have to look any further!
Bigcommerce Google Shopping integration
There are many integrations available in the market for Google Shopping, but the one in focus is CedCommerce's Bigcommerce Google Shopping integration. But why would you choose this integration over all the others?
CedCommerce believes in the Pareto principle or 80/20 rule, as you might know, it.
What is the Pareto principle?
The Pareto principle states that for almost everything in life, roughly 80% of the effects come from 20% of the causes. E.g. 20% of the population owns 80% of the land.
CedCommerce does 20% of the work for you that produces vital 80% results. Since order management is very important in Google Shopping and makes up 20% of your whole selling efforts, it is important that you choose an integration that provides that, and CedCommerce has one of the best tools to manage the Buy On Google(previously known as Shopping Actions) feed and Google Shopping orders.
Still need more reasons? Here's a list of features:
Bigcommerce Google Shopping Integration features
Profile-based product management
Profile-based product management feature helps you create a profile of a particular product type- Category, attributes, shipping and more. Once created, it can be easily assigned to similar products for all future uploads making your future product uploads a breeze.
Either you got a small inventory, or perhaps a huge inventory, this feature covers it all. Get your inventory on Google Shopping within minutes!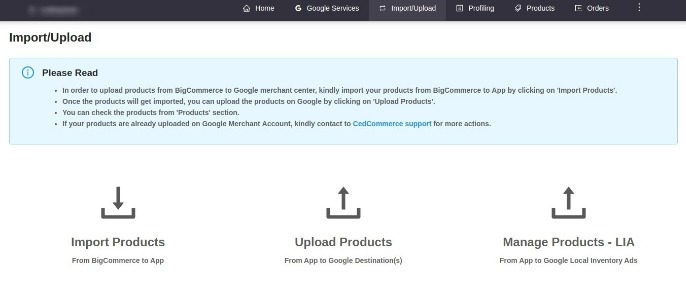 Why limit yourself on Google Shopping alone, advertise your products and business through Google Ads and get more sales.
Leaving no stones unturned, Bigcommerce Google Shopping integration provides full support to those merchants who have a brick-mortar store through a program called, Local Inventory Ads. Now don't miss out on giving more exposure to your offline business through Bigcommerce Google Shopping integration. These types of ads help you in increasing foot traffic.
With the Bigcommerce Google Shopping integration, you get all the analytics and reports in one place so that you can take necessary actions when required.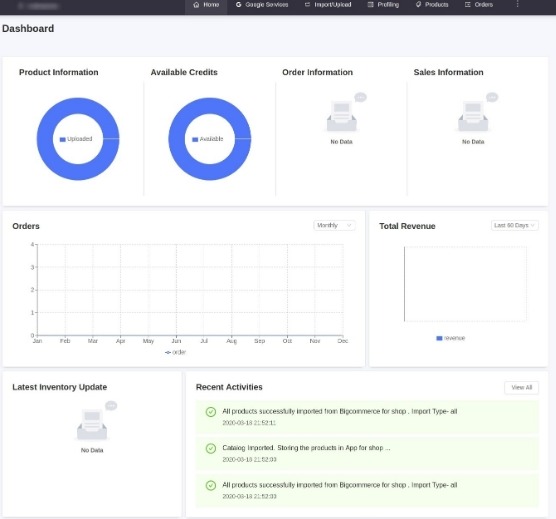 selling an easier operation and see how consistency in product's data can bring down any losses. The real-time sync updates the data across platforms when any changes such as inventory, order, listing information occurs.
Category and attribution management
Google is quick to reject your product feed if it does not align perfectly with Google's category and attributions. But with this feature, you wouldn't have to worry about your product feed getting disapproved because this feature will automatically match all the categories and attributions.
Last but not the least, as discussed above, order management is the most crucial aspect and this enables you to connect your Bigcommerce store to your Google Shopping store.
Cedcommerce does not only provide so many features, but it is also one of the few ones that provides order management for Google Shopping.
The app can automate the Google Order management even if you are managing Buy On Google feed with another solution provider i.e., Order syncing from Google to BigCommerce Store and Order shipment from BigCommerce store to back to Google.
The app also can manage your products for the Buy On Google program only. In this way, your Buy On Google feed and Google Ads Feed wouldn't get affected in any way.
Check out this video to know more:
But wait! There's more.
Bigcommerce Google Shopping integration helps to improve your retailer standards
Retailer standards depend upon things such as item defect rate, shipment defect rate, the value of sales and number of sales.
With this integration, you wouldn't have to worry about the shipment defect rate, as the order management takes care of this flawlessly.
With CedCommerce, sellers saw a 36% GMV growth, so the value of sales and the number of sales will never make it to your "Things to worry about" list.
'Buy on Google' program in France will be ending on December 7, 2021. For more updates or support, get in touch with the experts at CedCommerce here!
But why are retailer standards important?
Because if you fail to keep up with the retailer standards Google will penalize you by suppressing your Buy Box, giving less priority to your listings and eventual suspension.
On a positive note, if you keep up your retailer standards, you will be rewarded by commission discounts and your listings will get priority!
That's not all, BigCommerce Google Shopping integration saves your time and efforts by accepting an order after 30 minutes of it being placed.
You must be thinking, how is that a benefit?
Well, while placing an order on Google Shopping, customers get a 30-minute window, where they can easily cancel the order.
So imagine this, someone placed an order, you accepted it within minutes and you prepared the package, and now you're almost ready to send it out. Suddenly you get a notification that the order has been canceled, all the efforts down the drain in a single notification. So to avoid this, our integration accepts the order after 30 minutes have passed and hence saving your time and efforts.
On top of that, CedCommerce provides you with one of the best customer support. You get a 24X7 free one-on-one customer support and a dedicated account manager to help you every step of the way.
Did you hear about the fantastic news from Google? Google has now allowed sellers to showcase their products on Google Shopping through Google Merchant Center. Thus, a major part of the Google Shopping page is going to be occupied by these free listings. All they need to do is create an optimized Shopping Feed via the Merchant Center and make sure Surfaces Across Google is Active. Enjoy this unpaid experience and create your Google Shopping Feed now:
Conclusion
As a strong believer of the Pareto principle, CedCommerce takes care of that 20% of your work, so that you can relax and enjoy the 80% profit. CedCommerce being the only one providing order management gives you one more reason to start your journey with us. So without hesitation, contact us or drop your doubts and queries in the comment section below.
Cedcommerce is a proud channel partner of Google Shopping Actions
Happy selling~