How eCommerce Community's to Response to Covid-19 Pandemic?
Running short of time? Get PDF of the blog in your mail.

Play Now
These are the times when every silver lining is a bright light to fill us all with hopes.  We in the eCommerce community have more reasons to stand together than ever before and fight against the Coronavirus effects on the economy and protect humanity as a whole. Amidst the buzz of data and overflowing information, it is absolutely important for retailers to make an appropriate response to the Covid-19 pandemic. Explore further to find out in detail about the Effects of coronavirus on the eCommerce marketplace, platforms, retailers, and small-scale business entities.
Major Marketplaces' Response to the Covid-19 Pandemic:
Amazon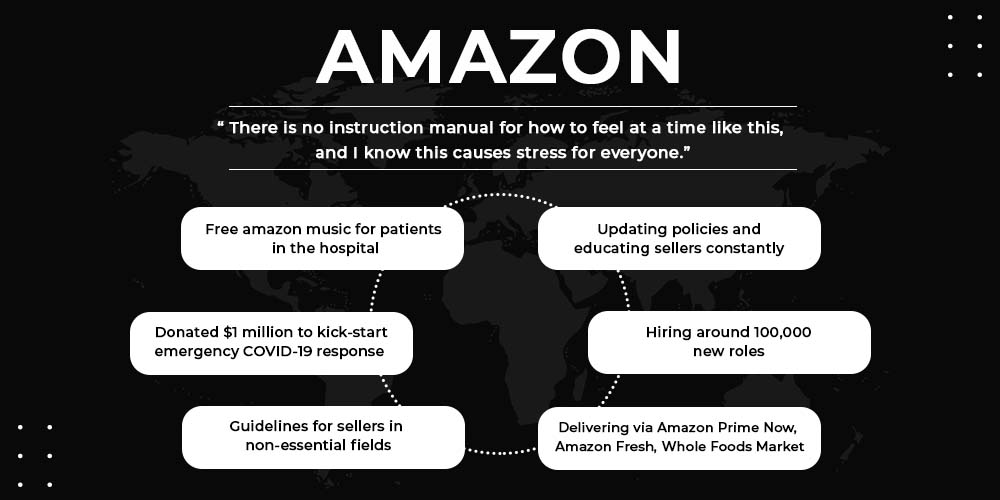 At the core of its services, Amazon is acknowledging the effects of Covid-19 on eCommerce and retailers from small and large-scale industries and retailers. Keeping up with the deliveries of essentials including groceries and other basic needs to people across the country for purchases on Amazon Prime Now, Amazon Fresh, and Whole Foods Market during times of need.
If there are issues in managing the inventory, then make sure that you either set your account to vacation status to protect the seller's performance metrics on Amazon.
Apart from that, Amazon has given out instructions to manage the inventory better for protection against overselling and out-of-stock status. Under inventory management, instructions regarding the following are also available, on the official seller forum:

Listing status for vacations, holidays, and other absences.
View your inventory
Delete a product
Close a listing
Relist a product that is inactive.

Due to the lockdowns and social distancing, the deliveries are most definitely going to be delayed. Be in touch with the fulfillment solution providers.
Amazon stands with the sellers to minimize the effects of Coronavirus on eCommerce Marketplace
Amazon is constantly updating policies to cope with the situation and ensure the cause and effects of Coronavirus and the economy remain on the least negative side.
From constant emails of encouragement to guidelines on how to save their business from falling out, Amazon is constantly educating the sellers.
eBay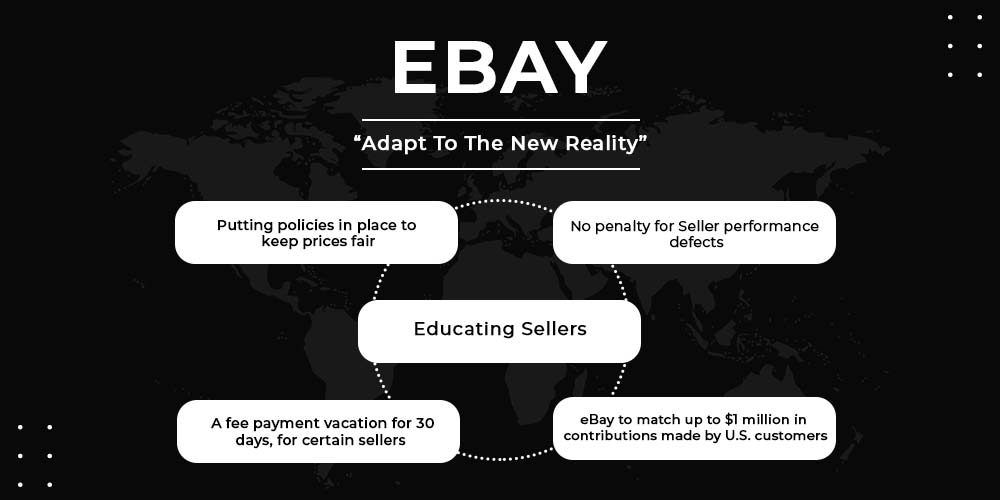 eBay has also come forward as a distinctive leader and giving out the best advice one could give to sellers during this time- "Adapt to the new reality."
They have acknowledged the situation through several releases and updates.
Some of the highlights involve:
To help sellers survive and walk safely out of times of turmoil, eBay has claimed that sellers will not be penalized during these times due to an inability to meet the standards. The laxation will last as long as June 20th instead of its previous schedule of March 20th.
If you somehow manage to perform better during this time, the seller account will continue to improve, and "no impact on seller performance" strictly limits to very negative performance only.
Put the store in vacation mode if the situation is uncontrollable so that buyers don't suffer due to false expectations and impossible promises.
They are constantly in touch with the fulfillment services, to immediately recognize a change in their operations and in that case bring it out for the sellers. They have supplied resources for sellers to process the deliveries flawlessly, even during the time of the pandemic.
eBay is also looking into changing the customer services with the changing times.
eBay is working to ensure that prices remain fair. They are removing the essentials that were listed at over-inflated rates to removing products that claimed to be effective against coronavirus falsely.
eBay has come up with an amazing offer for sellers in the UK. All sellers joining eBay between March 26 to May 21, 2020, can list products for free. Additionally, sellers meeting certain criteria will be also allowed a fee payment vacation for 30 days.

eBay is also running charities to help the community as best as possible.
Walmart.com
Walmart, along the same lines, has come forward to take major steps to protect the sellers the best they can.
Walmart has introduced relaxation in Order Defect Rate Score metrics effective from March 24, 2020. No longer seller accounts will be suspended as an aftereffect of poor performance due to late order deliveries, cancellations, etc.
Walmart still encourages sellers to deliver optimum services for sellers. And under the circumstances that sellers fail to do so, they need to update the expected delivery dates or request a lag time in the Seller center.
Further Walmart advises sellers to keep a good track of inventory, keep the feeds up to date, or select operational outages if they plan to close for long.
Walmart has requested sellers to hold on to humanity at this time and use the pricing as well as marketing language very carefully.
They advise against using language that can cause either panic or too celebratory. It is preferable to keep the language, neutral and informative.

Prices are also expected to be fair no matter what. Sellers are requested to not go overboard with pricing.
Walmart.ca
Walmart.ca has taken major initiatives to fight off the effects of Covid-19 for the sellers and society as a whole.
Temporary Change in Store Return Policy:

Bulk returns of more than three units of the same item will not be accepted.
A selected group of items will no longer be available for return when purchased after March 20. These involve clothing, shoes, wearables, ear/headphones, mattresses, sleeping bags, beddings, towels, and face masks.
No returns on opened orders without order numbers after March 20.

Face Masks are no longer available for sale:

As a measure to supply N95 and KN95 Face Masks are unavailable for the time being in order to help with the shortage in Personal Protective Equipment (PPE) for the first responders and first-in-line correspondents who need ot the most.
For more on how to deal with these tough times and survive, be in constant touch with the official Response page of Walmart.ca.
Key Account Managers:
Jason Lin
Jason.Li0@walmart.com
905-821-2111 ext 75478
Electronics, Entertainment & Hardlines
Summer Jiao
Summerhuirong.Jiao@walmart.com
905-821-2111 ext 71702
Baby, Consumables, Health & Wellness, Grocery
Michael Murray
Michael.Murray1@walmart.com
905-821-2111 ext 71826
Home & Apparel
Etsy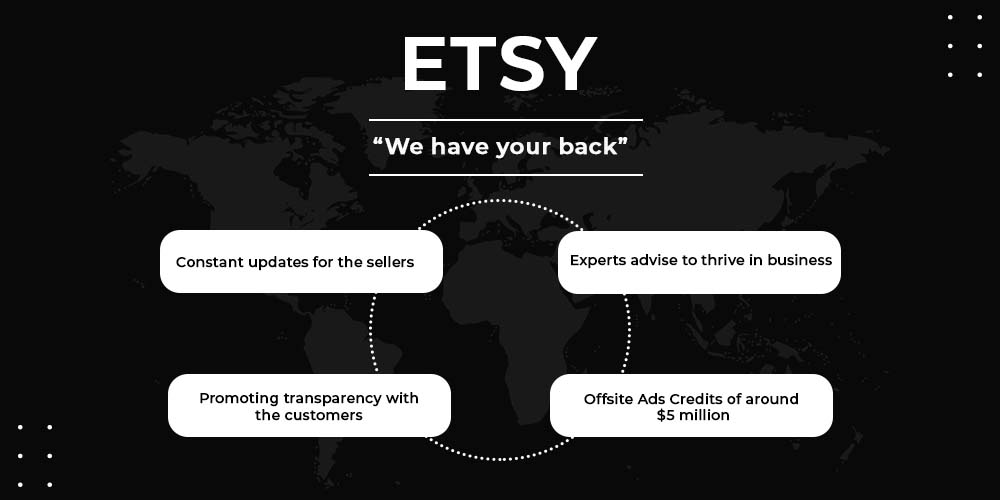 Playing the message, "We have your back" in the true essence, Etsy is keeping the merchants upto date more frequently than most.
In addition, Etsy has taken the initiative to educate the merchants better:
Try and analyze your inventory, shipment availability, supplies, flow, and everything else, before you commit to the customers. Don't go making false promises, only to cancel or delay later. Be honest, to begin with.
Seek help from your friends and families to help you out in creating more supplies remotely or help in other possible ways so that your business can successfully survive this downtime.
Use the messaging feature to keep the customers constantly updated on their orders. Let them know of your processing or shipment time is going to take longer than expected.
Keep in touch with the shipment service providers to know when and how are they dealing with the increased demands and government lockdowns.
Those in the US, can buy USPS Postage Labels from Etsy, print them, process orders, and leverage USPS Package Pickup service to ship from the door.
If you are from India, then you are probably facing a complete lockdown. You can put your store on holiday mode. Refund or fulfill the existing orders, and holiday mode will ensure no new orders get initiated for your store.
Financial Aid to sellers to help them fight off the effects of coronavirus on the economy:
Furthermore, Etsy is creating funds in terms of Offsite Ads Credits of around $5 million. The sellers will get their products promoted on Google, Facebook. Instagram, Pinterest, and Bing at Etsy's expense.
For sellers who have an outstanding bill on April 1, Etsy will not suspend the account till May 15. Apart from this Etsy has also offered a dedicated team for 24×7, that can provide resources and guidelines.
Etsy is removing all listings with alarming words, and falsely claiming to be effective against nCovid-19 or have medical claims in them in any form.
For investor relations and how business is doing, Etsy has taken major initiatives to let sellers feel the effect of covid-19 on the

eCommerce marketplace.
OnBuy
OnBuy is the first name on the list of those marketplaces which remain unaffected by the ongoing pandemic. Even in these times OnBuy is booming as ever and has experienced an outstanding 837% increase in monthly sales and revenue.
OnBuy is undoubtedly one of the fastest-growing European marketplaces in the world with an aim to roll out into over 140 additional countries by the end of 2023. In just a span of 4 years, OnBuy has successfully made its place in the hearts of European customers and sellers.
OnBuy Marketplace has huge growth potential and these figures tell us how:
24,000% growth in just four years in the UK
More than 1.5 million users
Currently has 25,000,000+ products listed live on the website
Trusted by 8,000,000+ buyers and 5,000+ sellers across the globe
Increase in the monthly site traffic by over 600%, compared to last year's.
An outstanding 837% increase in monthly sales and revenue
10% increase to monthly seller base
Planning to expand in 42 new countries by the end of 2020.
What makes OnBuy Special from the perspective of an online seller:
It is one of the most transparent and flexible eCommerce marketplaces both from the perspective of a seller and a customer.
Allows sellers to sell products under the most vivid range of categories. Currently includes 40 categories.
It's both ideal and economical to sell on OnBuy with a sales commission fee of 5-9% only.
OnBuy is a true marketplace that never competes with its sellers making it stand out from giants such as Amazon.
Some Important Links:
Google Shopping Actions
Google Shopping Actions, while keeping in mind the necessity of delivering only the best services to the customers, has still taken steps to protect the sellers from these times.
They have provided relaxations in the Performance metrics as below:
For Top Retailers: The shipping defect rate can be 5% instead of its normal value of 4%. The sales goal can be $15K with Items goal of around 300 items in 90 days.
For Retailers Meeting Standards: The shipping defect rate can be 5-10% instead of its normal value of 4-7%. The Sales goal and Items goal is not applicable to these retailers
For Retailers Below Standards: The shipping defect rate can be above 10% instead of its normal value of 7%. The Sales goal and Items goal is not applicable to

these retailers
Cdiscount
A leading marketplace of France, Cdiscount has taken steps to help its merchants cope up with this pandemic.
Cdiscount has offered to refund April month's subscription amount to the sellers who have switched their store to vacation mode due to this outbreak. They will be returning the amount of 39.99€ HT as a voucher to the sellers.
For the new sellers who want to sell on Cdiscount, they have announced the 6 monthly free subscriptions without any of the cancellation charges.
Cdiscount marketplace has also restricted the delivery of all the items except essential products like Food, Hygiene, and IT products.
The fulfillment service by Cdiscount is still functional, but they have added weight-related restrictions. Packages of more than 20kg packages will not be shipped.
Cdiscount has promised to educate and update sellers via emails and their web pages so that sellers can easily sell on Cdiscount.
eCommerce Platforms
Apart from these, the eCommerce Platforms and solution providers have come forward with their hands stretched to support the community.
Shopify
Shopify is if not only, then at least in the top support providers and caregivers in the eCommerce world.
While they claim that sellers are the heart of Shopify, they back the actions with their words.
Sellers can offer gift cards through Shopify so that sellers can have the funds to walk through these times, and customers can later shop with those sellers.
They have taken it upon themselves to promote the different stores on Shopify to prompt sales during these tough times.
Local pickup and delivery options through the Shopify store can ensure that customers can shop online and pay for the essentials, and later pick it up from the store with the least contact possible. These are available only for the location of customers near the physical store corresponding to the Shopify store.
Around $200 million is being made available for small business funding under Shopify Capital so that sellers can get easy funds right now and float till the pandemic dies down.
Offering 90-day free trials for new sellers. Thus, it is the best time for sellers to migrate to Shopify and stay afloat for 3 months without worrying about fees and additional costs.

Constant community support and live Webinars are some of the brilliant techniques taken by Shopify to help out the community effectively.
Magento
Never the one to stay behind when it comes to the greater good of the eCommerce Community, Magento has once again done more than its part.
Magento has introduced the following aids in response to the Covid-19 pandemic:
In order to make sure that the new businesses can start directly from making excellent profits without having to worry about paying the bills, Magento under the Adobe flagship has allowed companies to have 3 months of running stores for free. Thus, for the starting 3 months of Magento Commerce, Marketo engage, and Bizible can now be leveraged for free.
In addition to this, all new Magento Commerce Launch Pack under Adobe Customer Solutions will ensure that sellers can get online very quickly, with less hassle and no extra funding requirements. Magento eCommerce includes cloud infrastructure and another one of a kind features, that sellers can tap in, to thrive during these challenging times. Additionally, they suggest getting help from the solution providers to make the process easier.
While every effort is being made to ease the process of walking unscathed out of this situation for the sellers, educating them is something that tops the list. Magento is offering free access to everyone for 3 months to train and upgrade their skills via Magento University and Marketo University.

It is essential to optimally use this downtime and change the game plan.
BigCommerce
BigCommerce has come up with attempts to educate all the sellers in the best way possible.
They have done a study on customer behavior and are ensuring that sellers can understand this and come up with a strategy. They are providing resources and courses to the sellers so that they can get all the essential information in one place. Encouraging the services and support provided by the official BigCommerce Partners, they are constantly highlighting them for sellers to access.
The experts at BigCommerce have enlisted the small business capital providers so that sellers can access these in their time of need.
Among these are:
BigCommerce is offering new sellers the opportunity to transition their business to BigCommerce with three months free on all the plans of subscription.
Additionally, there is a strong recommendation from BigCommerce to remain in constant touch with the community through social media and official websites, so that sellers can take advantage of the aids laid down for them, as fast as they can.
Prestashop
Prestashop has taken the initiative to educate sellers with practical tips.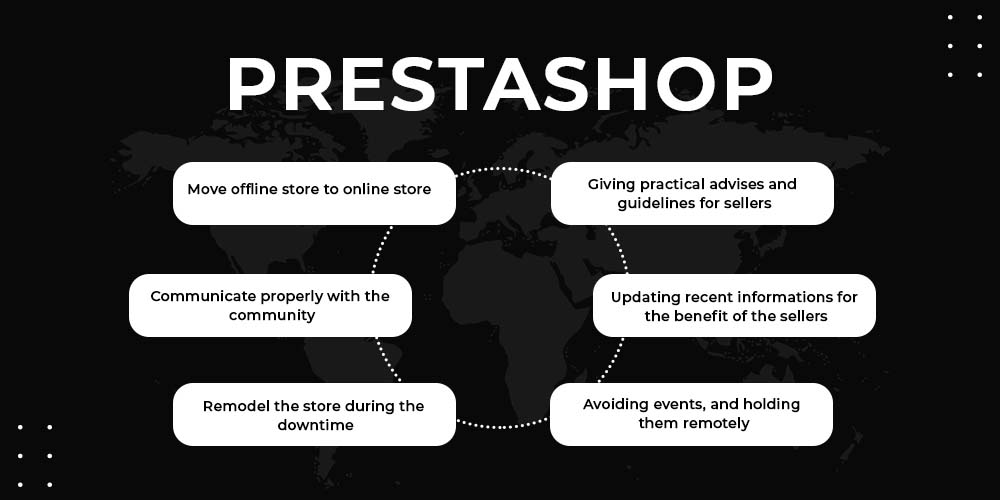 Advertisement and Branding Strategies amidst Covid-19 Pandemic
Google Ads
Google Ads has taken the initiative to educate with a predefined list of recommendations in response to the Covid-19 Pandemic.
Among the valuable recommendations from Google Ads, the following are of utmost importance:
Run only those Ads that are absolutely necessary for your brand, and stop others. This will ensure better control over your funds.
Google Ads has also recommended for you look into more tools that can help you in adapting. Get in touch with the experts while there is still time and save your future now. CedCommerce offers aid in Digital Marketing
Reconsider the ads that are still running. Try and see if the message in the Ads is clear, helpful, and effective. Content is updated and appropriate.
Helping eCommerce during coronavirus pandemic for the sake of Humanity
Google Ads, like other leaders pleas people to avoid causing panic and urgency in people as a response to the Covid- 19 Pandemic. Ads have so much impact on the psychology of people. They recommend marketers to be sensitive during these times and use a neutral tone. Also, avoid giving out false information no matter what.
Google, being one of the leading companies in the world, has extended its help in the form of Ad credits. This is essentially for Small and Medium-sized Businesses. They have come up with $349 million in ad credits and are distributing it to businesses across the globe.
"SMBs who have been active advertisers since the beginning of 2019 will see a credit notification appear in their Google Ads account in the coming months. This is part of a larger commitment from Google to support SMBs, health organizations and governments, and health workers on the frontline of this global pandemic."
As declared by Google on the official Google Ads Help page.
Facebook
Facebook has provided quick five steps guidelines for the businesses to walk through the struggles of Covid-19. In addition to that, they are educating sellers through the "Small Business Resilience Toolkit" that will help you in preparing the business for disasters. 
Another valuable toolkit available is the "Small Business Resilience Quick Action Guide" to plan emergency response and develop plans to minimize downtime.
Facebook Small Business Grants Programme is offering USD 100M in cash and ad credits to help businesses during through outbreak of Covid-19.
CedCommerce's Response to the Covid-19 Pandemic
Nothing matters more to CedCommerce than the community. We feel deep remorse over mortal and financial loss caused by this rife. Our prayers are with those who are suffering from the Covid-19. Our heart rejoices for those who have successfully recovered. It is in times like these, that we realize how small we are. And the true power lies in the hands of Almighty. And with that, we would like to send out our best wishes and prayers to everyone out there.
We have ensured that we do our little part in fighting this war. CedCommerce has allowed everyone to work from home. We are making it easier for them to stay isolated to protect their families and others in society. Additionally, we are actively making sure that all our employees are in good health condition. 
CedCommerce is aiding clients in modifying their stores as per the most recent recommendations laid down by the Marketplaces and Frameworks to help them sustain in the world of eCommerce during the coronavirus pandemic. This involves Gift card extensions for fund generation.
We are offering:
Expert advises on major decisions concerning existing stores, transitions, and adaptations to the changes in response to the Covid-19 pandemic.
Consultation and provision of services 24*7 in the form of audio and video calls, on Skype, Zoom, and Hangouts.
Recent Updates via emails and newsletters.
Support in transitioning offline businesses online.
Helping to plan out channeling, smart inventory set up, finding the right tools in association with a wide range of partners.
Take a moment to get in touch with the experts and let us be of some valuable assistance to you in these hard times.