Cdiscount Seller Tips to Maximize Sales During Christmas
Running short of time? Get PDF of the blog in your mail.

Play Now
Cdiscount sellers have a big reason to rejoice, its Christmas shopping. Christmas is here again, with European shoppers all pumped up and ready for Christmas.z shopping.
The amount of money estimated to be spend in online shopping is a whopping €350 billion. Yes, a humongous opportunity that every Cdiscount seller would like to take advantage of before his competitors.
As a seller, your strategy to boost sales must consider insights that reveal customer shopping behavior about Christmas.
Stats That Matter For Cdiscount Seller (Online Christmas Shopping in France)
Statistics by Statista (specializing in market and consumer data) reveal the below insights about Christmas shopping in France.
Books and music top the list of Christmas shopping for 43 percent of the French shoppers
Shoppers would love home delivery of the items over other delivery modes.
Products from games and toys, high-tech electronics, and beauty will be the next popular categories during Christmas among French customers.
What Would Influence Final Purchase During Christmas Online Shopping in France?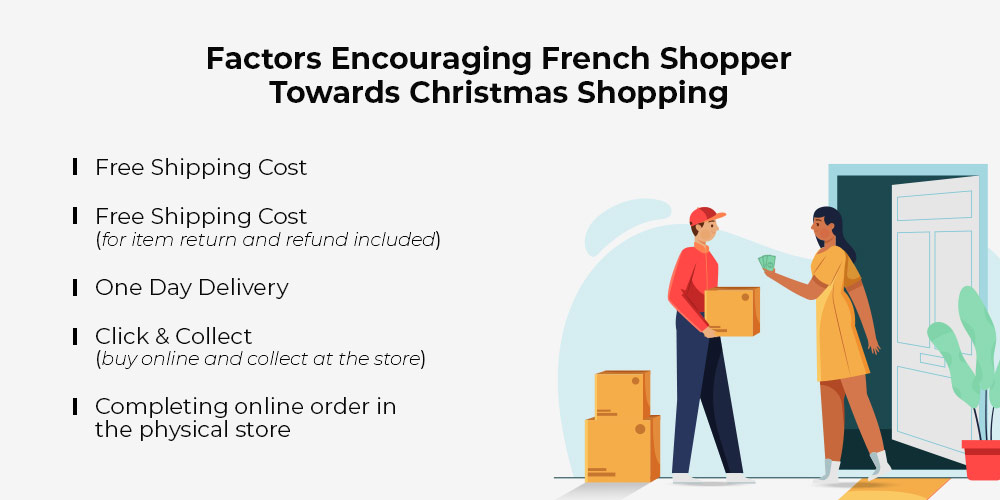 Based on the above insights, here are tried and tested best practices to maximize sales for Cdiscount sellers.
Speed Up Order Delivery
The best approach to speed up order delivery is to partner with a renowned 3PL service. As a result, your products will be available at multiple locations. Therefore, orders can be delivered from the nearest warehouse in a minimum time.
Predictive analytics reveals the products that will be in high demand and in which locations with high accuracy. Hence, you keep the products in the warehouse nearest to the delivery address.
How fast the seller can deliver the order matters a lot. After all, 4.4 days is the maximum period European customers can wait for orders purchased to get delivered.
Free Shipping
Free shipping is the most encouraging factor of all. Shoppers find it irresistible and end up buying products with free shipping labels.
Promote your free shipping plan with a site wide banner. Let it be the first thing to capture shopper attention as they land on your site.
Enable free shipping for high profit margin products. Hence, the cost of bearing free shipping will not hit your bottom line.
Products that can induce FOMO are also ideal for offering free shipping. Such products get purchased in higher than usual quantities.
Free shipping on all items in the customer's shopping cart (with at least 3-4 items) but for 24 hours only. It is the best approach to speed up product purchases.
Click n Collect
Allow customers to check for stock available locally. They will be relaxed to see they will definitely get the item upon visiting the collection center.
Ensure minimal waiting time for customers at the collection point.
Let the click and collect service be free of cost.
Notify your customer with timely emails or messages at every stage of the process as below

Order confirmation
Order processing
Order ready to pick up
Focus on UK and Germany Apart From France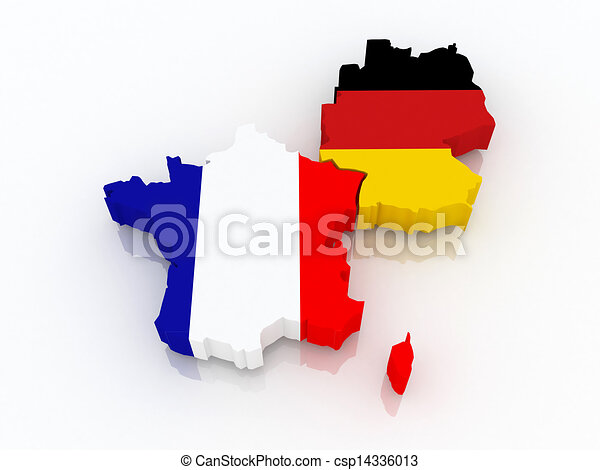 image credit – canstockphoto
Cdiscount sellers must also focus on the big opportunity of selling in the UK and Germany.  Consumers from the UK and Germany will spend GBP 82.2 billion and GBP 73.27 billion on Christmas shopping.
These numbers reveal a big opportunity for Cdiscount sellers keen on boosting their sales. Localization of your website will play a vital role in grabbing the attention of English and German shoppers.
Three areas to focus on for website localization are
Website Language
Website Design
Content Tone
Website Language
To be ready to cater to audiences from different linguistic regions is a prerequisite to thriving in the global e-commerce landscape
An ideal approach will be to manually translate and cross check the high impact content like product titles, descriptions, reviews, navigation bar, CTA button, email campaigns, and checkout page. Rest pages can be translated using tools. It will speed up the language localization process.
Did You Know?
3 in every 4 online shoppers are comfortable with purchasing products from sites that communicate in their native language. Moreover, as many as 60% of customers have qualms about buying from websites that lack multilingual features.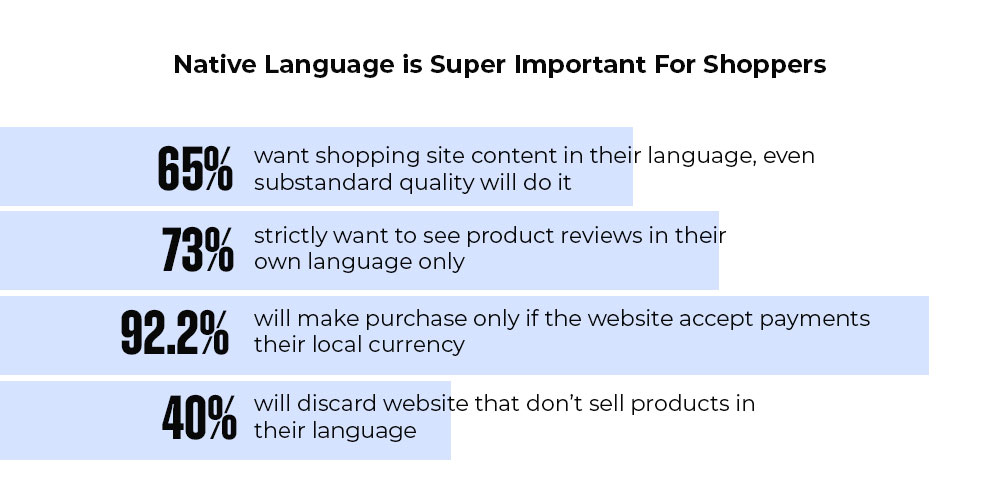 Website Design 
After language, next is the localization of design elements. Logo design, video content, social media images, and ad graphics are visual cues with a strong influence on shoppers.
Localization of these elements makes them culturally relevant to the audience. As a result, people tend to trust the legitimacy of the business.
Image is integral but often overlooked during localisation with the notion that it can't be translated. But, based on shopper location, you must optimize images to stay relevant to the audience's requirements.
The images in the UK and Germany can differ based on the region's climate. Another reason is how differently attire is styled in these locations. These factors influence the design of the image.
Hence, consider these factors to localize images. It will enable the best shopping experience.
Content Tone 
Cdiscount seller must ensure they are well versed with writing tone that resonates with your audience in the region. The Chinese language uses an indirect tone, but English tends to be more direct.
Amazon home page on the same day is tailored differently for different locations. In one country displays its own products and services, whereas stressing on its ability to ensure same day delivery for customers accessing the website from some other location.
Some Good To Know Points To Engage Shoppers with Localisation
9 in every 10 customers will go through reviews before purchasing the product. Posting reviews from local customers has a strong influence. After all, these reviews have a more natural dialect in comparison to those translated from different languages.

Cdiscount sellers need to

dig deeper into customer queries received by customer support. It helps to find out insights about shipping, order, and more. These can be specific to the region. Incorporating these in the FAQ section will help shoppers better understand your business.
The same product can be searched using different keywords in two different locations. Google trends will help you find it out. Optimize for the right keywords to make your products visible to potential customers.
Product size is another parameter you can't afford to miss during website localization. A UK size 30 t-shirt is equivalent to an EU size 40.
Colors have different cultural values associated with them. Yellow color symbolize warmth in many western nations but Germans and French view it as a sign of envy
Benefits of Localizing Your Online Shop For European Shoppers
Opportunity to target international customers and improve the conversion rate. As a result, it speeds up scaling your business to the next level.
Localization improves the shopping experience based on shopper location. As a result of the personalized shopping experience, the conversion rate went up by 15%.
Shoppers need not worry about product affordability as the item price will be in local currency. Moreover, paying in local currency feels comparatively reliable. Therefore, a significant reduction in shopping cart abandonment..
Providing customer service in the native language is an added advantage. It will ensure any miscommunication that pops up due to a lack of linguistic coherence in the content is sorted out in the local language.
It saves customer time that would have spent in converting prices between different currencies. Therefore, there is less friction during shopping.
What Fascinates European Shoppers During Online Shopping
Customer shopping behavior varies across different corners of Europe. Knowing the insights influencing shopping behavior during Christmas helps decode the buyer persona.
Germany
Germans mostly buy inexpensive products from other countries.
Pricing and products not readily available in Germany are the primary reasons shoppers opt for cross-border shopping.
They love to shop on websites that are in their native language.
Awareness about credit cards is slowly increasing, but still, the majority is comfortable with cash on delivery methods.
You can improve German shoppers' satisfaction level by offering multiple order delivery options.
Germans are more likely to be convinced by product descriptions about technical data than a story around it.
They desire maximum security for their personal data. Therefore, leave no chance to show your compliance with GDPR.
France
Fast delivery is a big deal for French customers. They would instead go to a nearby store to pick up the order placed online, then place an order and pay extra for fast shipping.
Their Christmas shopping will start in December, and faster delivery will impact their final purchase.
Games and Toys are the most sought after Christmas gift items among millennials and Gen-Z shoppers.
On average, the Christmas budget for French shoppers is around 50 – 100 euros.
Competitive pricing and the ability to easily compare products encourage Christmas shopping online.
The UK
The inflation will moderately influence Christmas shopping for at least 33% of the shoppers. You should reconsider selling items worth 200 euros or more to the brits.
Product repricing feature might help Cdiscount seller to convince customers on a limited budget. Toys will be the first choice of the shoppers.
4 in every 5 customers in the UK will prefer a product at a discount due to the unexpectedly high inflation rate. Therefore, they are the best suited target audience for ads campaigns focused on products available at discounts. Pitching expensive items won't be a good idea for British shoppers this year's Christmas season.
The Rest of Europe
The majority of Christmas in Europe will be done via smartphones. 57% of shoppers will prefer a mobile phone over any other device. Hence, having a mobile responsive store is a must to cater to shoppers.
3 in every 4 European customers are deeply interested in trying a new brand in every category.
The company's mission matters a lot to 63% of Italian consumers. It will be a decisive factor in the purchase decision. For Polish and Swedish shoppers, this figure is even higher.
icon credit: flaticon.com
Conclusion – Cdiscount Seller Know Your Customers To Reach Your Customers
The festive mood is high, and customers will soon be on a Christmas shopping spree. As a seller, frame your festive season strategy with the parameters mentioned above that matter most.
As a result, it will eliminate maximum friction during the customer shopping experience. Learning to sell on Cdiscount paves the path for you to grow your business in France and other European countries.