An Ultimate Guide to Prevent Google Merchant Centre Account Suspension
Running short of time? Get PDF of the blog in your mail.

Play Now
We all know that Google is the most prominent of all the search engines. With over 40,000 searches per second, you can imagine it's presence globally. With this big number of people searching on Google, Google shopping becomes the best platform for retailers to showcase their products. And Google Merchant Centre is one of the best ways for e-commerce sellers to promote or showcase their products to their targeted audience. Your products can reach everywhere where people are searching for products similar to what you are offering. But what if you get an email saying –
"YOUR GOOGLE MERCHANT CENTER ACCOUNT HAS BEEN SUSPENDED"
To see this notification of Google merchant center suspension can be one of the worst thing for any eCommerce merchant.
So if you have ever faced this issues for your ecommerce business, this post is going to guide you on how to safeguard your ads account from suspension.
We will cover everything you need to know around google merchant center including what you can do to prevent your account from suspension.
In this post, we will learn about,
1. What is a Google merchant center account?
2. What is Google Merchant Account Suspension?
3. The recent major updates Google announced/Going to announce in regard of Merchant Center Account
4. What can be the possible reasons for google merchant center account suspension?
5. What happens when google suspends your merchant account?
6. Tips and Tricks to prevent Merchant account suspension
Let us know what is a google merchant center account?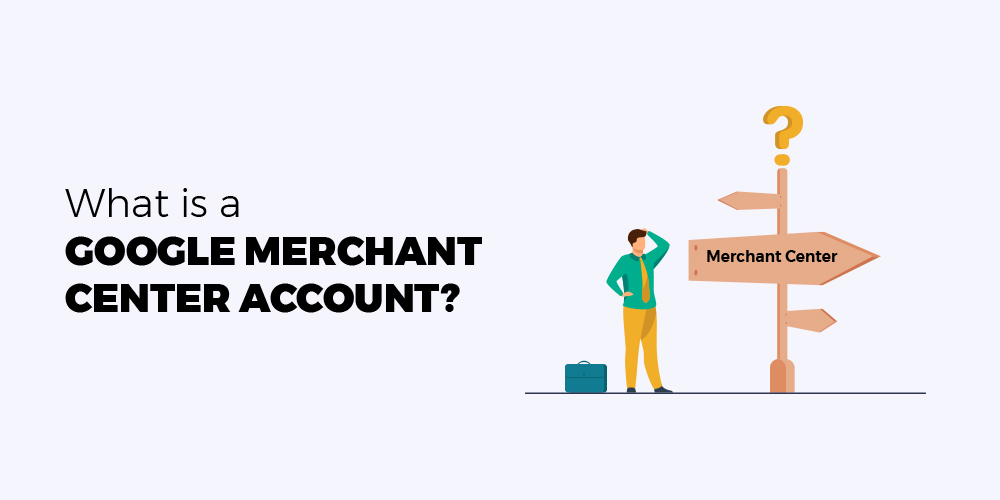 Google merchant center account is a platform where merchants can showcase their products across google shopping searches. The merchant center allows the ecommerce businesses to upload their products data and maintain product information and allows them to display the products whenever or wherever anyone searches on google for the products you are selling. This is a great way to reach millions of customers across the world as you can avail the merchant center account across 90 countries around the world.
Want a detailed tour of google merchant center panel? Read Here: Google Merchant Center Panel
Google merchant center suspended – What does it mean?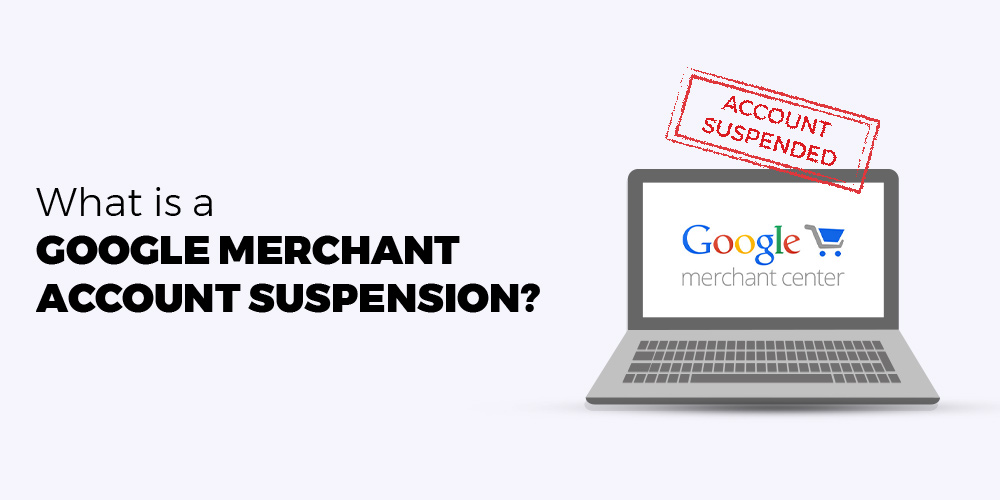 As the Google itself Says,
"We want everyone to have a safe and positive experience when visiting Google and our partner sites. To help make that a reality, we've developed a set of policies that we expect merchants to follow. When merchants don't follow these policies, we might disapprove their items to let them know that something's not right. When they continue to break the rules or break the rules egregiously, then we may have to suspend those accounts."
The above quote clearly defines that the merchants need to and should follow the rules and set of policies. Else, it can result in suspension of the google merchant account.
The recent major updates google announced/going to announce in regard of merchant center account:
1. Update regarding MPN
The Manufacturer Part Number or MPN is a unique product identifier (UPI) that Google uses to specify the products among various products available by the manufacturer.
Beginning August 2021, you will receive a warning notice if you have provided the wrong MPN.
And from September 2021 the products will get disapproved if they are having wrong MPN.
2. Update to Shopping Policy regarding insufficient contact information
Earlier, the merchants were required to provide two out of the three following contact information on their website – telephone number, physical address, and/or email address.
But now beginning from August 2021, the merchants can provide only a minimum of one type of the contact information to their website.
This contact information should be mentioned in the contact us page and in the footer section of the website, as this makes it easy for your customers to find relevant information about your business/store.
Also please make sure that all the information that you have mentioned on the website should be similar to the information that you have provided in your Merchant centre account.
3. Update to policies related to availability and delivery of products
To ensure the great customer experience, beginning September 1, 2021 Google is replacing "delivery issues" policy violation with a new product data violation called "Inaccurate availability".
If there is inconsistency between the availability of the product on Landing page and checkout page. It will be flagged as inaccurate availability information.
Use the availability attribute to tell users and google whether you have a product in stock.
Supported Values are:
In_stock (in stock, limited availability, online only)
Out_of_stock (discontinued, in store only, out of stock, sold out)
Preorder (pre order, pre sale)
Backorder (back order)
4. Changes in supported image format
In addition to JPEG (.jpg/.jpeg), PNG (.png), GIF (.gif), BMP (.bmp), and TIFF (.tif/.tiff) images, now WebP (.webp) image is also added as a supported image format.
Best practice:
Use an image that shows a clear view of the main product being sold, any additional views of the product can be submitted with the additional image link [additional_image_link] attribute.
5. Update to shopping policy regarding improvement on the website
Beginning 27 May, 2021 Google announced the update regarding the information provided on the website. Google has set some Editorial and Professional requirements that you need to follow.
If your website does not meet the set requirements, you will see a "Website Needs Improvement" warning notice in your merchant account.
Examples of what you should implement on your website:
Ensure your website is functioning properly and it loads quickly. See that no unnecessary ads pop-up on your website frequently. Because these little things can distract the viewer's mind and they may tend to leave the website.
Ensure that all the links on your website are working properly and links to the relevant pages.
Check that all business/contact information is complete and is accessible.
Make sure that all the policy pages are correct and providing the exact information that you use for example: shipping policy page should contain the handling and delivery time. Also mention the fees of shipping, if any. Same goes with returns and refund policy
Examples of what Google doesn't allow in shopping ads:
Spelling, punctuation, and grammar errors
Excessive use of symbols, capitalization, numbers, letters, emojis
Product title and description that is not relevant to the product on the landing page. Or, the product which you are promoting lands on the page having a different product.
Landing pages that Google flags as unsafe
6. Insufficient payment information
Beginning June 28, 2021, Merchants will no longer be required to provide their accepted payment methods to customers on their website before the checkout process. Merchants will still need to make sure at least one conventional payment method is available to customers during checkout.
Now that we have learnt about the recent major updates, you must take note of them all while updating your merchant center account. Violating any policy update can be one of the many reasons for your merchant account suspension.
What can be possible reasons for google merchant center account suspension?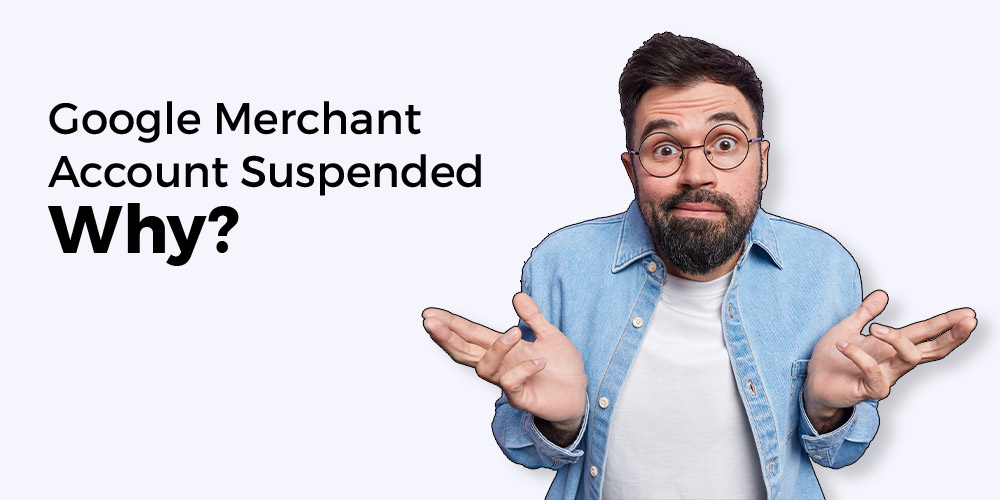 There have been many instances when the google merchant center suspended without any warning or prior notice by google.
If you get the notification, that's good for you – as you are aware of the reasons for your account suspension But, if you are doing everything right and still getting the notice of suspension of your account. That is the worst case scenario for you. You do not have any information of what you have done wrong then how are you going to fix it?
Thus, being prudent and prepared enough in advance can be the best way to avoid the suspension of your account.
There could be multiple reasons for suspension of the merchant center account. But two of the major reasons are –
1. Violation of Shopping Ads Policies
Google has set some requirements that you need to follow for advertising your products on Google. There are four major areas under shopping ads policies that you need to strictly follow if you are going to display your products via Google Ads.
The areas included are:
I. Prohibited Content – The content prohibited by Google are
a. Counterfeit Goods – The goods that contain a logo or trademark identical to another brand in an attempt to show themselves as genuine products of the brand owner.
b. Products That Can Cause Danger/Harm – Promotion of dangerous products such as injurious or harmful products or the products that cause damage is not allowed on Google.
c. Products that entitle dishonest behavior – Products enabling dishonest behavior such as hacking software or fake documents is also prohibited.
d. Inappropriate/Offensive Content – Avoid use of Inappropriate Content promoting hatred, intolerance, discrimination, or violence.
e. Unsupported Content – Some of the Google Products and platforms may not be optimized for all content types. Thus, do not use unsupported shopping ads content that do not offer an optimal user experience.
II. Prohibited Practices – The practices that Google doesn't allow are
a. Abusive use of the ad network – The things that Google doesn't allow are –
Malicious content
Sites primarily focused on traffic generation and offering little or no value to users
An attempt to gain unfair advantage of shopping campaigns
b. Misuse of the collected data – Irresponsible use of the user's data/information collected. You must be careful while handling all the user information. There should be no misuse of data.
c. MISREPRESENTATION of Product or Self –
Unavailable / Misleading / Unrealistic / Untrustworthy Promotions
Above are some of the promotional reasons that can lead you to suspension of google merchant account suspension.
Evade promises for the products that are no longer available on your website.
Do not make false claims or making false statements about the products.
Avoid use of promotions that entice customers and propel them towards purchase of the products.
Don't give untruthful, unrealistic, or inaccurate information about your products.
III. Restricted Content
The content that Google restricts the use of are –
a. Adult Content – Google doesn't allow adult oriented content such as adult merchandise/ sexually explicit content/ or the images exposing skin or nudity.
b. Promotion of alcoholic beverages – Google restricts the promotion of alcoholic beverages/Drinks.
c. Copyright Content – If you are promoting a Copyrighted content, ensure that you are legally authorized to do so. As Google may block your ad from appearing if you are promoting copyrighted content.
d. Gambling Content – Content that promotes gambling such as lotteries/ bonus codes is not allowed.
e. Healthcare associated Content – Google restricts the use of health-related content such as prescribing drugs/over the counter medication/unapproved pharmaceuticals, etc.
f. Political Content – If you are promoting political content, you need to adhere to some requirements such as applicable laws/industry standards for the location you are targeting, or any applicable "Silence Period" during elections.
g. Trademark – The claims by trademarks owners will be reviewed by Google that use of their trademarks is likely to cause confusion to the users about the origin of the product.
2. Violation of Free Product Listing Policy on Google
Google has set some guidelines that you need to follow if you are promoting your product using free listing on Google. If there is any violation of these policies, it can lead to suspension of your account.
Free Listing Policies to keep in mind are –
a. Pedophelia and Child Sexual Abuse
Google doesn't allow the content that sexually exploits children. This also includes CSAI, i.e Child Sexual Abuse Imagery.
b. Personal Information
If requested, Google can remove personally identifiable information that can lead to identity theft or fraud. These personal information can include Government ID numbers, bank account numbers, credit card numbers, etc.
c. Spam Content
Google does not allow irrelevant, unwanted, or any other kind of spam content.
d. Safebrowsing Policies
Links to malware, viruses, or any other kind of phishing that can harm operations of networks/servers of Google are not acceptable.
e. Applicable Legal Requirements
You must comply with all the laws and regulations applicable to your location. You can not sell or promote products that are illegal to sell in your location/Country. If you do so, Google may remove your content under applicable laws.
f. Unsupported Shopping Content
Google does not support some types of content in free listings because they do not offer optimal user experience.
Example of unsupported products by Google are:
Sales of transport or event tickets
Motor or sail-powered vehicles
Financial products such as stock, bonds, investments, securities, etc.
Digital or e-books
Currencies such as Gold Bllion, Local/Virtual currency
Services such as labor, effort, maintenance/repair service, financial services
Immovable property such as plots/lands, real estate
Recurring payment methods, such as the payment methods that allows users to pay in recurring installments at regular intervals
Payment methods that require installation of additional software to complete the purchase process
g. Products Subject To Recall
Google disapproves the products that have been subject to recall by manufacturers or Government agencies.
What happens when google suspends your merchant account?
Account Level Policy Violations
Whenever any Google merchant account's rule or policy is not followed by merchants, Google disapproves their products or sends them a warning. But if the issue or violation does not get resolved after the notification also, Google may suspend the merchant account.
When you submit the product data to your account, your products will show as "Pending" on the Diagnostics page. This is because it will be under a review process by Google to ensure that it meets all the requirements and shopping ads policies.
If everything is fine and complies with the policies, your products will be eligible for shopping ads. In the review process, If something is found not complying with the policy, your account will get suspended immediately. And you will get a suspension notice via an email with all the details of suspension.
Warnings Notice
Reviewing a merchant center account is not a one time process by Google. Google reviews merchant center accounts on a regular basis. And if at any given point of time, Google found out that the account is not following any policy, you will receive a warning email with all the details regarding the issue. You will also get the time frame under which you need to fix the issue. During that time frame, your products will continue to appear in shopping ads.
Immediate Account Suspension Notice
There may be some cases where there is a flagrant violation of policy. In such cases the account gets suspended immediately without any prior notice. You will receive a notice email containing all the required information about your account suspension.
If your account is under a warning period, it will get reviewed at the end of the period. If you have fixed all the issues, the suspension will get lifted and the products will continue to display in shopping ads. The warning period will also be displayed in your account on the Diagnostics Page.
Requesting Review
You can send a request to Google for reviewing your account if all the issues are resolved. It can take upto one week to complete the review requests. When completed, you will receive an email notification.
For submitting a review request go to diagnostics page under product section and find for request review, a representative will be aligned to you for reviewing the account manually and provide you the best possible result/reason
Disapprovals for product data quality violations
Google regularly reviews your product data. If the data does not meet the product data quality requirements, your product data will be subject to disapproval.
If your data does not match with the information available on your website. Or, if it does not comply with the product data specifications requirements, the products will get disapproved and would not show on shopping ads and free listings.
Product Warnings
There may be some scenarios where you would have made little mistakes/issues in your product data. But that little mistake also can lead you to limiting your ads performance. Google may suspend your merchant account if the issue is not resolved on time.
For example, if the product is missing required Unique Product Identifiers (UPIs), you will receive a warning notice. These products continue to show in shopping ads and free listings. But this issue will limit your product ad's performance. Thus, taking corrective action on time can give you high-performance ads.
To Sum Up,
The 10 best tips/practices to prevent google merchant center suspension
It is best to be proactive in the first place than fixing the errors after suspension of account. Because it will take both of your time and efforts. So, here are 10 best practices to avoid the suspension of your merchant account: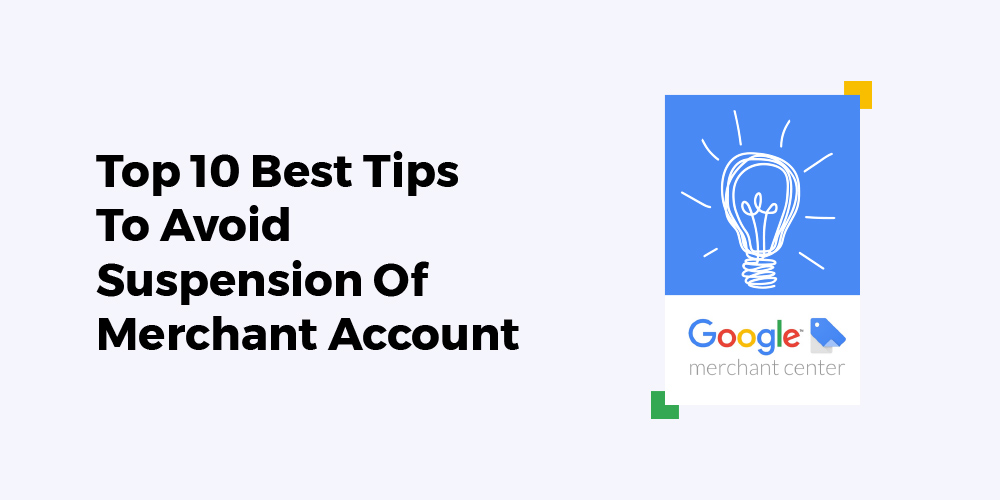 Stay up-to-date and well informed of all the Google Shopping Ads policies.
Ensure that you meet all the product data specifications requirements.
Provide the correct Google Product Category and Product Type while submitting the product data to your merchant account.
Provide accurate Return Policy and Shipping Policy Informations.
Make sure that the information of the product data feed matches with the information provided on the website. If there is a mismatch between the data provided by you, that can lead you to the account suspension.
Use Merchant Center product data attributes to specify the difference in Product Variants. The attributes may include – Item Group Id, Color, Size, Pattern, and material of the product.
Submit high-quality images and define demographic attributes to the products to enhance your free product listings.
Always mention UPIs – Global Trade Item Numbers (GTIN), Brand and Manufacturers Part Numbers (MPN), or Brand names helps Google to identify your product in the data feed and show it for related search queries.

Thus, frequently review your diagnostics page and see if you have any notice regarding this.

Be up-to-date and informed about all the recent updates or announcements by Google with respect to Google Merchant Center.
Pay attention to data feed quality errors reported and fix them as soon as possible. Because errors in one or some products can trigger your merchant account towards suspension.
In Conclusion
Google shopping is consistently rising at an immense rate and will continue to grow in future. And statistics clearly show that Google shopping ads drives a mammoth amount of traffic for e-commerce store retailers. Thus, it comes as a boon for retailers to grow their business with google shopping.
However, there might be some instances when the retailers or sellers struggle to find solutions to fix their merchant account issues.
In such a case CedCommerce, being a Google Premier Partner would love to assist you! Connect with us in the comments section below.