5 Shopping Feed Optimization tips – A prioritized list to check out for better ROAS!
Running short of time? Get PDF of the blog in your mail.

Play Now
Indeed investing in Google Ads can help you yield more conversions and traffic. However, what's more, important is to optimize product feeds that can maximize the performance and cost-effectiveness of ad campaigns for better results in less spending. In other words, to make your shopping campaign a success, you need to maintain high-quality, relevant, and precise feed data apart from optimizing campaigns, their bid strategy, and execution. In this write-up, we will learn various shopping feed optimization tips that are the sure-shot secret to better and greater ROAS.
What benefit does feed optimization bring?
It is obvious to expect that when you optimize product feeds, you will want better clicks & conversions from potential customers. By providing as much valuable information as possible in the shopping feed via optimization, your listing will become more relevant for shoppers' searches.
And when you use those feeds in your ad campaign, Google will start displaying your Google Shopping ads product feed more frequently. And then, your ads will start showing up on the search results.
Note – If you aren't making any efforts to make your product feed look good and improve its quality, you might not perform as well as your competitors. The reason is that the feeds that aren't well-optimized –
Won't rank for desired search terms
You cannot bid for those specifications if there is missing info or fields like brand name, size, or variation in your product feed.
It will cost more money to display ads.
Your competitors will get to win more ad space.
So, in short, "Maintaining high-quality shopping feed is the fundamental secret to achieving higher ROAS." To optimize your shopping feed, it is essential to learn when to prioritize. The image below will help you understand what and how to optimize feeds while prioritizing things properly.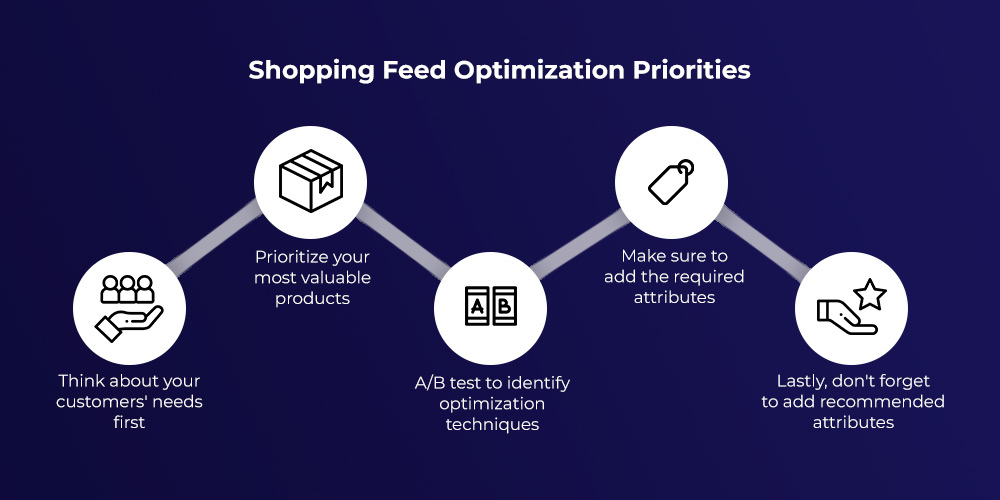 With the above image, it must be clear by now what to prioritize first and what not and how to optimize feed in a smooth flow. Let's move ahead and check some helpful Google Shopping Feed optimization tips that not only boost visibility on SERP but can also result in driving better ROAS.
Useful Google shopping feed optimization tips to make the most of ROAS!
Keep a check on the character limit.
Keeping a check on the character limit of product titles, descriptions, and other details is one of the most critical factors for effective Google Shopping feed management. Failing to do it, your products might get an error and be listed under the disapproved products. And as a result of this, your product's visibility will hamper search results.
So, checking up on the character limit of product data is considered an essential strategy to improve Google Shopping ROAS nowadays.
Check out some of the basic product data character limits for Google Shopping –
ID – Max 50 characters
Title – Max 150 characters
Description – Max 5000 characters
Link – Schema.org property – Offer.​URL
Image link – Schema.org property – Product. image
Additional image link – Syntax – Max 2000 characters
Mobile link – Syntax – Max 2000 alphanumeric characters
Availability date – Max 25 alphanumeric characters, ISO 8601 – YYYY-MM-DDThh:mm [+hhmm] or YYYY-MM-DDThh:mmZ
Add keywords in the title and description.
This is an ongoing process that you should be doing with your Google Shopping ads product feed every now & then. You must keep updating or optimizing product titles & descriptions with relevant keywords every time a new profitable query emerges in Adwords.
Consider this one of the essential strategies to improve Google Shopping ROAS as it directly impacts rankings. You must first check the existing keywords on which your product feed is already ranking. Then in AdWords, run a Search Terms report to find top-performing queries.
Once the report is generated, you need to ask yourself then the following questions to finalize keywords –
When running a manual search, do PLAs (Product Listing Ads) show up for this keyword?
When running this keyword search, do any of your products show up?
Do your Google shopping ads product feed or product feed title & description contain this keyword?
How much does your shopping campaign currently spend on such a keyword?
Custom labels Segmentation
Structure your Google hopping ad campaign by adding custom labels to help you segment your products for better bidding. Furthermore, custom labels give you better control and an overview of where your ad budget is going.
Here are a few most commonly used cases for Custom labels –
Bestseller
Seasonality
New
Material
Size
Colour
Style
Price level
Make use of Merchant promotion.
Merchant promotion or "special offers" is often overlooked and is the most underused feature of Google. These are Google-hosted coupon codes that can be used to promote your bestselling products. Most sellers opt for Merchant promotion, especially during the peak season when customers search for sale-related, offer-related items.
Here are the top Google Product Listing Ad Merchant Promotions suggestions you can go for, for higher ROAS –
Offer free shipping
Lower the threshold limit for free shipping (e.g., if it was free shipping on orders above $200, you could lower the limit to $150 or $100)
Provide BOGO (Buy One, Get One) offer or Buy One, Get 50% off on 2nd item
Tiered percentage discounts (e.g., 5% off on Orders of $50, 10% off on orders of $100, and so on)
Add GTIN to your products.
GTIN (Global Trade Item Number) is perhaps the most common product identifier for Google shopping. And add it to your Google shopping ad product feed is the most significant part of Google shopping feed management or optimization. It is a unique number that makes ads or unpaid product listings richer and more accessible for the customer to find.
Products without any GTIN identifier are difficult to be classified as relevant and might not be eligible/work for all Google shopping features or campaigns.
Summing Up
It's been said before and worth repeating: "The quality of your shopping feed is the deciding factor in the success of your Google Shopping ROAS."
We hope these expert Shopping feed optimization tips help you improve the quality of your product feed. And give you a better understanding of how to optimize feed more effectively.
If you have questions regarding Google Shopping feed management, feel free to comment below or connect with our Google Shopping Experts– who are available 24/7.