All about Google's Performance Max Campaigns: Detailed Guide
Running short of time? Get PDF of the blog in your mail.

Play Now
With Google rolling out its official announcement of Performance Max campaigns, marketers and advertising professionals are seeking answers about what is the campaign all about, how does it compare with Google's previous offerings, and how is its performance? This article is aimed at answering these frequently asked questions about Performance Max campaigns, and how you should be preparing for them.
What exactly is Google's Performance Max?
There lies a slight difference between Performance Max and other campaigns on offer from Google. With Performance Max, Google automates the delivery and targeting of the campaign on the basis of the information provided by advertisers. Performance Max campaigns are predominantly automated campaign types, with minor differences from the much-popular Smart Shopping campaigns.
With this, Google automates the creation of ads solely on the basis of the assets provided, much in the form of the functioning of display ads.
However, you might come across a few similarities between Performance Max and social campaigns in the fact that both of these run across multiple placements with the use of dynamic ad formats. Moreover, the performance reporting in both these scenarios is pretty limited when it comes to accessibility to audiences.
Which Advertising Channels Does Performance Max Run On?
One of the major differentiators between Performance Max and other campaign types from Google is that Performance Max campaigns can run across all of Google's inventory. They can serve in any random placement filled by Gmail, YouTube, Search, Display, and Discovery Campaigns.
What are the Benefits of Performance Max Campaigns?
For Performance Max campaigns, you must choose your objectives. Based on your campaign goals, it facilitates the possibility of aligning your campaigns with product feeds and store locations. You can end up with more conversions, better performance and outreach for your products, and much more.
1. Budget and Bidding
You get to put a cap on your budget and decide how your bidding strategy should operate. You must be wary of the fact that the bidding strategy options include max value and max conversions. However, you can set a max CPA or a target value, letting you maximize your Target CPA and Target ROAS strategies.
You can even make use of Smart Bidding strategies that utilize Machine Learning to automate the process of optimizing campaigns for maximum conversions.
2. Language, Location, Ad Scheduling
Next, you also get to choose your locations. For the time being, Performance Max is not supported by the Google Ads editor. As a result, setting up targeting is quite a difficult task as compared to most other campaigns. If you need to include quite a few locations, you can choose the option – 'enter another location'. This will open up into a blank space and a link for 'advanced search'. Click on this option to import locations in bulk.
3. Customizable URL Options
The URL options are also crucial. If you happen to skip toggling off the option of defining URLs, Google will assign them on its own, by default. This will permit Google to send traffic to random links that it finds fit. You even get the option of excluding links as well.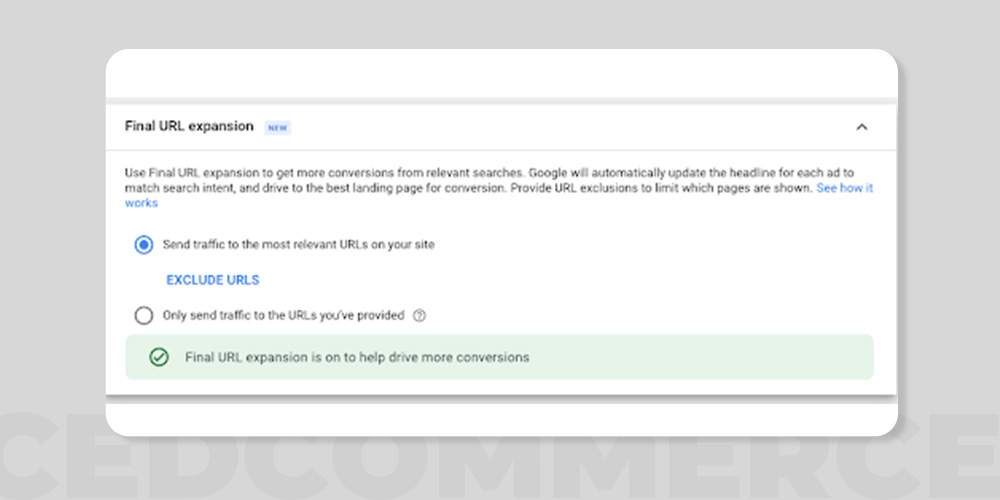 4. Defining 'Asset Groups'
You'll then get an opportunity to set up an 'asset group', effectively, an ad. These are similar to responsive display assets. This is termed so owing to its nature of acting as an asset to all platforms – providing information to automatically set up ads. Advertisers can create multiple asset groups.
5. Offering Information regarding Automated Targeting
Each campaign offers only one set of targeting, so predominantly, you do not get any ad groups. You can select audience groups to help provide Google with insights into whom they should target. Google has mentioned, 'Your ads will automatically be displayed to viewers who are most likely to convert according to your goals. You can speed up the process of optimization by offering audience signals.' This implies that your campaigns may not reach out only to these particular audience groups.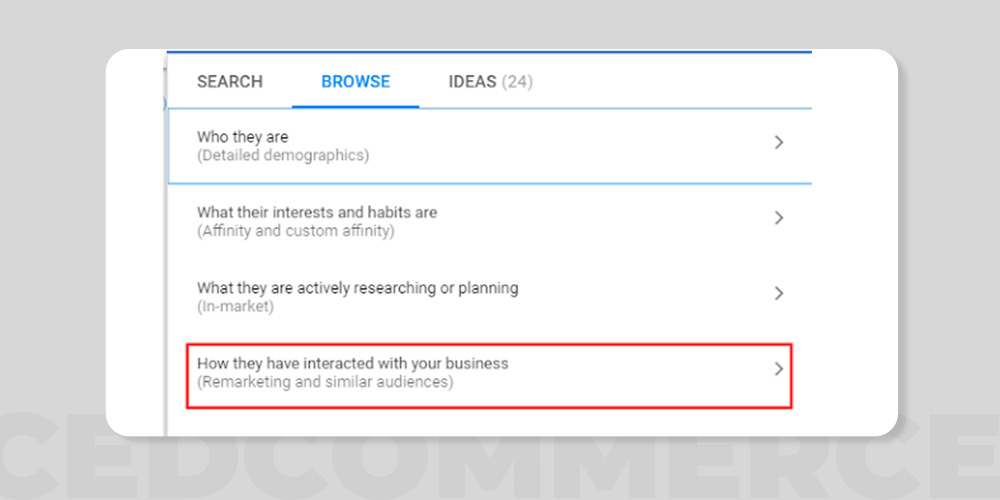 Rather, Google is on the lookout for audiences that you define as signals. They end up using data to identify identical consumers to exhibit similar interests and behaviors.
6. Setting Up Ad Extensions
Last, but not least, you add your extensions. You may choose to opt for using existing account-level sitelink extensions or even draft specific sitelinks for the Performance Max campaigns. The campaign will automatically come up with suggestions for extension formats on the basis of your goals.
For example, if the primary agenda of your campaign revolves around lead generation, the campaign will suggest the creation of lead form extensions. You even get to include price extensions, promotion extensions, structured snippets, callouts, and call extensions.
Eligibility Criteria for Advertisers with Google Merchant Center Feeds
Here is a list of the requirements for retailers that have existing Merchant Center feeds:
Advertisers with a Google Merchant Center feed can create a campaign of Performance Max.
There is a provision to create up to 100 Performance Max campaigns in Google Ads accounts. Consolidate the campaigns wherever possible for optimum performance.
In Europe, advertisers can make use of any Comparison Shopping Service (CSS) to accompany their Performance Max campaigns.
What Do Performance Max Reports Include?
The minor shortcoming of Performance Max can simply boil down to its reporting. At the Google Marketing Livestream, this concern has been addressed by the team and more transparent reporting has been promised to arrive soon.
However, there are limited options for reporting in the current stage. Advertisers can generate reports on the overall campaign performance, much similar to other campaigns offered by Google. There are shortcomings with the transparency of report breakdowns.
Things now permitted:
Reporting on top-level campaign performance
Reporting on location-based performance (if advertising a chain of outlets, the store reports are available on the basis of location extensions)
Reporting on hourly or daily performance or a combination of both.
Things not permitted in reports:
With Performance Max, even though you can include multiple asset groups (ads), you cannot report on performance based on the asset groups. For instance, with display campaigns, you can report on performance through responsive display ads. However, you cannot break down the performance by individual assets in a significant manner.
There's also no adequate information available on targeting. The targeting parameters offered, are solely used as indicators to identify other potential consumers present in the market.
Hence, one cannot necessarily use these audience groups as targets to identify and find other likely prospects.
To sum it up, there's no concrete method to recognize who saw your ad – no keyword reporting, no audience reporting, and so on. As a result, you cannot add exclusions for these parameters as well. Advertisers cannot report on device performance as well or even make exclusions for them.
How Does Performance Max Perform?
Performance Max campaigns are tipped to maintain a cost per lead (CPL) value that's almost 15-20 percent less than non-branded search campaigns. Display campaigns have a CPL value that's nearly 20-22 percent more.
These preliminary results account for a considerable success ratio, driving a fair amount of volume and traction. These perform to an extent, solely owing to the amount of data (assets) coming through from advertisers.
To add to this, here's a case study from Google, sharing data from campaigns run by MoneyMe that cited a 22 percent hike in conversions. This accounted for more than $800K in revenue and a 20 percent reduction in the overall CPA across the account.
Summing Up
Performance Max can prove to be a game-changer if Google lives up to its promises of improving reporting in these campaigns. Also, they can make good use of their artificial intelligence (AI) and machine learning (ML) capabilities to deliver better performance for advertisers. You can even make use of appropriate product feed management apps to make the most out of these campaigns and maximize your results.