Know-How an Aussie Marketplace witnessed 5X sales boost with Wish Integration for Shopify!
Running short of time? Get PDF of the blog in your mail.

Play Now
Short Summary
The Problem
The co-founder of OzDingo Marketplace, Mal B, faced difficulty in product syncing between the Shopify store and Wish marketplace and had to upload products manually.
Solution
Wish-Shopify Integration app was the solution through which the store could upload products in bulk in one go. It eliminated manual error and simplified their online selling experience.
Outcome
With the Wish Marketplace Integration by CedCommerce, the store saw a 5X sales boost and a 50% hike in traffic within two months.
OzDingo Marketplace connects their Shopify store with Wish through CedCommerce's one-stop integrated solution to reduce manual upload error!
Simplifying online selling operations with automated, integrated solutions is the need of an hour today, especially after the drastic shift towards online selling and shopping during the pandemic. Managing selling operations effortlessly without errors is imperative to build a progressive business. With so many other tasks and opportunities to look out for, wasting time on processes like manual product upload is simply useless. This is what OzDingo, a local online store in Australia, felt and wanted to get rid of manual operations with best-in-class integration solutions.
OzDingo Marketplace – A family-owned online retail store!
OzDingo Marketplace is an Aussie-based family-operated online retail store located in Brisbane.
Committed to building trust with everyone, the OzDingo team ensures to offer the best service and experience with its consistent and constant availability, no matter what.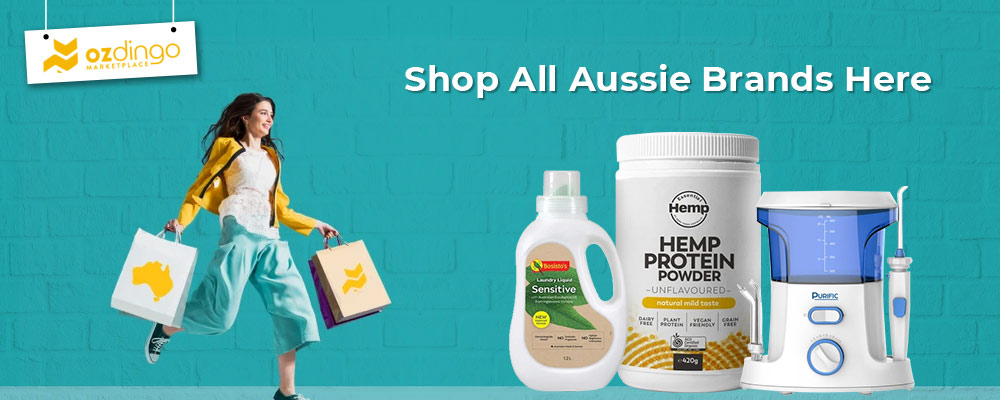 The store features a wide assortment of product categories right from lifestyle & beauty, animals & pet supplies, health & well-being, and gadgets & hardware tools.
The Journey and Challenge of OzDingo Marketplace!
Started with two guys in a garage – Andrew H and Mal B in November 2013, the OzDingo family kept growing with every passing year. Not just in terms of the team, the OzDingo Marketplace also increased from 200 SKUs to 8000 SKUs over time.
"Handling the operations of manual update and upload of such a huge quantity of 8000 SKUs became impossible over time," says Mal B.
Despite having a team of around 50 skilled individuals, Mal B and his team failed to manage the pressure of updating and syncing such a massive amount of SKUs fruitfully.
Soon, Mal b and his team concluded that an all-in-one integration solution would solve their problem permanently. They sought a solution that could not just help them in bulk product upload, update, and synchronization but could also live sync and automate shipping prices and orders.
Mal B learned about the Wish-Shopify Integration app that ensured centralized product management.
In their quest for automated integration solutions that can empower their store with Live synchronization and automation of products, shipping price, and orders, Mal B and his team discovered CedCommerce's Wish Integration for Shopify.
"I was looking for reliable software and came across CedCommerce. After doing a bit of research about the company and dealing with their amazing team, I realized it was a no-brainer to go with their solution," says Mal B.
OzDingo sales skyrocketed, and selling on Wish became effortless!
Within two months of the Wish integration app installation, it improved the sales and traffic of the store. It took around just eight weeks to experience a 50% rise in visitors to the store. And as a result, the Shopify-based store OzDingo witnessed a 5X hike in sales during the same time.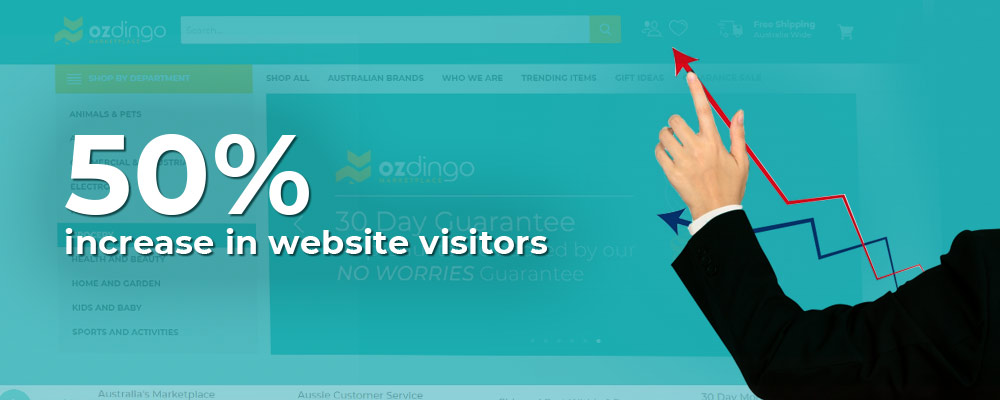 Besides the incredible increase in the sales and traffic of the store, the Wish Integration solution put an end to all the unwanted worries of manual error occurrence.
The significant benefits- OzDingo Marketplace enjoyed using Wish Integration for Shopify!
Besides resolving the difficulty of manual upload and update of stock (inventory) on Wish.com, the app helped the store synchronize in real-time. There was no more juggling between the store and marketplace. The hassle-free and straightforward product upload and update saved efforts and time for other tasks.
"The team was able to cater for my multiple shipping countries setup through meta fields," says Mal B. And now, Mal B and his team were able to sell on Wish.com seamlessly.
So, on availing the services of the Wish Integration app by CedCommerce, the bulk product update, feed optimization, real-time order, and shipping price synchronization between the store and Wish marketplace is now done effortlessly.
Other features that enabled hassle-free selling on Wish Marketplace!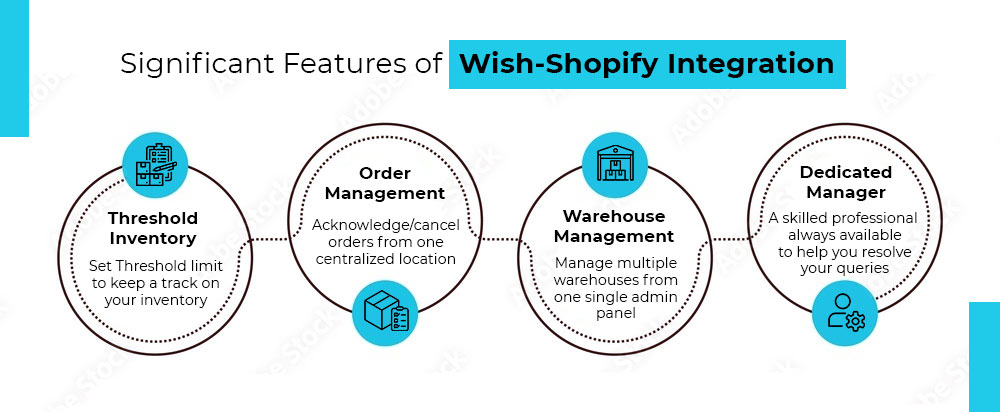 Threshold Inventory
The feature enabled Mal B and his team to set an inventory threshold limit to help in keeping track of inventory. Whenever the inventory limit decreased beyond the set limit, notified the team instantly. This indeed saved the store from overselling or products going out of stock.
Centralized Order Management
It enabled Mal B and his team to manage orders from one single admin place. Hence, eliminating the need to go back and forth for order acknowledgment or cancellation between the store and Wish Seller Panel. The orders are automatically fetched in their store as soon as placed on Wish.com.
Multiple Warehouse Management
It enabled them to manage multiple express warehouses from one admin panel efficiently. Therefore, eliminating the need for tracking each warehouse individually. It saved their time and efforts for other essential tasks.
Dedicated Account Manager
Assigned a highly-skilled professional to provide a walkthrough of the solutions and explain the ins and outs of the app. The dedicated professional also helped Mal B and the team solve any queries hindering the smooth functioning of the store.
Mal B recommends CedCommerce for Wish-Shopify Integration app!
Mal B and his team are selling effortlessly on the Wish marketplace. The co-founder was delighted to receive impeccable customer support service and rated the app as five stars. He was impressed with the professional behavior of the team and a deep understanding of their business.
In his words, "Account Managers were brilliant in understanding and implementing the needed solutions to make it work for us. We had dealth with many software companies earlier, some were unreliable and some did not provide the customization we need. With CedCommerce, it seems to tick all the boxes."
As a result, he promoted CedCommerce as a high-recommended integration solution provider for those interested in selling on the Wish marketplace with the Shopify store.
Summing-Up
The Wish Integration for Shopify proved to be a game-changer for the OzDingo marketplace. Mal B and his team can serve customers more efficiently without any fear of manual errors.
In his opinion, CedCommerce's Wish Integration app solution brought ease to their selling journey. And he was impressed with the skills & professionalism of our team, which drew huge appreciation and recommendation from him.