Ways to Revamp Your Cyber Monday Marketing Campaign
Running short of time? Get PDF of the blog in your mail.

Play Now
Cyber Monday Marketing Campaign
When you start planning your holiday marketing strategy, promoters need to shift their concern from Black Friday to Cyber Monday. Obviously, you don't want to give up on Black Friday completely, but you do need to understand that Cyber Monday is the key to boost revenue during the holiday marketing season.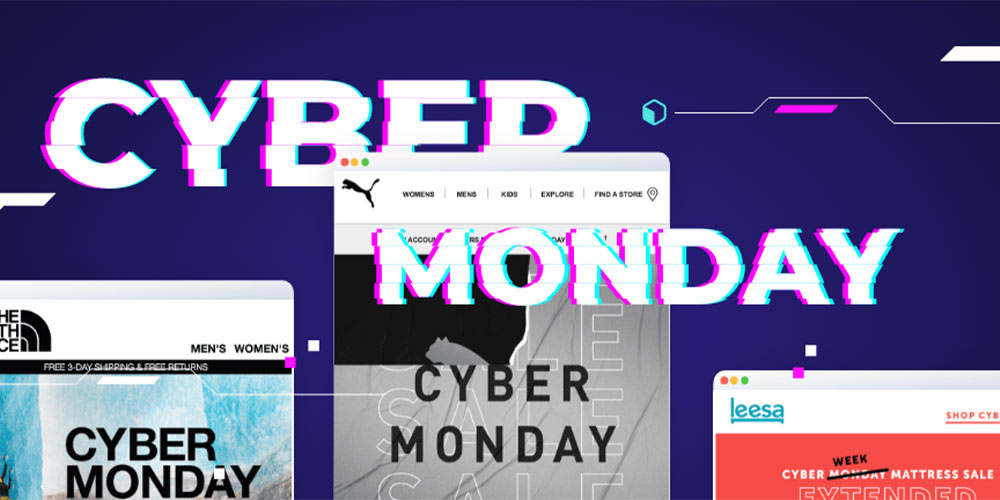 Cyber Monday is an event that originated to motivate people to shop online. It occurs on the first Monday after Thanksgiving. Companies come up with many unique ideas to surprise shoppers and, at the same time, provide them with the best online shopping experience. Shoppers can purchase the products with great discounts, explore special promotions, and receive cashback and gifts online.
One of the most important goals for every holiday marketer is to create successful and functioning marketing campaigns. But how exactly can this be achieved?
Cyber Monday Marketing campaigns are becoming more and more complex with time. In this blog, we will introduce you to 8 approaches to revamp your Cyber Monday marketing campaigns.
We would like to share a few ideas on what you should consider while planning your Cyber Monday marketing campaigns.
Of course, there are other elements that decide success or failure. However, the following points should provide an important overview of how you can improve your Holiday marketing campaign's performance.
Read through this before you start planning your next Cyber Monday marketing campaign: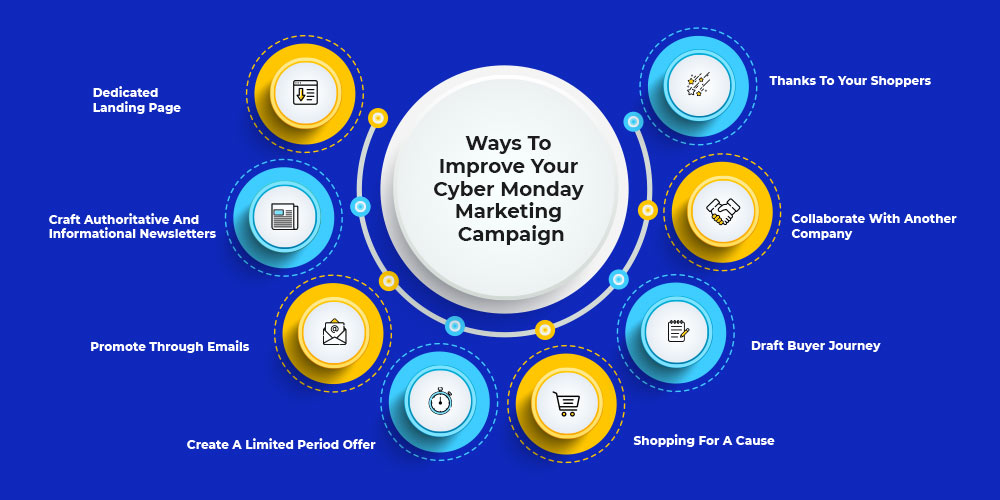 #1 Dedicated Landing Page
Make your buyer's journey easier by creating a dedicated landing page for your Cyber Monday Marketing Campaign. The holidays can be very anxious, especially for users who are surfing for many gifts to give. By having a dedicated landing page, you can create an easier and stress-free experience for them to get just what they're looking for. Besides, a dedicated URL can have great SEO advantages.
#2 Craft Authoritative And Informational Newsletters
Don't launch your Cyber Monday marketing campaign as an individual event; emerge it into your overall email marketing strategy.
Start thinking about how you'll illustrate, spark interest, and build loyalty among your audience before engaging them with holiday marketing promotions.
Reaching up to Black Friday weekend, use Halloween and Thanksgiving as a great opportunity to promote blog posts, guides, tips, and entertaining content for your subscribers.
Before Cyber Monday arrives, your subscribers will look forward to your content and feel inspired to read your emails.
#3 Promote Through Emails
Email Marketing is an effective way for promoting a Cyber Monday marketing campaign. Send deals to your subscriber's list and get them interested. You can even send out an email as soon as Black Friday is over to let your subscribers know that there are still some deals to grab on Cyber Monday.
This technique informs subscribers about your latest campaign offers and discounts, but also it creates momentum for all those Cyber Monday promotions you have aligned in your calendar.
For more effective email marketing campaigns, distribute your database into specific customer categories. Craft a tailored approach or discount for each group to reserve a better response.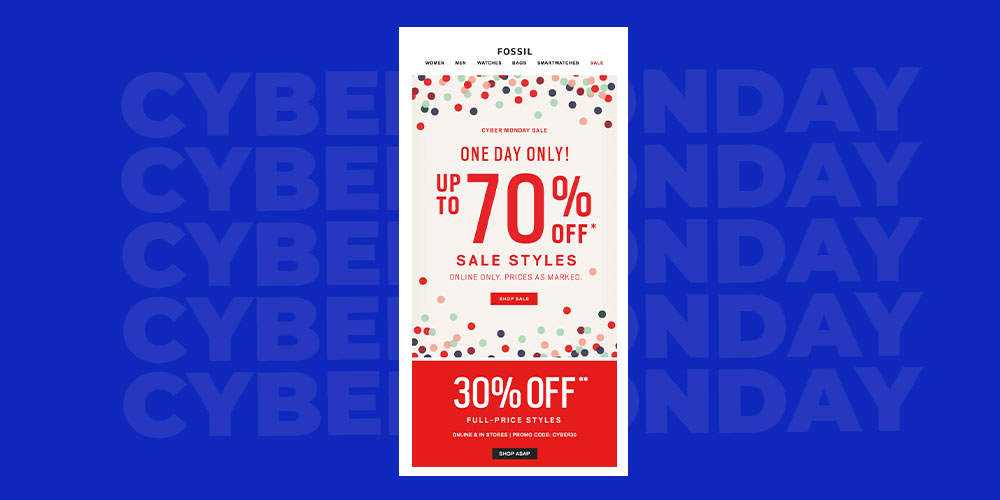 A concise Cyber Monday email by Fossil with a centered design focused on the 70% off sale. The email copy is boosted by "One day deal Only" and "Online Only" conditions. The brand also offered an additional discount of 30% off by using Promo codes.
#4 Create A Limited Period Offer
One-day promotions are powerful marketing tools that can work equally well for online or offline stores. The idea is to attract customers with a great discount offer or special deal that is enough to get traffic to your site.
One-day deals are not child's play. They offer amazing value and generate curiosity among consumers. For maximum results, your Cyber Monday Campaign offer should take advantage of the post-Thanksgiving essence and be worthy.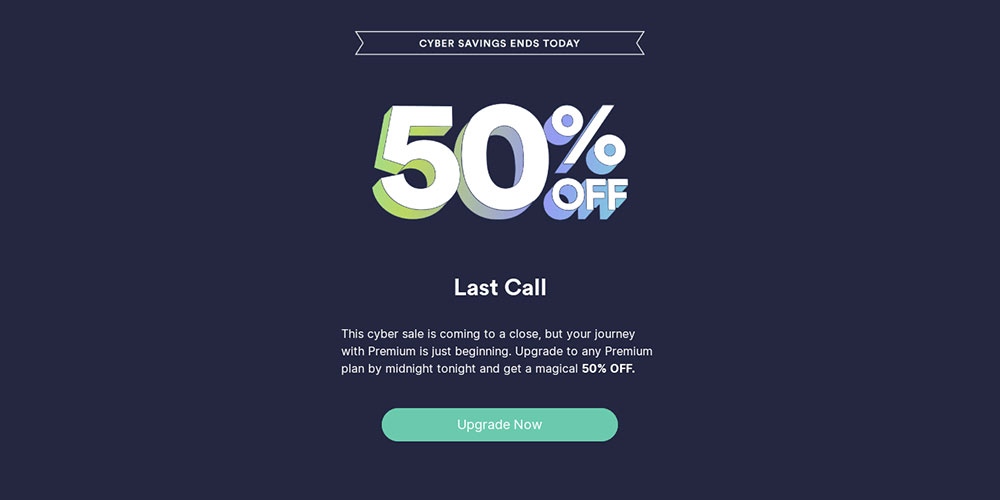 Here is a limited period offer email from Grammarly. The email is not aggressive but lets recipients know that they are going to lose the offer.
Limited period offers are ideal for those who want to attract new customers, and limiting your offer to 24 hours only creates FOMO(Fear of missing out) and a sense of urgency.
#5 Shopping For A Cause
Holiday marketing campaigns are all about giving back to the community. Work with a charity this Cyber Monday. Use social media promotions to spread the word that a percentage of the Cyber Monday returnings will be donated to charitable causes.
This marketing campaign supports people in need, encourages subscribers to give their full support, and gives your brand great prominence. Nothing feels better than serving those who desire it most.
#6 Draft Buyer Journey
Remember, we mentioned that you should think of your Black Friday marketing campaigns as a part of your broader marketing strategy. A personalized buyer's journey is your solution.
In place of considering emails as one-time events, a journey allows you to tailor content for exactly where your subscribers are in their sales funnel.
When you craft your emails as a journey, each subscriber gets a personalized set of campaigns based on initiated events. These emails prefer to have much higher open and conversion rates because their content is highly appropriate.
#7 Collaborate With Another Company
To get extra exposure and followers, consider collaborating with another company. If a business is popular and has many customers, it will support you to promote your brand and your Cyber Monday Marketing Campaign deals.
For example, the famous brand Adidas focuses on the production of sports shoes to delight its subscribers with a 50% discount on their products if they buy online at Amazon.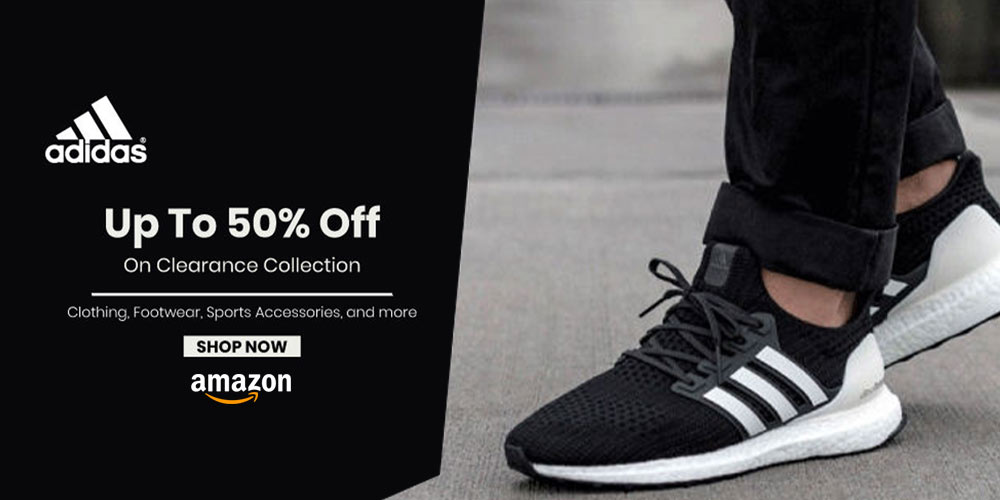 The intentions are clear that it is a sale, so let's see how they work in real life.
#8 Thanks To Your Shoppers
Additional gifts make everyone feel special.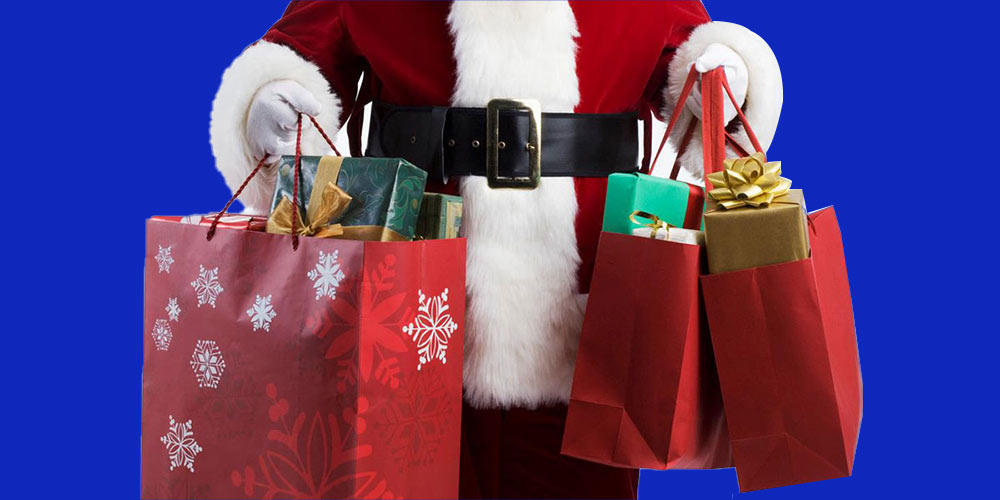 Express how much you care about your shoppers by serving them a free gift or coupons when they place an order during a certain timeline. It can be as simple as a holiday-themed cotton bag, custom calendar, or a free gift wrap for the upcoming year. Add these freebies to your customer's order for a nice surprise.
Writing Things To A Close
Are you ready for Cyber Monday?
There you have it. You are now prepared with all the major Cyber Monday Marketing Campaign ideas.
We hope that you have found these ideas helpful, and as always, We wish you growth.
Which of the above campaign ideas will you use for your upcoming Cyber Monday marketing campaign this year? Tell us in the comment section.