With Google & Shopify Analytics, Understand Your Store Better!
Running short of time? Get PDF of the blog in your mail.

Play Now
Do you know what is the best thing about selling online? With a few clicks, you can manage your products, orders, customers, and storefront. Your online business revolves around questions like – where in the world are your visitors coming from? What are they searching for? What is the conversion rate? And likewise. If you manage your store with Shopify, you can get a microscopic view of your store's analytics. Thanks to the fantastic reports by Shopify & Google Analytics.
Before you take a deep dive into your Shopify store analytics, consider this blog as your cheat sheet to leverage your store analytics wisely. From exploring Shopify reports to adding Google Analytics, let's set the stage for your Shopify store analytics.
A Glimpse of Shopify Store Analytics –
Depending on your plan, you can get access to various analytical reports and insights. If you have subscribed to the Basic Shopify plan or higher, here is what you get –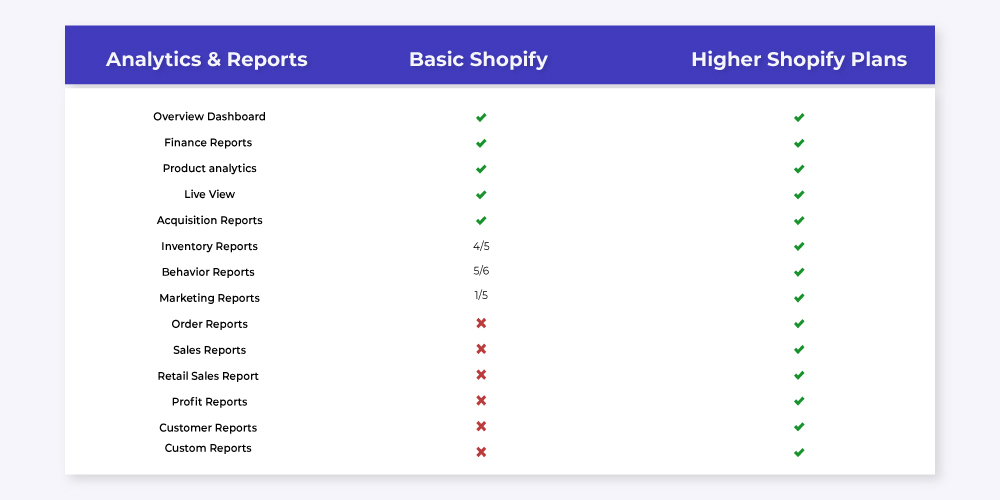 The Overview dashboard gives a microscopic view of your Shopify store analytics. This is where your store's data is thoroughly compiled into reports. Reports that answer – where in the world are your visitors coming from? What are they searching for? And so much more!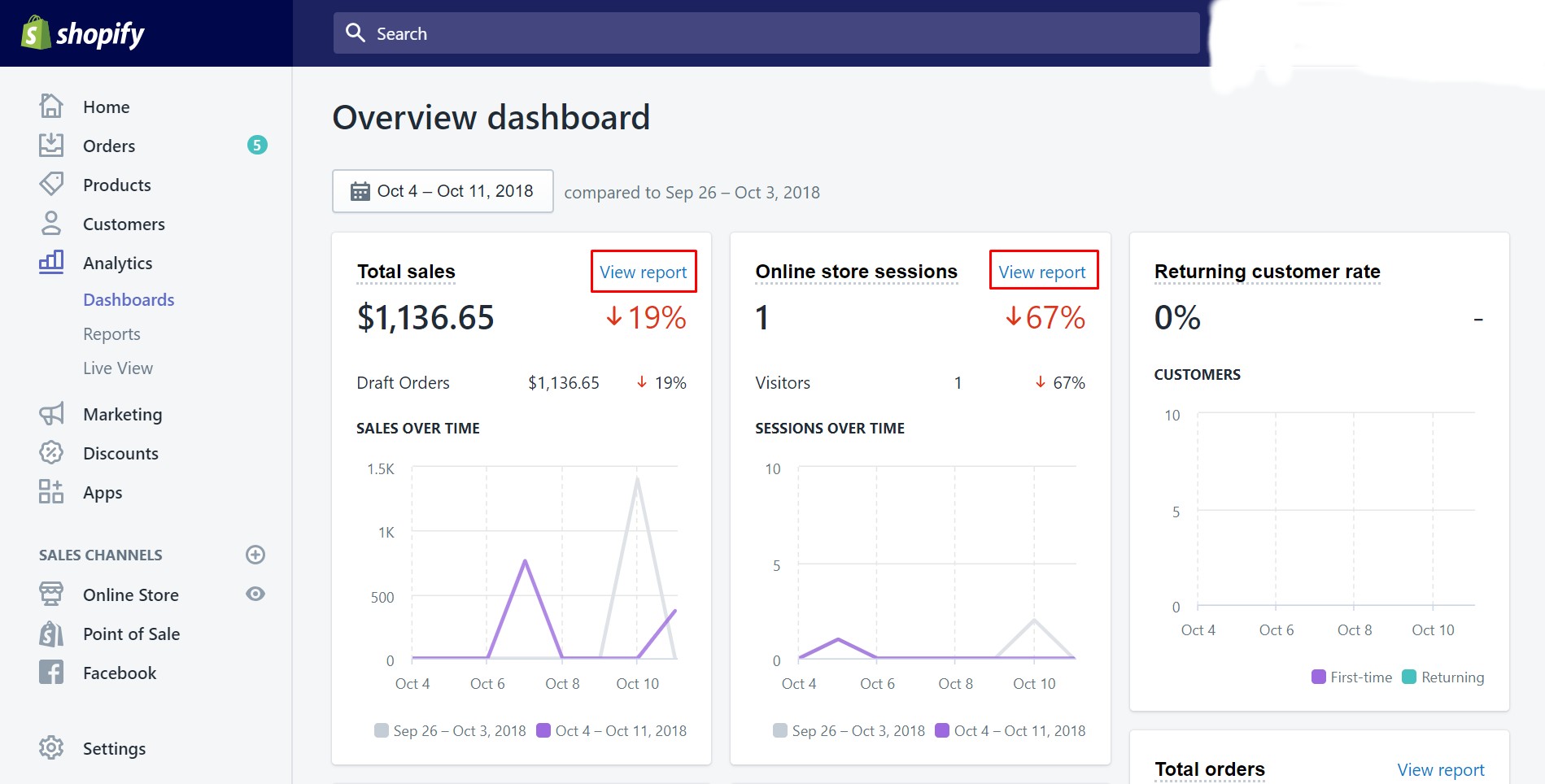 This is a screenshot of the overview dashboard having various go-to reports. All the reports you see here are based on a time frame that you can change at your convenience. Let's say you want to get a clear picture of your store's conversion rate. Click on – view report and bang! With the help of Shopify store analytics, you get the power to –
Check your recent sales and compare them with previous periods.
Compare how your sales channels are performing.
Check your visitor's demographics.
Trends are easy to track when data is presented in a structured form.
This is the Best Time to Leverage your Shopify Store Analytics –
It is October already and Halloween vibes are as strong as they can be. The spooky festival marks the beginning of a worldwide shopping spree. Year after year, consumers' openness to shop online has increased in leaps & bounds! It is the right time to go back to your last year's analytic reports. As a result, doing this will give you a better understanding of your store's performance during the festive season.
Depending on your curiosity to dig deep into your store's analytics, you can amend this year's festive strategy. It is up to you whether you want to float on the surface. Or whether you want to explore the depths of your Shopify store analytics.
You can also add Google Analytics to your Shopify store to get a clearer picture. But when Shopify's in-built reports have so much to convey, is it indispensable to add Google analytics too?
Well, let's figure it out!
Shopify Store Analytics Vs. Google Analytics –
Is it necessary to set up Google Analytics? No, but adding Google analytics will unlock new dimensions of your store's data. Shopify's in-built reports are limited by the plan you choose. As a result relying solely on Shopify's reports is like having a closed-view.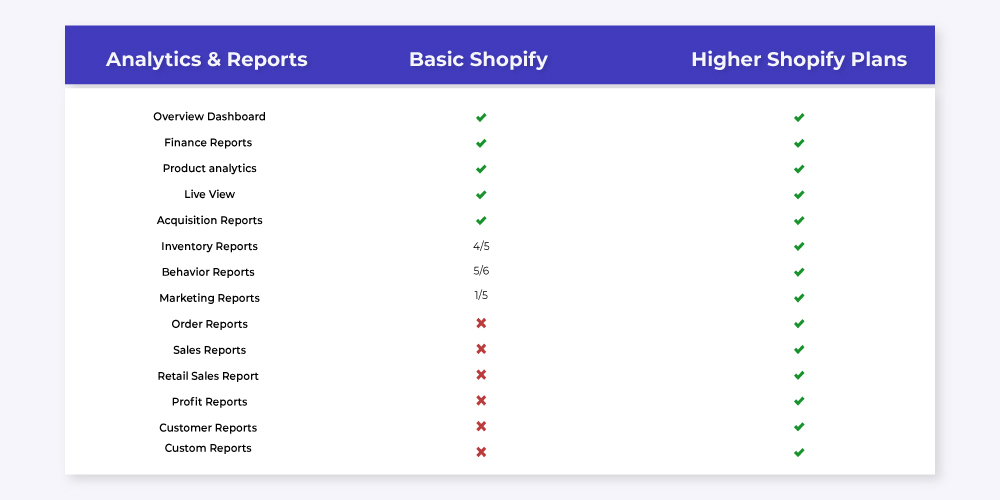 Your store's overview dashboard is the hub of Shopify's in-built analytical reports. This approach of gathering insights out of your Shopify store analytics sounds conveniently accessible. But adding Google Analytics to your Shopify store can be a bit cumbersome. You can hire Shopify experts who will look after your analytics and setup!
To add Google Analytics to your Shopify store, follow these steps –
Create an account on Google. If you already have Gmail or an ads account with Google, you can directly head towards the Analytics section.
Create an account on Google Analytics and enable Google Analytics on your Shopify store.
You can turn on eCommerce tracking or an enhanced version of it from your admin panel in your Google Analytics account.
You can also add Google Analytics javascript if you want further custom additions to your setup.
If you have subscribed to Shopify Plus, you can also add Google Tag Manager.
Why Hire a Shopify Expert?
Hiring a Shopify expert is helpful. During the early days, your business needs a great amount of strategizing. As a result, you will need someone to guide, and help you in strategizing –
Strategize for Long-Term – Google Analytics provides independent data, but it is way more complicated to comprehend. Without long-term assistance, it will not be easy to understand what Google Analytics is trying to tell you about your business. Even if you add Google Analytics to your Shopify store, it will be of no use if you're unable to comprehend and set a proper funnel. In this situation, you can talk to an expert for further guidance.
Setup Goals & Funnels – You define goals as your web pages that you want customers to reach. Every time a visitor completes one of your goals, it shows a conversion in your Google Analytics account.
Deciding on the goals and funnels of your store on Google Analytics should not be taken lightly!
Store Optimisation – This can be a game-changing moment before the holiday season kicks off! Shopify experts will put forward areas of improvement in terms of speed, responsiveness, CTA buttons, product placements, and third-party apps.
From storefront's UI/UX, navigation, to custom APIs – with the help of Shopify experts you can build a brisk and responsive eCommerce store.
Upgrade to Online Store 2.0 – Quite a while ago, Shopify unveiled its showstopper online store 2.0 framework. A better version of your current Shopify store. Better in terms of speed, customisation, and flexibility to set up a scintillating storefront.
It is optional to switch. But with the online store 2.0, a whole new world of possibilities opens up for you as a merchant. Here is how Shopify's new framework worked for Netflix.
Coming Back to Shopify's In-Built Analytics Reports!
Shopify's in-built reports provide quality data. Below are 9 in-built analytic reports that you can leverage to understand your Shopify store analytics better.
Acquisition Report – These reports provide details about the number of visitors to your store at a given time frame.
Behaviour Report – With this report, you can promote your products better. As a result, you can up sell to your preferred target audience.
Custom Report – You can get an idea about your customer's order total, expected purchase value, location, and whether they are returning customers or not.
Finance Report – They keep a track of your finances and payments.
Inventory Reports – You can view a month-end summary of your inventory so that you can track items sold on any given day.
Marketing Reports – These reports will tell you about what leads a shopper to your store? What converts them into customers? Which channels they have come from?
Order Reports – Order reports give an insight into order volume, fulfilment, shipping, and delivery.
Profit Report – These reports take care of your costs, margins, and profit on every sale.
Sales Report – These reports help you keep a track of your sales over time, by product and channel.
If you have subscribed to Shopify advances or higher plans, then you also create custom reports. You can create custom reports by using Shopify's filtering & editing features. Creating a custom report is just like using Microsoft Excel – you just have to apply logic, and Shopify will present the data just like you asked for.
With so many reports to flip through plus Google Analytics, you will have abundant data to manage and interpret. Our Shopify experts will help you assemble your Shopify store analytics and Google Analytics. As a result, you can strategize better for this year's special celebrations.
Summing Up –
Whether you have just started your journey with Shopify or you're happily running a store. It doesn't matter. Data is one thing that you need from day one. Don't let your curious mind be blown away with your store's sales and conversion. There is a lot more hidden in the depths of your Shopify store analytics.