Presenting Online Store 2.0 – With Unlimited Customizations!
Running short of time? Get PDF of the blog in your mail.

Play Now
On 29th June 2021, the eCommerce industry witnessed a turnaround moment. Shopify Unite 2021 streamed live with a unique agenda – Coding commerce together. It was a power-packed session where Shopify made clear that it can go beyond limits to make online commerce easy, exciting, and worth every penny. And this is why Shopify's Online Store 2.0 is all ready to hit the stage. 
As Shopify Experts, CedCommerce takes full pride to be a part of this eureka moment. Online store 2.0 is a revolution that makes it possible for merchants to build a highly customized eCommerce store with lots of room for brand and product level storytelling. Here is what we have got for you – 
Online Store 2.0.
Netflix's Sizzling Online Shop!
Shopify's developer ecosystem will also play a crucial role in this revolution. With more room to play with meta fields, upgraded theme architecture, and tools, you can build your online store with Shopify developers and customize your store the way you want. 
Salient Features of Online Store 2.0 – 
Online store 2.0 is Shopify's way to make commerce better for all of us. The enhanced version opens massive opportunities for customizing themes and apps designed for your business. 
Showcase Products Through Sections & Blocks – 
Up until now, a homepage used to be the center of attraction. But with online store 2.0, you have the flexibility to represent your brand through captivating sections and blocks. You can sprinkle them on any page of your store which opens new opportunities for you to showcase your products.
Every page of online store 2.0 can be rendered using a JSON template file that enables listing sections on every page. Your store can now have multiple template files that map to different products, collection pages, custom pages, blog posts – literally anywhere!
You can migrate or build your store with Shopify developers and experience a whole new world of online store 2.0.
Talk About Your Products Like Never Before – 
All thanks to meta fields! Technically, meta fields enable you to create additional information and edit them as and when required. But creating meta fields is not an easy job. You usually have to change your code from the backend. 
But the online store 2.0 will soon allow you to create and edit meta fields directly inside your dashboard. And this is just the starting. Shopify made clear that one can expect back-to-back surprises in the coming time. 
Meta fields will be the gamechanger, and if you want to leverage the most out of this feature, you should use them wisely in your Shopify store. You can consult Shopify Experts to know more about them. 
Shopify's All-New Theme Editor –  
Shopify made significant improvements in its theme editor so that when you're building your store, you have the freedom to assemble elements the way you want. Instead of hovering different sections, the enhanced theme editor now displays a tree view of everything in the sidebar.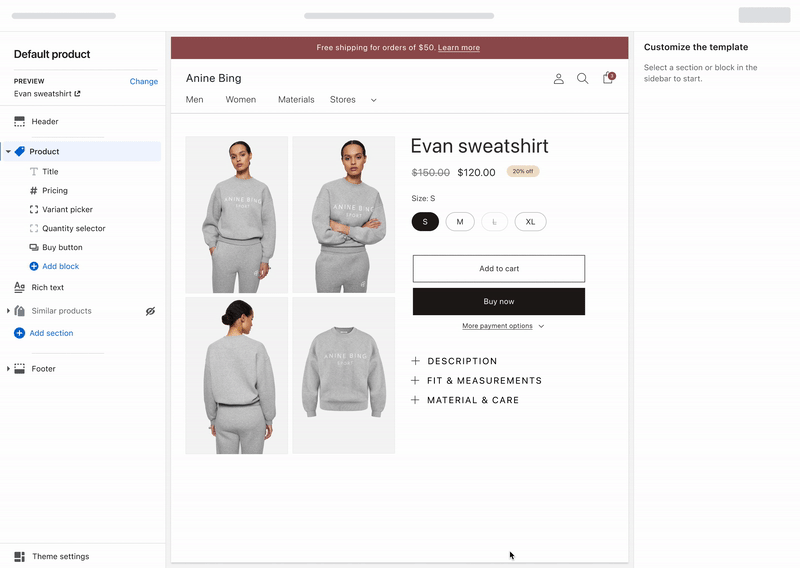 It might not look like it is a significant change. But when you sit down and build your store, only then will you realize its impact. 
Another update to the theme editor is the liquid input setting through which you can add custom Liquid code to pages directly from the editor. The liquid environment is similar to HTML settings. The only difference is that now you can access global and template-specific Liquid objects. 
As we progress further, we will see how cleverly Netflix leveraged these elements and designed a store that's perfect for new-age shoppers dipped with lots of storytelling. 
Dawn of a Future-Ready Theme – 
Till now, there were 81 free and paid themes for your Shopify store. But with Shopify Unite 2021, a new showstopper theme is on its way. 
The Dawn theme is Shopify's first source-available reference theme with OS 2.0, which is fast, responsive, and gives a smooth experience on all browsers. 
The Dawn theme loads 35% faster than the Debut theme!
Online store 2.0 is all about speed, flexibility, and responsiveness. And Shopify's Dawn theme is the epitome of this revolution. To experience an array of new features and tools, you can build your store with Shopify's developers. To know more about the theme, click here. 
Provide BNPL Option – 
Now, you can give your customers the flexibility to check out with larger cart sizes. Shop Pay Installments enable customers to buy now and pay at their convenience and split their purchases into four interest-free payments with 0% interest and no additional fee. Build your online store with Shopify developers and unleash the power of easy installments. 
Customized Checkout & Post-Checkout Experience –
Shopify is on a mission to make every single merchant capable of selling 300,000 pairs of sneakers in just over 8 minutes and make every single Shopify store capable of handling as much sales volume as served across all of Shopify during the BFCM 2020. 
Shopify Checkout in online store 2.0 will be lightning-fast, and it will give your store the power to manage multiple purchases per minute. You can feature additional information in a customer's cart at the time of checkout by leveraging the power of meta fields. 
After the buyer checks out, but before they view the thank-you page, there are numerous possibilities with what can be done with this space. Below are a few ways through which you can utilize the space – 
Upsells. 
Surveys. 
Donation requests. 
Promotional offers. 
Other information that you want to convey. 
Now you must be wondering how to get started? Well, it's easy. Consult our experts! Not only can you build your store with Shopify developers, but you can also design apps that will increase your store's productivity. 
Why Should You Build Your Online Store With Shopify Developers? 
If Shopify enables you to build an online store yourself, why should you consult Shopify developers? 
While building an online store is easy, scaling up is not. To mark impressions on the internet and become a significant player in your niche, you will need customization. That's when Shopify experts come into the picture. 
Netflix – a world-class OTT platform, welcomes online shoppers and binge-watchers of the US to shop for their favorite merchandise. In June 2021, Netflix partnered with Shopify to launch Netflix Shop to offer limited edition products based on popular shows like The Witcher, Stranger Things, and many more to come. 
You sure have heard about Netflix foraying into eCommerce. But the homecoming of Netflix Shop proves that with online store 2.0 and Shopify developers, it is now possible to tell stories about the most incredible products in the most incredible ways. 
Dissecting Netflix Shop – 
Netflix Shop is the perfect example of how online store 2.0 will be like. If you spend some time navigating this store, you will find equal emphasis on the product story and the product itself. 
Even after using numerous elements and third-party apps, Netflix Shop is speedy, responsive and its score on Google core web vitals is worth appreciating. 
Let's reverse engineer this fantastic online store 2.0 and figure out how and where Netflix Shop leveraged features discussed in Shopify Unite 2021. 
Homepage –
Netflix offers seven collections where each collection section is linked with multiple pages with a unique page ID. Smooth breadcrumbs allow users to keep track and maintain awareness of their location within pages of the store. As mentioned earlier, Shopify's online store 2.0 allows you to showcase your brand with blocks and sections anywhere you want. Netflix used four product grids that relate to their respective collections.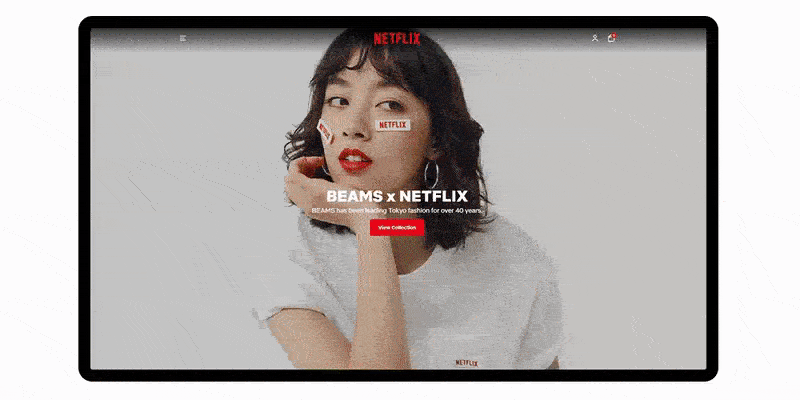 Did you notice the store's color scheme? Black background highlighting white texts with a sprinkle of red shade makes the store look classy and pretty elegant. 
Collections & Product Pages –
All the products of a collection are featured in grids. As you move your mouse to a grid it expands to highlight images in a slideshow along with the product's title and price. The collections page is highly customized and there is great emphasis on user experience.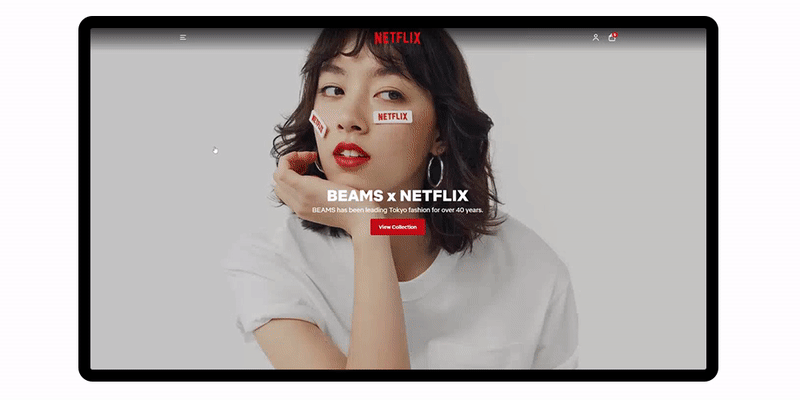 Coming to product pages, Netflix Shop has truly changed the way merchants can showcase their products on a page. The page begins with a grid layout featuring product images and below it, you can check the product title,  size card, price, and description. Before the page comes to an end, it leaves a cross-selling message of You may also Like.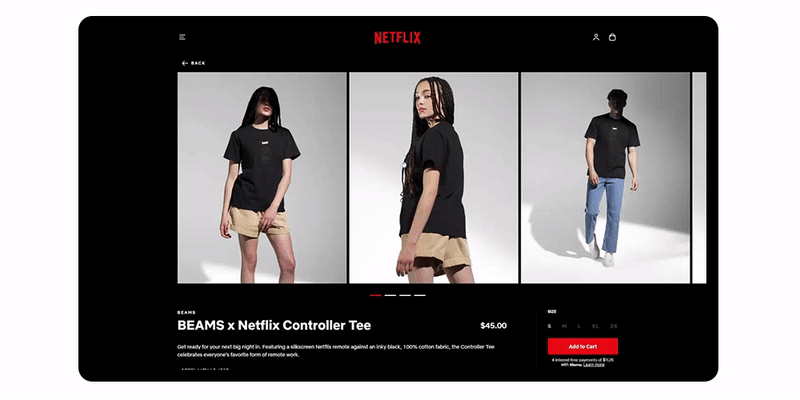 Cart & Checkout Page – 
The cart page is a catchy, translucent slider featuring all the products added to their cart. And based on the products added to the cart shoppers will get recommendations through their stint with the store. This is possible due to Shopify ajax API.
Shoppers can now checkout with the BNPL option powered by Klarna. 
Build Custom Storefronts with Shopify Developers –
Isn't it mesmerizing to see how Netflix uses various elements of online store 2.0 to build an online store that offers excellent products wrapped around captivating storytelling? This is the power of customizing your eCommerce store with Shopify developers. 
Shopify enables you to build a store without you touching the codes. But as your business will grow you will feel the need to provide more custom experience to your customers. That's where our Shopify experts come into action. 
As Shopify Experts, CedCommerce is enthusiastic about the all-new online store 2.0 framework, And we genuinely believe that it is a revolutionary step to build highly customizable eCommerce stores. 
Summing Up – 
Shopify Unite 2021 introduced the online store 2.0 concept. A highly customized eCommerce platform is rising from Hydrogen & Oxygen. Watch out
So this was all about Shopify Unite 2021 that has great emphasis n the revolutionary online store 2.0. It will surely be a gamechanger for online merchants regardless of their business domain. 
With the revolutionary version of the eCommerce store, give your imagination a practical approach and start building your store with Shopify developers to unleash the hidden potential of your business.