What types of videos your brand needs!
Running short of time? Get PDF of the blog in your mail.

Play Now
2021 has been the year for video streaming! As a result of the pandemic, people around the world have sought in-home entertainment in hopes of unwinding and taking a break from gloomy news. So, businesses all over started marketing with videos! Now, if you haven't started doing so, then you should now! Further for your help, here, we will be focusing on what type of videos your brand needs to allure your target audience!
Let's have a look at what is making videos favourable for business marketing.
Why invest in Videos?
The millennial and the GenZ have shifted more towards video streaming! The video world is evolving a lot.
The Impact of videos is as such that now on our top social media handles, we can see the separate section for video streaming. We have Facebook watch and Instagram reels.
'Facebook Watch, the social giant's two-year-old video streaming platform, has become a massive destination — now attracting over 1.25 billion users each month, the company claims.'
The COVID pandemic has boosted the videos' overall usage. YouTube remains at the top with attracting over 2 billion users each month.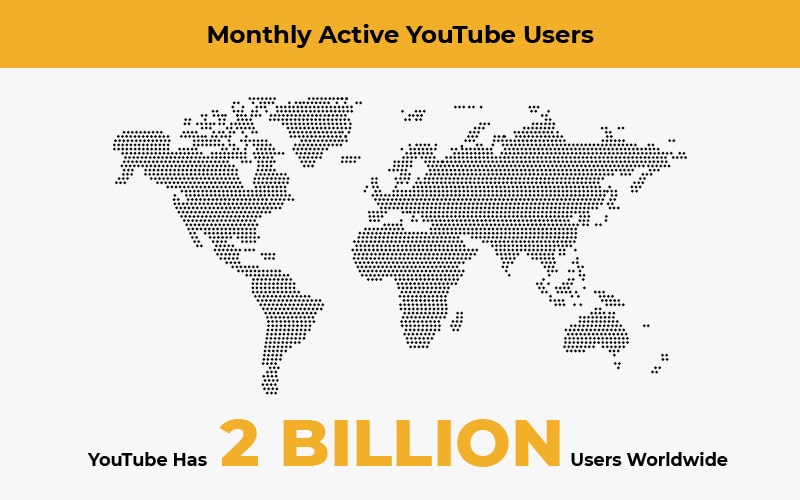 Not only the social media handles were the heartthrob for the audiences, but the OTT platforms have also become the new love of the viewers.
OTT platforms like Netflix, Amazon Prime, etc. have gained immense popularity and can attract a large audience on their media.
These platforms bring the content that is
Loved by the audience
Bring the content you need and watch
A variety and abundance of content for every viewer.
According to Statista,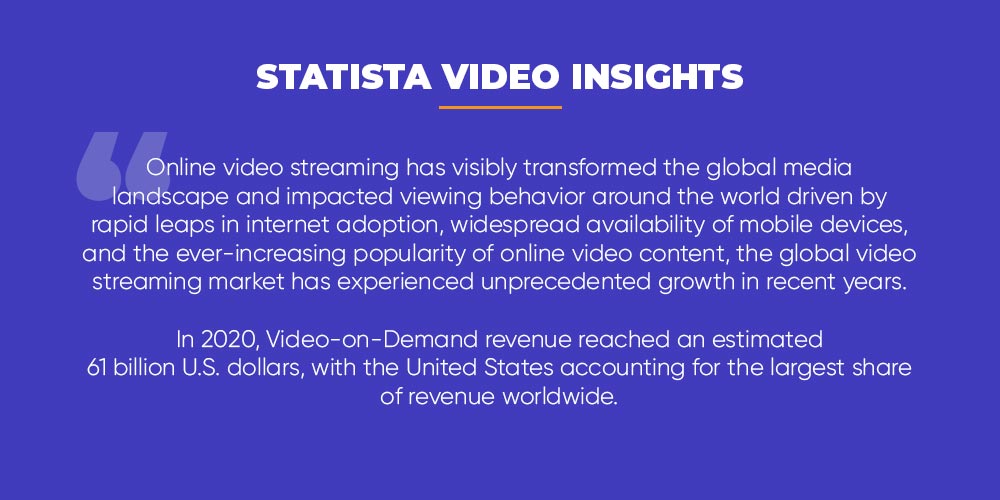 So, video streaming is catching the eyes of marketers. Marketing through videos can help you attain a much broader audience base, and with videos, you can attract more with your target customers. 
Being this fact, video marketing is worth your investment and can take your brand to new heights.
Learn how to make a marketing video for your business in a pocket-friendly way!
Focusing Ahead, there are many types of videos. So, first of all, let's have a glance at the types of videos and then we will discuss which type you should go for and make a complete funnel for your target audience.
Types of videos for businesses:- 
Large and small business owners alike are turning to video marketing to help increase sales. Here are the types of video content marketing that can improve your conversion rates and boost sales.
Brand Videos:-
These types of videos showcase your brand credibility and enhance your visibility among the masses. You can get aware of your audience about your brand using these videos.
While creating a brand video, you should be looking forward to the following:- 
Your brand video should be able to leave an outstanding impression on your audience.
It should be motivating. People watching your video should be inspired by the brand video content and give them the fact to build trust towards your brand.
Have emotions. The video should connect with your audience. And for that, it is crucial to add an emotional value to it!
Brand videos are not for your services. So, have your mission and brand awareness setups' in your goal.
Industry bulls like Apple are also very focused on producing brand videos. Have a look here at Apple's Innovate video campaign
You can focus on the emotional touch of the videos, whereas the mission, vision and brand value is very accurately created in the campaigns' video.
It's not that the big brands are only doing so, small businesses and the new startups' are considering video marketing from the start, and it is providing excellent results for them.
Here's your chance to create your ideal video type!
How-To Videos:-
These types of videos are also known as tutorial videos or training videos. These videos turn passive viewing to active learning. So, if you want to educate your audience about your product and services through a video, then how-to videos are the ones you should go for!
They are best in business and one of the most loved video formats by the audience who are interested in your products or want a brief insight into it.
These videos are of longer duration because of the step-by-step process shown within the video.
So, for a perfect video marketing strategy, tutorial videos are must.
Customer Reviews:-
When you combine your customer reviews with videos, then it is called customer review videos. It creates a significant impact because of the two powerful things.
The reviews as the social influence for your audience
With the incredible emotional impact of the videos.
What this Video testimonials do for you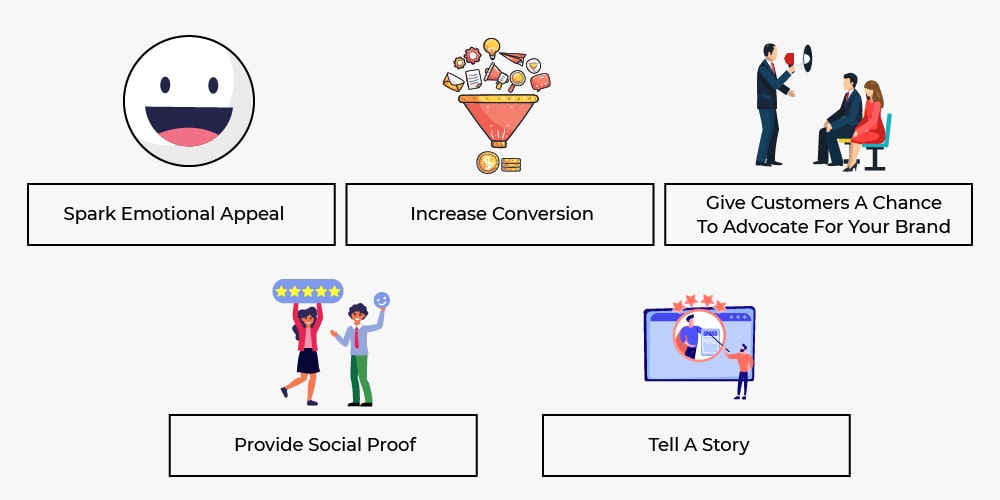 Video Interviews:-
These types of videos are focused on an expert or a team who are present to answer the questions which the host has.
This video format is personalised. Unscripted and authentic interview videos are a great way to lend a personal touch to a story or provide a point of view.
Interview Videos can benefit your brand in the following ways:- 
They make the best storytelling.
You get to know about the inside edge.
These are the most re-purpose content formats.
They are also easy to produce.
They are very versatile.
Can be used at every stage of your funnel.
Have a look at this video; it will give a glimpse of what a video interview is.
Product Promo Videos:-
Showcase your product using promotional product videos OR brag about your offers and discount, people would surely love your videos, as much as they love your offers. With videos, get your audience attracted to you.
These types of videos are used for a product launch and informing the audience about the new product or service in the best possible way through videos.
Have a look at one of the offers' videos we created for our client BACTERIAL REMOVAL.
Source:- CedCommerce's Client Work
The example video is entirely focused on the product and with the solution to the problem, and that's awareness of the audience.
Live Streaming:-
This video format is the trend nowadays. People love to watch live videos. It gives trust to the audience.
Using live streaming for your brand can help you in the following ways:- 
It grows your audience base
Reduces much of your costings
Though it increases the revenue to a great extent.
Tell your story more effectively.
Grab your audience at your time.
And obviously, it's the real-time engagement.
So, live streams are a fun way with a lot more impact.
Now regarding the types of videos, you must be a bit confused about which format you should go for. But that's not at all an issue.
Let's have a clear briefing of it.
How to choose the best format of videos for all the platforms
Okay!
So, the point is, which type of videos should we start with and which one would be more of a use for your brand.
The prominent social media platforms with most of the site visitors are
YouTube
Facebook
Instagram
Twitter
SnapChat
TikTok
Herein, all the platforms have their USP. As in, we have youtube where the average length of the video that ranks on the first page is up to 13 min.
Facebook and IGTV (Instagram feature) are for shorter videos (Shorter than YouTube).
We have stories on Facebook and Instagram for 15 seconds each.
A video post over Instagram is of 1 minute.
Instagram is a more aesthetic platform so the creatives on that platform are way too different!
Whereas, platforms like Twitter, SnapChat, and TikTok are the best platforms for snack video content. Snack videos are the main attraction for GenZ now as they are very short and very creative. So, do research and analysis before designing your posts and making interactions on these platforms.
So, you have your target audience present on all platforms. Create your video marketing strategy, which makes you appear on all platforms. So, you will be seen by your target audience everywhere they are present.
Let's find out who is watching your videos?
One of the most important things is to understand your behaviour of the audience and how you can bring them to your funnel..
According to Hubspot,
The buyer's journey should be segmented into the following steps:- 
Attract:- In this phase, publish original search-optimised content over all the platforms and get found online to all your target audience. 
As it says attract, so, draw your audience with your excellent content.
Engage:- Now, in this phase, start engaging with your target audience. Convert them to your leads through targeted content offers.
Delight:- This is the last phase. You have already transformed your target audience to your leads so, herein convert your leads to your customers with leads-nurturing workflows.
So, the videos should be framed, taking this workflow into consideration.
If you are running an online store and market your brand using these types of videos then concerning the Consumers' flywheel, showcase your video in the following way:- 
In the Attract phase, use Product promo videos and brand awareness videos to attract your customers. 
In the Engage phase, use live streams and how-to videos to engage with your leads.
And in the Delight phase, use Customer reviews and Video Interviews to nurture your leads and convert them to your audience.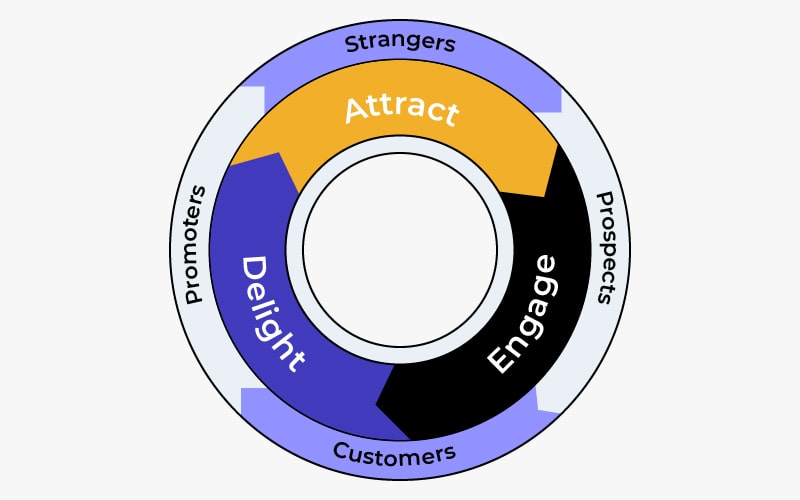 Source:- HUBSPOT
Videos can bring things your way!
With videos, you can compel your audience well and very smoothly. When videos are in, your content marketing strategy goes to another level!
Today, you should focus on how to use video in business,  and if you do it well, you'll undoubtedly win.
The last thing that will help you to achieve your goal easily is the right mentor. The right mentor can help you throughout and save your precious time and hard-earned money by avoiding the loopholes!
Free Video Marketing Consultation During Global Crisis & How to Plan Ahead When The Market Stabilizes
There's still much more to come. Start marketing your brand through videos asap!
For any query, please come down to the comment section!