Sync WooCommerce with Etsy: Handcraft your business for success!
Running short of time? Get PDF of the blog in your mail.

Play Now
Etsy is a unique marketplace for handmade items, vintage goods, and craft supplies. In fact, on Etsy, you'll find a community of craft makers, small-business owners; and buyers who are all enthusiastic about uncommon and rare goods. And If you're a WooCommerce seller willing to sync WooCommerce with Etsy, then you are just on the right page. With this blog, all your questions on 'How to start selling on Etsy?' 'Why sell on Etsy?' 'Which Etsy Integration Woocommerce plugin is the best?' everything will be answered!
About Etsy
All the beautiful metaphors fall short to describe the beauty of Etsy. A marketplace showcasing various home decors and handicrafts. Home to more than 8 million active Etsy sellers who join the cult to sell their amazing products, Etsy is a place where all your desires of aesthetics are found. Hence, it is all about art, creativity, and amazing handcrafted products on Etsy.
Having started its operations in 2005, Etsy has become a vast pool of 190.37 Million unique products/patrons; and it also recorded for generating a humongous $529 Million revenue in Q2 2021. Moreover, Etsy has expanded its reach worldwide and in all nooks and corners of the world, it has recorded its presence.
Why is Etsy unique?
Etsy is just more than a marketplace when you compare it with its peers out there. It is a highly regarded platform for artists, designers, and small to medium size enterprises to sell their handmade goods, vintage items, craft supplies, and more.
Also, Etsy is home to items that bring in the retro feel and nostalgic vibes for people of all generations. It can be one of the reasons why repeat buyers contribute more than 80% of total sales of the marketplace.
What can you sell on Etsy?
Etsy's product categories consist of 15 major categories, further divided into hundreds of sub-categories. Amongst all the categories available, craft supplies and tools is the most loved category of Etsy shoppers with the highest number of listings as well. You can check out all the categories and subcategories here.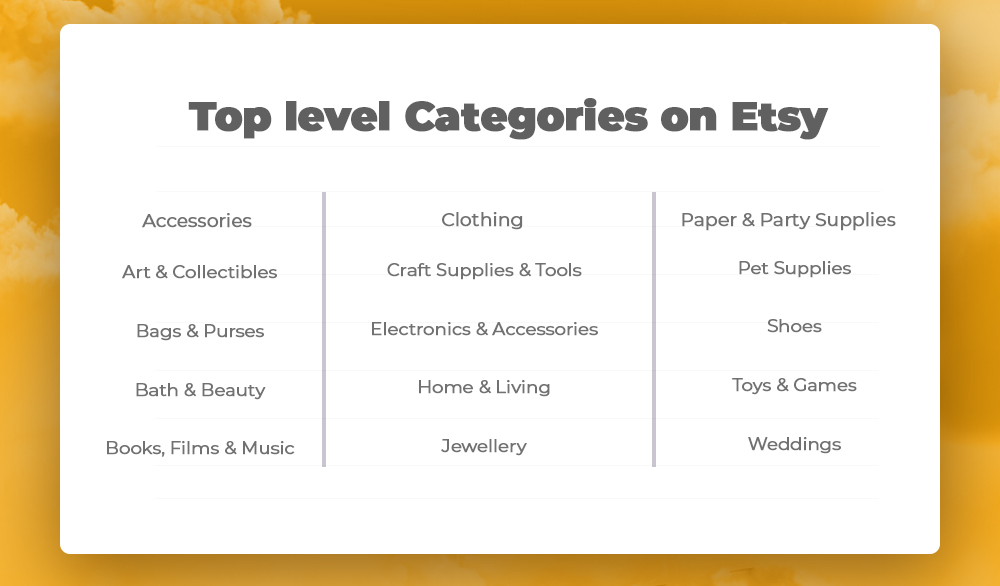 A reliable marketplace with simple policies.
Etsy marketplace has its own set of policies regarding types of fees and payment structures for sellers. From listing fees to accepting payments, sellers can clearly understand all the significant aspects without any hassles.
To shorten your research about different types of listing fees and payment structures, here are some basics that will help you know your margins beforehand.
Fees and payments structure
Listing fees
Etsy charges a listing fee of 0.20 USD for each item you list for sale on Etsy.com or Etsy's mobile apps.
Transaction fees
Every time a sale takes place on Etsy, a transaction fee of 6.5% is charged on the price you display for each listing, plus the amount you charge for delivery and gift wrapping.
Advertising and promotional fees
Sellers on Etsy have the freedom to choose the type of advertising they want to opt to promote their listings. Etsy ads and offsite ads are the two most preferred ways of advertising on Etsy. However, the ads budget varies as per your targeted audience locations, marketing goals, product category, etc.,
Etsy Plus
Etsy Plus is a paid feature to help brands grow sustainably on the platform. It provides you with a set of tools that are essential for the success of your online selling business growth. The fee for Etsy Plus is 10 USD per month.
Payment Processing Fees
Payment processing fees are based on the location of the seller's bank account. It varies depending on the location of your bank account.
Currency conversion rate
Etsy converts fees from USD to your payment account currency at the market rate for further processing. For example, as an Etsy Payments user, if you decide to list in a currency other than that of your payment account, you will be charged a 2.5% currency conversion fee on the sale amount to send funds to your payment account.
Apart from all these, a few other types of regulatory operating fees and taxes are limited to certain countries. To have more detailed information on the fees and payment structure, you can visit the official website by clicking here.
Set up your Etsy shop in minutes
Step 1 –
Go to the Etsy seller registration page – Link. Click on Get started and sign up using one of the options available.
Step 2 –
Select your shop language, country, and currency, then click Save and Continue.
Step 3 –
In the next step, put in your Shop Name and click Save to proceed ahead.
Step 4 –
Set up your payments and billing account with Etsy. You need to link your bank account with Etsy for payment disbursals in this step.
Step 5 –
On the next step, you will be prompted to turn on 2-factor authentication to enhance your account's security.
Step 6-
Now, you have to set up your storefront, including all your shop aesthetics, background, and all the relevant information for your buyers.
Step 7-
You're all set to start listing and selling your products on Etsy.
WooCommerce for smarter selling on Etsy
WooCommerce is a free customizable, open-source e-commerce platform built for WordPress. Using the WooCommerce platform, you can sell through your website and seamlessly manage multiple sales channels without any hassles.
WooCommerce simplifies how you sell on Etsy with a bunch of power-packed features. Moreover, the number of customization options available on WooCommerce is incomparable with any other platform.
Have a look at some of the ultimate benefits that WooCommerce as a platform can offer Etsy sellers-
a) Super Affordable
WooCommerce is itself a free-to-use plugin that encompasses a wide range of e-commerce functionalities. Moreover, its simple and intuitive user interface is one of the easiest for almost all small to medium-scale enterprises.
b) Highly customizable
WooCommerce being an open-source platform, also supports customization via other external plugins. It renders sellers an opportunity to harness their business's best capabilities without wasting too many financial resources. However, using too many plugins in an unoptimized manner on your website might slow down the page loading speed.
c) SEO friendly
The game of SEO is the 'must have' in the eCommerce world, and WooCommerce has quite well grasped the pitch on it. With its parent software WordPress, the merchants get to have a fantastic SEO-friendly experience for their businesses; which lets them rank organically over the internet on the SERPs
d) Simplified Analytics
The simplified analytics view at the WooCommerce dashboard is one of the major attractions for merchants. It gives a holistic overview of what's happening in the store and helps them make informed decisions quickly and efficiently. The real-time updates ensure that sellers are always aware of the trends and how various marketing campaigns are performing.
e) Trustworthy community
Apart from 5 million + active installs of the plugin, the community of developers and programmers is always ready to help you out. These professionals are one of the driving forces behind the success of online stores, providing essential services to help entrepreneurs and resolving their tech-related complexities.
Features of Etsy WooCommerce integration
To expand in the modern e-commerce landscape, you need to plugin automation into your online selling business. WooCommerce as a platform helps you escalate your overall selling efficiency while simultaneously reducing manual errors while selling on Etsy.
Here are some Etsy WooCommerce integration features that will help you achieve your targets and build a sustainable business in the long run.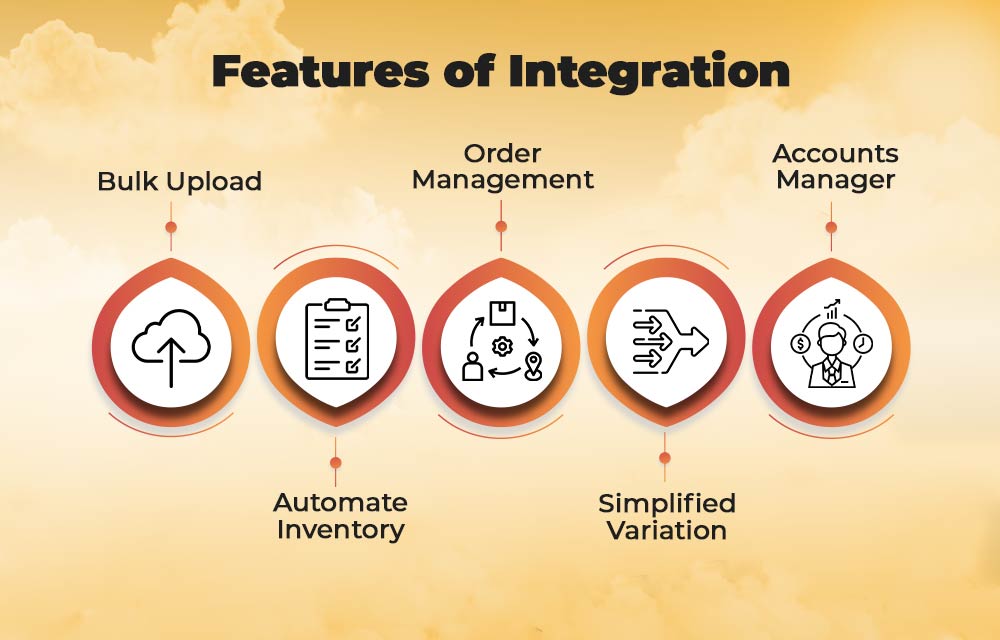 a) Upload products in bulk
With Etsy WooCommerce integration, sellers can upload products in bulk to the marketplace from their WooCommerce store. Select the products you want to upload, and with just a click of a button, they are automatically uploaded with all their attributes. This helps reduce manual errors and speed up the overall process with top-notch accuracy.
b) Intelligent product category mapping
Product category mapping refers to assigning products to the right marketplace categories consisting of every granular detail of the product. It not only assists in maximizing the reach but also improves the overall customer experience. Using the integration, you can map your WooCommerce products into the right Etsy categories with all the granular data on complete automation.
c) Near real-time inventory syncing
WooCommerce sellers can now take advantage of automatic inventory synchronization between the two platforms. It means all product information, stock levels, and pricing are in check across both marketplaces without any additional effort.
d) Smart order management
Get rid of multiple dashboards and manage all your orders, cancellations, and shipments from a single WooCommerce dashboard. This eliminates the inconveniences of switching between your Etsy shop and WooCommerce store again and again. Merchants can easily fetch their Etsy orders on their WooCommerce dashboard for faster order processing and fulfillment.
e) Prompt error notifications
Every time an error occurs at your store, you will be notified of all the detailed causes. This way, you can quickly resolve the issue and proceed to re-perform and finish up the specific action that was stuck.
f) Inbuilt support assistance
Avail the best-in-class support from our WooCommerce professionals, available 24*5 to skyrocket your digital retail. Moreover, our experts can help you simplify your selling on Etsy via WooCommerce with customized growth strategies per your business's specific capabilities and limitations.
Have questions? Connect with us
Time to automate and sync WooCommerce with Etsy alongside expert assistance from CedCommerce. And, not just automation, selling via WooCommerce can be super advantageous if you're also willing to diversify your products on other marketplaces.
Click here to learn more about Etsy integration for the WooCommerce tool.
Also, you can get in touch with our experts today, to get all your doubts cleared– Skype, WhatsApp.