Shopify Themes Guidebook – A Hack to Create Dynamic Storefronts with Shopify OS 2.0
Running short of time? Get PDF of the blog in your mail.

Play Now
A theme is the heart and soul of any eCommerce store. Product showcasing, user experience, speed, and your store's layout depends on the theme. Shopify is the right platform to build and scale your business because you can choose from a wide range of paid and free themes that give rise to an unmatched shopping experience. Shopify themes are tremendously responsive with on-the-go customization. Last year, Shopify announced that they would be upgrading their theme architecture, and themes compatible with Shopify OS 2.0 can be optimized in never seen before ways.
What's the hype all about? Should you migrate your storefront to Shopify OS 2.0? What are the best Shopify themes available? Here's everything you want to know about free themes on Shopify. Additionally, you can hire professional experts who can tweak your theme as per your requirements. CedCommerce is a dedicated Shopify expert agency where our team of store developers finds solace in customizing and personalizing Shopify storefronts.
… But Why Should You Upgrade to Shopify OS 2.0? What's New?
When your store is already up and running, then why should you migrate to Shopify's OS 2.0? The truth is that it is not mandatory, but the themes that support Shopify OS 2.0 have some spine-tingling features that give rise to flexible and dynamic storefronts. All the pre-existing Shopify themes are now coined as the vintage themes that may (or may not) have the following features –
Blocks & Sections on Every Page: Themes compatible with the Shopify's OS 2.0 have sections that you can add to your storefront. And by adding, we don't mean just the homepage. You can tweak all the web pages.
Metafields: Metafields is a cunning way to add crucial information like size chart, shipping estimate, warranty, and guarantee in your product pages. You can utilize these metafields to portray additional information on your product pages.
Never Seen Before App Support: If your store is running on a vintage theme, you know the pain of struggling with your code just to add an app. And the struggle is real!
This ends with Shopify's OS 2.0. You can simply drag and drop the app where you want without touching codes.
Enhanced Filteration: Visitors can engage with your store by finding products based on their availability, prices, etc.
To find out if your current theme supports OS 2.0, here's what you need to do –
From your Shopify Admin, go to Online store> Themes> Customize.
In the drop-down menu, select products> default product.
If you have a Shopify 2.0 theme, you will get an option to add a section.
If there is no such option, then your current theme is vintage.
Time to Go 2.0 With These Free Shopify Themes –
The points above highlight that 2.0 themes are open to unimaginable tweaks and customizations. Oh, and not to mention that speed comes in handy! Below are 6 free Shopify themes that support this breathtaking framework –
Studio.
Taste.
Sense.
Crave.
Craft.
Dawn.
I – Studio:
If you are an artsy person trying to create an impact with your art, then the Studio theme is the one for you. This free Shopify theme is inspired by visual storytelling and vibrant color patches illuminating your store to a whole new level.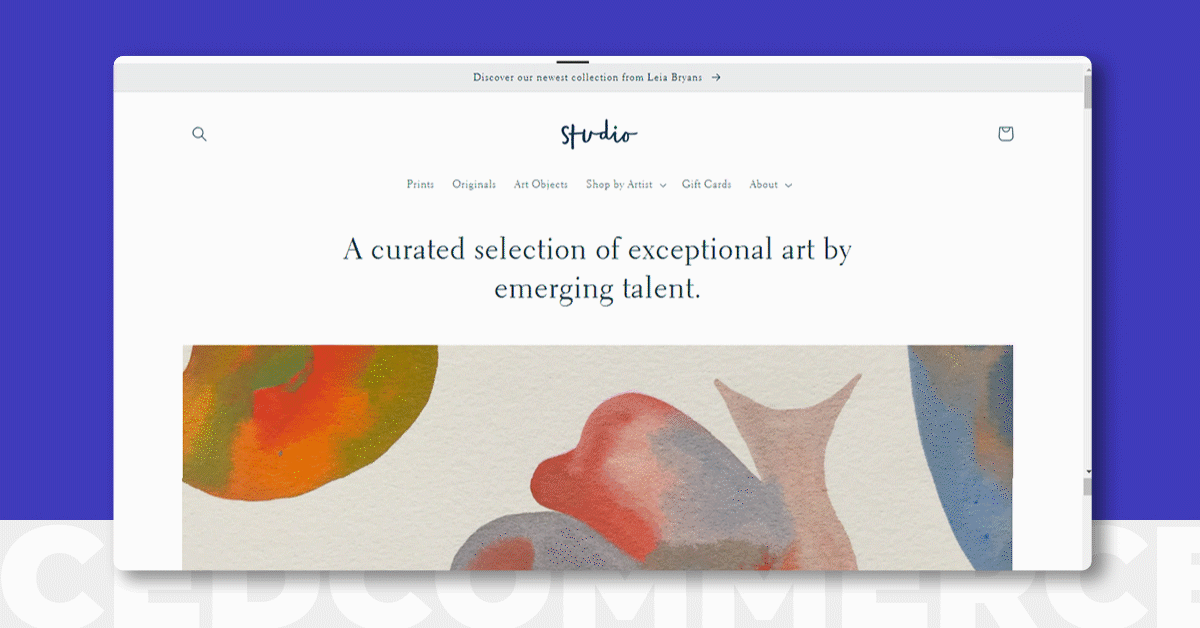 You can curate collections with colors typography and allow visitors to search for collections based on advanced filter options. You will be perplexed to know that Shopify's OS 2.0 theme editor gives you complete freedom to make changes in your theme.
It becomes easy to sprinkle additional features like image rollover, lookbooks, size charts, etc., across the web pages within a few clicks without struggling with the codes. If you need class-apart theme customization, you can get in touch with our team of Shopify experts.
II – Taste:
Suppose you are selling generic items like energy drinks or healthy snacks that you would want all the main touchpoints of your store to focus on your products. Catering to this aspiration, Shopify presents the Taste theme, idle for merchants who want to keep their products as the center of attention.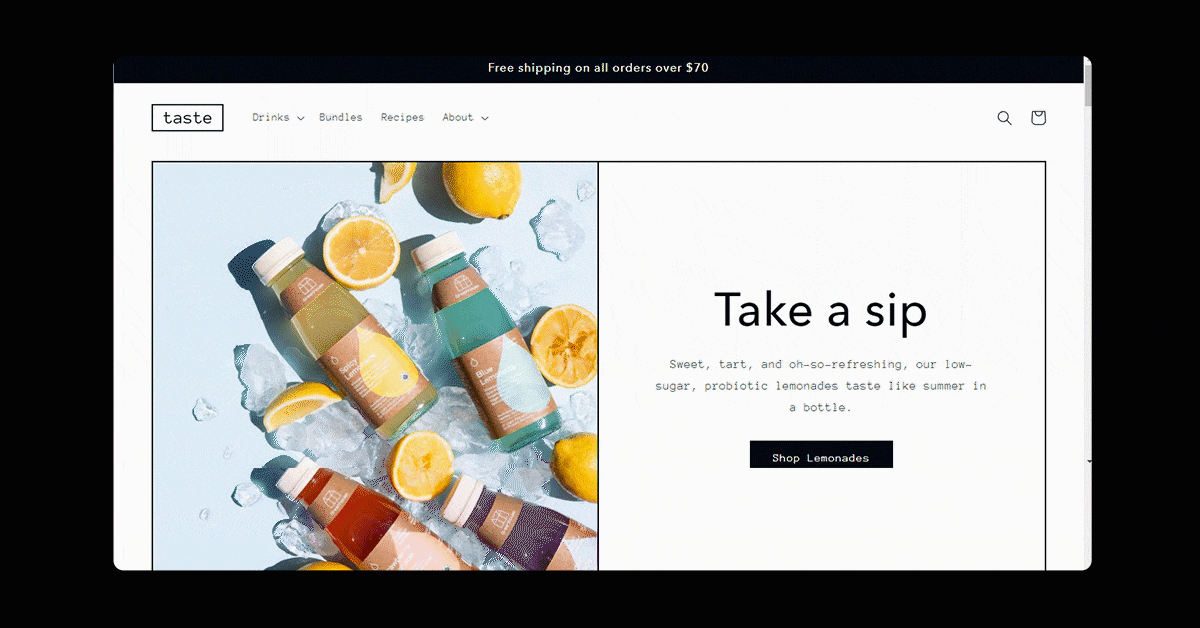 Taste theme comes with a balanced space reserved for product showcasing and navigational banners that redirect visitors to curated collections. This might be just a free Shopify theme, but it can outperform other themes in giving a fuzzy feel to your store. You can utilize the space to highlight your products or use it for to-the-point visual design. Or you can feature nutritional information about your products and use slideshows to let visitors know about your brand and its value proposition.
III – Sense:
There are no fixed criteria to tell which Shopify theme suits which product category. It is all about matching the theme with your brand values. Sense is one such free theme by Shopify. Apart from getting to experience Shopfiy's OS 2.0, Sense theme is idle for beauty and cosmetic products.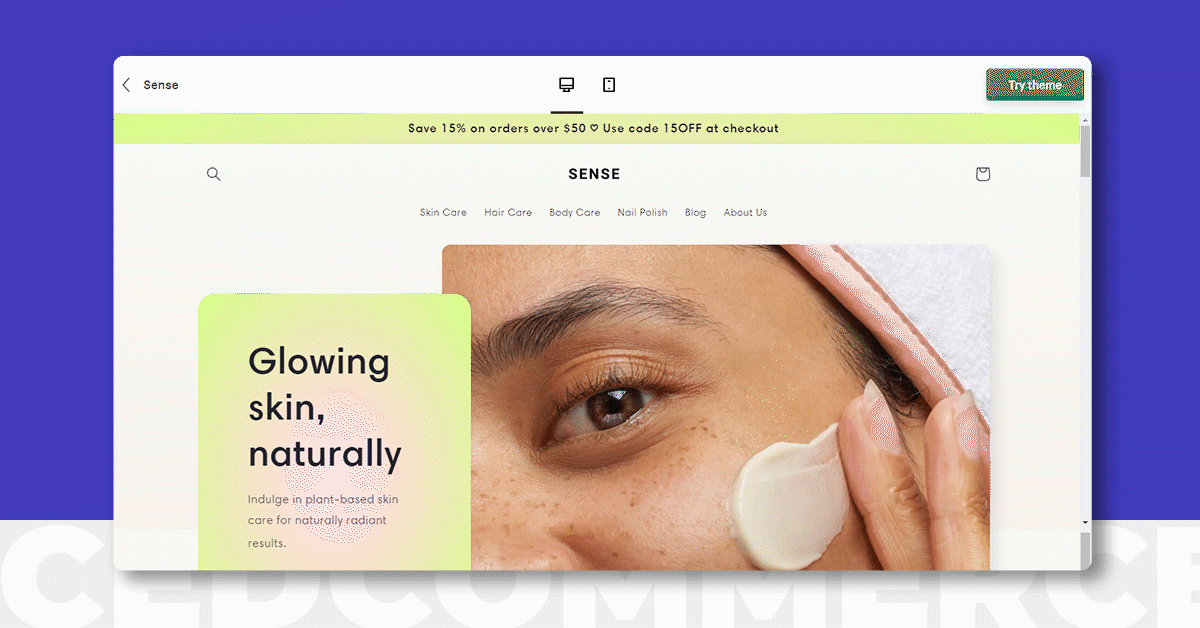 If you want to tickle the sense of a personalized shopping experience, then Shopify's Sense theme is the right choice. You can add lookbooks, high-quality product videos, usage instructions, or ingredients on the product pages. Sense theme is quick to install and ready to use.
Sounds interesting? How about you consult our team of Shopify experts to mingle your brand values with this free theme.
IV – Crave:
If you open a demo store featuring the Crave theme, then you are most likely to conclude that this theme is for FMCG goodies only. But it is not always the case. Shopify's Crave theme is suitable for merchants who want to streamline their customer's shopping experience and want visitors to blink twice.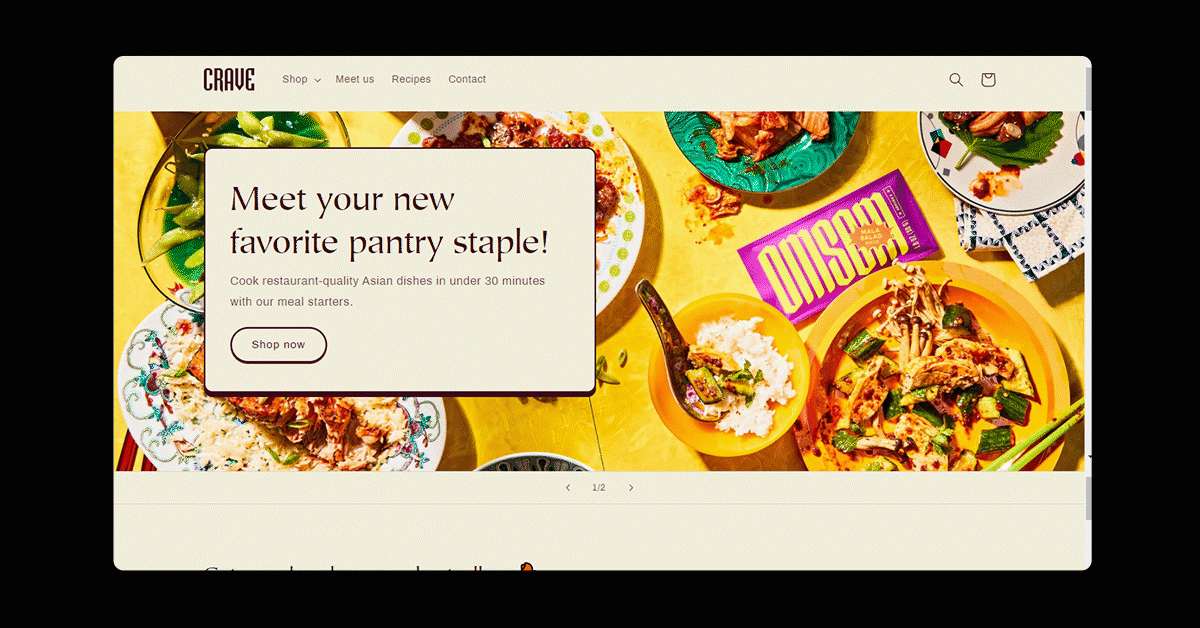 If you have a market-fit product that curbs your customer's cravings, then Shopify's Crave theme is the one for you. Apart from the fact that it runs smoothly with OS 2.0, this free Shopify theme is entangled with a quirky color scheme poised to amplify your suite of offerings. When you optimize this free Shopify theme, feel free to play with its vibrant colors and playful design to dig the best version of your Shopify store. For everything else, there is CedCommerce.
V – Craft:
The above themes were vibrant colors with a sophisticated design layout, and this theme is brewed from a minimalistic approach.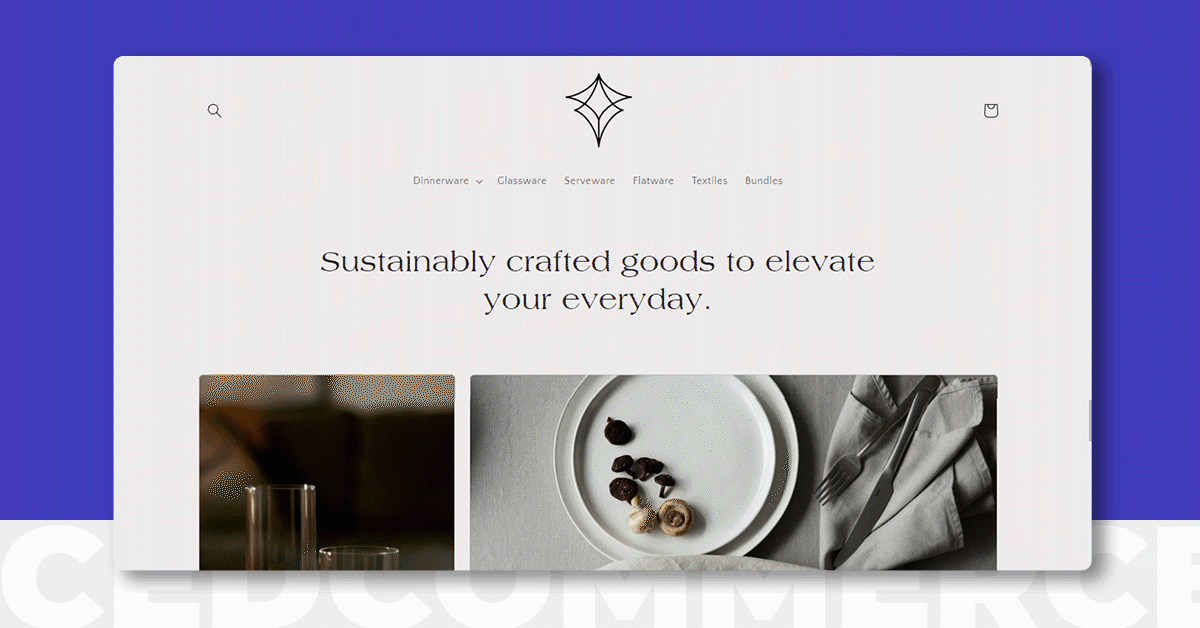 Craft – a free Shopify theme comes with a lot of space to showcase your product's high-resolution images and videos. Suppose you have additional content like lookbooks, shipping, delivery estimates, usage information, or image gallery. In that case, you can create sections across your store's web pages and keep the product in the limelight.
VI – Dawn:
Last (but not least) is the Dawn theme also Shopify's default theme. Like the Craft theme, Dawn is also inspired by a minimalistic approach with balanced attention to imagery and product storytelling.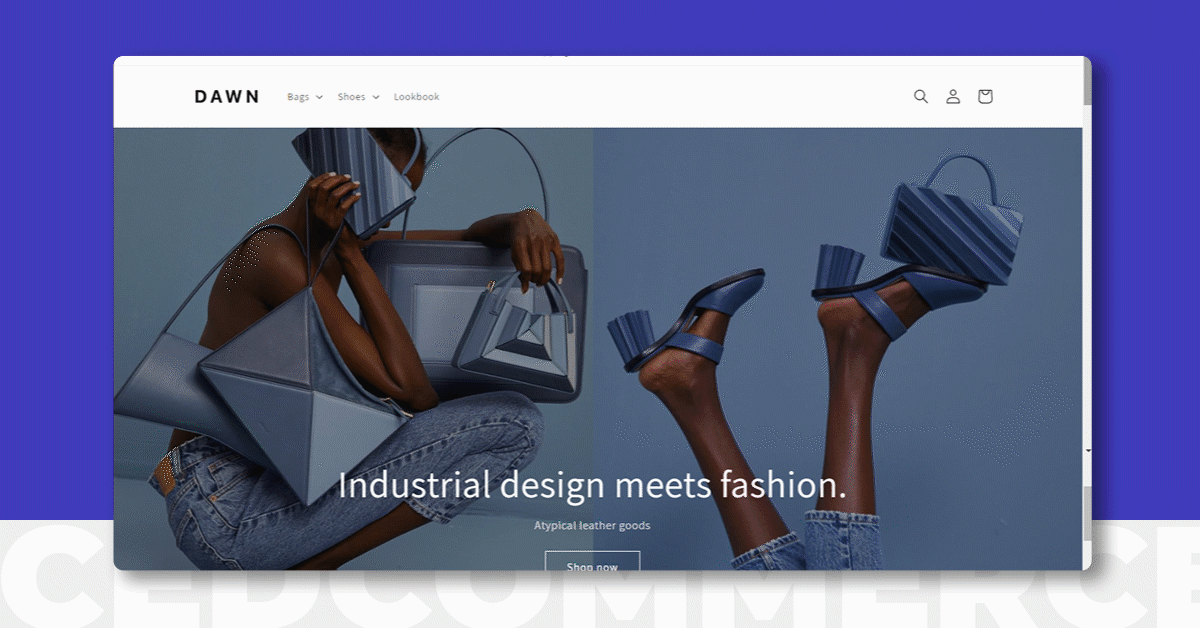 One visible difference between Shopify's Debut & Dawn theme is their results on the core web vitals. Undoubtedly, the Dawn theme outperforms all the parameters of Google's core web vitals, and this alone makes this free Shopify theme stand out from vintage themes.
Introducing Theme Detector by Shopify –
Transparency and convenience to merchants are what make Shopify a class-apart eCommerce platform. Shopify theme detector is a free web application that allows merchants to find out which Shopify theme is being used on a Shopify store.
There are more than 70 premium and free themes and in addition, there are 10K+ customized themes designed by third-party designers. So how to figure out which theme is being used?
You now have the answer to it – the theme detector.
By now, You Have a Free Shopify Theme by Your Side. What Next?
After choosing a suitable theme for your store, you need to download and activate it from your store's backend. Now, you are all set to play with the look-and-feel of your store with Shopify's all-new theme editor.
This freedom of adding blocks and sections is just one of the many features of Shopify's OS 2.0. If you truly want to blend this new framework with your storefront then you can connect when our team of store developers. Here's how our team of experts can help you –
We can create a fully customized product page based on your brand values.
We customized add to cart button, quantity selector, color swatches.
Organize your header menu in a way that looks clean and worth navigating.
Hide certain products or collections.
Let's have a look at how these merchants are truly enjoying the lavishing features of Shopify's OS 2.0 and creating a disrupting brand in their respective niches.
Best of Thai – After finding their kick in spicy Thai food, Best of Thai approached our team of Shopify experts to work on their storefront design. This store runs on Crave – a free Shopify theme. Our team of experts designed a store that represents this store's tanginess. Here's how the store looks now –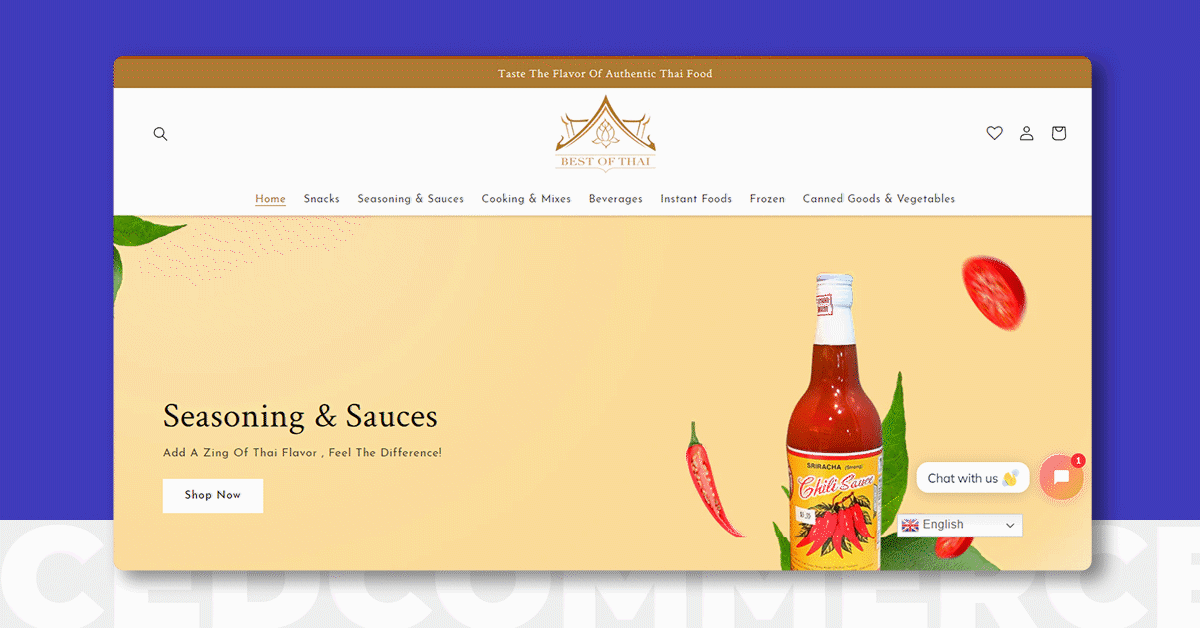 Next on the list is Soulful eats – kickstarted by 2 ladies passionate about cooking mouth-watering, nutrient-rich delicacies. Soulful Eats store runs on Dawn – Shopify's default theme. When Soulful Eats approached CedCommerce, they wanted their visitors to drool just by hovering over the store. Our team of experts redesigned the store high on burgers and coffee. The store now looks like this –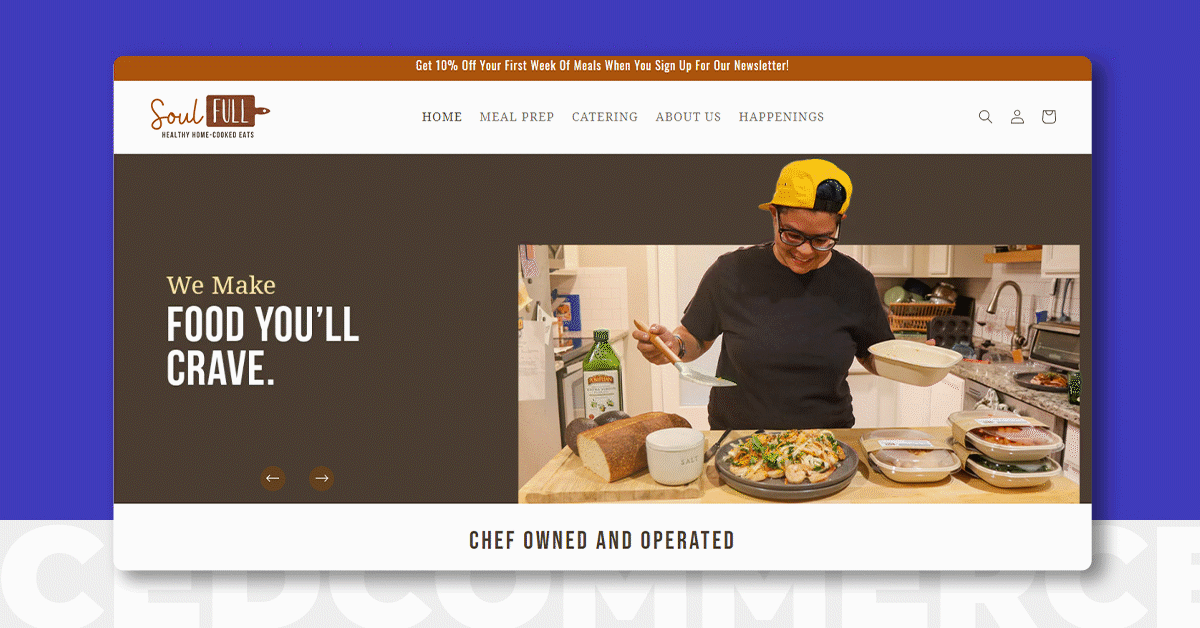 Some FAQs –
Before we end the topic, here are 4 FAQs by merchants that would help them in choosing the right theme. Answers to these questions are coming straight from our team of store developers. Feel free to connect with them and discuss the scope of your store.
With Shopify & CedCommerce by your side, you can worry less about whether something like this is possible or not because we believe in making commerce simple and accessible to all.
Q1. I have a single product Shopify store. Which theme should I choose?
Solution: If you are looking for a single product theme then you might consider a third-party theme marketplace. You can also search Shopify themes that are specially designed for small catalog stores.
Q2.How customization is Shopify?
Solution: Shopify is known for customizations and you can be least bothered about the scope of customizing your store. From your header menu to CTA buttons, everything that you can think of has the scope of customization.
This is where Shopify experts come into action. As a merchant, you would like to get indulged in the trade show, new product development to scale your business. For customizing and maintaining the standard of your store, you can hire Shopify store experts.
Q3. How to migrate to Shopify OS 2.0?
Solution: You can migrate your storefront to 2.0 in either of the following ways –
Download a theme that supports Shopify's OS 2.0.
Download a new version of your current theme.
Migrate your current theme manually.
Q4. Should I download a free Shopify theme or a paid one?
Solution: People purchase a paid theme because of its look-and-feel, user experience, and responsiveness. But because Shopify has a limitless scope of customizing a theme, you can choose a free theme. You just need to get in touch with a store expert.
Conclusion –
All in all, Shopify's OS 2.0 is the gamechanger in the world of eCommerce. If you want to sell online through an adaptive storefront then you should consider Shopify 2.0 framework because it is loaded with exciting features, and themes that will change the facet of your business.