Selling on Marketplaces: Your Ideal Customers are here.
Running short of time? Get PDF of the blog in your mail.

Play Now
In the wake of comScore and USPS study last year, it is found that customers still prefer marketplaces. 97% of those who shop online first browse products on marketplaces, clearly stating the credibility the marketplaces have built with their respective audiences.
Also, there are several reports which incline the discussion towards selling on marketplaces, one study by State of the Inbound Report which states that 63% of online marketers still find attracting relevant traffic to their website the biggest hurdle. So clearly there is problem devising a long-term sales strategy that brings relevant traffic.
So in these circumstances, the seller who lack online marketplace expertise, can take online marketplaces route till they figure out strategies can bring leads to their website.
There is another report, by Statista, which favors the statement – Merchants should sell on marketplaces, multichannel route – The Year-on-year report for of e-commerce growth which shows already established marketplaces comprising the significant part of the brand.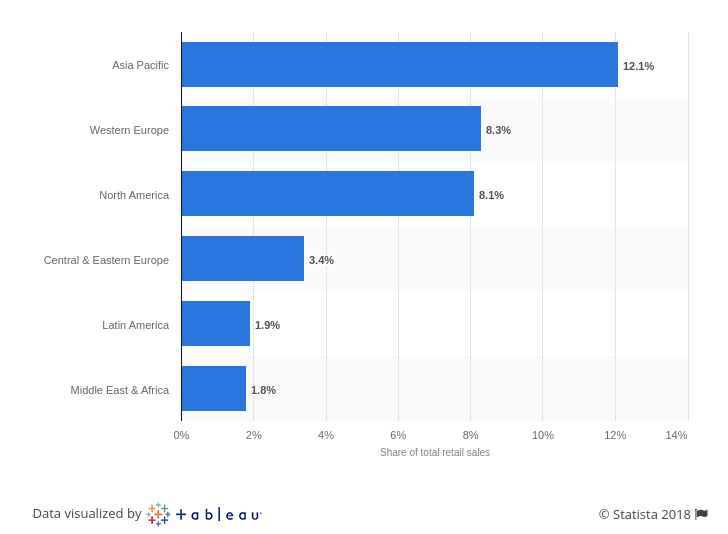 Selling on Marketplaces:
There are hundreds of e-commerce marketplaces where customers visit. Although Amazon dominates, still there is no monopoly. Some have expertise in some product category – Newegg for computer-related products; sears for large appliances and Etsy for handmade and craft products – then there is Amazon, eBay, and Walmart. These are universal marketplaces.
Now that you know where to sell. It is always better to get the basic knowledge of the best from each continent across the world. What are their commission fee, the pre-requisites, necessary, best product categories, and countries where they're present!
Selling on Marketplaces: Popular Marketplaces of North America
 

Amazon
Walmart
eBay
Jet
Etsy
Commission:
7-15%
6-20%
7-11%
5-15%
3.50%
Active Users:
304 Million

Total No. of visitors at Walmart on Nov. 2017 551.64 million.

167 Millions
4 Million+
29 million
Monthly fees:
$39.99

Issuance fee: $3.00 Reload fee: $3.00 (free with direct deposit and Walmart Check Cashing*) Monthly maintenance fee: $3.00

Monthly subscription: Basic $24.95/month
Premium $74.95/month
Anchor $349.95/month
$50/year membership fee which has since been disbanded.
US$ 0.20 Listing fee
Product Categories:
Clothing, Electronics, Grocery & Gourmet Food, Household, Professional Services.
Electronics, Movies, Music & Books, Home Furniture & Appliances, Home Improvement & Patio Clothing, Shoes & Jewelry, Baby & Toddler, Toys & Video Games, Food, Household & Pets, Pharmacy, Health & Beauty, Sports, Fitness & Outdoors, Auto & Tires, Photo & Personalized Shop.
Electronics, Clothing, Household and Furniture, Tools, Sports and Fitness
Electronics, Household and Home Appliances, Tools, Sewing Machine, Grocery & Gourmet Food.
Clothing, Health & Beauty, Home Improvement & Appliances, Toys & Video Games
Country:
UK, France, Spain, Italy, Germany, Netherlands, Australia, Japan, Mexico, Canada, U.S.A, India, China, Brazil.
Africa, Argentina, Brazil, Canada, Central America, Chile, China, India, Japan, Mexico, United Kingdom are the Countries where Walmart has their Operating unit.
North and South America — US, Canada, Argentina, Brazil, Mexico.
APAC — Australia, Japan, China, Korea, Hong Kong, Malaysia, India, Singapore and Taiwan.
Europe, Middle East, and Africa — Belgium, Ireland, Russia, Czech Republic, Spain, Denmark, Israel, Sweden, France, Italy, Switzerland, Germany, Luxembourg, Turkey, Netherlands, Norway, Poland, and the UK.
The United States of America.
United Staes, Berlin, Germany
Dublin, Ireland
Hudson, NY
London, United Kingdom
Paris, France
San Francisco, CA
Toronto, Canada
Selling on Marketplaces: Popular Marketplaces of EUROPE
 
Fruugo
Zalando
Rakuten
Fnac
Allegro

Commission:

15%
Above average payout of 8% for an average basket value of £90.
8-12%
8-12%
2-10%

Active Users:

25 Million
Number of active Zalando customers in Q2 of 2017 is 21.2 million.
105 million
10 million
14 million

Monthly fees:

No Monthly Fees
No Info found
JPY: 19,500
39.99 Euros
No info found

Product Categories:

Sports and Fitness, Beauty and Health, Clothings, Home Improvements and Furniture, Toys and Video Games.
offer products in the following categories: clothing, shoes, sportswear and equipment, accessories.
Household and Furniture, Electronics, Clothings, Sports, and Fitness.
Electronics, Music and Movies, Toys and Video Games, Sports and Fitness.
Electronics, Clothing, Beauty and Health, Household and Furniture, Electrical appliances.

Country:

EU: Austria, Belgium, Denmark, Finland, France, Germany, Ireland, Italy, Luxembourg, Netherlands,
Poland, Portugal, Spain, Sweden, and United Kingdom.
Europe (non-EU): Norway, Switzerland, and Russia.
Rest of the World: Australia, Canada, New Zealand, South Africa & USA

The company operates in the following European countries: Germany, Austria, Switzerland, France, Belgium, the Netherlands, Italy, Spain, Poland, Sweden, Denmark, Finland, Norway and the United Kingdom.
Rakuten's business is based in 29 countries and regions. America, Brazil, Japan, Hongkong, Taiwan, South Korea, France, Spain, Singapore, China, Taipei.
France, Spain, Italy, Brazil, Belgium, Portugal, Switzerland.
Poland and Germany
Fruugo
How to start selling on Fruugo?
Register here for a seller panel: https://sell.fruugo.com/en/registration. This form contains basic details.

Once these details have been verified by Fruugo Retailer Team. They would provide you with the exclusive access to there Retailer Sign-up form – and you are at the next step to selling on Fruugo.

Once you have signed up you're ready for you to submit your product feed. Fruugo team will be available throughout this process to answer any questions you might have and to verify your feed.

Once your feed is approved you're only one step away from going live.

Finally, you need to complete simple Fruugo Shipping Template. Using a choice of the four methods of calculation available, you can tune your costs for each country and offer two different levels of service.

That's it! Team and system automatically do the rest. You are now live, with your products available to Fruugo customers across the world!
What is mandatory to start selling on Fruugo?
The requirements which Fruugo Retailer Team will discuss with you are as follows:
Do you have GTINs for all products (EANs / UPCs)?
It is a mandatory requirement on Fruugo that all the branded products must have a valid GTIN unless you are the manufacturer.
Can you supply ship Internationally?
It is a mandatory requirement on Fruugo marketplace as it is a cross-border marketplace that retailers must ship Internationally and not just in their domestic country.
Do you work with one of our Platform Partners?
We have pre-built integrations with a number of a market leading platforms which will allow for a seamless integration process.
Are you able to supply us with an automated product feed?
If you do not use one of our Platform Partners you will be required to supply us with an automated product feed (which does not require manual upload) in the Fruugo specification as a mandatory requirement to maintain your product information – stock, price etc.
They will also be interested to know:
The number of products you

intend

to list on Fruugo.

If you currently

selling

on any other marketplaces.

Whether you are VAT/Sales Tax registered.

The timescale in which you intend to complete your integration

process

.
Zalando:
Criteria for selling on Zalando:
To be considered to sell on Zalando:
1. You must have your own online shop if you don't then get a website before you apply to avoid outright rejection.
2. You should sell clothing, shoes, sportswear and equipment or accessories.
Other details that are required:
Sellers must have valid trade/ business license or extract from the commercial register.

Sellers must have a registered office in Germany.

Sellers must offer free delivery, returns, and a 100-day free returns guarantee.
Are you interested?

Does your brand have an online shop and meet all of the above-listed criteria? Then would you like to be part of our exceptional shopping experience? If yes, then send us an email to partner-programme@zalando.co.uk introducing your brand.
Rakuten:
Apply for a seller account
It takes about 10 minutes to complete the process. Contact us at merchants@marketplace.rakuten.com.
How long does it take to get set up?
We recommend allowing about 3-10 business days for the process. The speed of your integration would be dependent on dictated by your catalog size and your resources. Our team is always eager to help you through the process.
 

How does the seller get paid?
Rakuten pays you once a week directly into the seller business checking account via an ACH transfer.
I'm an international seller. Can I sell on Rakuten.com?
At this point in time, there are a few other requirements to sell on Rakuten.com if you are not located in the US.
– You must have US Checking Account and US Credit Card
-Must have US customer service phone number and address.
Fnac
Requirements:
1) Required EANs

First of all, the most essential is to know that only products with an EAN (or an ISBN) are only accepted by Fnac.
=> A product which has no international product identifier (EAN or ISBN) will be rejected by Fnac marketplace.
2) Publications frequency

Publication ( to the folder "replace" in Fnac FTP) are occurring 30min before the integration batch of Fnac, so around 3: 30, 11:30 and 19:30.
3) Products matching

Publication works by matching your products to existing products in their database.
Only products that are already known in Fnac database will be published. If you want to publish products that are not in their database yet, then you would have to contact your Fnac account manager.
Integration process:
1) Create your Fnac account on https://mp.fnac.com/vendre/pro
2) In the tab "My listings", add Fnac
3) Enter the Fnac commission in the tab "category"
4) In the tab "Mapping", be sure that all required fields have been completed, if it is not the case, the feed will not be active. Do not hesitate to use personalized fields to add some information to the source feed
5) If you have products without EAN, via the field 'commentaire interne' by putting them "out of stock"
6) If needed, you can choose the products you want to send via the tab optimisation.
Allegro:
How to start selling on Allegro in Poland?
What are the first steps to getting set up on Allegro?
The registration on Allegro is quite simple and straight-forward. To sign up just go to https://allegro.pl/, click on "My Allegro->Sign Up" and follow the instructions.
From your particular Allegro account, a link can be followed to create a PayU account (the wallet collecting all funds from Allegro).
Do a seller need a local bank account?
No, there is no need for a local bank account. Funds from PayU can be remitted to GBP bank accounts.
How is currency processed?
All the payments on Allegro are in Polish Zloty (PLN). PayU stores and sends the funds in PLN. The local bank of the recipient would then converted from PLN into GBP.
What is the standard/recommended shipping and returns policies?
Free shipping is highly recommended. A local returns address is also highly recommended as well but is not mandatory.
What is the process of getting set up for a UK seller?
The process is the same as with local sellers. It's worth noting that everything on the site is in Polish so it'll really help if you have a Polish speaker in your business, language is probably the biggest barrier to selling on Allegro marketplace.
What type/size of sellers are Allegro looking for?
Allegro covers all product verticals, so there are no restrictions for the sellers.
What are the best ways to handle stock?
Best option to handle stock is to have local warehouse if possible, if not- a quick and free shipping is highly recommended.
Any other specifics?
Both the listings and the customer service should be in Polish. The listing design is customisable so this is something that the sellers could take advantage of as well.
Is there anything else I need to know before signing up to Allegro?
No, that's it. If you're a marketplace seller you already have all the skills you need to be successful on Allegro. The only things you'll find different from others are the language and the currency. The currency is easily handled, so find a Polish speaker to work with you and you are ready to get started.
Sell on Marketplaces: Popular Marketplaces of ASIA
 
Flipkart
JD
Aliexpress
Alibaba
Taobao
Commission:
5-25%
2-10% depending on your product category
5-8%
5% to 8% of the transaction value.
2%-5% of your transaction amount according to different categories.
Active Users:
75 million
153.6 Million
488 million in Q3 in 2017.
488 million in Q3 of 2017.
529 Million
Monthly fees:
Nil. There is no subscription fee involved in selling your products on Flipkart.
$1,000 USD annual fee for selling on JD Worldwide
10,000 to 30,000
Rs. 1,08,999/- including all taxes for One year
No info found
Product Categories:
Electronics, Clothing, Furniture and Fixtures, Electric appliances, sports, and fitness
apparel and home furnishings, FMCG, fresh food, home appliances and others
Clothing, Electronics, Sports, Health and Beauty, Kids and Baby, Automotive, Home, and Garden.
Agriculture, hardware, apparel, health and medical, home and garden, automobiles, lightings, computer hardware and software, shoes and accessories.
Accessories
Baby & Kids
Clothing, Shoes
Bags & Handbags
Jewelry
Tea & Food & Supplements Watches
Cameras & Photo
Cell Phones
Computer & Networking
Electronics
Sports Goods
Bedding, Cushion, Curtain
Country:
India
JD.com sells worldwide
Aliexpress sells worldwide.
Asia, America, Europe, Africa, Middle East.
No info found
Flipkart:
Selling on Flipkart is easy and can be started from the Registering For a seller panel.
Some of the details that must be provided and verified during the Flipkart Seller registration process include:
Name

Email address

Phone number

Pickup address/business address

Categories of product the business is interested in selling through Flipkart

Business registration documents

Tax registration documents
Becoming a Flipkart Seller – as a Company is one of the most preferred methods as it provides a limited liability protection to promoters, quickly scale-up operations, easy transferability, ability to take on investors or partners and separate legal entity. Following are the documents that must be submitted to a particular Company:
Identity Proof
Copy of Certificate of Incorporation of Private Limited Company

Copy of Memorandum of Association

Company PAN Card
Address Proof
Company Telephone bill (Fixed line)

Company Electricity bill

Lease or rental agreement
JD.com:
To become a seller of JD marketplace, Register Here.
The basic requirements for a seller on JD marketplace are outlined below:
a. You need to be an established non-Chinese company (you need products and a track record, before you can start selling).
b. You need to be a brand owner, or at least license a brand. Thus, you must be able to provide trademark registration documents or licensing agreements.
c. You need to have a USD bank account.
d. You should, preferably, not already launched your products in China.
Further, you must also provide business registration documents, ID of the major shareholders and directors.
Aliexpress:
By following the instructions below, you can initiate your free membership at Aliexpress.com.  Please press the link below and follow the instruction on screen Create your AliExpress account >> HERE <<.

In the top right corner of the page you will find "sign in | join". Once you move your mouse over this you will have 2 options to choose from:
First one, Sing in via Facebook, which is the simplest way as your Facebook info and email will be transferred in to AliEpress account without any additional information required except password.
Second is a registration by choosing the option Join Free. Once you selected this you will be required to provide an email address (which will be your AliExpress User Name) and Verification Code.
Now you will need to check your email address and press on the link provided to activate your AliExpress account, which they will ask you to set up Password and provide with your Name and Last Name, once completed your account is ready to use.
Taobao:
Create an account: If you are Chinese, you can very easily create an account on Taobao
To sell on Taobao marketplce, Register HERE.
2 – Promoting your particular store: Value-added services and customization help you to promote the store:

3 – Being Active on the Taobao BBS (Bulletin Board System, commonly used in Chinese to refer to website forums).
To register a Taobao store, it requires both a Chinese residence card (Shen Fen Zheng) and a banking account in China in order to have your Alipay account verified.
Sell on Marketplaces: Popular Marketplaces of North America
| | |
| --- | --- |
|   | Mercado Libre |
| Commission: | 10.0 – 16.0% |
| Active Users: | 160.0 million |
| Monthly fees: | You don't pay listing fees or sales commissions when listing and selling your products on MercadoLibre CBT. |
| Product Categories: | Electronics, Cell Phones, and Accessories, Fashion, Home & Garden, Health & Beauty and Toys. |
| Country: | operate in 13 countries including Brazil, Mexico, Argentina, Chile, and Colombia |
Mercado Libre
Before you are getting started with the MercadoLibre Cross-Border, you should fulfil all of these important requirements:
You need to be a US-based seller

along with

a US banking account.

You need to be able to ship your products quickly to the MercadoLibre CBT warehouse in the US .

It

fulfills all shipments to Latin America from their warehouse in the US. The package should

be delivered

at the US warehouse within

the duration of

five days after purchase to avoid long shipping times to the buyer.

You

would

be capable to

print provided DHL label for orders that you will use MercadoLibre's DHL account for shipping direct to buyer.

You should b

e ready to answer buyers' questions

– MercadoLibre CBT provides a tool to reply to listing and order questions in English, Spanish, or Portuguese.

Offer competitive p

rices for your products.
About CedCommerce:
Featured among the winners of Technology Fast 50 India and Technology Fast 500 APAC for two years in a row, CedCommerce is the official Channel Integration of behemoths such as Walmart, Sears, Best Buy, and Newegg, etc. facilitating onboarding of e-commerce sellers on these e-commerce platforms.