Multiseller Marketplace Solution: For Enriching Ecommerce Experiences
Running short of time? Get PDF of the blog in your mail.

Play Now
What is a multiseller marketplace?
A multiseller marketplace is an online marketplace business where multiple buyers and sellers initiate or conduct transactions. More importantly, multi seller ecommerce sites act as a digital middleman that connects buyers and sellers on a common platform. Furthermore, sellers can find buyers and manage and scale their businesses efficiently. The store or marketplace owners, buyers, and other sellers are involved in this business model. Additionally, store owners and sellers both can be in the area of selling products. Here the store owner is the marketplace administrator, but a multiseller marketplace solution enables the sellers to manage their respective products. Amazon, Flipkart, Airbnb, and eBay are some of the best marketplace platforms.
Features of a multiseller marketplace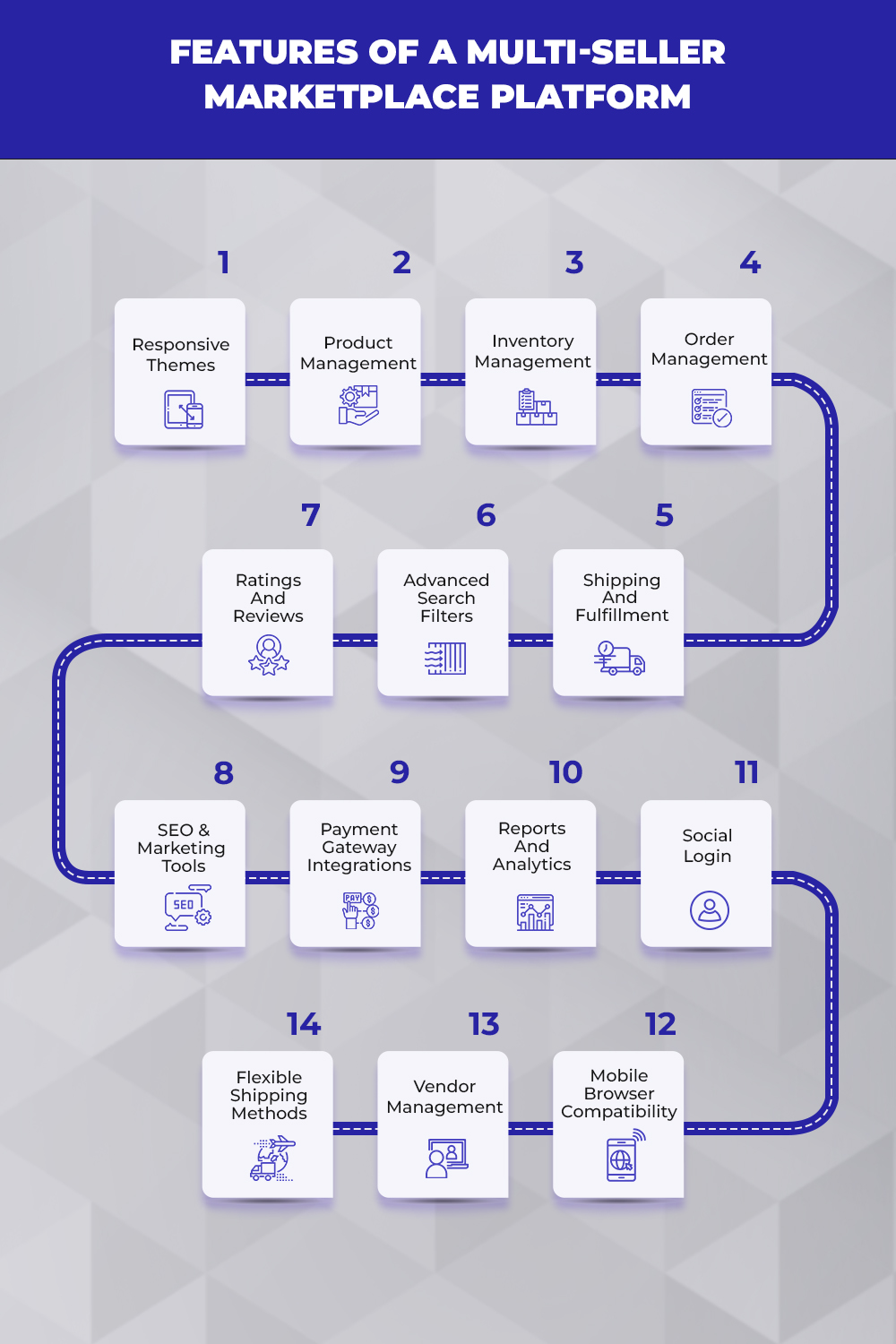 Are you checking out all the avenues? Or, are you exploring every nook and cranny of the internet in pursuit of the best multi seller eCommerce solution? At the same time, are you unsure of putting your hard-earned money into the higher-priced solution?
In that case, your search ends at Cedcommerce's open source multiseller marketplace solution. More importantly, our solution includes all advanced eCommerce features and functionalities, and these are developed to:
Cater to the aspirations and dreams of Magento sellers
Honor their hard work
Respect their expectations of getting an affordable solution
Fulfill all the essentials of a marketplace
Furthermore, CedCommerce's multiseller marketplace solution includes an extension. Additionally, it converts your single-owned Magento store into a full-fledged and vibrant multi seller ecommerce marketplace. Besides, the Multi-seller app converts your online marketplace website into a mobile app.
Difference between single-seller stores and multi-seller marketplaces
The table highlights the primary differences between the online single-seller stores and multi-seller marketplaces: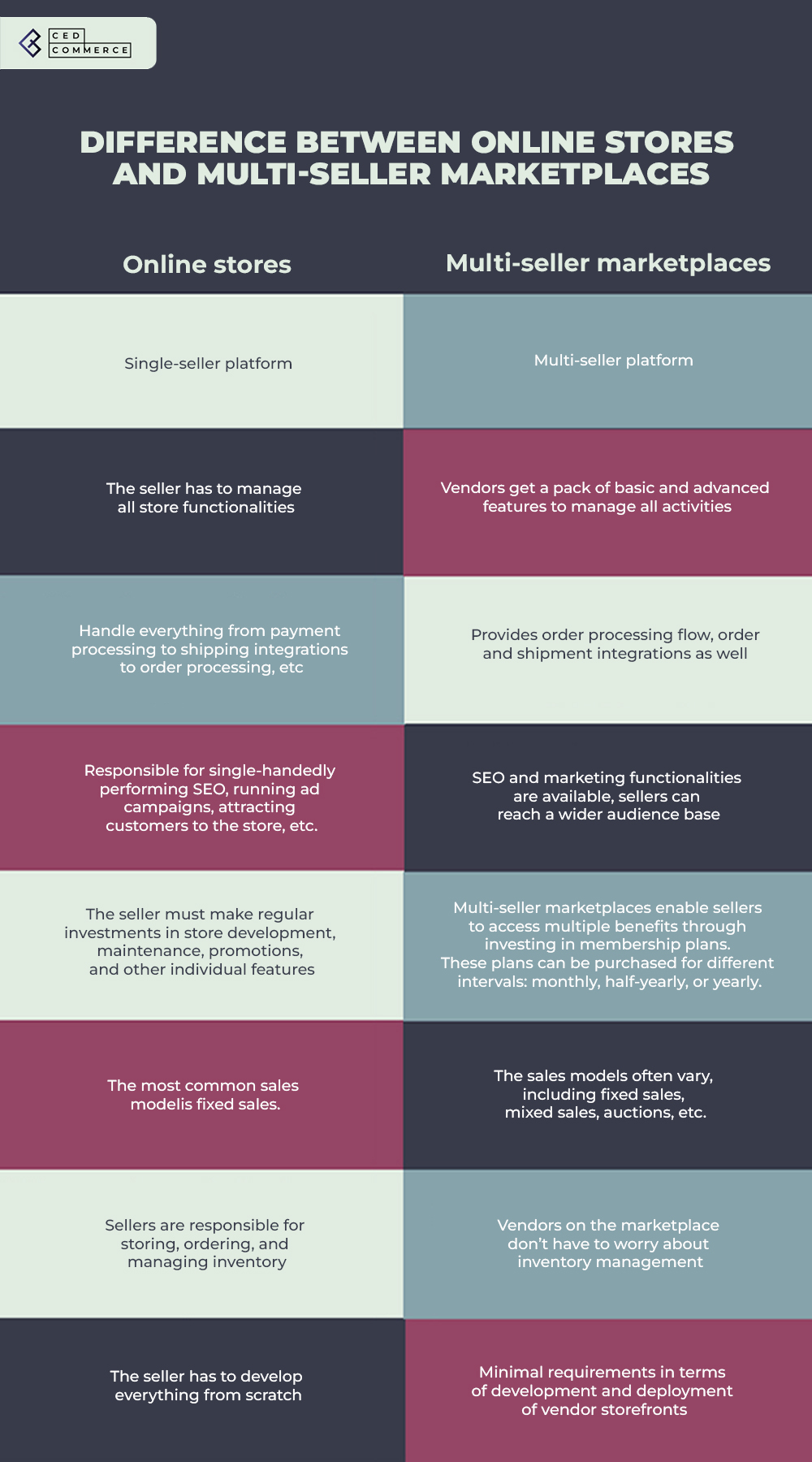 Magento Multiseller Marketplace Extension
Multi-seller Marketplace Extension for Magento 2 transforms your Magento 2 store into a multiseller marketplace. Furthermore, the Basic Version costs $60 now. It has all the basic functionalities required to set up the multi seller eCommerce shop. At the same time, the Platinum version consists of popular and highly used add-ons to extend the functionalities of your multi-seller marketplace. For $299, it provides the complete package with Basic Marketplace extensions and 9 necessary add-ons. You can aim for the following:
Firstly, enhance your eCommerce store with the new and advanced functionalities
Secondly, make it more automated and convenient for vendors to use
Moreover, in the Upgraded Marketplace Platinum Package, Admin can select from 2 themes.
More importantly, store owners can keep track of vendors' products and sales. Additionally, vendors can charge a commission – fixed, percentage, or variable – from them. Furthermore, all vendors will have a responsive panel to manage their products, sales, shipping methods, and reports. Moreover, store owners can monitor and manage all these activities.
What can you accomplish with Magento 2 Multiseller Marketplace Extension and its Add-ons?
1. Vendor Business Profile:
Vendors can have a personalized shop to enter the shop's name, company name, logo, banner, and phone number. Furthermore, they can link their social media profile links (Facebook, Twitter) on their shop page. More importantly, these enable them to brand their shops which leading marketplaces restrict them from individually.
2. Multi-Currency & Multi-Language Support:
E-commerce transcends geographical boundaries. Hence, your and your vendor's customers can be located in any part of the world, speak different languages, and use different currencies to transact.
3. Groups & Membership Plans:
Multi-seller marketplaces facilitate creating and managing Vendor groups. Furthermore, the admin can edit their access to different marketplace features. More importantly, you can create different Membership plans to offer distinct privileges depending on these groups.
4. Built-In Product Types:
You and your vendors can sell all the product types supported by Magento 2. These include the following:
Simple
Configurable
Bundle
Downloadable
Grouped
Virtual
Additionally, you and vendors can Upsell, Cross-Sell, and Related Products & Custom Options.
5. Shipping Methods:
Firstly, Cedcommerce Multi-seller Marketplace solutions offer multiple shipping methods.
Secondly, vendors can use these add-ons to calculate the prices vendors-wise or the site owners.
6. Payment Methods:
Firstly, multi-seller ecommerce Marketplace has payment gateways

like PayPal, Stripe, etc., in addition to Cheque/Money Order and Bank Payment.

As a result, the transactions between Customer to Admin or Vendor to Customer can be carried out swiftly.

Moreover, you can use the Magento 2 payment method extensions to get the payment from the customer. Eventually, it gets credited directly to Admin's account.
7. Email Notification:
Communication is the most important pillar in establishing trust with customers. Therefore, emails are sent to the Vendors and the admin during every important event.
8. Commission and Transaction:
Firstly, multiseller marketplace solution supports Fixed rates, Percentage rates, and Variable commissions.
Secondly, you can set commission product-wise, category-wise, and vendor-wise.
Moreover, it also has an interactive GUI to make payments to the Vendors.
9. Vendor Messaging:
Whether it is a 'Thank you' message or resolving queries Vendor Messaging Add-on is here. More importantly, in a multiseller marketplace, you can conduct conversations that can be managed separately.
10. Responsive Vendor Panel:
Firstly, a responsive Vendor Panel theme enables Vendors to manage their accounts, products, and sales.
Secondly, they can access information from PCs, laptops, tablets, and mobile phones.
Lastly, no matter their device, it will display 100% functionality.
11. Vendor SEO Suite:
Mere existence on the web is obsolete. Therefore, each product has its Meta tags and description. The site owner can put the Vendor Panel as a sub-domain to make it multi-vendor eCommerce open source platforms SEO friendly. Further, vendors can set their domain or subdomain for their shops if allowed by Admin.
12. SMS Notification:
There will be SMS notifications, apart from Vendor messaging. It helps track order placement, Order Status changes, Registrations, etc. Altogether, these will keep the Customers, Vendors, and Admin updated with the current activities of the marketplace.
13. Advance Reports:
Vendors can see Out of Stock, Sold Products, Sales reports, Product Views, and Payment Reports from the vendor panel. And admin, too, can view the reports related to multiseller ecommerce marketplace, which includes Sales, Products, and Returns reports.
14. SLA:
More power is given to the admins here to regulate cancellations and late delivery of products. They can control the late delivery and cancellation of orders by charging the fine from vendors as per the Service Level Agreement between the Marketplace Owners and their Vendors concerning cancellation/completion of orders from vendors.
15. Advance Shipping & Order Facility:
Vendors can assign tracking numbers to their orders based on the chosen shipping method. They can also raise invoices and manage orders from their dashboard easily.
16. RTL Compatibility:
The languages that follow Right to Left formats like Persian, Hebrew, and Arabic can also be integrated with the marketplace.
17. Order Management:
A multiseller marketplace facilitates the vendors to manage everything from the Vendor Panel. The orders, Invoices, Shipment, and Credit Memo (in the case of a refund) – all can be done with this.
The multiseller marketplace is developed with a holistic approach to solving entrepreneurs' problems. Also, as the majority now shop on their phones, it was necessary to offer a mobile-friendly solution. Therefore, the Multiseller App solution is also offered to entrepreneurs. 
18. Page Builder (Magento 2.4.3 and above):
It includes a page builder to make your Magento store more appealing. So, you don't need to invest in hiring coders. With page builder, you can update the design and layout of pages to display more products in an organized way.
Page builder aligns with SEO guidelines that help in a better search appearance. Page builder also helps to improve the responsiveness of the page.
19. Multi Warehouse Management:
The vendors can create multiple warehouses to manage their inventories. As a result, vendors can select amongst the available sources to create a shipment. With this, inventory and shipment management becomes easier. The admin holds the overall power and decides the maximum number of warehouses a vendor can have.
20. Integration with Vendor's Magento, Shopify, Bigcommerce Websites:
This integration helps to sync products from other channels to the marketplace. Vendors don't need to manually update their stocks, product description, or price at all places. More importantly, it gets updated automatically with this integration. It even helps in order synchronization.
Advance Marketplace Extension
It is a custom-made Magento 2 marketplace solution to aid you in creating a B2C marketplace platform. Moreover, with this extension, you can get the best and most used features in the industry. It comprises in-built extensions, Magento 2 Multi-Vendor add-ons, Shipping methods, and Payment modules to develop a website on the likes of Amazon and eBay.
Now, It's the time to talk about Multiseller App:
We split the CedCommerce Multiseller Marketplace app into two different apps.:
Multiseller Marketplace BUYER APP
Multiseller Marketplace VENDOR APP
1. Multiseller Marketplace Buyer App:
It is a fully customer-centric app. Thus, customers can view all the products, vendors' shops, and their profiles to make a choice. They can place an order and expect delivery with this app. Furthermore, customers will also be able to view the vendor shops and their profiles.
Buyers dedicated app: Marketplace-focused users are the buyers. They can choose their desired products and make them add to the cart, then place the order for those products.
Sellers Products publications: With the multiseller marketplace solution, sellers can post their products to the marketplace using their mobile devices. Admin will review the products and make them live on the Marketplace.
Choose your Seller and Dedicated shop page: Customers will get to select the appropriate seller. By choosing the seller, customers can reach the seller shop page and filter the sellers' products as per requirement.
The flexibility of Shopping: With an app comes the flexibility of buying irrespective of place; just search and choose the product that customers want.
Review and Ratings for Seller: Customers can review the products and rate the sellers. The Review will decide the performance of any marketplace shop.
Most Payment Method Support: Multiseller Marketplace app supports almost every payment method. There is no restriction on payment method support that can be integrated with the Buyer App.
2. Marketplace Vendor App:
The second app is for Vendors. Vendors are the most important entity of the Marketplace. Moreover, vendors can come to the Marketplace and get themselves registered. After verifying their account, they are eligible to list products on the Marketplace.
The seller can register through the app: Sellers can register themselves by signing up or through Social login account signup.
Add Products for Sale: All the product types supported by Magento can also be sold on this app. The Vendor can easily add their products through the app. Vendors instantly get product approval/disapproval notification.
Manage & Process orders: As soon as the order is placed for the vendor products, vendors get an instant notification. They can then easily process the order.
Manage Transactions: Marketplace Admin can release the payments easily for the vendor's completed orders. 
Set Shipping and Payment Methods: The vendor can set his shipping and payment methods using his app. Based on the shipping method, rates will show.
Therefore, Cedcommerce Multiseller Marketplace Solution is the real affordable solution for all entrepreneurs dreaming of expanding their businesses.
Create your online marketplace
And with these solutions in place, it is a matter of hours to expand their outreach.


Why sell your products on eCommerce stores? Leap beyond a web store, build your eCommerce marketplace, add multiple sellers, and develop a versatile product range. Why earn only from your product? Earn on sales from every vendor. Watch this video.
Thanks for your interest!
Team Cedcommerce