How Darrin took his business Moondigging to the moon height and never looked back!
Running short of time? Get PDF of the blog in your mail.

Play Now
"And those who never stop, make their way out of the woods."
The beginning of the journey
Working tirelessly from the past 12 years, Darrin proved this proverb by diversifying his business. Darrin Hanson, the owner of Moondigging has been selling online his products on various platforms as an individual and last year, in 2018 he started up with his own business, Moondigging.
Darrin's firm deals with the manufacturing and selling of various products like men's socks and mittens, women's apparel, bags, footwear, 'mommy and me' sets, etc. Along with this, his beautifully organized website also has products for pet care like pet food and homes and other industrial tools like adhesives, cork, burlap, etc.
Darrin had a knowledge of how to establish an eCommerce setup which, he gained by his experience over the years. A long list of products can be found over his website, among which, many are manufactured by himself and others are manufactured by 3rd party sources.
To bring up everything to this level, Darrin worked so hard and has been consistent on keeping his store aligned with the customer needs.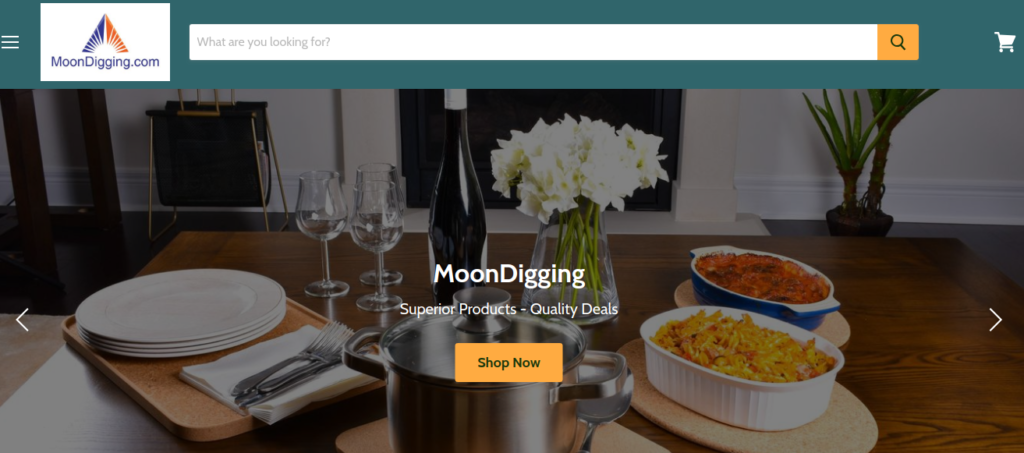 Snapshot of his website
Moondigging rose as a small scale business with around 1-10 workers including Darrin. With his vast inventory, it was getting really troubling for Darrin to work effectively. He tells us that due to the lack of manpower, he often falls back on his schedule and is unable to focus on the other important works that he should be doing.
Problems faced
As the firm started to move on the path of selling, various problems surrounded them which slowed down their speed.
Darrin started to realize that the revenue and conversions that he was seeing, were far too less in comparison to the efforts he was putting in. Working for long hours and giving all his time to his business, was even not surfacing the best results that he was expecting.
Darrin's major hurdles over the time came out to be-
Low conversion rates

Low Return over his investments
No one wants to run a business in a loss and no one does business for incurring a loss in the first place. All these hurdles, made Darrin think about looking up for a remedy to his problems and Darrin came up with the thought of diversifying his business by scaling it.
But, Darrin didn't stop. He kept on doing research on the internet to dig out a solution which can help his business climb the ladder of success once again.
He added, that from a long time he was looking for a solution that can solve his problems of-
Diversifying his business

Attaining More Sales Channel

Scaling of his business

Security and Reliability features
The solution
Darrin tells us that he got recommendations of Cedcommerce and that he himself did quite a research on our company.

Our client's success stories and regular articles helped him a lot to get familiar with our work.
Darrin contacted us looking for a solution to revive the health of his business.
We heard his words and after understanding his concern, we provided him with the exact solution that he was looking for.
We provided him with services which helped him with-
Central Order Management

Synchronization of Inventory

More Potential Customers

Seamless Selling Experience
He chose the following platforms to expand his business-
Bonanza
At first, he opted to scale up on Bonanza with our integration program, where he got to see a little progress but, this was not enough for the volume of his products. There, he listed 67 products in all including the socks and mittens for women and men and other products. His products were classified into two main categories that the had on Bonanza –
Not getting the desired output, he further contacted Cedcommerce for more assistance, and precisely, to expand over more marketplaces.
Wish
The next, he turned his sight towards the Wish platform. This was the time when the results started showing up. He was very joyous at the assistance of our executive Neha, and he praised her in one of his review by saying –
I have really come to appreciate the excellent work performed by CED with regards to their apps, from which I use Bonanza, Wish, and Pricefalls. They are very willing to assist on any issues that arise. I have to put in a special good word for NEHA who is so kind and helpful, willing to explain and even train!!
Pricefalls
The track of success was just walked and Darrin's firm determination, made him to choose Pricefalls as the next marketplace to expand his business. With our integration software, Darrin's business diversed on Pricefalls. He started to receive more orders. This made his conversion rates to go consequently higher and higher. The hard work started to pay off and now Darrin had some ripe fruits to eat.
But he didn't stop here.
Rakuten
After listing 20 products on Pricefalls, now Darrin looked forward at Rakuten marketplace. He was assisted by Neha for expanding his business over Rakuten, he chose our Rakuten integration app and satisfied by the service, he left us with a review appreciating our assistance to him –
I am happy to have a cost effective app which reduces work integrating with Rakuten. Saves so much time. Great customer service, Neha was very responsive and easily arranged for me to work with their team to get integration done quickly, so I can sell easily.
We assisted him by providing him with the Central Order Management facility and Inventory Management features. Darrin saw remarkable growth in the rate of potential customers reaching his store and making a purchase. Darrin says that one of the reasons for choosing Cedcommerce was the affordable services that we offer to our clients.
Overwhelmed by our customer service and technical assistance, Darrin praises one of our executive as

To summarize
With all these stores set up and his business aligned on the track of success, Darrin told us that he was always looking for a product or a service which can cater him with facilities like –
Automation

Diversifying of his business

More sales channel

Scalability

Security and reliability
He was satisfied with the services we provide him with. When asked, he couldn't cease to praise our products by saying –
"It relieved my workload and leaves me poised for future growth at a faster rate."
Darrin is happy because now he can utilize his precious time in other important works and has not to stick with just managing his store.
It is needless to say, how hard Darrin worked to bring up his business to cloud 9.  He worked, continuously and persistently to achieve all his goals. Today, with heads high, he runs his business successfully and is receiving the desired results he always wanted to see on his graphs.

We wish Darrin, growth and success in every aspect of his life.
Related Articles: