Marketplace Connector undergoes phenomenal modifications to power multichannel selling!
Running short of time? Get PDF of the blog in your mail.

Play Now
Holiday season 2021 is in full swing! And through multiple marketplaces, sellers aim to reach customers where they are. For this reason, the Holiday season is said to be the giving time of the year for multichannel retailers. Today, most shoppers only start their research for products and discount deals on marketplaces. With this in mind, here's a write-up that will teach you the importance of multichannel selling. Above all, know-how CedCommerce allows multichannel BigCommerce merchants to sell on leading marketplaces through Marketplace Connector.
To simplify multichannel inventory management and order automation, CedCommerce initiated certain advancements in the Marketplace Connector App in 2021. From five to ten, the app now allows BigCommerce merchants to connect and automate their selling on ten different leading marketplaces at a time.
"The Marketplace Connector App comes with a 7-days free trial and is designed to help merchants efficiently expand their product's reach and crush higher revenue goals effortlessly."
Marketplace Connector app – a quick overview!
To make multichannel selling more straightforward and effortless, Marketplace Connector by CedCommerce streamlines catalog listing, order management, and feed optimization efficiently. Earlier it was just five marketplaces only. CedCommerce now have included more integrations – namely the marketplaces that were industry leaders in 2021.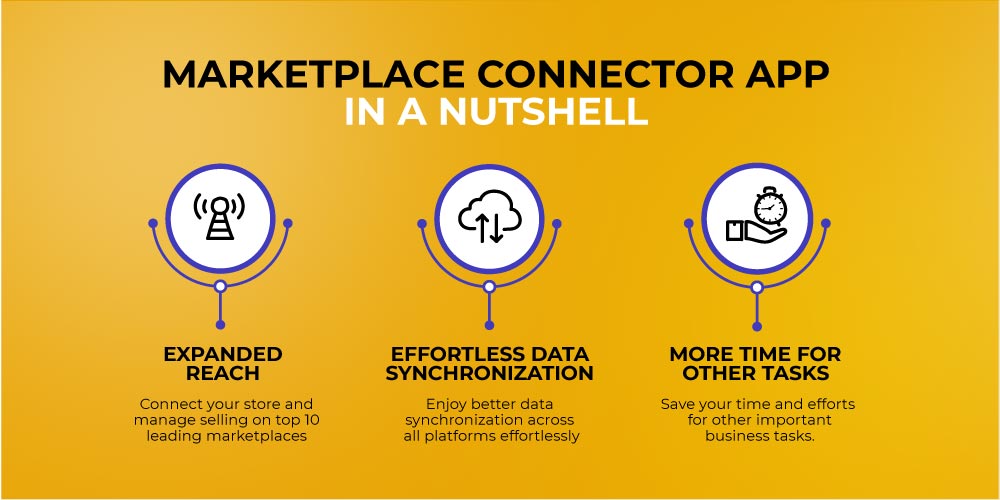 All in all, it is a high-end marketplace automation tool that allows merchants to do less work, manage feeds on more than five marketplaces at a time. And of course, a great app to scale your eCommerce business to new heights.
Exclusive benefits of Marketplace Connector App
The Marketplace Connect app is an all-in-one solution for multichannel BigCommerce merchants who wish to expand their reach to millions through multiple platforms.
The app allows you to sell on the following marketplaces –
Newly Added integrations
Exiting integrations
What else do you get?
Dedicated marketplace expert
A marketplace expert is always aligned to help you throughout the process. The specialists aims become an extension to your own team with consistent dedication and availability. Furthermore, they are well-versed and informed about their concerned marketplaces and always ensure to keep you informed about the latest updates and tips & tricks. So, all-in-all, these experts are there to work hard with you throughout.
Automated Order management
Managing orders individually on each marketplace can be complex and error-prone. That is to say, the slightest mistake can draw a negative conclusion about your business in the customer's mind. With the Marketplace Connector App, multichannel order management and synchronization across multiple channels are made easy and seamless. Merchants will get instant order updates, and data is synced as soon as it is placed.
Error monitoring
The Marketplace Connector App ensures you trouble-free multichannel inventory management and order management. And no matter how many marketplaces you connect your store to, the app eases the entire process. And as a result, you get to focus on selling more rather than troubleshooting unexpected errors. Furthermore, the app helps you to prevent overselling by setting inventory thresholds and allocation rules. Besides, merchants can also monitor order-related issues and resolve them with the help of experts.
Catalog listing and product optimization
Every marketplace has its own set of rules for product listing. For this reason, the Marketplace Connector App let you import and optimize product data according to each marketplace's best practices. With the app's help, multichannel inventory management and product categorization get accurate and granular.
Now that you know the exclusive features and benefits of the Marketplace Connector by CedCommerce explore more about our top 5 marketplace integrations individually-
Wrapping Up
The jingles of Christmas and New Year's excitement are already in the air, and The Marketplace Connector app is here to spice it up. In other words, it can be a go-to multichannel selling solution for Multichannel Bigcommerce merchants who wish to reach customers where they are.
Furthermore, setting up seller's accounts on leading marketplaces, namely Walmart US, Google Shopping, Wish, Etsy, Fruggo, Newegg US, Walmart Canada, Bonanza, and Catch, can be helping in scaling eCommerce business to new heights. Moreover, data management with Hubspot CRM integration is just like adding a cherry to a cake.
So, grab this opportunity and avail Marketplace Connector by CedCommerce app today and start selling on more than five marketplaces at a time.