Make most of Black Friday and Cyber Monday from your Woo-Store.
Running short of time? Get PDF of the blog in your mail.

Play Now
Black Friday and Cyber Monday, abbreviated as BFCM, are amongst the most popular shopping days of the year. As a WooCommerce store owner, you need to gear up days prior in order to take advantage of the increased traffic and sales during these days.
Talking about 2022 stats, the American shopping on Black Friday accounted for $9.12 billion. On the other hand, sales on Cyber Monday, 2021 crossed $11.3 billion in sales.
Now the point is how to make the most of this opportunity with updated marketing techniques and WooCommerce tools? To help you boost your conversion and ROI, we have come up with several pointers for you to check out.
Let's dive into it.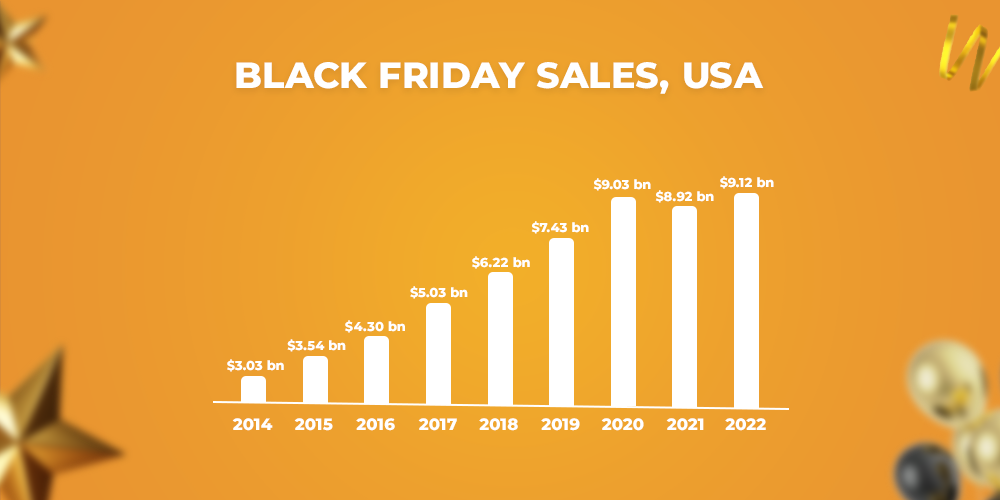 What to do before the Black Friday & Cyber Monday (Black Cyber) festival hits you.
The best practice is to start preparing for the festival beforehand to avoid any last-minute hassles, with:
Make your site more interactive.
Test your site and make sure it's up before an influx of orders arrives. Here are a few things to keep in mind:
Test site's functionality.
Monitor the site's speed.
Check site responsiveness.
Site load testing.
Checkout process.
Put it all on the mobile screen.
Black Friday M-commerce sales were $2.9 billion last year, while Cyber Monday M-commerce sales were predicted to be $3.1 billion.
This year, M-commerce revenues are predicted to increase dramatically over the holiday season. This is why making your store mobile-friendly should be a top focus.
With WooCommerce Mobile App you get to run and manage your online store directly from your mobile. Make your selling process more accessible and efficient with MageNative developed Mobile App for your store. Alongside, provide your buyers' easy downloadable store app for easy and frictionless buying.
Early promotions and start ads.
As you may have noticed, many shops begin their Black Friday sales far before the 27th of November. Following this trend will allow you to reach out to present and potential clients with Black Friday promotions over a longer period of time.
Determine the framework of your promotions first – "Will you give me a 15% discount? Is it true that if you buy one, you receive one free? Are there any flash sales on specific items? Consider what will be the most appealing to your customers. What will pique their interest?" – Plan and proceed strategically.
Smart coupons for WooCommerce.
Give your consumers even more reasons to shop at your store during Black Friday and Cyber Monday with the Smart Coupons plugin. By extending the core WooCommerce coupon functionality, the plugin gives you everything you need to accelerate your sales utilizing discounts, credits, coupons, and vouchers with the following:
Create discounts based on a specified amount or percentage.
Coupons can be generated in bulk and sent out to a large number of people.
Coupons should be issued based on product purchases.
Customize and fine-tune discount policies to meet your specific needs.
You can even turn on and off free shipping promos with Smart Coupons. For example, you may provide free delivery on the first 100 sales and then rapidly switchback.
Sensitize the customer's needs and requirements.
With the pandemic swirl, online shopping practices have taken several new turns. It's important for any online seller to keep the human touch alive even when selling online. Following are a few pointers to help you make the entire selling process more customer-friendly:
Making the shopping hassle-free.
For first-time customers make the entire purchase process simple and quick. Improve your store's navigation and search capabilities, provide explicit product descriptions, and make your checkout page easier to use.
Build up trust with multichannel presence.
When it comes to online shopping, customers trust marketplaces more than any other ecommerce website. Your brand presence on multiple marketplaces is a label of trust that will assist you in boosting sales across platforms. The best part is, you can easily sync your WooCommerce store with any of your target marketplaces without any hassles. This multichannel selling approach not only helps in diversification of your sales channel but also renders a global exposure to your products. 
Expand the payment and checkout options.
In April, one in every four credit cardholders in the United States had their cards canceled or their credit limits cut, so you may wish to offer more than one payment option to your customers. Consider giving "buy now, pay later" alternatives or subscriptions that allow customers to pay for their goods over time.
Work on shipping choices.
Because more people are shopping online rather than in stores, you may wish to offer overnight or two-day delivery so customers may receive their orders as soon as possible. Those on a tight budget will benefit from free or low-cost shipping that takes a little longer.
Curbside Pickup options for local businesses.
During the COVID-19 pandemic, curbside pickup at retail outlets increased by 208%. Local clients who wish to save shipping expenses but are hesitant to shop at a physical place can benefit from this feature.
Build communication with your customers.
Work on brand recognition with effective and valuable communication with your customers. Along with improving trust, it is a sure-shot to bank on a loyal customer base. Provide realistic pieces of information on transportation delays and manufacturing difficulties and estimated delivery dates. Try to include a message at the top of your website informing buyers that their things may take a few extra days to arrive. And if your things arrive ahead of schedule, that's fantastic! That will be a pleasant surprise for your customers and a preferable alternative.
Bring in new and updated inventory.
Make sure you have enough product pieces in hand for Black Friday and Cyber Monday sales. M Additionally, ensure your site's inventory is properly set up. Examine your inventory levels to see if they're all correct. You don't want to sell a product that you don't have in stock. Also, make sure your inventory is synchronized across all of your selling platforms. If someone buys something on Amazon, your WooCommerce store's inventory should fall in line as well.
To help your sync and manage your inventory on different eCommerce platforms, feel free to check out CedCommerce's WooCommerce extension page.
Simulating the in-store experience.
While shoppers are shopping online, it's your job to make it as realistic as possible. Allow customers to feel as if they are seeing and touching your things in person, making the entire process fun and engaging. Consider the following for the same:
Photos and videos to cover every angle of your product line.
If you sell apparel, model it on a variety of body shapes so that clients may see how it will appear on them. Include footage of youngsters playing with the toys if you're selling them. If you sell a variety of sizes, include photos of them next to items that demonstrate their scale. You might even want to incorporate 360-degree photographs so that consumers can see your products from different perspectives.
Introduce a live chatbox to your store.
When shopping in a store, customers have the opportunity to ask salespeople questions. With a live chat box at the bottom of the screen, provide them the same possibility for a healthy interaction.
Live chat for WooCommerce.
With all of the craziness surrounding Black Friday, an unanswered query about a product could lead to missed sales and dissatisfied customers. Integrating LiveChat for WooCommerce, on the other hand, is a simple way to stay in touch with customers during their visit.
Informative and effective product description.
Focus on sensory language in your product descriptions. For example- What does the perfume that you sell smell like? Do your candles smell like an apple orchard in the fall? If you sell clothing, add size charts so that customers can figure out what size they need.
Compare and Recommend the products.
Customers can more quickly compare their alternatives and realize what more they might need when shopping in a physical location. Product recommendations upsell and cross-sell, and product comparison features can all help to create this experience in your business.
FAQ's.
Alternatively, stay ahead of your customers' questions by creating a FAQ page that answers the most common questions beforehand.
Make them feel special.
When someone buys something in a physical store, they have the option of taking it home right away. Give your consumers the same kind of quick delight by giving them something right after they place an online order. For instance – If you offer food items, send a PDF containing recipe ideas to your customers.
Additional tools to help you sell and grow on Black Cyber:
Keep your marketing strategies on the point throughout the festival and even after the festival is over with:
Email marketing– Best way to communicate and announce your deals to your customers.
Google Listing and ads– Expand your brand's reach in a global region by selling on multiple platforms by simply making your products visible on Google search.
WooCommerce pre-orders– Let your customers pre-order their desired products even before they are made available for selling under the 'coming soon' section.
Product Bundles for WooCommerce– Product bundles are collections of products that are offered together and are a very effective sales tactic.
Google analytics–Instead of trying to sell everywhere, figure out which ones are currently delivering the most traffic to your site and concentrate your efforts there with Google Analytics.
Summary-
A checklist for your store for a smooth BFCM sale.
Before the festival:
Make your store easily accessible with Mobile App.
Run early promotions and ads.
Talk about it all over your social media.
During the festival:
Make shopping a breeze by checking your website's performance.
Keep an eye on the checkout process.
Keep your inventory updated.
Build communication with your customers.
After-purchase offers and deals.
After the festival:
Reach out to your customers via social media or emails.
Talk about upcoming offers – eg 'Guess what we have in store for you for this Christmas'.
Ask for reviews and flaunt on social media.
Collect data and run an analysis.
Need help?
We understand that handling an online business can be overwhelming, especially during the holiday season. Keeping in mind all the demands and requirements of the present-day eCommerce, CedCommerce is a helping hand to many prolific brands worldwide.
From creating a store from scratch to helping you build your brand's name, Ced had solutions to every requirement. Feel free to reach out to our experts via Skype or WhatsApp!