Halloween Marketing Ideas for Walmart sellers 2022: Spook your sales this holiday!
Running short of time? Get PDF of the blog in your mail.

Play Now
Quick Brief – Carved pumpkins in crazy costume parties towards the end of October welcome the most loved holiday, that is, Halloween. Halloween represents a solid celebration even without presents, unique dishes, and unknown relatives appearing to visit out of nowhere. Scaring people and getting away with it is the best part of Halloween. Searching for theme-packaged cookies and costumes, people are all set to prepare for children's favorite fall event. Therefore looking into the current pandemic situation, online shopping is of most help. So, getting down to business, here we are with a massive bunch of tested Halloween Marketing Ideas for Walmart sellers 2022 to help them reach out to their desired audience for skyrocketing sales.
Contents:
Consumer Facts about Halloween shopping
According to the National Retail Federation's annual survey performance, 148 million adults expect to engage in Halloween-related events in the US.
The majority of people tend to spend approximately $100 on Halloween to make it a memorable one.
81% of the Halloween celebrating population is Millenials.
Over 61% of Halloween searches come from mobile devices.
Back in 2018, over $3 billion worth of sales were made online.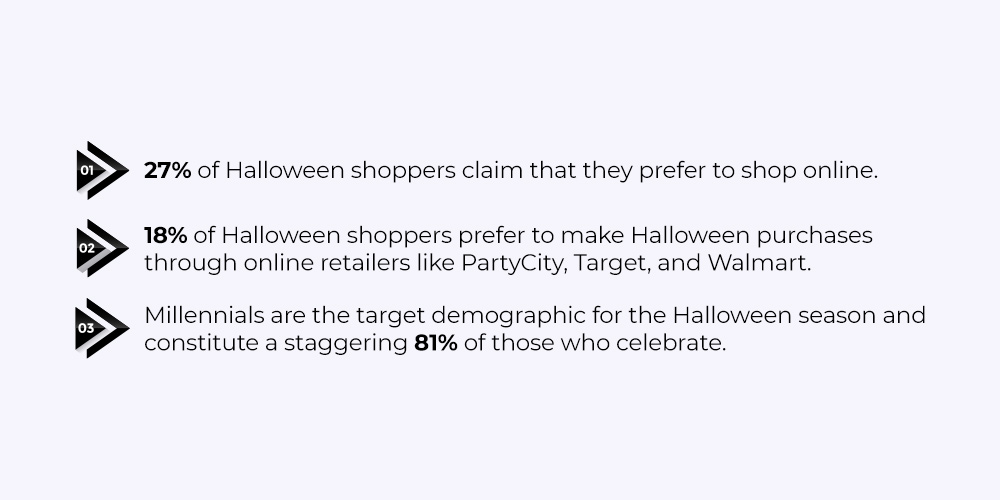 Source: BELVG
Most popular products sold during Halloween
Halloween Costumes – As costumes go first, This is a crunch time for your store if you are a clothing brand. It is your chance to pull up all your ideas to life. Some of the most loved costume types include witch, vampire, pirate, zombie. Halloween 2022 also calls for costumes inspired by the most hyped series of the year, Squid Game.
Haloween Candies – Children's trick-or-treat an excuse to eat candies before or even instead of dinner. As a result, thousands of Kilograms of chocolates are purchased on Halloween. This fact may gain your interest in knowing the most favorite candies sold during Halloween, which are Skittles, Reese's Cups, M&M's, Snickers, and Starbursts.
Halloween Makeup – As people get into their dressed characters, makeup art is an earnest consideration as the face needs to sync with the costume perfectly. This calls for heavy demands of makeup supplies which also have significant profit margins. Kids-friendly makeup, organic brands, temporary tattoo design stickers, etc., are pretty popular.
Decorations – Home and Yard Decors cover up another significant part of Halloween celebrations. As people love to create a spooky atmosphere, Glowing witch hats, 3D bat wall stickers, skeletons, Spiderweb, Hanging ghosts, etc., are mainly on the decor watchlist.
Halloween Movies – Talking about creating a spooky atmosphere, horror Halloween movies also help people feel the presence of evil entities at home without visiting the haunted houses.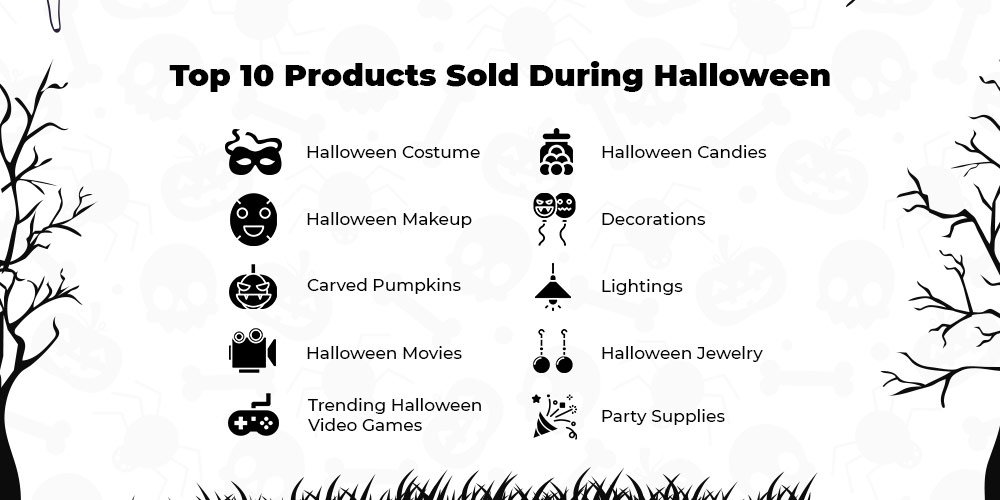 Also, Read:
Best Halloween Marketing Ideas for Walmart sellers 2022
Pre-Halloween Marketing Campaign
While 40% of customers begin their holiday shopping in advance, they are also ready to spend on something unique and exciting. Therefore, if you are armed with the perfect Marketing Strategy, you'll have a fair amount of time to catch the prospects of your exciting offers. For better conversions, early October is the best time to begin your promotions. Keep your marketing strategy on point till the end, as female shoppers shop only when the sales unfold and tend to shop more than men.
Use a Halloween theme for your online store.
Revamp your online store to make it compelling. From carved pumpkins to spooky ghosts, explore numerous designs to prepare your store in advance, as web designing cannot be done in a day or two.
Offer Spooky deals and discounts.
To engage your customers and get them into the Halloween mood, prepare some exciting activities and offers. This acts as one of the best ways to keep your audience engaged. You can arrange the best costume selection polls and give vouchers and coupons to the most active participants. Encourage customers to share their stories on social media about uniquely using your products and reward their creativity.
Use as many social promotion tools as you can
Exhaust the number of promotional tools that social media offers. As customers are most likely to surf social media for decoration tips and reviews, try to inspire them with the best Halloween ideas at every touchpoint.
Give away a generous amount of gift cards.
Deals do not mean to end with the end of the holiday. As everyone is in the mood to celebrate, reward your loyal customers with customized gift cards so they come back later to your site, scrolling for something interesting they can purchase from you.
Send out Halloween cards with orders.
Email wishes are significant to develop brand recognition among your customers. But, to make your brand stand out among the crowd, sending out customized traditional paper cards does the magic. Receiving customized colorful holiday cards makes your customers feel valued and cared about.
Generate and favor from the UGC
As part of your Halloween promotions 2022, sharing user-generated content encourages your customers to get involved. Try challenging your customers to share their best Halloween snaps and get a chance to win your brand price. These contests work best with costume competitions, Halloween recipes made with your product, the best pumpkin carvings, etc. Use dedicated campaign hashtags to help users find you and others easily.
Provide interactive and compelling product packaging
Switching to Halloween-themed packaging for your products is one of the most effective ways to attract customers. It also helps in promoting impulse purchases within limited seasonal time frames.
Provide Halloween – themed freebies to loyal customers
In addition to themed packaging, offer themed freebies to your loyal customers. Developing some tremendous online interaction is the best part about providing themed freebies.
Optimize your store for the mobile version
Numerous Dynamic pieces of research indicate the preferences of the mobile device of shoppers. As 61% of searches are done from mobile devices, be ready to comfort your shopper's journey with a mobile version of your online store. Online shopping through smartphones has increased rapidly over the years; therefore, design or revamp your existing website for the best mobile device shopping experience.
What we are saying is →
After the long working days, shelf-to-shelf shopping can be tiring, especially during a pandemic. Therefore, Halloween as a source of optimism can prove to be an exciting opportunity for your eCommerce store to prosper with boosted sales. This scary time of the year also allows you to generate leads and sales so, don't forget to follow the basics.
As setting up an apt process is the key to great results, we are here to collaborate with you. Get in touch with a group of exciting digital marketers at CedCommerce for cutting-edge digital marketing strategies to spook your sales in Halloween 2022.