Expand Your Business In 42 Countries With OnBuy In 2020
Running short of time? Get PDF of the blog in your mail.

Play Now
Ever since the lockdown struck, the common man's business just started to fall apart. But amidst this chaos, you can still expand your business in 42 countries with OnBuy this year. 2020 has been notorious for the most part, but as of now, businesses have found a way of growing like never before. It shouldn't come as a surprise that e-commerce ventures have benefitted the most during this pandemic.
Since people couldn't venture outside like they used to, it was a wise decision to bring the products and services to their doorsteps. Speaking of bringing products and services to the doorstep, denizens of the UK are really enjoying this shopping season, why!?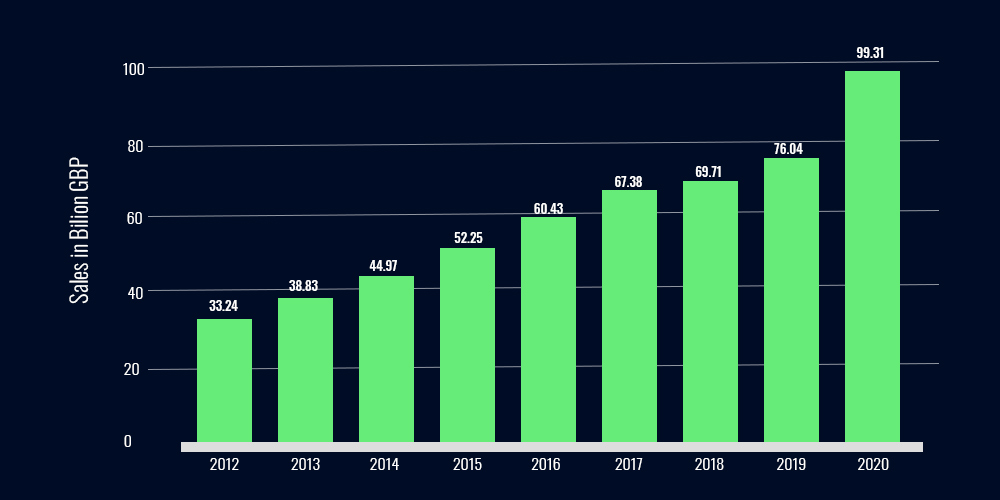 (Value of online retail sales in the UK from 2012 to 2020)
Well, they happen to have a very promising, tried and tested e-commerce business giant that has made selling in the UK marketplace easier than ever before.
Selling on OnBuy: Going strong
Over the years, OnBuy has become a household name, it might sound strange to the average reader who doesn't belong to the UK, but the numbers don't lie. The marketplace started not long ago in November of 2016 by a Royal Navy veteran Cas Paton. Relatively young, the business model has become one of the most successful ones to date.
But here's the thing, OnBuy isn't just restricted to the UK anymore; it has its fair share of plans that'll capture the attention of a global customer base. As of now, selling on OnBuy is in full swing as the retail giant has some promising tricks up its sleeves. The heart of this marketplace is for obvious reasons, the website itself, which is doing exceptionally well.
Close to 1.5 million people are browsing the website alone which is an achievement in its own right. And as far as the growth rate is concerned, the average seller on OnBuy is breathing a sigh of relief as the marketplace is increasing at 11x per annum.
Here are some statistics that portray the rise of this marketplace:
A 24,000% growth in just four years in the UK.
More than 1.5 million users.
25,000,000+ products listed live on the website.
Trusted by 8,000,000+ buyers and 5,000+ sellers across the globe.
Increase in the monthly site traffic by over 600%, compared to last year's.
An outstanding 837% increase in monthly sales and revenue.
A 10% increase to monthly seller base.
Selling in the UK marketplace: Domestic saturation point
Looking at the aforementioned figures it's safe to say that OnBuy is enjoying the time of its life in the UK's marketplace. However, it agrees with the notion of the UK becoming more and more saturated with the genesis of newer e-commerce ventures. The number of customers will keep on increasing with the passage of time in the domestic market, but one can always try expanding his/her business idea across the globe.
This is where selling on OnBuy marketplace comes into play as it'll allow more sellers to become a part of this expanding business idea. What used to sound like a pipe dream has become a reality now; growth rates and profit margins have shown a significant hike like never before.
To quote the CEO, Mr. Cas Paton himself: "The UK is extremely saturated and when we launched the marketplace in 2016, venture capitals said that it is not a marketplace and they will not support as there were already too many players."
But, to their surprise, OnBuy has become the fastest growing e-commerce business in the region. Moreover, with the increase in sales and the average customer's time browsing through the website, things are highly likely to play out just the way Mr. Cas Paton had dreamt of.
Global expansion and its perks
Statistically, experts can jot down all the points that'll throw some light on the benefits offered by the global expansion strategy. But what about the common sellers who aren't related to the business model? What use is the annual sales figure table to them if they don't understand the numbers and growth percentages scattered across the cells?
The aforementioned questions can be answered in a simple yet effective manner:
The 42 countries expansion plan
OnBuy's business plan is simple enough for a certified user to get on with the selling process. You can expand your business with OnBuy with relative ease as of 2020. But even for a hardcore seller, after completing a substantial amount of time in the market, there will be a saturation point to fight against.
Now, this saturation point doesn't affect the profit margins much, but it'll surely make the selling experience monotonous. Having a global market on the other hand will increase profit margins exponentially, but it'll also provide the seller with a huge variety of products and customers to deal with.
A much-needed variety for sellers as well as customers
The average user in today's day and age uses smartphones for a significant amount of time on a daily basis. Close to 59% of smartphone users favor doing business with mobile apps and websites as it saves time. This ease of access, coupled with the diversity the internet offers, creates an opportunity like no other.
And this is probably why people aren't afraid of buying things that aren't available in their region. Shipping companies have made tremendous progress over the years. A global market will definitely provide the customers to experience a diverse platform.
As of now, these are the best countries to expand your business with OnBuy:
Ireland
USA
Canada
Australia
New Zealand
Hong Kong
Singapore
UAE
Perks of selling on OnBuy globally
For obvious reasons, the average seller will make a significant profit while selling on OnBuy marketplace, but what about those who haven't worked with the e-commerce giant before?
Here's what they'll experience while selling with OnBuy:
Competitive selling without losing profit margins
Close to a 10% increase in the number of sellers on OnBuy has been experienced compared to the previous month. This is something that a lot of platforms dream of. And that's not all; sellers can enjoy their usual profit margins without the risk of losing competitive selling prices.
Safe and secure payment gateways
Often sellers experience a lot of trouble when it comes to finalizing a deal. Having a number of third party platforms for transaction management can mess things up a lot. But here's where OnBuy excels with its official transaction partner PayPal. PayPal has been a reliable platform for people to manage their transactions for a long time now, and with this official partnership, both sellers and buyers can experience a seamless transaction process. It is because of this partnership that sellers can get paid instantly the moment their product gets dispatched.
No competition from the sellers themselves
Perhaps the best thing about OnBuy is the fact that every seller is independent of the company's profits and acts as an entity on his/her own. What it means is OnBuy doesn't compete with the sellers; rather it promotes them with choices that otherwise aren't there on other e-commerce platforms. With a simple fee structure that is made of:
5%-9% sales fee
1.9%-3.4% payment fee
Sellers can enjoy their usual selling cycles and earn profit as they seem fit.
A tried and tested formula that has grown to a great extent
In a short span of time i.e. four years, close to a 600% increase in the number of users has been experienced compared to the previous year. This tried and tested formula is the reason behind the increasing number of sales and sellers themselves. One more reason for you to expand your business with OnBuy.
A promising profit-rich business environment on a global scale
In contrast to the previous year, there has been an increase of 837% in sales. Moreover, the average weekly revenue as of 2020 is 350,000 Pounds in comparison to 37,000 Pounds during 2019. This promising business model provides an independent way of buying and selling to both parties.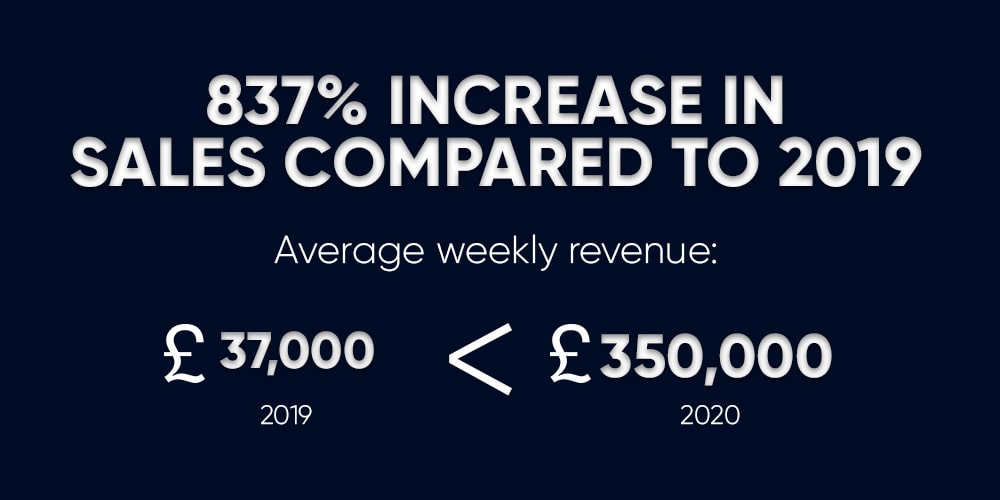 With the current growth rate, it is safe to say that OnBuy's 42 countries expansion plan 2020 is tactically sound. Close to 25,000 retailers are expected to join the marketplace by 2021, which is nearly a month away. Now here's the interesting part, what if you wish to expand your business with OnBuy?
This is where our team of professionals at CedCommerce comes into the picture. With a reliable integration package with free support and a talented team of developers working round the clock, your selling experience can skyrocket with OnBuy via CedCommerce. Who knows, we might see you as a professional seller on OnBuy with their 142 countries plan in the coming three years.