7 Black Friday Tips to Prepare Your OnBuy Store for the Rush
Running short of time? Get PDF of the blog in your mail.

Play Now
With the holiday season up and running, online store owners like you must be overwhelmed with the extravagant operations at hand. The craze about this shopping bonanza has brought forth a mad rush among buyers looking for exciting gifts for their friends and family. Luckily, we will be accumulating a few Black Friday tips for helping your online brand stand out amongst the competition.
After the Thanksgiving event, shoppers will be up for an aggressive and active weekend. So, to stay prepared, savvy shoppers like you must put their foot down and gear up for meeting the increasing demands coming their way.
Let's find out how!
7 Tips for Gearing up for a Great Black Friday
As OnBuy store owners, you must get your online businesses fully prepared to present them as the perfect landing strip for all those frenzied shoppers. There are ample things that you should do to prepare for this fateful Friday. Lucky you, we're here to guide you with some helpful tips.
1. Chalk Out a Marketing Campaign
With the kind of sales projected for the upcoming Black Friday, it's imperative that the same information is disseminated effectively to consumers. Advertise well with time on your hand and prepare your customers for buying.
We know things have been hard over the past few years. Since we're all pinching our pennies, let's provide you with some affordable means to help drive sales.
A. Social Media Marketing
While social media tends to house a prominent role in modern-day marketing, platforms such as Twitter, Facebook, and Instagram can help you provide glimpses of exciting offers and deals for the upcoming grand weekend. You can even choose to boost your posts to aim at specific audiences or even reach a larger crowd for a mere amount of dollars. Make sure to tailor your content to suit each platform and its audiences for maximum effectiveness.
Try and create a calendar to assist yourself with the proper planning of the best times to distribute marketing content and then ensure to stick to it!
B. Pay-Per-Click Advertising
As the saying goes that the early bird gets the worm, however, if you're planning deals late in the game, it doesn't necessarily mean that all hope is lost. While search engine optimization and other organic traffic drivers take a considerable amount of time to implement, pay-per-click advertising allows you to pay for more clicks even while you are in a crunch of time.
If you are having more of a marketing budget at your disposal, you can make good use of PPC campaigns to have more control over your search engine rankings and, accordingly, turn clicks into customers.
The basic steps involve the creation of ads and making bids on virtual auctions for top placements in search engines. You can resort to Google AdWords to learn more and start generating more traffic to your online store.
2. Build More Buzz
In addition to your thought-out and pre-planned marketing efforts, you can boost the hype for your Cyber Week deals by engaging in one of our exclusive Black Friday tips with additional awareness-building activities.
A. Craft Winning Copy and Create Alluring Graphics
If time is by your side; with starting out early, you can plan out and prepare marketing copy that is engaging, having a personal touch, and is error-free – all at the same time. The practice can also apply to your photos and graphics; hence, planning ahead will guarantee that you have attractive visuals that can impress and persuade buyers.
B. Utilize Hashtags
Insert yourself among the marketing mix by taking advantage of trending hashtags through popular topics from each week. This viral hype will seamlessly and effortlessly help in spreading the word about your exciting products and upcoming offers.
C. Display Shop Signage
Before the actual Black Friday or Cyber Monday crowds hit your online store, you can give your OnBuy e-shop a makeover to prepare visitors for the approaching sales. Consider updating your homepage with a special Black Friday hero image or even a landing page signage that shouts out 'SALE' into your customers' minds — especially those who are already out in the market with their holiday gift-giving research.
3. Keep an Eye on the Competition
With heaps of Black Friday and Cyber Monday deals flooding everywhere on the web, your small business needs to set itself as unique among so many other small operations and big-name retailers.
Extra touchpoints can help you distinguish your store from a rival online retailer. You can think of offering a gift or even some additional discount on future-return purchases. You might even want to consider expedited or free shipping, special packaging, or customized messages for your customers. Keep a close eye on your competitors and try to have your foot ahead.
If budget constraints hold you back, do not hesitate to offer hassle-free returns and prompt customer service. Pay heed to the personalization and care that you can provide through your small-scale operations as compared to big-box retailers. Customers prefer to support small businesses and would appreciate, remember, and honor a more intimate online shopping experience.
4. Test Your Servers
It is extremely vital that you test your servers while gearing up for the Black Friday rush. This can come to a few sellers as a surprise among the list of Black Friday tips, but it is crucial that your OnBuy store should be able to accommodate as many incoming visitors to your store.
Your server capacity may not be powerful enough for the holiday blitz. You must then take proper precautions to ensure that you are equipped enough to handle the bunch of incoming shoppers.
Get your hands on a great cloud solution that can seamlessly scale and ebb as needed, allowing that you only pay for as much arsenal you need. The sole reason is that downtime would signify your customers' money getting spent elsewhere.
5. Scarcity Breeds Urgency
One of the key components of strategic marketing in the modern eCommerce world is 'human psychology'. Online store owners like you might want to promote ideas of 'stocks running out' and 'limited-time deals'.
Shoppers are expected to make impulsive purchases during this busy retail weekend, so try and ensure they perform those transactions with you. Shoppers can head on towards making reasoned purchases for the next weekend, but during the weekend of Black Friday and Cyber Monday, it's time to throw the commerce caution out of the window.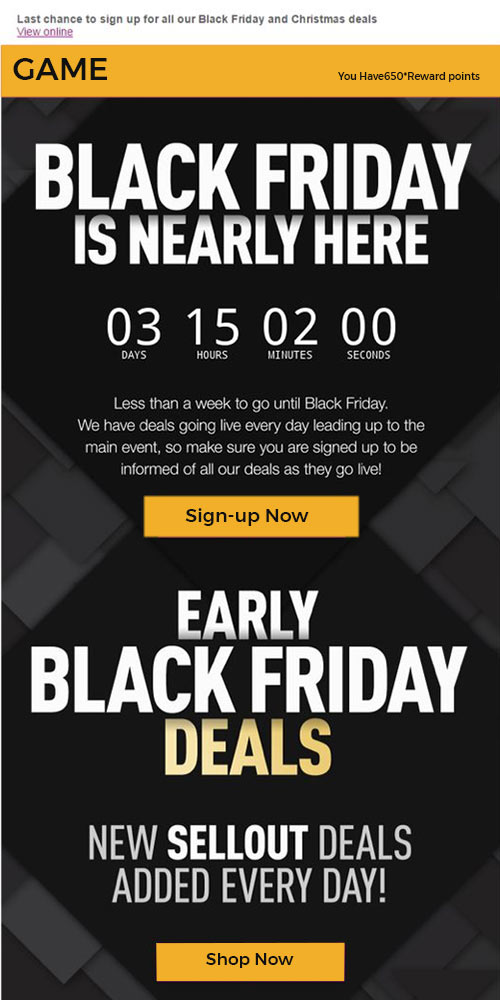 A prominent way to highlight this sense of urgency is to demonstrate extremely limited-time sales. You can display a countdown clock for certain deals or even showcase the stock availability for a specific product. Further, you can even make use of psychological pricing strategies to increase conversions and take them over the finish line.
6. Don't Restrict Your Buyers with Limited Deals
As we are dealing with human psychology, let's discuss a few possible reasons for returning customers. Many OnBuy sellers might prefer to come up with a killer deal and keep it at that. But it's advisable to mix up your offers to provide more options to buyers.
As a matter of fact, the best manner to encourage customers to return to your online store over the weekend can be through an increasing number of deals. On the contrary, if you are having just a killer deal, buyers may not come back for more purchases.
7. Level-Up Your SEO Game
With an increasing number of online stores coming up the ranks, it gets difficult to present your exciting products. That's the reason why SEO still has an incredible ROI. You can find several guides on the internet guiding sellers like you to optimize your store so you are more likely to show up on Google Search.
It simply begins with great keyword research that offers a better understanding of what shoppers are looking for. This, even allows you to target those specific queries. Figuring out the in-demand items, you easily become the center of attraction, grabbing people's attention.
This process involves a few basic steps like optimizing product titles and descriptions, blog posts that serve as solutions to major concerns in your industry, guides of gifting ideas, seasonal keyword targeting, and proper site navigation.
What CedCommerce Brings to the Table?
CedCommerce is one of the most prominent eCommerce Solution Providers in the market. With an incredible success rate of serving merchants from different parts of the globe, the team at CedCommerce has been instrumental in establishing more than 50 partnerships, collaborations, and integrations.
These are inclusive of some of the biggest names from the world of eCommerce, with integrations of Shopify, Prestashop, and many others. that get benefitted from the 24*7 technical support and incredible after-sales assistance that makes CedCommerce's services unparalleled.