CedCommerce Announces Multi Account Integration of eBay for Shopify
Running short of time? Get PDF of the blog in your mail.

Play Now
CedCommerce is pleased to announce the addition of Multi Account feature for its Shopify Integration for the eBay application that enables merchants to manage multiple eBay accounts from one centralized dashboard. Meaning, merchants will no longer have to switch back and forth on various eBay accounts. Thus, saving them time and helping merchants sell easily cross borders.
Integration for eBay's newest offering, multi-account connectivity, epitomizes the CedCommerce's goal of helping merchants make the most of their eCommerce capabilities in the multichannel ecosystem. The latest edition of the application has various unique, high-demand features that will help sellers stand out from their competitors.
For instance, let's say you sell on eBay and operate through different eBay accounts to manage cross-border selling. In the process, you maintain inventory and fulfill orders through your Shopify store. Situations like these result in experiences that usually become challenging and time-consuming. The newest multi-account connectivity for eBay sellers eliminates the management of more than one seller account on an individual level. Now, you get to handle everything from one application and expand into cross-border sales swiftly.
How to get the Integration for eBay App?
It's easy to get your hands on the application and kick-start your journey of the simplified product, inventory, and order management in four simple steps.
Step #1. Navigate to apps.shopify.com tand search Integration for eBay.
Step #2. Click on the Add App Button.
Step #3. Install and complete the Onboarding process.
Step #4. Migrate all your products to the app.
Sellers can now migrate free from Shopify's native eBay App as CedCommerce extends zero-cost listing transfer opportunities.
An Alternative to eBay Sales Channel: Recommended by eBay
eBay announced sunsetting its official Shopify channel on the 31st of December. Through its recently circulated newsletter, eBay cited CedCommerce's Integration for the eBay application as one of its preferred integration service providers.
Honoring the announcement, the Integration for eBay app from CedCommerce lets you migrate all your eBay listings from eBay's Shopify integration app. The best part, none of your listings on eBay or Shopify gets affected in the process.
Here's a quick walk-through of how the migration works:
Install the Integration for eBay app by visiting the Shopify App Store.
Complete the onboarding process.
Import your products to the app from Shopify.
The migration process starts in the background.
Features to help you manage your eBay Account
The all-new integration app comes with multiple new features and tweaks. The app is now unique, more efficient, and easier to use. Here's a list of features users should expect to see in the application.
#1. Multiple eBay accounts connectivity
A much-awaited feature under development has finally been deployed and is now available for sellers. As a result, users can now manage, list, and sell their Shopify products on multiple eBay sellers' accounts at once through the app.
Selling in numerous eBay regions through Shopify will now become easy. Sellers can easily connect all their eBay accounts to the app and automate the inventory, order, and product management process from Shopify.
#2. Management of Warehouse Locations for Inventory Management
CedCommerce lets you select warehouses from your list by simplifying the Inventory Management for all your products. You will avoid inventory syncing from unwanted warehouse locations by choosing which warehouses to sync.
Let's say you have multiple warehouses with inventories for a Jacket you're selling. From a list of warehouses with 50, 80, 40, and 135 stock, you can use single/multiple warehouses to sync the inventory. If you select the last warehouse from the above list, you'll sync only 135 inventory on eBay from Shopify.
#3. Listing only selected variants
Say goodbye to uploading all variants to eBay even though you wanted to list only two from the list of five. Users can now upload variants that they wish to list on eBay. The update allows you to select only the variants you want to list on eBay.
As a seller, you can control which variants you wish to list and which to keep limited on Shopify only.
#4. Disable Unwanted Products
You are no more dealing with a long list of products that serve no purpose once you stop selling them this season. Select all the irrelevant products and disable them to move them from the list of imported products for ease of business.
This feature comes in handy for products that are seasonal or sold till the stock lasts. Once the inventory reaches zero, you can remove them from the products grid of the app and declutter your list of available products.
#5. Order management of all eBay accounts from Shopify
Keeping track of orders and inventory status can be challenging when selling on multiple channels. You can also automate some aspects of order processing and manually enter updates into various systems.
Now, you can manage orders for all your connected accounts in real-time through your Shopify store, as all orders get imported and synced with the app.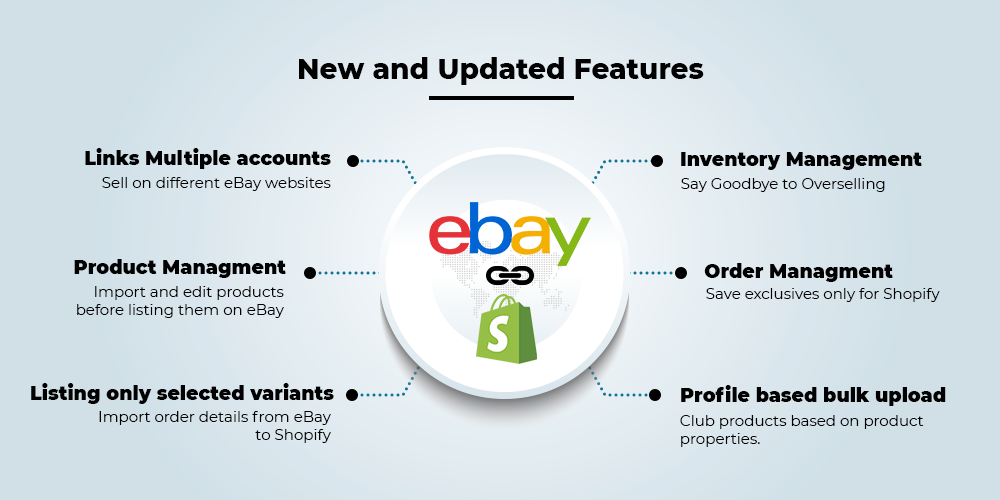 Conquer the festive season with Multi-Account Connectivity
When managing multiple eBay accounts through Shopify during the festive season, it's more likely to hit a roadblock. Instead, the Multi-account connectivity of CedCommerce for eBay can simplify and eases the process of managing multichannel from Shopify.
You can progress through a unified selling experience across all eBay accounts by taking advantage of features and making them your friends.

Why Should you opt for the Shopify eBay Integration services?
Utilizing a multichannel selling tool can also help you expand your consumer and monitor your store's inventory more effectively. You can reliably and consistently control everything from one interface, from importing items to processing orders.
CedCommerce is here to facilitate sellers' cross-border sales and cater to a global customer base by making multi-account management possible through its latest feature for sellers on the worldwide e-commerce marketplace eBay.
Install the app and kickstart your cross-border multichannel sales on the eBay marketplace with the Shopify integration for eBay today. Connect with our experts over Skype and WhatsApp, or schedule a meeting.