Your Absolute Guide To Start Online Furniture Business With Shopify in 2022
Running short of time? Get PDF of the blog in your mail.

Play Now
Every home needs rustic yet comfortable furniture to settle a sense of comfort and a homely feeling. From a minimalist to a maximalist, various furniture pieces are available for one and all. Individual houses, service apartments, hotels, restaurants, or resorts constantly demand furniture and fittings. It is not wrong to say that starting a furniture business in 2022 can be a great move. If you're looking for answers to starting an online furniture business with Shopify, this blog solves the purpose. You can also hire certified Shopify experts who will be your friendly counselors in setting up your furniture store, business flow, and aesthetics of your brand.
3 Reasons Why Starting an Online Furniture Business is a Great Choice
The internet is proof that there is demand for almost everything. There is demand for prefabricated homes in a shipping container; there is demand for bacon-scented mustaches and all the crazy things you can think of.
Imagine how huge the market will be for furniture, fixtures, moveable, and home decor when there is demand for such short-sighted products! Below are three solid reasons why starting a furniture business online is a great move in 2022 –
1. Furniture Market in the US is Booming –
Furniture & homeware eCommerce in the US alone generated around an annual revenue of $55 billion last year. In 2021, home furnishing sales accounted for approx- 12% of total retail in the US. Even if the share of eCommerce might stumble a bit, the overall furniture market is expected to grow at a CAGR of 2.5% annually.
Source
This growth is fueled by improvements in residential construction, growth in working women living independently, and single-story houses and apartments. There will be a constant demand for handy, affordable, and durable furniture until construction.
Now that you know there is huge demand, this should be enough to spark the flame of starting your own furniture business online!
2. It is the Furniture that Defines a Home –
The furniture people buy the aura of their home. For example, vintage furniture emits a luxurious and retro vibe. On the other hand, reused furniture tells that a family is conservative.
You can start an online furniture business by sticking to a particulate niche or offering a wide range of furniture, fixtures, and home decor stuff.
Get in touch with our team to conduct a comparative analysis of what pieces of furniture are disrupting the market. Hiring certified Shopify experts isn't always about store and tweaking. Sometimes it is also about getting a piece of valuable advice.
3. Shopify Gives You a Choice to Start Your Business Quickly & Affordably –
Shopify is the right choice to start your business online from all other eCommerce platforms. With Shopify's basic $29/month plan, you can build a dynamic and vernacular shippable storefront.
When your furniture business grows, you can pick higher plans. Here's what you get with Shopify's basic plan –
You can create an eCommerce store with unlimited product uploads.
You get up to 4 inventory locations.
SSL certificate.
Discount codes and gift cards.
You can recover your abandoned carts.
Marketing automation and customer segmentation.
Enjoy international commerce.
Full access to Shopify's app store, expert marketplace, and community.
Shopify reports and Google Analytics comes in handy.
You can hire certified Shopify experts at your convenience without disturbing your budget.
How to Start an Online Furniture Business with Shopify in 5 Easy Steps?
"Online" is the most convenient way to start a furniture business because you are saved from renting large showroom space and paying fixed costs to keep the place up and running.
When you start a furniture business online, your prime focus should be a superb exhibition of your products in digital form. Keeping furniture as the centerpiece, you should set up your Shopify store. That being said, let's build your furniture store with Shopify in 5 easy steps –
Step 01: Start with a Customized Homepage –
It isn't wrong to say that a homepage creates first impressions. And first impressions have a lot to say about your business when you're selling online. As a result, you must make a positive impression on your visitors and customers. It would be best if you utilized your homepage in the following ways –
Introduce your product and exclusive offers.
Promote ongoing deals and discounts.
A bit about your brand and product ranges.
Showcase a collection that you want visitors to see.
Your prime features that make your furniture store different from others.
A prompt to subscribe to your partner.
Shopify's new framework, online store 2.0, enables you to set up web pages as per your brand attributes. You can add moveable sections and blocks throughout your store that gives rise to a unique shopping experience.
Homepage of House Warrior 21 (an online furniture store built with Shopify) is designed to impress visitors and tickle their curiosity to discover what's more inside. This furniture store uses its homepage too –
Entice visitors that their furniture range can elevate the spirit of a house.
A prompt to check out all the latest collections.
Redirection to their dining area, garden furniture, and fittings.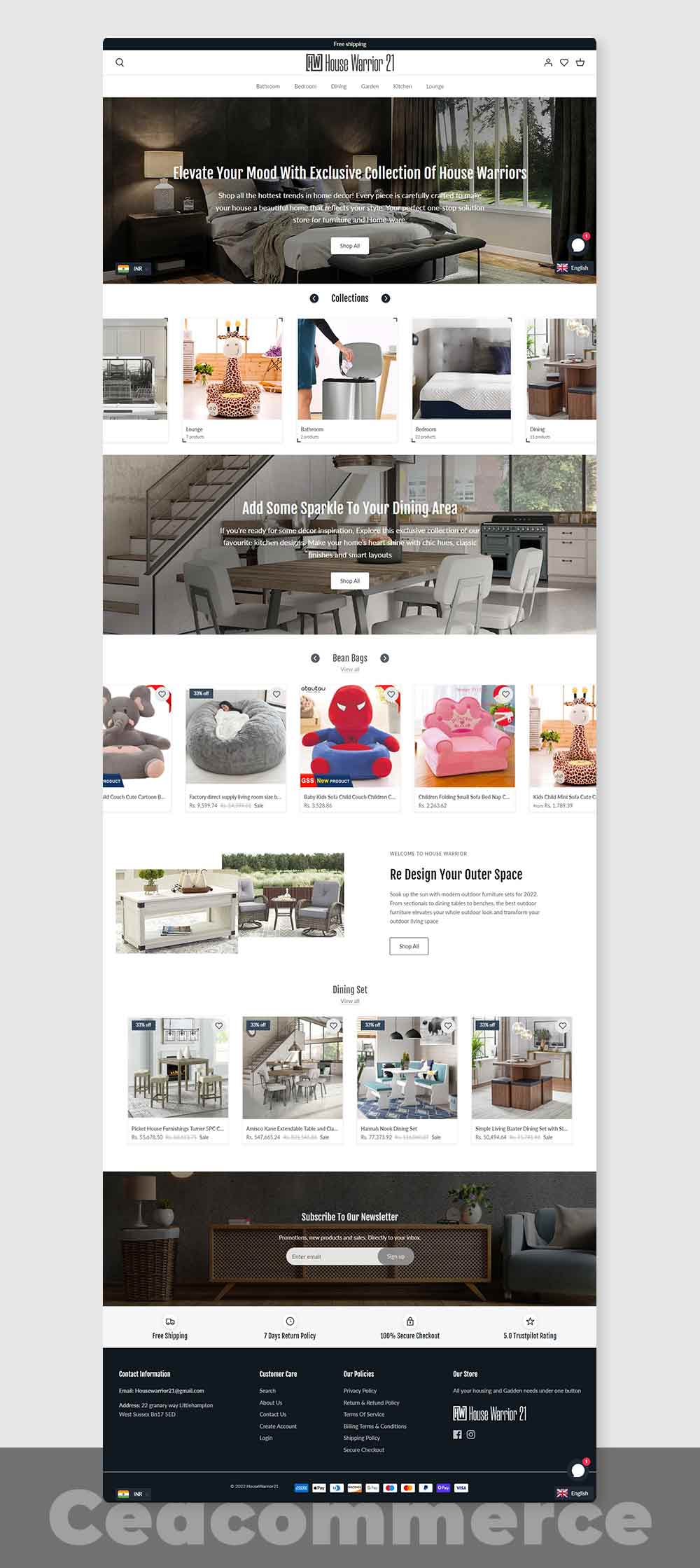 If you want to create an impactful homepage for your furniture store, you can hire certified Shopify experts and lay down a great homepage design with our UI/UX designers.
Step 02: Product Photos Should Occupy Most of the White Space –
Unlike apparel, furniture products are quite big and occupy a lot of space. You can't expect visitors to judge the furniture just by looking at a small-size image. Make sure that all the product images are of supreme quality, and they must be at least medium-sized images.
When you're starting a furniture business online, pick a minimalistic theme that is meant to feature space-occupying products. You can download craft or dawn themes and showcase your furniture pieces around white space.
Usually, merchants think that they should fill white space with something. But when you sell furniture online, you will need this white space to amplify your product images.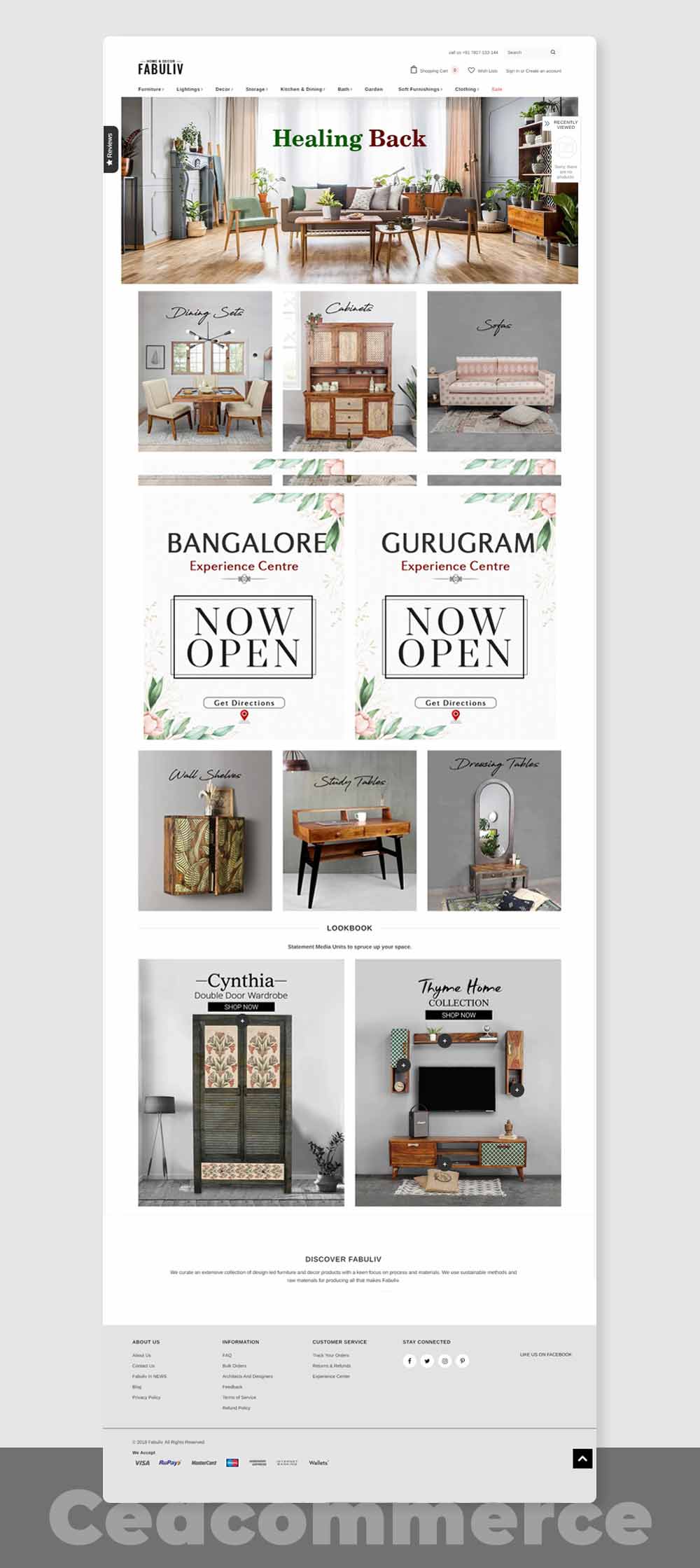 Many furniture, fittings, and home decor stores run on a lightweight theme with a white background and a lot of white space because their products are quite colorful, and merchants want visitors to only focus on the product and nowhere else.
See? That's how your store design and layout format change according to the niche. Since furniture is all about comfort and exclusivity, you can let your product images and videos create an impact. Don't forget to hire certified Shopify store experts who can help you embrace your store's white area.
Step 03: Your About Us Should be More of a Story!
As much as shoppers are interested in products, they are equally interested to know about the brand and what makes their product unique from others. But how to tell this to first-time visitors?
One simple way is by writing a unique copy for your About Us section. Web pages like – Contact us, Privacy policy, Shipping & Returns policy, and About Us are the building blocks of an eCommerce store.
Instead of talking about what you offer, you should connect with your customers with why your brand exists and what makes your furniture stand out from the competition. If you're selling reusable furniture online, you can emphasize the need to recycle, pressure, and sustain the environment.
Shopify store – spotwhatyouneed's simple About Us works like a charm. This online furniture store has emphasized what value their customers will get and how easy it is for them to find what they are looking for –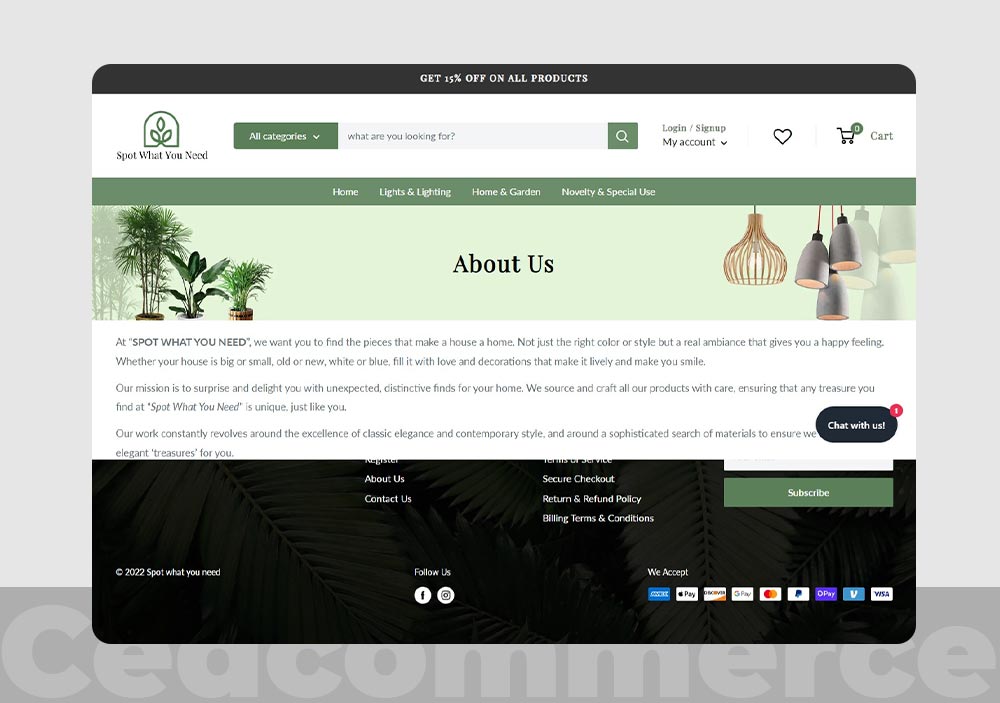 So, they have come up with an impactful ton; that's great! What's the key takeaway for you as a merchant? Below are some key pointers that you should keep in mind –
Comfort the shoppers with a friendly tone.
Instead of talking about all the products you offer, talk about why you're offering them.
Mention how your brand and products are unique from others.
Why should shoppers shop furniture from your store?
It's all about the choice of words and what you wish to put in front of your customers!
Step 04: Harness the Power of User-Generated Content –
User-generated content can do overnight wonder. In all the good and bad ways, depending on your customer's shopping experience. Let's understand this with a simple example.
Jake discovered your online furniture store, and he wanted a stylish-yet-minimal study table for himself. He finally found what he was looking for and quickly placed an order from your Shopify store.
His order arrived on time, and while unboxing, he found that the colors matched the digital image and the quality, too, was up to the mark. Overwhelmed with his shopping experience, Jake uploaded his selfie with his new study table, and he tagged your business profile on social media.
Next day, when you check our store's analytics, you are amazed to see a sudden surge of 50 new visitors, 10 new followers on social media, and 2 inquiries about the study table that Jake ordered.
This is the impact of social media and user-generated content. But, imagine if Jake had a bad experience while shopping in your store? He would have ensured that his social circle never shopped from your store.
Jake telling about his shopping experience from your store is just one example of user-generated content. But shoppers are quite lazy to do this. Here's how you can harness the power of UGC in your Shopify store –
Showcase recent reviews and testimonials on all the product pages.
If you have a negative review, don't worry. A mix of positive and negative reviews is better than having only positive reviews.
Soon after customers receive their orders, you should drop them an email requesting to share their shopping experience.
Stay in touch with your customers through social media. Like and comment on their photos and videos and nurture the bond of friendship.
Step 05: Add a Blog Section in Your Shopify Store –
Do you know the difference between a merchant and a successful merchant? A merchant pitches his products and services to the visitors. At the same time, a successful merchant talks about his offerings and is on a constant lookout for new ways to showcase their offerings.
Having an online furniture store is one thing, and keeping it alive, trending, and in customers' minds is another. And most merchants forget to do the second part.
You wouldn't add products to your every other day. So, what should you do to keep your store up and running? One way to keep it alive is by adding a blog section and rolling out value-driven blogs revolving around your products.
Blogging is an amazing way to get authority on the keywords you want to rank on. You pick any brand, and you are most likely to see a blog section on their website. Below are some tips on blogging for your online furniture business –
Write a blog about every product featuring its uses, materials made of, and where this piece of furniture will add value to anyone's house.
You should also roll out a blog whenever you launch a new collection. Just like apparel brands talk about new arrivals through lookbooks, you too can talk about your new arrivals.
Thirteen mind-blowing ways to make your home look trendy, and likewise, there are some great topics you can start with. Try and come up with such topics where you can showcase your furniture pieces.
Before publishing any blog, you must do extensive keyword research.
Build Your Furniture Store with CedCommerce –
Shopify is not only recognized for its easy platform. Out of all eCommerce services providers, it is Shopify where you can get expert assistance and help.
When you're starting a business online, you need to be careful about your store's design, layout, page setup, shipping, payment configuration, and the likewise. One small mistake can give 404: errors, or worse, it can cause your potential customers!
You can save yourself from falling into the wrong situations by hiring a certified Shopify expert team to ensure that your online furniture store is aesthetically pleasing, strong from an SEO point of view, and captivating from the user experience's point of view.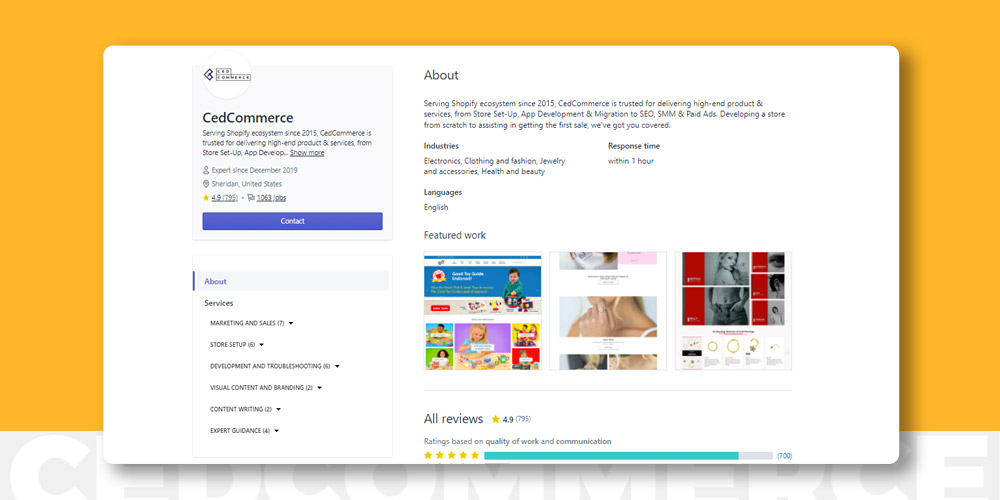 CedCommerce is a certified Shopify expert agency that can help you set up your Shopify store, customize, and add custom commerce elements. Before our store developer team starts working on your store, they indulge in a conversation with you to express your concerns and aspirations.
Only then do our developers work to instill your aspirations in your storefront. Spotwhatyouneed and Housewarrior21 and 2 exquisitely designed online furniture stores whom we have worked with.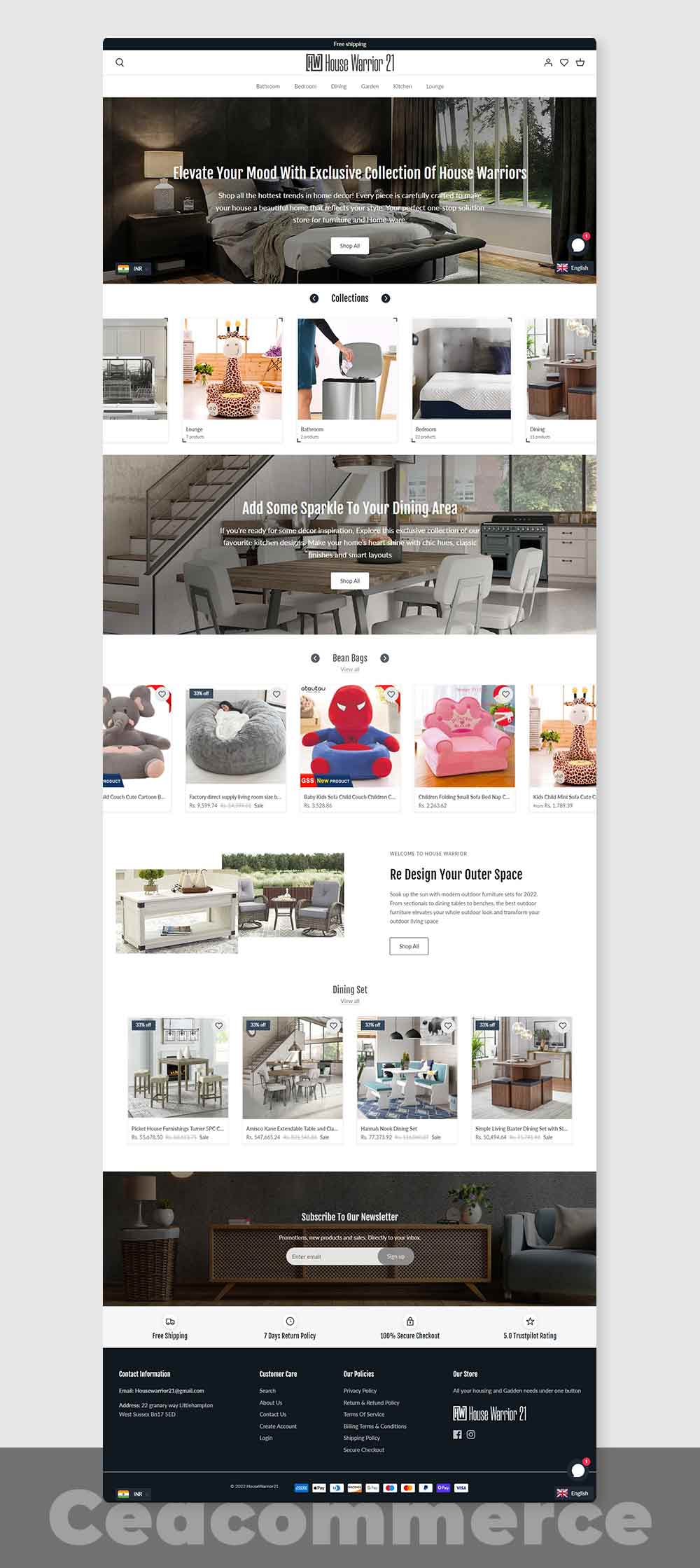 Everyone needs an expert. And CedCommerce can be the experts you need to flip the facets of your business. Connect with us, and let's unleash your furniture business's true potential!
Summing Up –
All ideas look great on paper. You realize the true value of uniqueness during the time of execution. You would be surprised to know that there are more than 150 big and small furniture outlets in the US, and if you launch your furniture business online, you'll be just another brick in the wall.
With CedCommerce – a certified Shopify expert agency, you can give birth to uniqueness, differentiation, and your store's USP! Hire the right minds for your Shopify store to see your business into a brand.