Why should you sell on Wayfair?
Running short of time? Get PDF of the blog in your mail.

Play Now
Looking for reasons to sell on Wayfair? 
First things first..Wayfair marketplace is just not the next eBay, Amazon, or Walmart. Simply put, there's not much competition to rank your products and get selling. 
Besides, reduced competition does not bring fewer opportunities for you to sell on Wayfair. Instead, it increases your probability of earning more and getting through with high selling rates. 
Moreover, with the integration extension offering automated services for your web store it becomes even easier to list your products and sell on Wayfair. 
Despite all the rising competition, we know how to optimize your inventories and product content to outrank your online store. 
Right from automating your online store to providing the super speedy features of bulk uploading all your products in a go. We assist you with the best support services 24*7 helping you capitalize even more through your increased loyal fan customer base. 
Is it worth to sell on Wayfair? 
As of writing this article, Wayfair attracts 63.36 million unique visitors to your products (as per the data by Similarwebs). 
Being one of the most popular marketplaces in the United States, Canada, and the United Kingdom, Wayfair seems to attract a lot of shoppers in these regions. Thus, bringing you a clear reason to sell on Wayfair. 
Above all, with eCommerce expected to hit $4.5 trillion by the year 2021, the eCommerce economy is rapidly rising in the aforementioned regions. Thus, there can be no best time to invest in Wayfair than now.
Being the home to largest online home furnishing market, Wayfair marketplace is one of the booming eCommerce markets in the United States.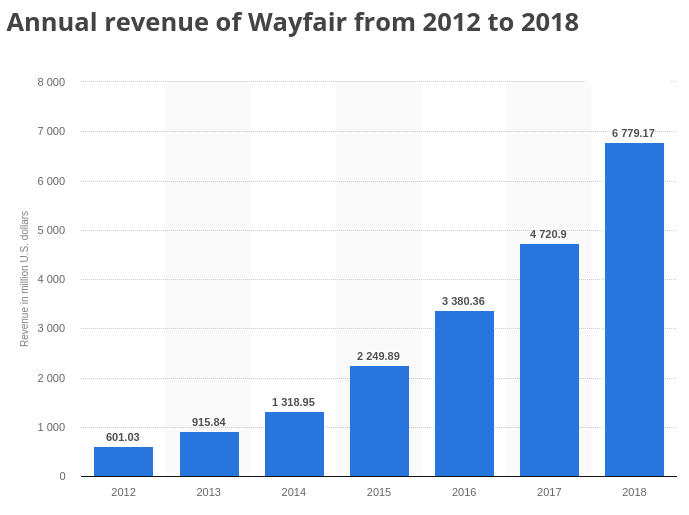 Not only the rising revenues, but Wayfair's way of comforting sellers and shoppers with style, price, and delivery method has made it retailers' first pick. 
Besides, if your inventories comprise of home and garden niche than selling on Wayfair is your perfect fit. 
Let us know how does Wayfair helps retailers earn more… 
How does the Wayfair selling process work? 
Wayfair has a self logistics system WDN (Wayfair Delivery Network). This WDN helps in improving the overall effectivity of shipment by reducing losses, quick shipping, and safely delivering large sized parcels.
Acting as a fulfillment channel Wayfair runs as a dropshipping model. In other words, when an order is received and confirmed, the merchant (supplier) asks for ships the goods directly to the end merchant. 
That being said, you must know that Wayfair does not carry any inventory or warehouse. So all this while you might assume Wayfair possesses dropship model. 
Leveraging the negotiated bulk rates merchants of third party shipment couriers, retailers use the Wayfair's accounts. This action helps them in saving a lot of their time and money. With increased efficiency, Wayfair does not involve any inventory cost. 
Working on a cost-driven structure, Wayfair believes in automating retail industry with third-party integration extensions. This systematic selling on Wayfair helps you white-label your products on your store. 
Why should you sell on Wayfair? 
With 16.4 million active customers, and 39% Y-o-Y, Wayfair announced its first-quarter revenue of 2019, amounting to $1.9 billion. 
How about this? Wayfair spends more than half of its profit on advertising products. That being said, Wayfair helps you reach millions of customers. Thus, solving half of your hassle and helping you sell effortlessly on Wayfair. 
Wayfair brings you a highly innovative real-time view of consumer demands and offers a reliable and stable logistics. You can leverage Wayfair's truly professional cost-effective technological expertise platform. The best thing to sell on Wayfair is that they are truly dedicated to selling your products at their best. 
Huge customer base 
To sell on Wayfair can be one of your finest choices. As they enable to sell your products to over 60.82 million unique visitors. Helping you boost your sale and gain access to the growing home eCommerce market.
Easy seller panel 
The innovative platform at Wayfair is designed in a way to help sellers with the easiest navigation. The smart dashboard of Wayfair helps sellers by providing full product catalog which is to be published on the website. 
Real-Time updates
Wayfair's smart system helps retailers with data and analytics. The smart feature of Wayfair keeps track of the customers choice. This automated feature of Wayfair helps retailers in updating them about the trending products that consumers are looking for. Wayfair portrays a real-time view of the demand and need for a specific product.  
Massive Logistics 
The shipping capabilities and powerful logistics at Wayfair have transformed it into a leading eCommerce business in the home category. This concept helps retailers to sell on Wayfair and ship products directly from suppliers to customers. 
This process of direct fulfillment helps Wayfair grab a large share in the market. On the same hand, it is also cost and time effective. 
The continuous improvement of the Wayfair Delivery Network helps retailers in gaining more profit by reducing logistics cost. 
Is there an easy way to sell on Wayfair?
Now that you are well-versed with the way Wayfair functions and benefits retailers, you must know how to sell seamlessly on Wayfair. Let's get straight to some luring points and enhance your online venture: 
Let our team of experts help you sell better and earn more on Wayfair. Fill out the sellers' registration form here. Next, head towards integrating your store with Wayfair. 
The Wayfair integration solution helps you reach millions of customers. Its automated feature of bulk upload, centralized order management and more helps you 
1. Integrate your online store with Wayfair and leverage:
Bulk upload of products in a go, 

Automatically list and synchronize all your inventories, 

Centrally manage all your orders,

Click and sell or customize as you need, 

Profile-based attributes, explore more splendid features of the integration here. 
 2. Get 24*7 FREE support
Let our team of veterans help you at any hour of the day through Skype, eMail, call, or any of your preferred communication channel. 
3. Bring assured conversions
Assisting over hundreds and thousands of sellers, the Wayfair integration app has brought assured conversions. The automated process of connecting your store with Wayfair helps you sell efficiently on Wayfair. 
Are you thinking to sell on Wayfair?
You will like to read: