Tips to Improve Brand Visibility and Awareness with Videos!
Running short of time? Get PDF of the blog in your mail.

Play Now
Brand visibility and awareness, a point of concern for today and tomorrow! But why is it that everyone is running to create something to improve brand visibility? The answer lies in the name. That is, they are the personality representatives. Brand in itself stands for identification and recall. For example, people identifying Pepsi or Starbucks is due to branding.
To build your brand, the first thing that you need to figure out is the purpose. In addition to this, you need to understand what marketing benefit your brand has amongst the competitors. Once you know this, your journey ahead becomes easier.
But today, in addition to branding, videos can do a lot more to improve brand visibility for your business. In this blog, we will trace aspects of branding with tips/ ways to enhance your brand personality/ visibility. Here's the subsequent flow for the blog.
What is branding? Why do that?
Tips to improve your brand with videos
What is branding? Why do that?
We have had a brief introduction about the idea behind branding. This is also in the continuation of our previous blog, where we shared an overview. A further of which will be dealt with here.
Branding is a 360-degree identity creation for any business. One should do that to become distinct among the thousands competing in the industry.
Brand Personality
Often people take up brand personality into account but fail to resonate with it at every level. Brand personality is not only a compilation of images, symbols, and names anymore. It goes beyond that now as people identify brands like any other human. That is, they connect on an emotional level and not abstract.
Building a brand personality is building an individual with human attributes. This works when you constantly work with visuals and push your message. Either through images or symbols and texts. Through this process, you then match up your messaging to your personality. This will ensure the completion of your brand's personality.
There are some undeniable benefits one can have if branding is done well. Like: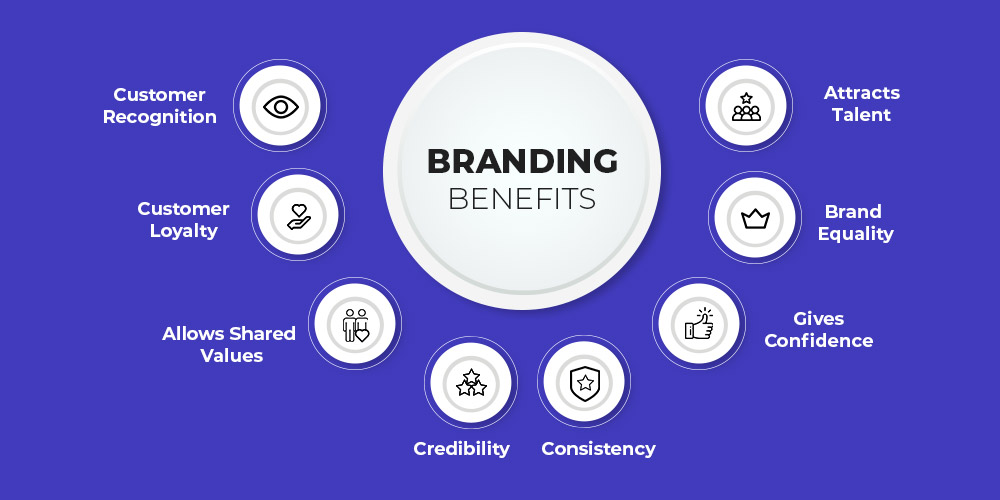 Brand recognition and awareness
Seldom people confuse between awareness and recognition while beginning with branding. We aren't going to teach branding here, though. But clear the air of confusion so that you can achieve maximum results with videos.
Brand recognition lies in the identification and recall of a brand. Where people recognize the brand's complete imagery. That is, with all the available visual elements like colors, logos.
While brand awareness is now not limited to the general recall. It arouses all the information and messaging that has been circulated. Thus, working towards brand awareness is a must-have goal.
So that would be a curated view of branding before we proceed to the section of—How to use videos for brand awareness and visibility.
Tips to improve your brand with videos –
So far, we have covered branding. But now, we will focus on the tips from video marketing.
Brands often struggle to target the right audience at the right time. Something that can help in this process is making use of ads. That is, buy ads using Google's AdSense ads. The dynamics work in locating the right place over
Podcast channels
Approaching the right mediums/ influencers
All this will then contribute to the process of branding. What will work even better is when you include videos. As videos promote social shareability and massive engagement.
The following video will give you a bird' eye view of the video's importance. And help you in understanding how videos help in improving brand visibility.
With changing times, changing the way you approach marketing also changes. People around now look for anything trendy, and once they find it, they follow the herd. Here's something that you should look up to in the year 2021.
Work on human connect
When I say human connect, what I mean is give your social posts a face. People connect over social platforms looking for this connection. Brands that go blatantly without building that connection often loses out on audience attention. So, work on humanizing your brand with the best of mediums, i.e., videos.
Here's an example for the same:
Use vibrant and consistent visuals
One of the most successful branding techniques now is using consistent color schemes. One way to do this is to expand the palette. But choose colors that suit your brand's personality. The audience today is wide, and so is the scope for experimenting with visuals.
Work towards giving the audience an experience
Gone are the days when only logos and images would do the deed. Now consumers want to have a warm experience. That's when personalization walks in. Creating personalized videos/ DIYS that gives a wholesome experience works today.
Create visual-rich videos
Videos are inevitable now. Talking about how it has impacted the audience, here's its growing prominence over the years.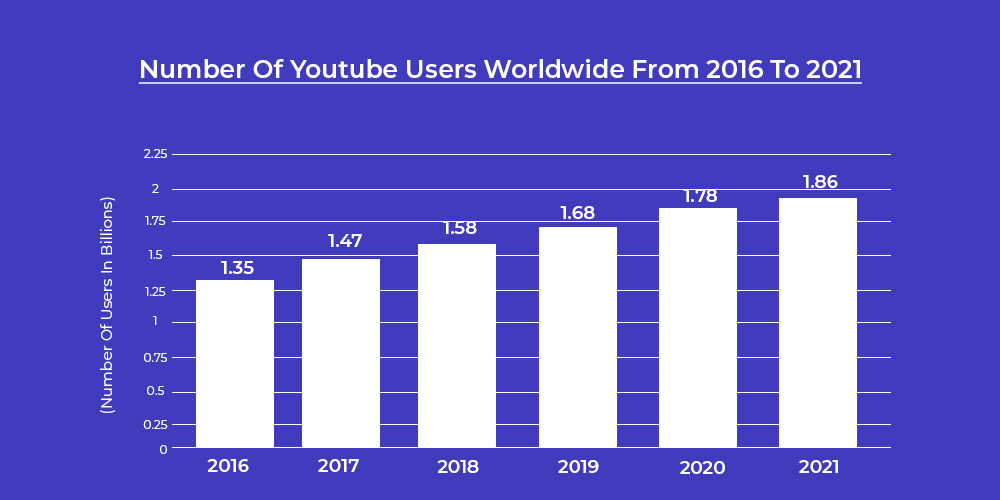 Source: Statista
A lot of people are jumping into video marketing now. But lack of awareness is causing issues. Therefore taking a route to strategic planning will be helpful.
To make sure you do it right, here's an elaboration:
How to use them for awareness?
To use videos for awareness purpose brands can take-up;
1. The creation of customer testimonials that increase trust
2. Demo videos/ product tutorials are a win-win now. As they can be used to make people feel closer to the product. That is, leading them towards brand consideration.
3. Apart from these, there are a lot of video types to work on. As these will cover the wholesome experience.
4. Make them interesting by working on shorter videos and commercials.
Precisely, these factors will improve brand awareness with videos.
Looking for more?
But the question now stands at;
What works now with videos?
Video consumption has shot up to more than 100 minutes per user now. Therefore it is necessary to understand what works today. This will ensure better reception for your videos in the upcoming times.
The concept is your oar. Use it well to steer clear. Define your idea before starting at all times.
CTA (Call To Action) is a must-have these days. Whatever be the platform, do not forget to add a CTA for your videos.
Be consistent with the quality you produce. This will ensure continuity.
Work on making videos that are mobile-responsive. As more than 70% of the video consumption happens through mobile now.
Short video up to a maximum of three minutes is sufficient. Deliver the message and finish to avoid boredom.
That would be some ways to work through your videos now.
Check the perfect route on how to make a marketing video!
Write relevant blogs with videos
Do you know why videos are emphasized so much? They are proven effective for SEO (Search Engine Optimization). Ever since Google acquired YouTube, SERP ranking for videos improves by 53 times. So, getting them into the blogs can improve your organic reach and SEO.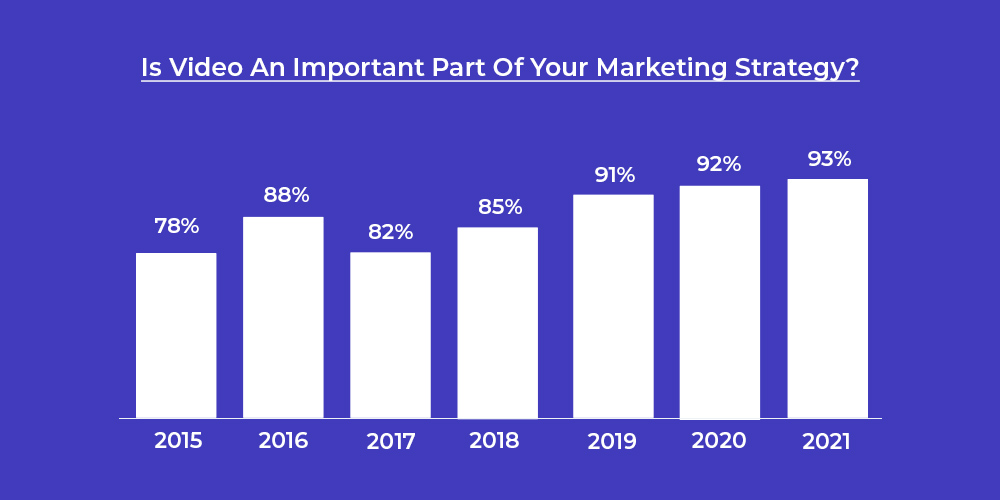 In addition to this, here are a few tips on how to write a relevant blog.
Blog planning begins with the selection of relevant topics. You can brainstorm them by consulting through the sales team, data collection, and of course, customer reviews.
Once through with the topic scouting, make sure you give CTA placements a study too. Conducting research is a precursor. So do that well.
Write for people. This will help you create compelling blog posts. Study the user experience and work accordingly in the posts to meet their needs.
Work on Google my business listing
Google my business is a way through which businesses can be easily identified and located by customers. This also helps the customers to connect with the brand as per their requirements.
You can learn about the process and begin your journey by creating a google business account once you go through the same. Your business starts to make rounds. In this situation, putting up videos for display acts as a vital consideration point for your business/ brand.
Conclusion
In conclusion, I would like to reiterate that branding now walks along with videos. And before you get into videos, it is essential to understand the idea of branding. I hope this blog resolves your confusion. While this also helps you learn how close videos have become as a preferred marketing tactic. Do connect with us for further clarification, or drop a comment below to know more. Thank you!