These Features of Shopify 2.0 Are Redefining The Ways to Create Dynamic Storefronts!
Running short of time? Get PDF of the blog in your mail.

Play Now
Do you know why everyone prefers Shopify? Because Shopify is a merchant-friendly eCommerce platform. You can scale your storefront to unimaginable heights. Last year, they announced the forthcoming Shopify 2.0 – a progressive approach to creating online storefronts. Shopify 2.0 is a myriad of new capabilities, functions, and features through which you have more control over your storefront, and web pages. With these features of Shopify 2.0, you can strengthen your store's user experience. This blog highlights the prominent features of Shopify's new framework and why you should create your store with Shopify 2.0.
What is the Difference Between Shopify 1.0 & Shopify 2.0?
Basically, Shopify 2.0 is loaded with advanced features that are poised to change the facets of your storefront. But what is so unique about Shopify's new framework?  Well,  below are 3 key differences between Shopify 1.0 & Shopify 2.0 –

1. A Brand New Theme: When you sign up with Shopify 1.0 then you get the Debut as a default theme which is idle for small catalogs. On the other hand, Shopify 2.0 stores are equipped with the Dawn theme which is a minimalist free theme brewing from media-rich product pages. And now, the Dawn theme comes as a default theme for Shopify stores.
If you compare these two themes with Google's core web vitals then you will find that Shopify's Dawn theme is pretty fast and responsive. Shopify also added 3 new themes that truly portray the dynamism of commerce in a subtle way. If you want to leverage these themes then you need to upgrade to Shopify 2.0 framework. 
2. Freedom to Customize Web Pages: There was a limited scope of making changes to your theme with Shopify 1.0 because you could only tweak your homepage and if you wanted to add a slider to your blog section then you had to look for a developer. 
But with the features of Shopify 2.0, you can change the placement of your text or buttons without struggling with the codes. Moreover, tweaking your storefront isn't just limited to the homepage. Let's say you create your online store with Shopify 2.0, and you want the title of your product to be below the description. Here's how easy it is with this all-new framework – 
These features provide better control of your storefront. Customizing and optimizing your store's web pages is now possible through the drag and drop feature. 
3. App Modularity: Knowing the impact of applications and their role in your store's productivity, Shopify changed the way apps are used. Let's say you want a form in your store. If your store is set up with Shopify 1.0 framework then you'll have to copy and paste the app's code into the web pages where you want the form to be. 
Now, save your time and energy with Shopify 2.0 by simply dragging and dropping your application on the theme editor. You can see see the changes instantly and decide on the better placement. 
But is this everything about Shopify's new update? No! Watch out for these remarkable features that will tickle you to create your store with Shopify 2.0. 
10 Features of Shopify 2.0 Giving Rise to Dynamic Storefronts –
Below are some prominent features that will help you in creating a dynamic storefront with Shopify. 
1. Seamless Checkout Experiences: Now, you can optimize, streamline, and enhance your checkout page. Before the advent of Shopify 2.0, only Shopify+ merchants could change their checkout page. 
Shopify wants your store to handle 1000s of transactions every minute. Furthermore, these checkout modifications will also work with Shopify Pay. 
2. Buy Now, Pay Later Option: Keeping in mind the craze of the BNPL payment option, shoppers can now pay less upfront during the checkout and pay the remaining amount in four interest-free installments. 
3. Introduction to Metafields: With metafields, comes the flexibility to add additional content to the product pages. You can now add metafields and attributes to your store without APIs or codes. Let's say you want to add a size chart or warranty to product pages. This is now possible with metafields.  You can also filter work on the basis of meta fields which was previously not possible with Shopify 1.0. To know more about how metafields, feel free to get in touch with our team of Shopify store experts. 
4. GitHub Integration: Shopify's new interface with GitHub will simplify tracking and managing theme development and maintenance. This integration establishes a connection between your user account and Shopify admin and links Git branches and store themes. 
For example, developers can now design workflows that require theme modifications that can be evaluated and merged on GitHub before applying the live theme. 
5. New Theme Architecture: Shopify 1.0 themes are limited to how and where you can utilize blocks and sections. But with Shopify 2.0, you can add sections to any page! 
Templates of all the web pages activate using a JSON template file that describes the page's settings. You can also configure the sections appearing with the JSON template files. Once you apply the theme, you can use the theme editor and dynamic parts as presets. 
You can also use theme app extensions and app blocks to add new features to your theme. Previously, it was not possible. But Shopify 2.0 themes are wrapped with Theme Check – a tool that keeps a check on your theme and notifies you about the errors. Do you know the best part of Theme Check? It comes pre-installed with the Shopify CLI tool. 
There is No Such Thing as Too Much with Shopify!
6. Upgraded Shopify CLI Tool: Shopify's CLI tool allows you to create, evaluate, and test your theme. You can also make a new theme and publish it. Previously, developers utilized this tool to make Node.js & Ruby on Rails applications. But now, developers can create, update and modify a Shopify theme using this tool. The CLI tool speeds up theme development by enabling – 
Changes to themes. 
Hot-reload CSS and Liquid section changes as you work. 
Create a new theme product with Dawn as the starting point. 
Run a rigorous theme check. 
7. Bulk Mutation API: The bulk mutation API enables you to export bulk data to your store. This is a straightforward method for importing all the data hassle-free. Following are the available options – 
productCreate.
collectionCreate.
productUpdate.
productUpdateMedia.
productPageUpdate.
productVariantUpdate.
metafieldUpsert.
priceListFixedPricessAdd.
priceFixedPricesDelete.
8. Add Multiple Sections to Web Pages: Up until now, Shopify 1.0 stores were limited to making changes to their storefronts. If you were to make changes across other pages then you were to code edits or make custom apps. 
Now, you can add sections to your store's web pages and unlock new opportunities to personalize your storefront for a unique shopping experience. With Shopify 2.0, each web page can now be rendered using a JSON template file that lists the section of that page. 
Your Shopify store can now have multiple template files mapping to different products, collections, custom pages, blog posts, etc. 
9. Liquid Input Settings: You can add liquid codes directly to alter theme codes manually. These improvements make it easy for merchants to interact with their stores and make decisions without engaging with the developers. 
10. App Modularity: Now, you store developers can create UI components that can be added, modified, and removed from the theme editor without changing theme codes. As a result, you are saved from creating integration logic for each existing theme. You will have to spend less time troubleshooting with users. 
Shopify 2.0 Features That Change The Facets of Your Store Content –
eCommerce is all about value addition. Value addition in terms of shopping experience and your brand's awareness. There are some disruptive features of Shopify 2.0 that enable you to add additional content.
1. File Picker: Metafields in Shopify 2.0 now supports images and PDF. The metafields file picker makes it simple for you to upload and select media on product pages. You can use all the photos saved in the Settings/files area. 
2. Customizable Storefront: Shopify 2.0 provides you with additional creative freedom. And you don't have to be a coder to instill creativity. Additionally, if you create your store with Shopify 2.0 then you can promote your products with additional product information. 
3. Flexible Store Content: Previously, you had to modify codes to include additional content. But when you build your store with Shopify 2.0, you can alter metafields directly from your dashboard without struggling with the codes. 
Additional store content like ingredients list, shipping estimate, warranty, and guarantee information comes in handy with Shopify's redefined theme editor. 
Should You Create Your Store with Shopify 2.0?
The answer is yes! If you want to unleash your store's potential and leverage the above features then you should switch to Shopify 2.0. However, it is not mandatory to do so. But the sooner you switch, the better it is! Now the question is, how you can upgrade your store? Well, here are three ways to do it – 
1. Download a Shopify 2.0 Theme: Simply pick a suitable 2.0 theme, download it, and it is done. Congratulations!  You have switched from 1.0 to 2.0.
2. Download a Newer Version of Your Theme: If your theme is promoting you to download a newer version then you can add its latest version manually. 
3. Migrate Your Current Theme Manually: You can migrate your theme templates to the new architecture. If you face glitches then CedCommerce can come in handy. CedCommerce is a 360-degree Shopify expert agency that is dedicated to building and designing Shopify stores.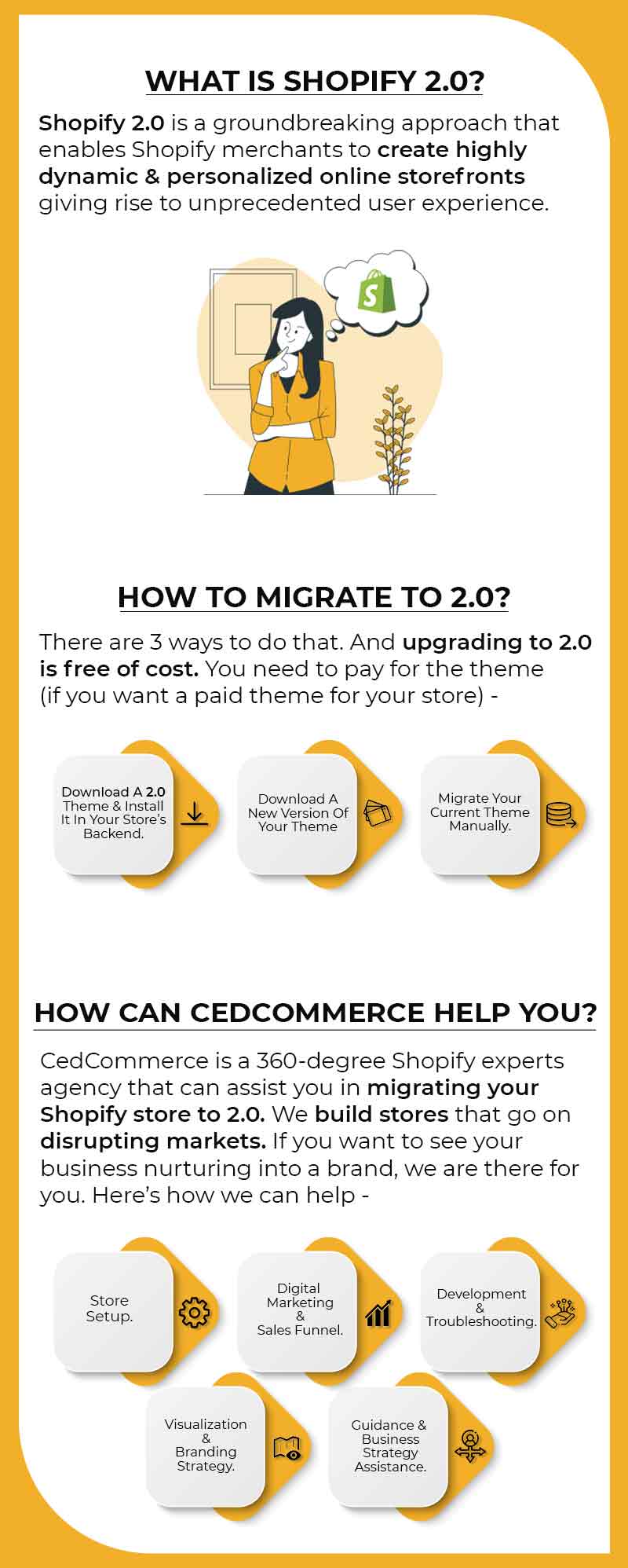 Summing Up –
In 2020, 450+ million individuals entrusted Shopify to start selling online. And this number is most likely to grow in the coming years. Do you know why? It is because Shopify keeps upgrading its ecosystem so that merchants can create futuristic storefronts and give rise to unprecedented user experiences. These mind-blowing features of Shopify 2.0 will improve in the coming time and if you are not yet a part of its ecosystem then it is high time to switch now!
For everything else, there is CedCommerce.