Shopify Unite 2022 Was All About Democratization of Retail for the Love of Merchants
Running short of time? Get PDF of the blog in your mail.

Play Now
If you want to build "just another storefront", then there are many options. But if you want to build the kind of a storefront that beholds your business needs with a smooth buying and selling experience then there is no other platform than Shopify. What you're going to read further will only resonate with the above statement. Shopify Unite 2022 was about how it's ecosystem is democratizing retail. It wants to make eCommerce easy, accessible, and highly personalized.
What is Shopify Unite?
Shopify is the best platform to start your eCommerce journey. Yes, it is true. You can find all the answers in Shopify Unite. It is anannual partner and developer conference where industry experts discuss how Shopify is making commerce better for buyers and sellers.
The event begins with an opening note from Tobias Lutke (founder & CEO of Shopify) followed by speakers highlighting what their team is up to.
Last year's Unite was about Shopify 2.0, customizations through meta field, new Shopify theme, and introduction to Hydrogen & Oxygen. Here's the full video of it –
What is Shopify Unite Up To Now?
Shopify Unite 2022 was organized in London, Toronto, & Melbourne. During this event, leaders talked about how they are changing the facets of customizing Shopify storefronts. his year, Shopify didn't announce any significant launches. Instead, this year's Unite was about how they will take things further in 2023 onwards. Here are the major highlights of the event –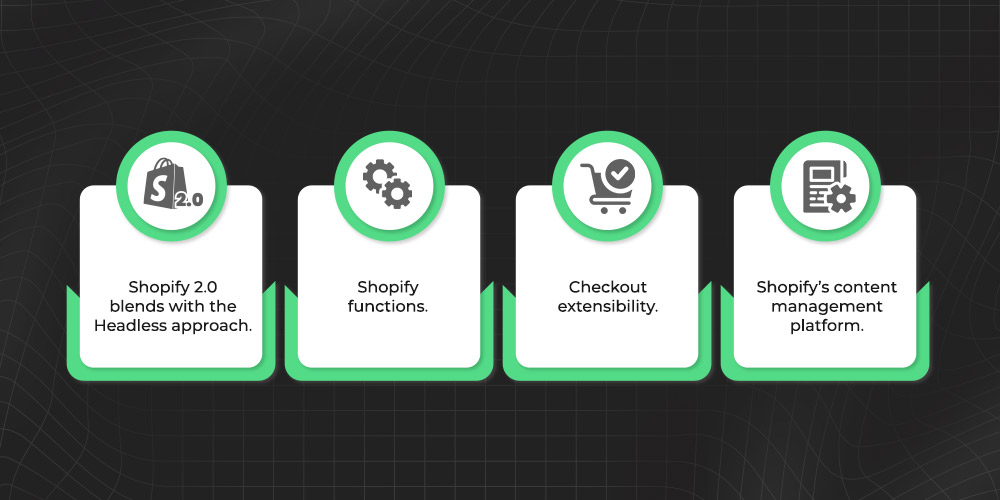 Shopify 2.0 + Headless Commerce = Mind-blowing eCommerce Experience –
A headless approach helps businesses separate their front and back end touchpoints. This architecture gives merchants the freedom to enrich customer journey. But headless storefronts are pretty expensive to build.
At Shopify Unite, developers discussed blending Shopify 2.0 templates and headless. This will enable merchants to create highly customized storefronts. Which is a win-win situation for a merchants and developers.
As a result, merchants will not face multiple issues. For example, choosing a framework, building primitives for cart and product selection, performance, testing accessibility, hosting scaling, observability, and analytics. On the other hand, developers get room to customize stores exactly the way their clients aspire.
As a merchant, you can use Shopify 2.0 as a base. With hydrogen, you can add additional features in your storefront. This approach unlocks headless commerce without you abandoning Shopify 2.0. Additionally, it is now easy to achieve custom functionality. But, Hydrogen platform is open to merchants who are using Shopify Plus plan.

Shopify is Unlocking it's Backend –
This is done through Shopify Functions. It is a new framework that allows developers to customize the backend logic. But these functions are now limited to discounting logic. But in the near future, Shopify will open new possibilities.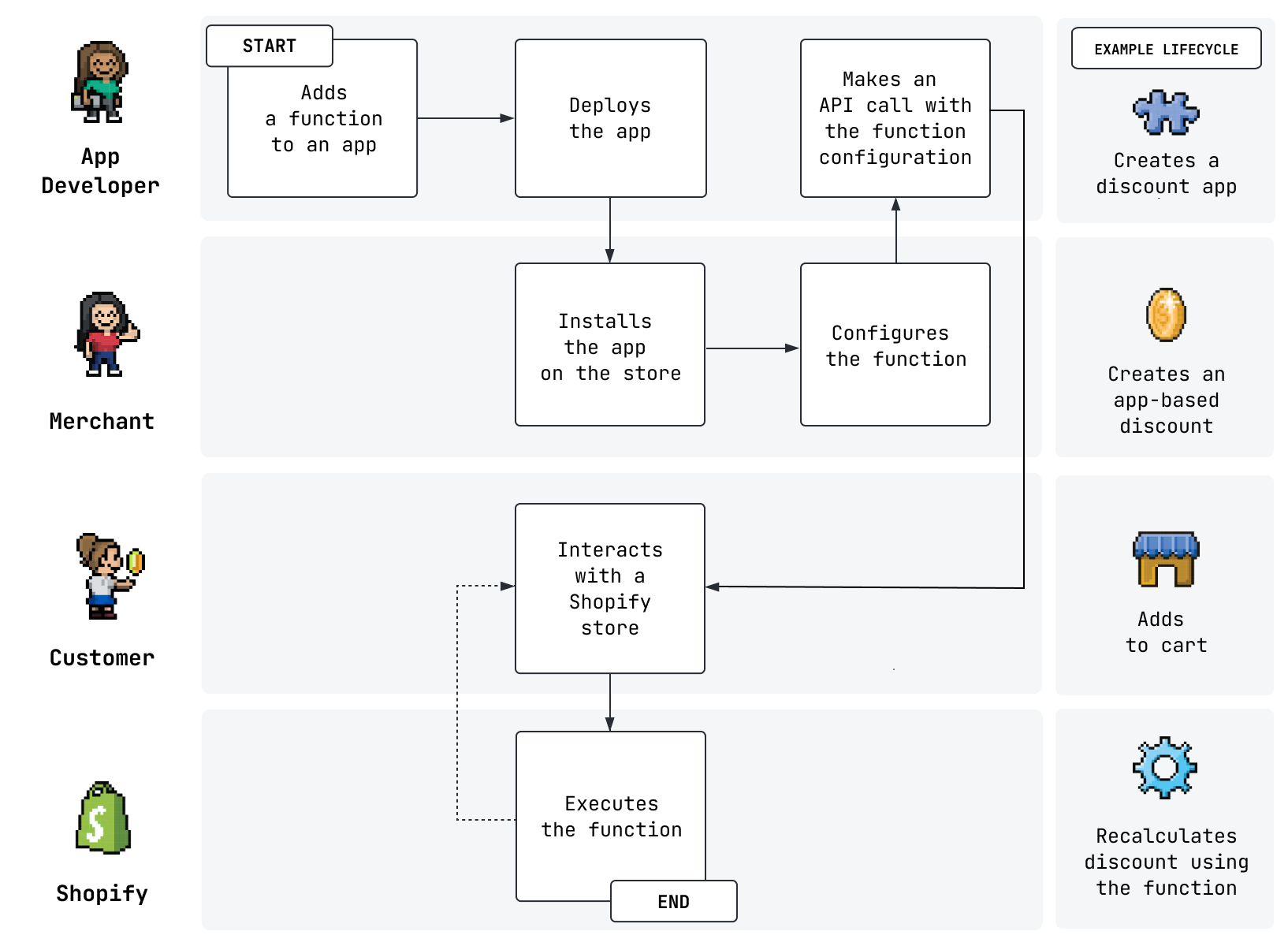 Source
Now, you can personalize your checkout process. Which was previously used to be a one-shoe-fits-all. Shopify functions are available only to Shopify Plus merchants.
Build a Powerful & Streamlined Checkout Process –
Starting 2023, Shopify will unlock it's backend and allow merchants to customize their store's checkout process. Isn't it amazing?During the Shopify Unite event, developers presented the following ways to make it happen –
Checkout UI Extensions –It allows developers to build custom functionality that merchants can install in their checkout. Shopify's checkout flow is a blend of static extension points and dynamic checkout points.
As a merchant, you can tweak your checkout flow through Shopify experts. They will deploy the desired settings in the backend which you can control from the frontend. But there is one catch. This feature is only available to Shopify Plus merchants.
Checkout Branding API –You will not be able to extend your brand's look and feel into checkout with the help of Checkout Branding API. It will help integrating your branded colors and elements into your checkout page. As a result, shoppers can connect with your brand while they are shopping with you. However, this feature is available only to merchants who are on Shopify Plus.
Post Purchase Checkout Extensions –It will allow merchants to add a post-purchase page directly into the Shopify checkout. This page will appear after the order is confirmed and before the thank you page. However, it is in the beta but by next year, Shopify will fully roll out this feature. You can leverage post-purchase checkout extensions in the following ways –

Upsell offers.
Conduct a survey.
Request feedback or donations.
Offer discount codes.
Signup for a loyalty program.

Web Pixels –Pixels are JavaScript code snippets that collect behavioral data which Shopify merchants use in their marketing campaigns. Additionally, web pixels can minimize the need for merchants to add tracking codes. They have a complete control over data. During the event, developers also emphasized customer privacy API – to track down buyer journey in complying with GDPR.
To get all the insights on how Shopify is democratizing it's checkout, watch the video below –

Shopify's Content Management Platform –
The internet is nothing but a large room of valuable content. Shopify is here to take things to a whole new level when it comes to content management.
Content models are ways to define new types of content composed of text, media, and other resources. It will allow merchants to create custom content which they can manage through meta fields. Shopify's content platform will allow merchants to –
Define custom data type (a recipe).
Define multiple custom data inputs for each data type. Like ingredients, methods, and calorie intake.
Link custom entities to products, collections, and the likewise.
Summing Up Shopify Unite 2022 –
Shopify Unite 2022 was not just restricted to the above pointers. There were rounds of discussions between partners, developers, expert agencies, and the core team. But everything revolved around how they are making Shopify's ecosystem fall in favor of merchants.
We are about to enter yet another near and Shopify has got some crazy plans. It is set to make 2023 bigger and better for merchants who aspire to sell online. This was all about Shopify Unite 2022.
Stay tuned for more such updates.