Push your business up a notch with professional WordPress Developers.
Running short of time? Get PDF of the blog in your mail.

One of the most valuable assets of any business is the website. Nearly 64% of small businesses connect with their customers via websites. A strong online presence, particularly a website, can surely increase your brand's credibility. Speaking of setting a website for your business – WordPress is the easiest and the fastest way to do so. Serving over 60 million people and offering unique solutions, WordPress has proven itself to be the ideal solution for every changing e-Commercial demand. The article presents the case of 'why to hire a professional WordPress developer is the best choice for building and growing your e-Commerce'.
When and Why to Hire a WordPress developer:
'WHEN' to hire a WordPress developer?
Installing ready-to-use WordPress themes and plugins doesn't require a lot of technical expertise, but starting a website from scratch certainly needs in-depth knowledge of the platform. As well as, if you want to remodel or revamp your existing website, you need a comprehensive knowledge of the current eCommerce market demands, in and out of the existing plugins, extensive knowledge of the latest technological advancements along with existing and potential customer behavior. Consequently, such scenarios require a thorough understanding of WordPress and hence is the perfect time for you to engage with a professional WordPress developer. Now moving on to the benefits of hiring a dedicated WordPress developer for your business, we have listed a few of the many benefits under 'WHY?'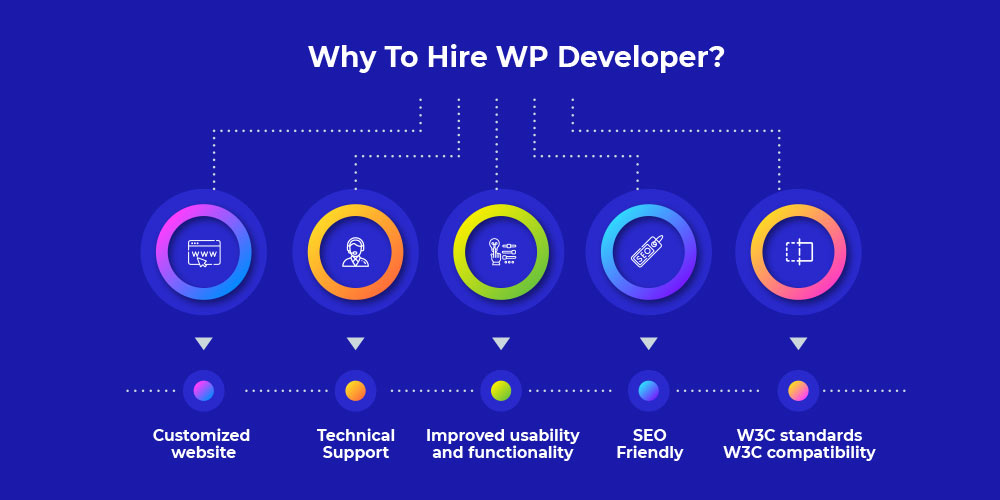 Hire a WordPress developer for your business.
'WHY' to hire a WordPress developer?

Create a customized website to suit the unique requirements of your business.
Websites built on WordPress are highly customizable due to the availability of numerous plugins and themes. Hence, with the flexibility of customization, websites have the potential of collecting high traffic. From SEO to social media sharing, all in all, WordPress has plugins for everything!
With a professional developer, basically, you can get a unique look and feel for your website, well-aligned with your brand.
Get a quality website that attracts customers easily and quickly.
Technical competence is required to set up a website that can attract customers. As a matter of fact, every activity that needs to be completed for setting up a website is outlined in WordPress's steps or guidelines. Chiefly, a WordPress developer is familiar with all technical requirements that are necessary for the effective operation of your website, and hence allowing the following benefits:
Authentic Technical Support.
100% customization support with easy future customization.
Less time-consuming.

SEO friendly and improved search engine ranking:
A WordPress developer can assist you in developing your website in an SEO-friendly manner, which will help you improve your search engine rankings. He can assist you to optimize your site and reach out to potential clients by performing the following tasks:
Critical meta tags are placed on all web pages.
Uses relevant tools to improve your website's loading speed. Google considers a website's loading speed to be an important ranking factor.
Uses dependable and appropriate internet technologies to produce responsive web pages that execute according to each device's unique specs.
To improve your search engine rankings, a web developer can install the most efficient SEO plugins.
The developer can improve your site's search engine rankings by optimizing the scripts and pictures it uses.
Because a theme is the backbone of your WordPress website, it's crucial to pick the correct one. Therefore, the selected theme will be appropriate for your website. Additionally, addressing any theme-related concerns, such as SEO, loading speed, and so on.

Follow up the W3C standards W3C compatibility.
Validation is an important aspect of the website development process. The World Wide Web Consortium, or W3C, is a collection of standard coding principles. To assure the site's quality and consistency, a skilled WordPress developer validates the HTML/XHTML code against these set principles. As well as, a competent and experienced developer creates 100% hand-coded themes, validates them, and combines them to achieve the best results possible.
Get premium support and maintenance services.
It's a thumb rule that you must maintain your website after it has been designed and published. If you do not properly maintain your website, you risk losing all opportunities to grow your business. And by all means, a professional WordPress developer will supply you with a high-quality maintenance service that will ensure that your site runs smoothly and is safe from malware threats. As a result, users on your site will feel safe transacting with you, and you will have a positive market reputation.
Working with a WordPress agency ensures that websites are delivered on schedule. You must first specify what you want from the website and how you want it to appear to the developer. The developer will assign a deadline for job completion based on your specifications. They stick to the deadline and deliver high-quality work in the end.
CedCommerce featured WordPress Services:
Be it a response-derived website or high-performing customization to an existing website, CedCommerce has served many brands to create, build and carry forward their business models. Giving shape to your vision, our WordPress services will take care of every digital requirement, keeping you ahead in the present-day market. From flexible collaboration to premium support, get it all under one brand.
To know more, get in touch with our experts today here on WP Excel.