Complete eCommerce Marketplace Solution for your website
Running short of time? Get PDF of the blog in your mail.

Play Now
If you are an entrepreneur with an Indian e-commerce website its a smart choice for you to have online store converted to a feature rich Multi vendor Marketplace. Considering the prevailing trends it shall be the very obvious next step to take for your online business.
With the colossal success of websites like Amazon and Flipkart, multi-vendor eCommerce Marketplace is a shopping revolution that has become a popular way to sell not only physical and digital products but also services like booking hotels, cabs, etc.
According to Statista, In 2017, the online store Amazon.in generated 561.4 million U.S. dollars via e-commerce sales of physical goods in India.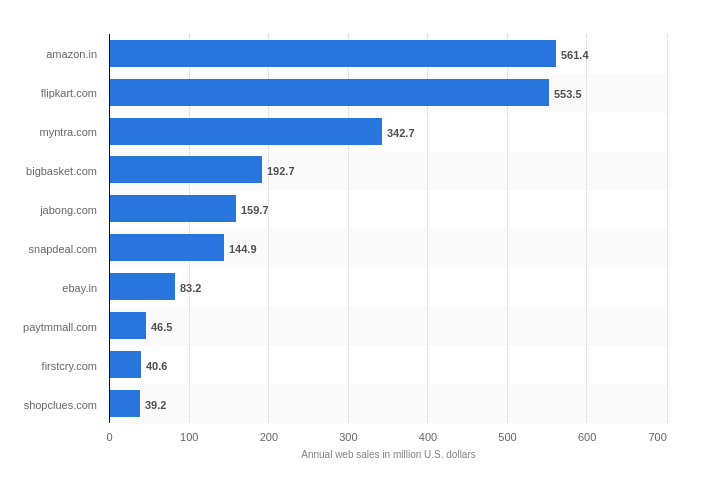 Source: Statista
They provide an easy method for you to host third-party vendors and enable them to expand their business without the need for additional infrastructure or inventory.
You can't just open a website and expect people to flood in. If you really want to succeed you have to create traffic." – Joel Anderson, Walmart CEO.
Marketplaces represent an easy way for merchants to compete in a competitive retail landscape and simultaneously expand their reach to more consumers.
As a result, customers are more satisfied because they get to choose from a vast array of products, and you're happy because you get to charge vendors a commission on each of their sales.
This independence day avail massive discounts (45%+20%) on the most popular marketplace solutions.
1-CedCommerce's Indian Multivendor Marketplace Solution
Since all multi-vendor marketplaces require some unique functionalities, you need specialized software solutions in order to effectively run one.
So we at CedCommerce are offering you a comprehensive Indian Multivendor Marketplace package that will not only transform your online store into an unabridged multi-vendor marketplace but also equip it with a multitude of additional features.
Try the frontend demo and backend demo of our Indian Multivendor Marketplace now.
Our Indian Multivendor Marketplace package has been specially compiled considering the Indian demography and a rapid progression in the eCommerce market.
What's in it for your sellers?
Integrating this package to your Magento 2 store will allow multiple sellers to create an account on your eCommerce website from a dedicated vendor login section.
Vendors can register as well as login using their social media accounts like Facebook, Gmail, Twitter & LinkedIn.
Vendors will get an exclusive vendor panel from where they can manage their inventory, process orders, view analytical sales reports and configure shipping and payment methods.
They'll have full control over their orders including invoice generation, processing shipment, and managing returns.
Vendors can create unique product attributes and add all types of physical and digital products to their catalog and that too in mass, instantly through CSV.
They can set related products, cross-sell, up-sell, promotional rules and create deals for their products.
Vendors can also create multiple pickup stores from where customers can pick up their orders.
Vendors will be able to create any custom attribute for their products from their own panel.
Multiple vendors can sell one single product by just customizing their price, inventory, and SKU. A seller comparison table is also available on the product page for customer's ease to select one vendor with good ratings and price.
Vendors can easily promote their products by launching new deals, discounts, and coupons from their own panel.
Vendors can manage the reviews and ratings provided by the customers for their products and services, hence can decide which rating to display in the shop.
There is also a feature of sending an SMS notification to customers, vendors and Admin for purchases made, product/vendor updates and other related updates.
What's in it for your customers?
Customers can browse all of the vendor's products from their dedicated shop page on your website which too vendors can customize by adding images, text, banners, links, etc with our content management system.
They can check product availability, it's expected delivery time and COD availability to their pin code.
Customers can rate and review vendors and their products according to their service and quality.
With our wallet system, customers can credit money into their online wallets and also make payments from the same.
We've included another unique feature called refer a friend which is specially designed to bring in more customers to your website through an incentive-based referral system.
Special attention has been given to ensure proper communication amongst you, your vendors and your customers. They can communicate through online messaging from their respective accounts and also through SMS.
Multiple store pickups can be created so that customers can choose the nearest pickup point to receive his order.
Moreover, communication can also be moderated by a specially appointed customer support team who can entertain customer queries in real-time.
What's in it for you?
You can set flexible commission rates for every purchase of his vendor's products.
Commission rates are highly customizable as they can be specific to a product type, product category, for a specific vendor or a vendor group.
Commission can be fixed or it can be a fraction of the selling price.
Also, rules can be set which decides what commission rate will be applicable for given scenario.
Multilingual and multicurrency support to target national as well as international customers.
Moreover, you can stay connected with your customers on social media and attract new visitors through our blog support.
You can always exercise full authority over all of your vendors, their products, and their activities.
You can at any time customize your store with the further addition of our extensions and addons as per your requirements.
2-CedCommerce's Advance Marketplace Extension
This is exactly why online marketplaces tend to be one of the most frequently visited and rapidly growing websites.
The Advance Marketplace Extension has something in store for all the stakeholders – the admin, customers, and sellers. The extension has the capability to turn your eCommerce store into a multi-vendor e-commerce marketplace. This isn't a tedious process as you might have assumed. It's not just a simple process but also takes very little time. You may arm your B2C marketplace with a plethora of advance features at a very affordable price and be assured of the best output to be able to compete with the best in the industry.
Speaking of e-commerce, a multi-vendor marketplace without a doubt acts as a one-stop-shop for online consumers who are looking to save time, money, and effort when on the lookout to get their hands on a product or service.
What's in it for your sellers?
Sellers get to manage their orders on their own, as well as create invoices and manage credit memos.
Creation of all 6 types of products downloadable, configurable, bundled, simple, virtual and grouped products with custom options has been made possible for the sellers.
Enables sellers to take the call on reviews and ratings to be displayed on the product.
Facilitates sellers to create interesting deals for attracting customers
Facilitates sellers to create and assign attributes to their products from their very own seller panels with ease.
What's in it for your customers?
It enables customers to rate sellers for the services they deliver and additionally allows viewing the ratings of other sellers as well.
Allows login through various social media accounts like facebook, twitter, and LinkedIn, etc.
It also enables customers to make payments through the wallet.
The customers are facilitated to check the product deliverability and also if the cash delivery option is available for a particular zip code on the Customers can check the deliverability of products and if the COD option is available for a zip code on the product view page.
App support
Separate apps for sellers and buyers.
Supports Multiple Business Types
Our solutions are not just limited to only physical and digital products, you can create all types of multi-seller online marketplaces imaginable.
Following are some examples of business solutions that you can easily create with our package:
Hotel booking services like Oyo rooms, Makemytrip
Appointment booking services like Practo
Food stores like Foodpanda, zomato
Grocery stores like BigBasket, Grofers
Auction store like eBay
Deal store like Groupon, Daala
Event store like Planetjashna, Bookmyshow
Find solutions for the above-mentioned marketplaces and much more at CedCommerce at great discounts.
Since all multi-vendor marketplaces feature goods from a wide number of suppliers, products are usually available for customers and prices are also low. This results in better customer experience and satisfaction as they can typically purchase what they see online without a hitch.


Read More Blogs Here: