See Virginteez's route-map to success as Moeez started selling on Fruugo!
Running short of time? Get PDF of the blog in your mail.

Play Now
A journey of desire
"The sky is the limit."
Moeez Javed proved this proverb in real life. It was 2012 when Moeez started up with his business on his website. Hard work and his efforts pulled the business and it flourished fruitfully.
Virginteez deals with the selling of various products like apparels, mobile covers, bags, football jersey, mugs, etc. The idea of the business was to start an 'On demand' print design business which allows the buyers to get the designs of their own over the products they select.
It is just the zeal and avidity of Moeez which helped him in scaling his business from selling on a single website to now selling on Marketplace Fruugo. Also, Virginteez itself leveled up as a marketplace too, providing space to other sellers by introducing the Virgin Teez app.
But this all didn't happen overnight!
Hindrances in the path
He was doing all the hard work that he can, to keep his business on the graphs of success, but there were two major issues that he was facing.
Moeez starts by telling us that those major struggles that he faced during his journey were-
The biggest threat to a business is the problem of generating less revenue. Moeez invested a lot of money to his business but the desired results and output were not being obtained.
He used to sell on his website, but the number of buyers visiting his site was very few. This gave birth to the problem of receiving low traffic which ultimately resulted in fewer sales.
Moeez then looked in the direction of scaling his business on to the other marketplaces which will help him in at least sustaining with the sales, if not boosting it.
How we contributed
He was looking for a product or service that can help him with the features like-
Automation process

Diversifying his business

More sales channel
He immersed himself on the Internet for the search of one such service and found CedCommerce there. He went through our articles and reports that are published on various websites and starting making his mind to work with us.
He says,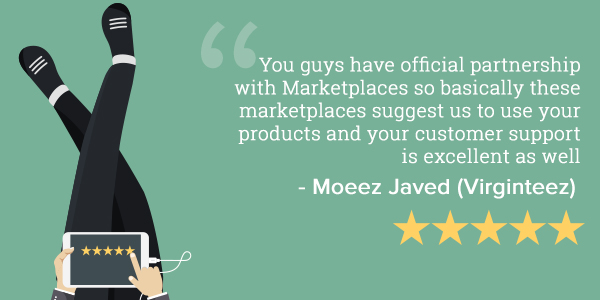 To us, our Fruugo Integration App looked a perfect fit for all his needs.
He contacted us and we started working on it. Moeez tells us that our executive Shivalika proved as a great help in every way and with her assistance, Moeez was able to get his products live on various platforms.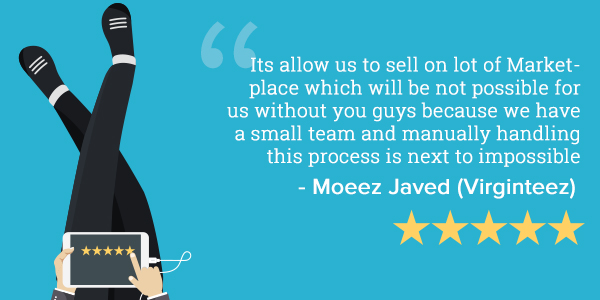 Along with this, we offered him features which enhanced his selling experience and helped him with-
Synchronization of his stores

Automatic acknowledgment of his orders

Grabbing more potential customers

High visibility of his products.
Moeez further added to his words by praising our customer service and the technical expertise that our executives hold.
Satisfied with our service, Moeez sees himself capable of doing the important words like designing and manufacturing without worrying about the hassle of the tedious process of Order management and other manual works with earlier used to acquire a lot of his time.
Today, Moeez sells on Fruugo and over ahead, he now has an app for his company, which allows other users too to sell on his store.
To sum up
With more than 1200 products on Fruugo, Moeez is selling effectively on the platform and has his appreciation to gift us with.
CedCommerce always looks forward to providing the best client experience and services which proves really helpful to them in setting up their business.
With years to come, we vow to be at 'shoulder to shoulder' support with our clients as the tough times and obstacle comes in their way.
Similar Stories