How Mishycobabies is moving toward $100000 worth sales a month – A Success Story!
Running short of time? Get PDF of the blog in your mail.

Play Now
Here's a success story of Mishycobabies, a baby products business that aims to give parents the support they need in the early stages of parenting. And how they got over several business hurdles.
The Goal Mishycobabies wants to reach: Enhancing the reach to garner more traffic on the Facebook shops, and reach a sales of $100000 every month!
The Problem that Mishycobabies faced: Mishycobabies experienced problems when it came to Business Manager as well as faced restrictions for Ad accounts.
The Solution that helped Mishycobabies: The Facebook and Instagram Shopping App along with Facebook Ads and Facebook Pixel, helped Mishycobabies to get rid of all the problems and reach their business goals.
The Outcome of the solution used: With the help of Facebook and Instagram Shopping App, trading resumed with no more threats of restrictions from Facebook.
The Product Used by Mishycobabies: Facebook Shop, Facebook Marketplace, Checkout on Facebook, and Facebook Ads.
Mishycobabies – Making Parenting Memorable!
There is no greater pleasure in life than being able to bring another life into this world! And no greater joy, in nurturing one life. It is an experience unlike any other. A new born baby is a mark of growth, change, joy, and responsibility.
"Parenting should be insightful, surely it's a responsibility, but that shouldn't cost the mental well-being of a parent!"
This is what led to the creation of Mishycobabies, back in the year 2017.
The idea behind it was to create a memorable time for parents with their new born babies. And help them explore other wonders of parenting without jeopardizing the healthy bonding, interactive education, as well as safety.
This narration is one of the best Facebook success stories of how CedCommerce helped Mishycobabies in their aim of improving the well-being of new parents with the help of tools and equipment that facilitate top-notch baby care.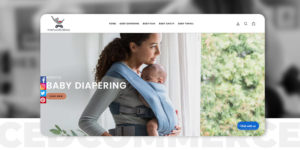 Problems that came along the way!
Mishycobabies began as a home-based business in the year 2017. But as time progressed, the business grew into a fully functioning one in 2019. Parents are always attracted to the tools and equipment that make their lives easier. Concurrently, provide the best care for their newborn babies.
Mishycobabies already had a Shopify store, but the Facebook Business manager was going nowhere! After a thorough study of the past for current trends have always shown a high traffic on Facebook. This became the major reason for Mishycobabies to be on Facebook.
But, the amount of restrictions from Facebook regarding ad accounts was always immense. And since the kit CRM was also no longer working, the problems increased. Consequently, the Facebook business review on Mishycobabies social media accounts was also affected in a negative way.
The Meta Pixel was one major problem encountered by Mishycobabies. They were actively trying to find a solution for it! But always had great difficulty resolving Facebook shop issues that kept flaring up given a defunct Kit pixel. A solution was required to pull off the store from such problems and focus on sales and products! Let us see how Mishycobabies tackled all the problems to name itself among the best Facebook business success stories.
Finding the right track with CedCommerce!
It was when Mishycobabies were looking to resolve their pixel problems that they came to know about CedCommerce. CedCommerce provided Mishycobabies assistance with the pixel. And with the help of a great support staff, was able to connect on a video call and resolve the issue.
Since then Mishycobabies became involved with CedCommerce! And with the help of Ced's Facebook and Instagram Shopping App, started to bring their business on Facebook.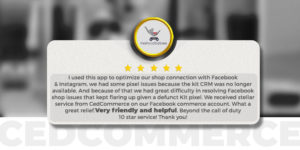 How the Facebook And Instagram Shopping App brought results for Mishycobabies?
Mishycobabies always had problems when they were trying to sell on Facebook. But with the help of Ced's Facebook and Instagram Shopping App, things started to change.
With the integration app came the feasibility of easily selling their Shopify store products on Facebook. And along with it, trading resumed and Mishycobabies received no more threats of restrictions from Facebook. And even made online trading much more smoother and clearer.
Not only Misshycobabies enhanced its trading, but the management process also became streamlined with the help of features such as:
Provided the ease of bulk uploading the Shopify products
Developed a synchronous process management between the Shopify store and Facebook
Conversion API and Facebook Pixels allowed better account tracking and analysis
Options to add detailed attributes for enhancement of Product Catalog
Hassle free re-pricing of the products
When the world was going through challenges during the outbreak of Covid-19, Mishycobabies too had to face problems. First it was the logistics department that was affected, and then one day it started affecting the inventory as well. As it was difficult to get your hands on basic material that were being used during the pandemic.
However, it did not affect the aim that Mishycobabies was always trying to achieve. With constant effort and help from the Facebook and Instagram Shopping App, Mishycobabies started growing out of this hurdle. Now! it only needed something to broaden the reach of its audience.
Facebook Ads – The one hack to grab the attention of the audience!
Mishycobabies had always depended on Kit App to bring them the required audience. However, with the app now gone, they required something to fill its place. The all new Facebook Ads feature of the Facebook and Instagram Shopping App was more than worthy. It worked like magic, and started to bring in more and more audience every day. Some of the features of Facebook Ads that fascinated Mishycobabies were:
Using Ads Analytics to monitor and analyze the effectiveness of the ads
Running Prospective or Retargeting Campaigns according to the requirement
Reaching to a larger audiences on the basis of interest, behavior, and demographic
Working with Inbuilt Conversion API and Facebook Pixel
Facebook Ads provided Mishycobabies an opportunity to garner a larger audience. And, consequently improve their brand presence over Facebook, and in turn increase their sales.
Here's a blog that will help you learn about Facebook Ads, and how they can benefit you, to enhance your visibility and reach.
Enjoying the benefits of the Hardwork – The Outcome
From its establishment in 2017 as a home based business, to establishing a proper business formation in 2019. Mishycobabies has always been looking to garner more and more audience. There have always been certain hurdles in their way. However, with the Facebook and Instagram Shopping App, they have been able to streamline all the business processes. And given them the freedom to concentrate on reaching their sales goal.
With the Integration app, Mishycobabeis has resumed online trading without any restrictions from Facebook. The easy flow of business has allowed them to concentrate more on their goal of making parenting memorable for parents. Additionally, providing them with products that would give their children the best of care.
The future is always uncertain! But when you have the right strategy, and tools at your fingertips, you can achieve anything. Mishycobabies is still to realize its goal of achieving total sales of more than $100000 monthly on their shop. And by the end of the year, that would become another milestone under their brand name.
If you too are looking to run ad campaigns through Facebook Ads, here's a step-by-step guide that will help you to set-up Facebook Ads through Facebook & Instagram Shopping App.
Conclusion
The Facebook and Instagram Shopping App from CedCommerce empowers its users to easily manage several business management processes, and easily list their Shopify products on Facebook.
Now equipped with the all new Facebook Ads feature, it aims to provide its merchants the ease of creating and running their own advertising campaigns. Additionally, it also provides them actionable insights to monitor the effectiveness of such ad campaigns as well.
What we learned from the Facebook Business Case Study of Mishycobabies, is that problems will always come your way, but with determination and strong support you can always overcome such hurdles, and we at CedCommerce are always there to help you run your business effortlessly!