Here is Why Amazon Advertising is Worthwhile Your Investment
Running short of time? Get PDF of the blog in your mail.

Play Now
If you are looking for an answer to whether investing in Amazon ads is worth it, this blog is surely for you. Amazon ads are PPC ads, meaning sellers bid on a few keywords and pay when customers click them. These ads help products appear first and, above all the other products. This makes these advertised products more likely to be clicked and ordered.
So, let's begin with understanding the Types of Amazon ads, the pros of Advertising on Amazon, Amazon Advertising Strategies, and Amazon ads examples.
What is Amazon Advertising?
Amazon helps retailers by allowing them to capitalize on ads through various ad services like Amazon Sponsored Products, Headline Search Ads, Product Display Ads, etc. On these ads, you invest in keywords and product descriptions for which Amazon ranks your products on the search bar and incur costs on every click. Let's see each of them one by one.
Amazon Sponsored Ads
Sponsored ads are cost-per-click ads that allow retailers to promote individual listings on Amazon. One can create a campaign in just a few minutes, start advertising on Amazon, and get placed on top of others.
Customers are redirected to an individual product detail page by clicking on these ads. Sellers can bid on keywords and choose between exact phrases, long keywords, or broad match types. These ads generally appear on top or below the search results. Sometimes, they also appear on other product detail pages.
These sponsored ads can further be divided into three ads Sponsored Products, Brands and Video Ads.
Below are the examples.
Sponsored Products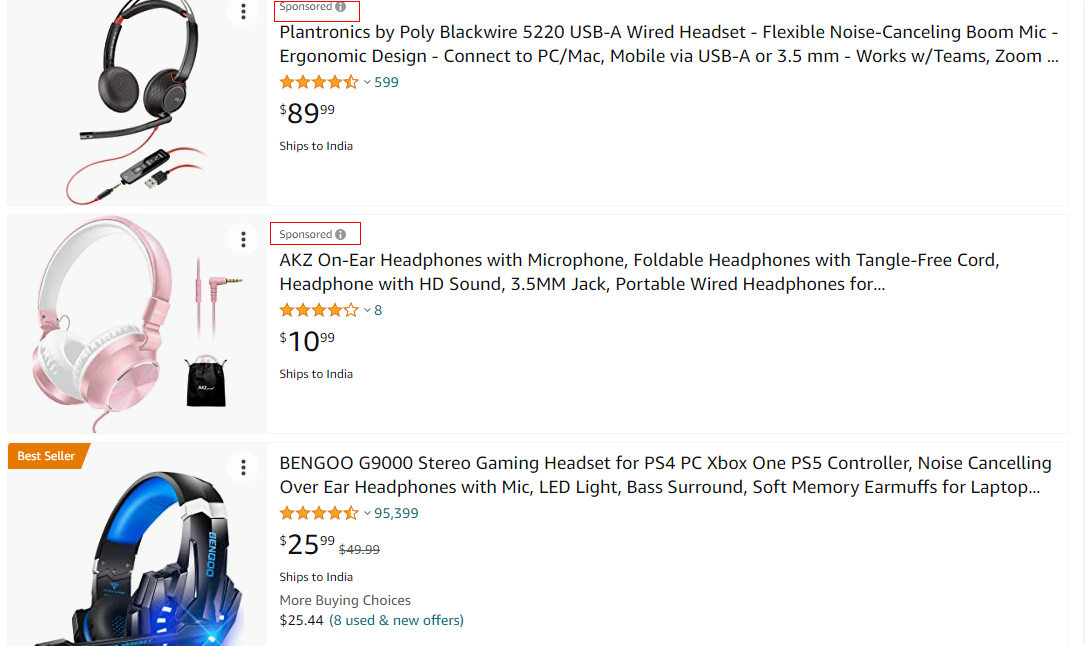 Sponsored Brands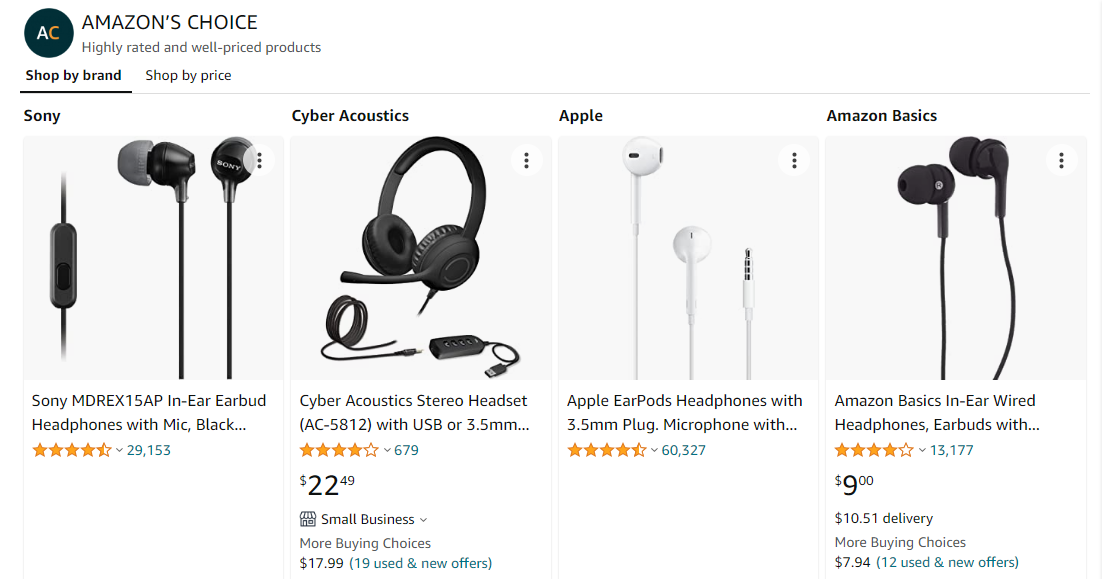 Sponsored Video Ads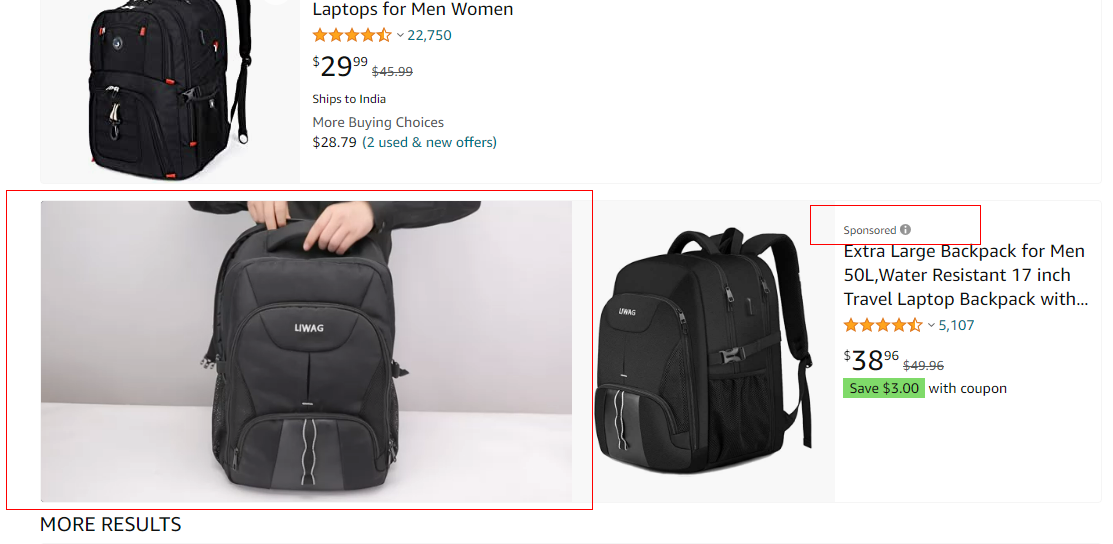 Headline Search Ads
Headline Search ads are similar to sponsored ads, but their display realm makes them different and more exciting. What it means is unlike sponsored ads, the headline search ads show three products along with the logo and brand content as SERP. It makes the voice and image of the brand more visible and understandable to the audience.
Product Display Ads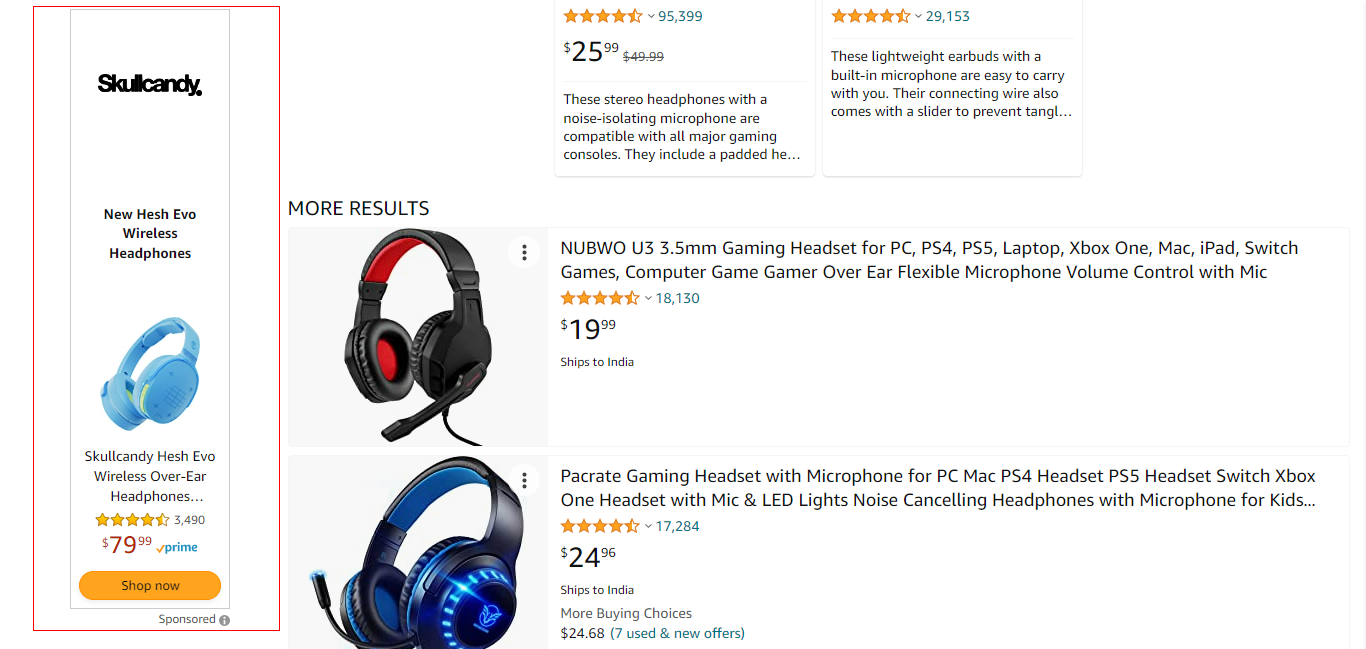 Product display ads show results based on customer purchase history and shopping behavior. They appear on the home page, Search page, product detail pages, and third-party websites and apps.
These ads appear on the right side or bottom of the search results on the customer review page, at the top of the offer listing page, and in Amazon marketing emails.
Key Benefits of Amazon Marketing Services
Amazon's marketing services are really profitable not only for new or small businesses but also for established brands. It helps them quickly make their products visible to millions of customers searching for products on Amazon. Let's see these key benefits one by one.
Increases Brand/Product Visibility
Amazon's PPC model helps brands and products get millions of eyes quickly on their products and brands. How? The PPC model or amazon ads help sellers rank their products on the targeted keywords above their competitors. More often than not, people tend to make clicks and purchases from the sponsored ads because of their high ranking, good reviews, and attractive product page.
Reaching Customers Globally
Amazon PPC model or Amazon marketing services help sellers reach customers globally as these products rank for targeted keywords throughout. These sponsored ads help increase more customers, thus, a more sales ratio in a concise period.
Cost-effective Ad campaign
These ad campaigns are cost-effective as sellers only need to pay for ad clicks, not impressions or views.
Full Control over Ads
As sellers, you have complete control over no. of campaigns you want to launch or when you want to end it. You can also choose between keyword type, placements, target audience and amount of bidding etc.
Effective on all Kinds of Devices
These ads work on all kind of devices. The best part about these ads allows customers to reach to sponsored products on all the devices they are trying to search the product on.
However, to gain the best out of these ad campaigns need a lot of strategies and an expert bidder. As an Amazon integration partner, CedCommerce is known for its best integration solution and marketing services that includes everything you need to market your product on Amazon and earn a huge amount of profit.
CedCommerce's Amazon Marketing Services that you must know about!
CedCommerce leads the eCommerce integration world with its massive grasp on online marketplaces and platforms. Helping thousands of retailers worldwide in simplifying their Amazon sales journey, CedCommerce is now also known for its first-class marketing services.
We provide services ranging from
Product Listing Optimization
Amazon Sponsored Ads Management
A+ Content/EBC Management
Store designing and Set-up
Product Listing Optimization
The service includes keyword research, brand analysis, competitor research, improving listing quality, optimizing product descriptions and backend terms, and so much more. The central idea is to make the listing more relevant, easy to rank, and attractive enough for the prospects to convert into customers.
Amazon Sponsored Ads Management
Furthermore, the team of experts shall look into ACos maintenance, audience targeting, Campaign strategy building, Bissing strategy analysis, Sales Funnel strategy, Location, and Demographic analysis, and many more. While selling on Amazon, while you take care of what products you want to appear in SERP, CedCommerce is there to make good enough for sales and better conversions.
A+ Content/EBC Management
Not to mention, highly optimized content helps you get higher visibility, which makes CedCommerce enthusiastic about helping retailers achieve A+ content. With a perfect layout, quality images, and a creative layout complementing the brand themes, CedCommerce covers it all. 
Store Creation
People will stay on your website if it delivers more than what they have expected out of it. With an appealing page layout, easy navigation, banner and image designing, header, content creation, and a dedicated designer, CedCommerce promises to make your store more appealing than ever!
Final Words
As conclusion, based on your business needs and marketing campaigns, you can invest in any ad. However, the best strategy is to invest in all three kinds of ads and see which one works best for you!
Also, if you are looking for expert AMZ integration or marketing services you can reach out to us anytime.
I hope this helps!