Etsy Mother's Day 2023 – An Inspiration to Scale Mom-owned Business
Running short of time? Get PDF of the blog in your mail.

Play Now
Etsy Mother's Day 2023 is the perfect day to take inspiration from mom entrepreneurs who have been perfectly Juggling motherhood and running a business. Etsy, one of a kind marketplace, provides an opportunity to consider "the women" (in all forms) out there to excel even in the business sphere, like; being more creative, selling online, building a brand, and being famous worldwide.
Mothers are living metaphors of love who believe in only giving and not expecting anything in return. So, this Mother's Day, let us honor their contribution and provide them with a chance to bask in the glory of their achievements as a mother and a businesswoman.
Etsy The Epitome of Perfection for Mompreneurs
There are around 80% of female entrepreneurs selling on Etsy, out of which many are mothers. Women who have built their stores from scratch and kept believing in expanding with Etsy to sell and grow more aggressively worldwide. Women as mothers, grandmothers, or single mothers inspire all who believe they can do wonders.
A mother seems to be like a superwoman with invisible capes. Be it household, family, or work, she rules wherever she gets her hands. She knows how to make the most of any
We have compiled a list of some of the most wonderful women entrepreneurs on Etsy and their stories of how they made it into the world of eCommerce. You can skip to that part of the blog with the link above or can continue reading to understand the significance, top selling categories/products, and tips to ace sales on Etsy Mother's Day.
Etsy Mother's Day 2023: From the Perspective of a Seller
Etsy Mother's Day is probably among the big occasions for sellers where the sales and traffic are better than usual. A huge demand for items that can serve as mothers' gifts has been observed since a week before Mother's Day. This can also be perceived as a perfect opportunity for Etsy sellers to gain new customers and grow sales.
Etsy Mother's Day Inspiration: Trending Gift Ideas to Sell
Below is the list of some of the most selling items on Etsy Mother's Day based on the previous years' customer trends:
A Mother-Daughter/ Mother-Son Duo Portrait
POD Products such as mugs, T-shirts, quilt cover
Customized Jewellery
Pack of Coffee, chocolates, and candies with greeting cards
Plants (natural or artificial)
Plant seeds, beautiful pots, and planting accessories
Home decors
Household products
New mom dresses
Newly born clothes and accessories
Baby's handprints, footprints, framed
Tip: If you already have a catalogue, you can still make the most of this Etsy Mother's Day occasion by making amends in your listings. Try adding a little flair by making your listings relatable with gifting products. You may even add certain products into your category to sell during Mother's Day. More detail on this is in the next section.
Tips for Boosting Your Etsy Mother's Day Gifts Sales
Below listed are a few tips to improve your performance and sales on Etsy during Mother's Day 2023:
Add Mother's Day Tags and Keywords to the Listing
Run Special Discounts/Promotions for Mother's Day 2023
Giveaways and Complimentary Gifts
Check Inventory Early for Mother's Day:
Gift Wrapping
Add Mother's Day Tags and Keywords to the Listing
Making minor adjustments, like adding Mother's Day tags in your product listings, can significantly boost your product visibility. You can also include some trending Mother's Day Keywords in your product titles and descriptions to boost your product's search visibility.
Remember: This would be a temporary change, so make sure to revert these changes when
Run Special Discounts/Promotions for Mother's Day 2023
Running discounts and promotions for Etsy Mother's Day would be a great way of turning visitors into customers. But you must take a more creative approach by choosing the best form of promotion. Some of them include:
Percentage(%)discount
Bundle product discount
Removal/Reduction of Shipping Charge & Delivery Charges
Giveaways and Complimentary Gifts
You may plan for some exclusive giveaways for your certain regular customers, especially for those who have made good purchases in the past. This will motivate your buyers to get attached to you and push them to make more purchases during Mother's Day.
You can also include small complimentary gifts such as customized badges, keychains, table calendars, etc., along with the orders you deliver during Mother's Day week.
Tip: You can ask your customers to share a post on social media by tagging you with a unique hashtag.
Check Inventory Early for Mother's Day:
For sellers on Etsy, Mother's Day is not a single-day event. It's been observed from the previous three-year sales trend that demands for Mother's Day gifts rise in the last couple of weeks of April and peak in the first two weeks of the big day.
Tip: Stacking up your inventory with mom-related gift items in April is advisable, and aligning your marketing campaign accordingly to make the most of Etsy Mother's Day.
Gift Wrapping
Just receiving a package in a box doesn't look interesting; the good wrapping of a product seems alluring. Wrapping the package with the Mother's Day wish/cartoon printed on it is a good idea. With this small gesture, you leave a long-lasting impression on your customers and will entice future sales.
This wraps up all the tips to ace your selling on Etsy Mother's Day.
Now let's move to a more interesting topic that will surely inspire you – a list of mom-owned businesses on Etsy
This will benefit both aspects:
(1) If you are a new seller trying to break into the eCommerce world, you might collect ideas about what you may sell from here.
(2) If you already own a web store, you might gather ideas of what you may add to your listings this Mother's Day.
Mom-owned businesses on Etsy that will inspire this Mother's Day
Here is a list of some of the handpicked mom-owned businesses that will serve as the right inspiration to sell on Etsy this Mother's Day:
A Business of Mother & Daughter's Dream – Mom&SisBoutique by Janine
Janine, a happily married mom of 4 and a supportive wife started an online business with a vow to herself that 'I am never too old to dream a new dream.' She and her daughter, whom she considers her best friend, dreamt of selling beautiful customized jewelry and message cards.
Janine had some prior experience managing a FB group for an author selling merch online. She took a huge leap of faith to commence her very own online store on Etsy with all the knowledge she gained. With an amazing variety of lovely customized jewelry gifts for the ones you love, Janine started her store. She named the shop of her dreams 'Mom and Sis Boutique.'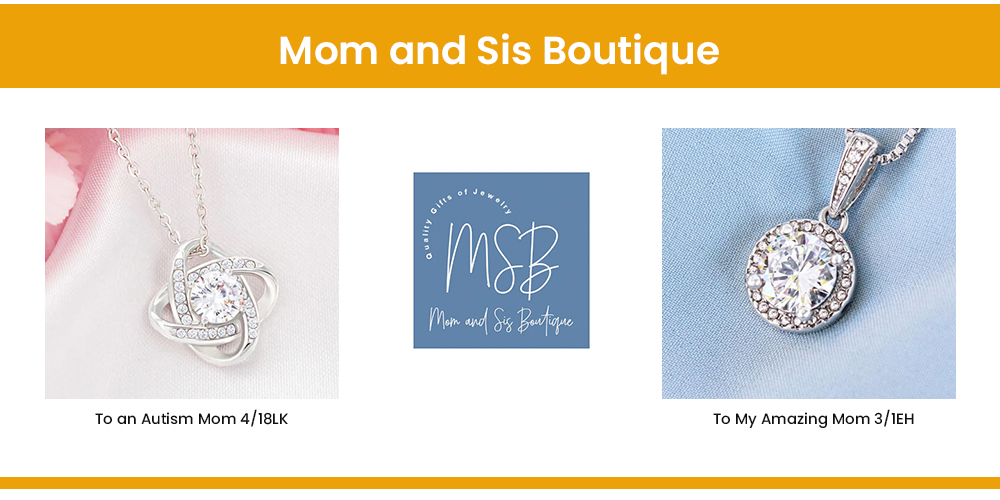 The unique presentation of products made 'Mom and Sis Boutique' a huge success. The jewelry comes wrapped in a box with some of the most beautiful messages, enough to shed a tear in the eye of the one receiving the gift. Such a beautiful & personalized gift with a message is perfect for the occasion of Mother's Day.
For Janine, it's been quite a wild ride, but with the constant support of her family, she proudly calls herself a successful mompreneur. In the coming days, Janine hopes of helping her hard-working husband to retire early.
A Business Bringing Emotions with Creativity – Crystal Jewelry Lilian Lacey by Abigail Brown
Next on our list is Abigail Brown, a woman, a wife, a mother, and a successful businesswoman who has been selling on Etsy since 2016. She has been dealing with crystal jewelry and gifts since she was pursuing her graduation. Abi has become much active on Etsy since 2019 and has made total sales of around 20,000, to which she has been continuously achieving a milestone. She finds herself lucky to raise her girl child and to handle business with her husband's support. They are soon to welcome another child with joy.
It has been a constant juggling act for her and very difficult in the past few years; a number of times, she was questioned whether or not to continue with her business. But now, she is thankful that her hard work is paying off. He can now afford to take on an employee, and her husband has been able to give up his full-time job to work with her and manage the household tasks and childcare.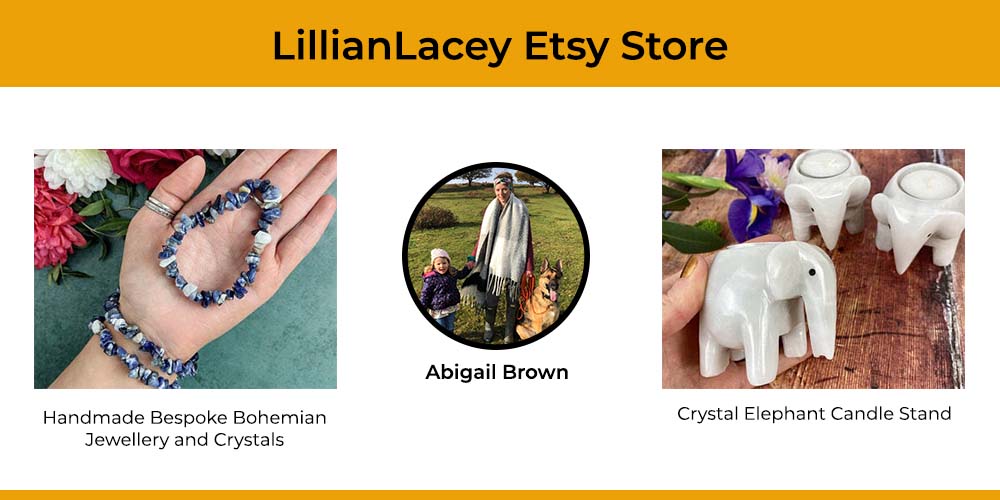 Presently they also have a Shopify platform which is now live at 'lillianlacey.com.' They are also working towards having a physical shop by next year, to fulfill the demands of local customers, who have appreciated it a lot.
A Business Fledged with Creativity- Art Bubble Jewelry by Maria
Maria Gradinaru, an Etsy seller from the U.S., is dealing in the POD product category. She is running her store on Etsy successfully, where she sells a wide variety of jewelry items, including Necklaces & Pendants, Bracelets, Earrings, Rings, Brooches, and Charms. Her products are much in demand during special occasions such as Mother's Day, Valentine's Day, etc.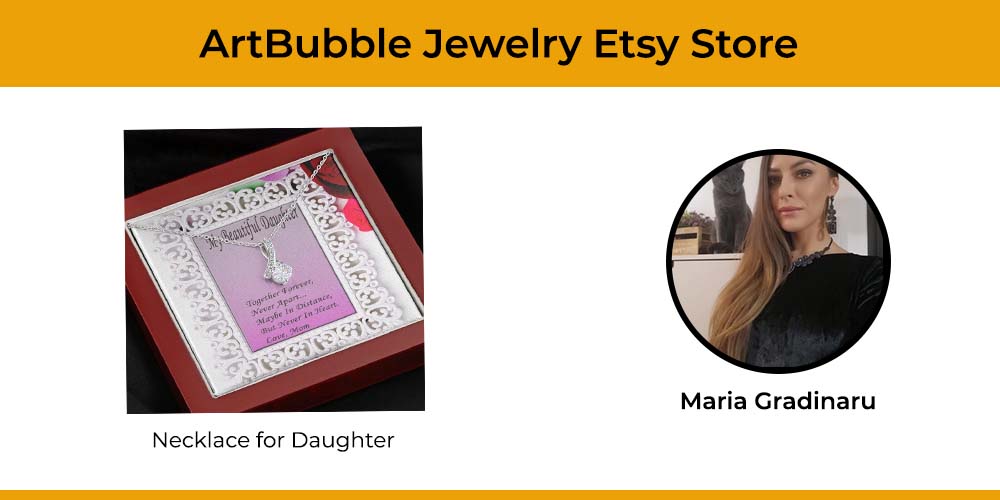 What makes her store unique is that she delivers personalized cards with a message to be conveyed along with Jewelry accessories attached. To date, she has made 996 sales with a 5-star customer rating. Her creative idea in Art Bubble Jewelry is an inspiration for many.
A Business being managed in an RV- StuffGinaSays by Gina
Gina, a travel enthusiast and a wonderful wife runs a gift shop on Etsy. Gina's family of three, including her husband Caleb & a little Yorkie pup Ramona, lives full time in an RV. She loves traveling all over the country, and most of her gift designs are created while on adventures with her family!
Personalization is the key idea behind the StuffGinaSays. Gina believes that putting a personal touch on gifts & the messages she creates will help better resonate with the ones receiving the gift.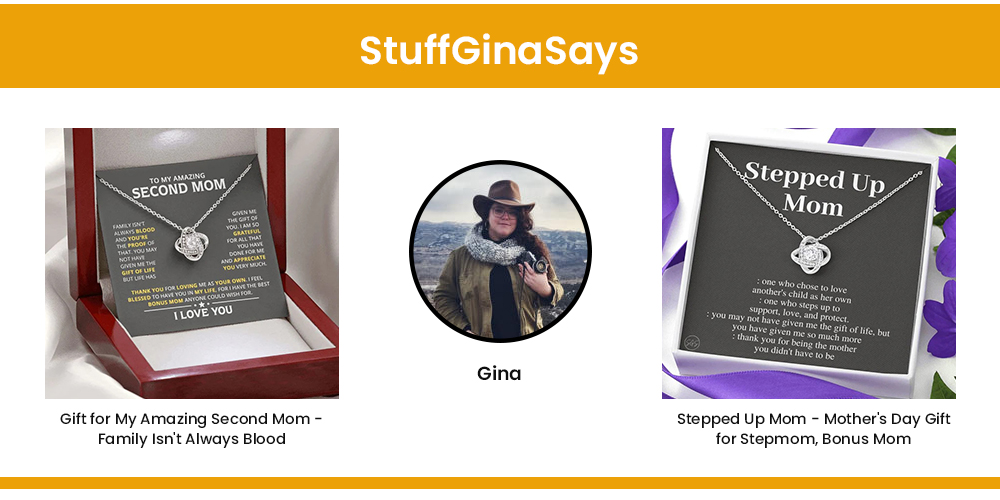 Very few people get a chance to live their dream and manage work simultaneously, and luckily Gina is one of them. She is glad that she found her little corner of the internet where she is recognized, and her dream is supported. And for that, she is very thankful!
The next seller on our list is not a Mompreneur, but the reason why he is on our list is because of the unique creative product, which can be a perfect inspiration for Etsy Mother's Day.
A Business Fresh from the Garden – Sybotanica by Sybren
Sybren Bies has been selling successfully online, dealing in the planting category on Etsy. To date, he has made a total of 728 sales, and each plant is cultivated at his home. Sybotanica products are much required during Mother' day, as customers find plants a natural and evergreen gift for their moms, grandmom, or stepmom.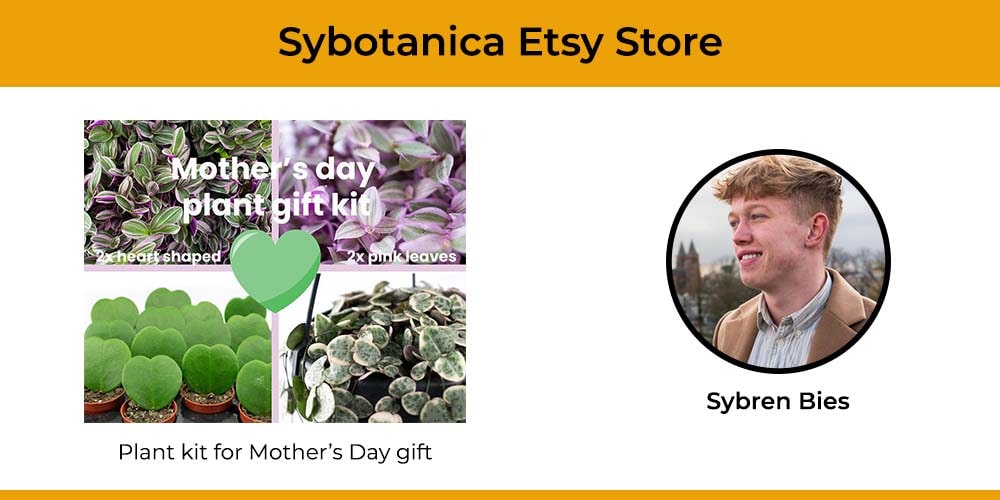 Sybren is operating his Sybotanica store from the Netherlands and has happily acquired a 5-star rating on his Etsy store.
This wraps up our list of Mom-owned businesses on Etsy that will inspire this Mother's Day.
I am sure you are all fired up to make this Mother's day
Mompreneurs – Hike up your Home Business with Etsy & CedCommerce
A woman like you is very creative in different aspects, but many a time you have to sacrifice your talent and choose the child's upbringing. No physical gift can be so crucial as letting you outshine your hidden skills and showcasing them to the world.
Even if you have owned a small business with an online store, you can still run an Etsy store along with it, without any mismanagement and hassle. Let this day be a reminder that anything is possible. Keep scaling, keep growing, and keep shining. This Mother's Day is the time for you to expand your identity and talent.
Link your store with Etsy or Create a new one.
Don't just be a Mom; be a "Mompreneur."