AVARRIX Business Expansion On Four Marketplaces In 1 Month Without Hassle
Running short of time? Get PDF of the blog in your mail.

Play Now
AVARRIX is the leading online retailer of Stationary and Arts & Craft Supplies based in Australia. AVARRIX founder Anupa Abeysinghe aims to help shoppers with premium quality self adhesive paper products.
As an ambitious businesswoman, she is determined to deliver nothing short of the best to the customers. Her website's HELP ME CHOOSE web page is dedicated to narrowing shopper requirements to the most relevant products.
AVARRIX has left no stone unturned to ensure every customer gets a tailored solution.
Products Are Awesome But Aren't Visible To The Majority Of Shoppers
The self adhesive labels market size is forecasted to be as huge as USD 62.3 billion in the near future.
Discovering a huge untapped opportunity for her products, She was confident that selling on multiple channels would make her products stand out.
Moreover, it will position the business to reach the maximum number of customers.
As a result, the store owner Anupa with high hopes, decided to go for full-scale business expansion. Unlike many online merchants, she planned to list products on four prominent marketplaces eBay, Etsy, Amazon, and Catch.
AVARRIX Owner Anupa Kickstarted The Search For Right Solution
Managing product data simultaneously on multiple e-commerce marketplaces alongside the website (online WooCommerce store) is no easy feat.
Anupa had to face numerous issues while uploading products manually on multiple channels. But her store wasn't equipped.
Missing on uploading product variants as a unique product
Different information gets upload for the same product on various channels.
Difficulty in maintaining different prices for a product on different marketplaces.
Unable to list products in bulk.
Manually updating product details after listing them was tedious and time-consuming.
As a result, she was disappointed upon not achieving the expected results.
Hence, the search for a solution to counter the above challenges and proceed with seamless product listings on all renowned e-commerce marketplaces in Australia begins.
AVARRIX Discovered CedCommerce Legacy To Help Online Merchants Sell with Ease
After extensive online research, followed by narrowing it down to be best fit for business requirements, Anupa landed on the CedCommerce website. She was fascinated by browsing through hundreds of integration solutions to ease online selling on almost all popular marketplaces.
She chose the following integration solutions to equip her WooCommerce store to extend business reach to maximum consumers.
Five strong reasons that influenced Anupa's decision to opt for the CedCommerce marketplace integration solutions
She found CedCommerce has integration solutions for every marketplace she desired to list her products.
CedCommerce promised to help with order management and fix it completely. As such no need to worry further.
The solutions were more competitively priced than the rest, so they were affordable in the long run.
CedCommerce developers are capable of custom tweaks wherever needed. And, no hidden charges for it.
Loads of positive reviews and hundreds of active installations of the aforementioned solutions proved that solutions are highly reliable and accurate.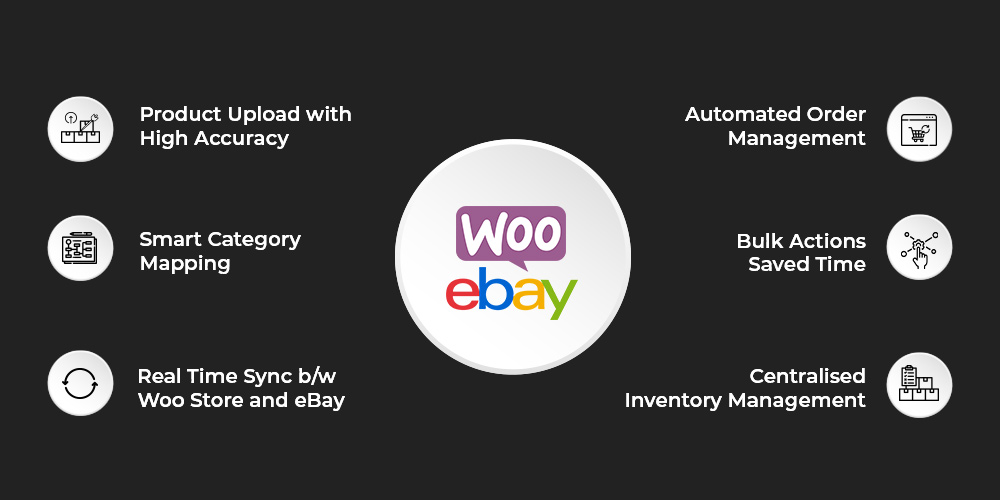 Feature-rich WooCommerce Integration Solutions Optimized Various Selling Operations of AVARRIX 
Product Upload – Uploaded all products on eBay from the WooCommerce store with high accuracy in just a few simple clicks.
Order Management – Every order got auto-fetch from eBay to the WooCommerce store. AVARRIX was able to track orders from the WooCommerce store.
Product Management – Made it possible to upload, update, or delete products in bulk.
Centralized Inventory Management – This feature enables a holistic view of the entire inventory from a single dashboard. Hence, it saved AVARRIX from overselling and underselling..
Schedulers – Ensured inventory gets automatically update at regular intervals. Thus, it saved many man-hours and eliminated any chance of manual error.
How CedCommerce Assisted AVARRIX.COM.AU To Sell Seamlessly on Four Leading Marketplaces
Integration solutions offered by CedCommerce solved AVARRIX's two most significant concerns of product and order management.
Product Management (Multiple Marketplaces)
The products upload across all marketplaces was successful. The process was effective as there were no discrepancies. As a result, inventory, order, and shipment were hassel free.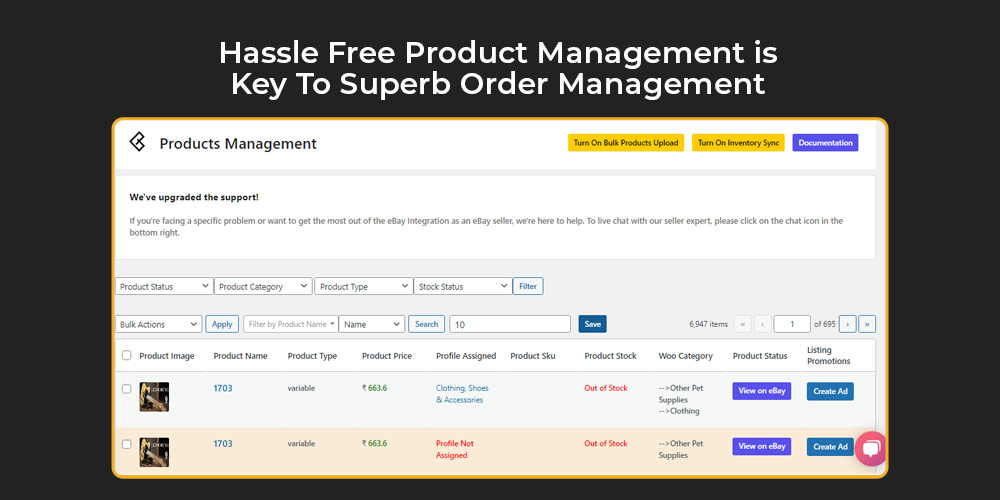 Order Details on WooCommerce Store
Anupa needs every order, including all details to get fetch on her WooCommerce store.
The feature of auto sync orders from eBay, Etsy, Catch, and Amazon to the WooCommerce store at regular intervals ensures AVARRIX.com owners stay updated with the latest order status.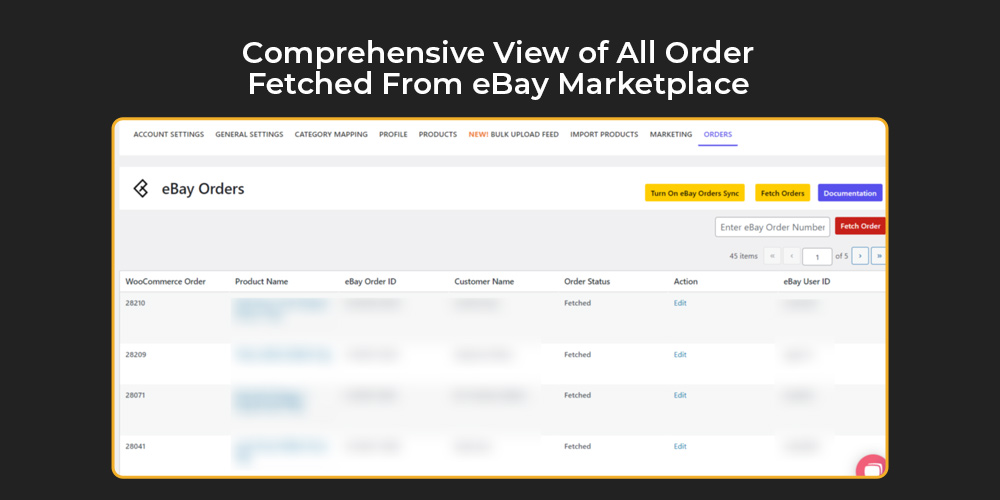 As a result, every order was shipped on time.
Account Manager Dedication
Account managers made the product-upload process a cakewalk. They visually demonstrated the product upload process of all four marketplaces in a step-by-step manner. As a result, product upload was successful in the first attempt on all the marketplaces.
AVARRIX store owner found explanation of the nitty-gritty of every integration solution useful. He felt confident using the solutions to list products on eBay, Etsy, Amazon, and Catch.
Anupa find it impressive that CedCommerce representatives willing to help until everything is crystal clear.
Custom Work on Amazon WooCommerce Plugin
Anupa used to rely on the manual mode of order shipment, but it consumed numerous man-hours apart from being arduous. On her request, the custom work done in Amazon WooCommerce plugin to enable automatic shipment. Moreover, getting the solution tweaked to match her business needs proved to be a relatively inexpensive affair.
The effectiveness of the four integration solutions can be is by the fact that all products of AVARRIX store were listed successfully on the marketplaces on the first attempt.
Words Of Appreciation For CedCommerce by AVARRIX Owner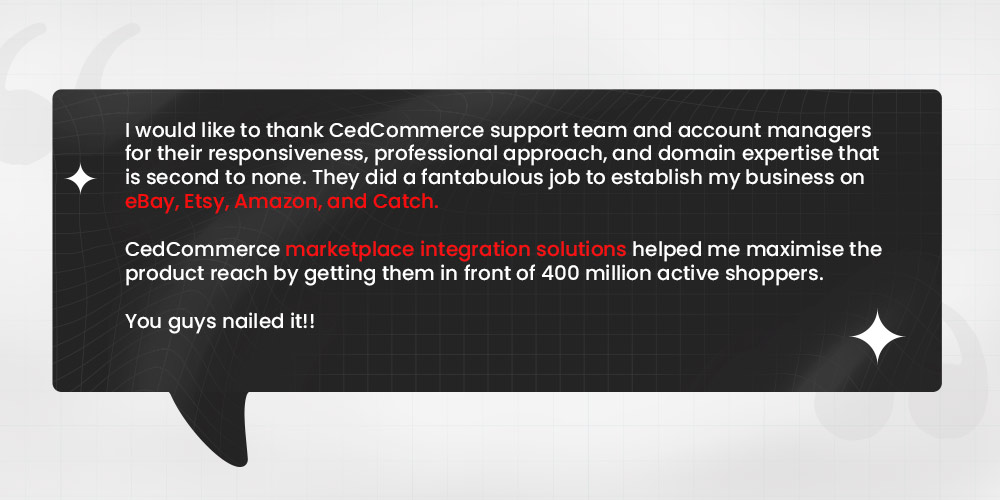 Summing It Up – Selling on Multiple Marketplaces Is A Cakewalk with Right Solutions and Right Peoples
Getting issues related to product listing fixed upon equipping the store with the right solutions proved a competitive edge for AVARRIX. Anupa Abeysinghe is happy to be able to scale business in 1 month to the next level.
She firmly believes trying CedCommerce products is worth every penny and finds it thrilling to work with a high-spirited team. Therefore, she also plans to opt for CedCommerce solutions in her future endeavors owing to the 100% satisfaction and joy.